Artist Spotlight series brings to you the amazing students at the online classes by Nimmy's Art and showcases their work, their love for art, and their journey till now. So get ready to be amazed!
Smithi and Sruthi – The first students at Nimmy's Art
Today we have a wonderfully talented pair in our artist spotlight – Smithi Gopalakrishnan and Sruthi Gopalakrishnan. Being the very first students of Nimmy's Art in the USA, they have been learning from Nimmy for 4 years now and are perfectionists to the core.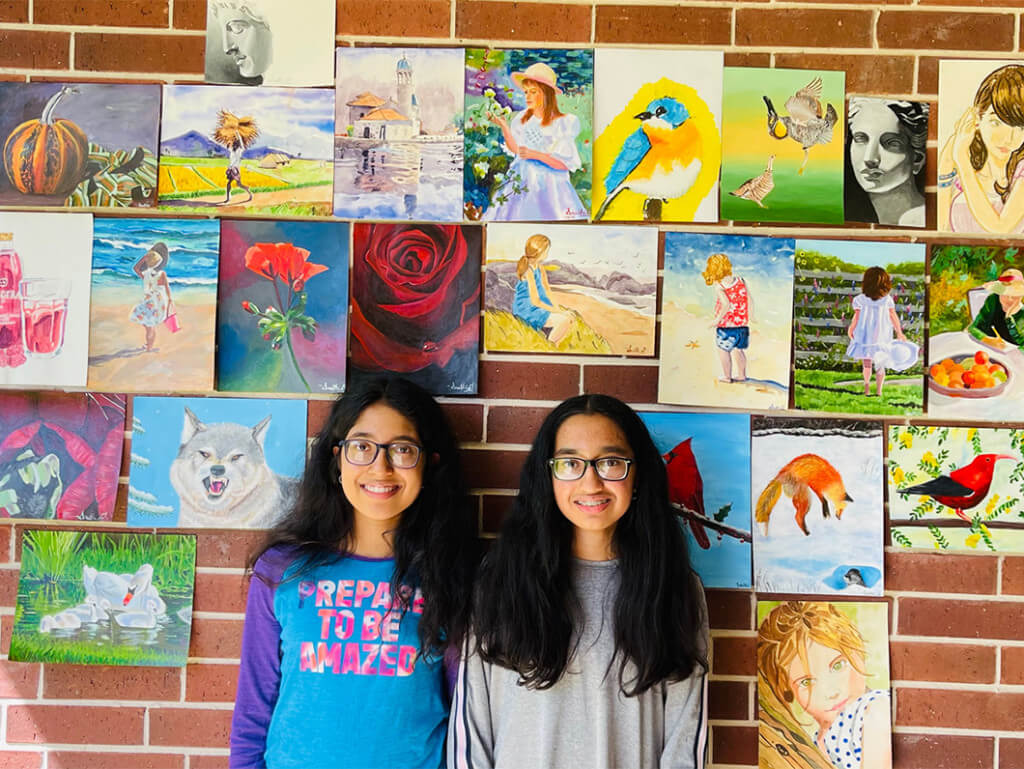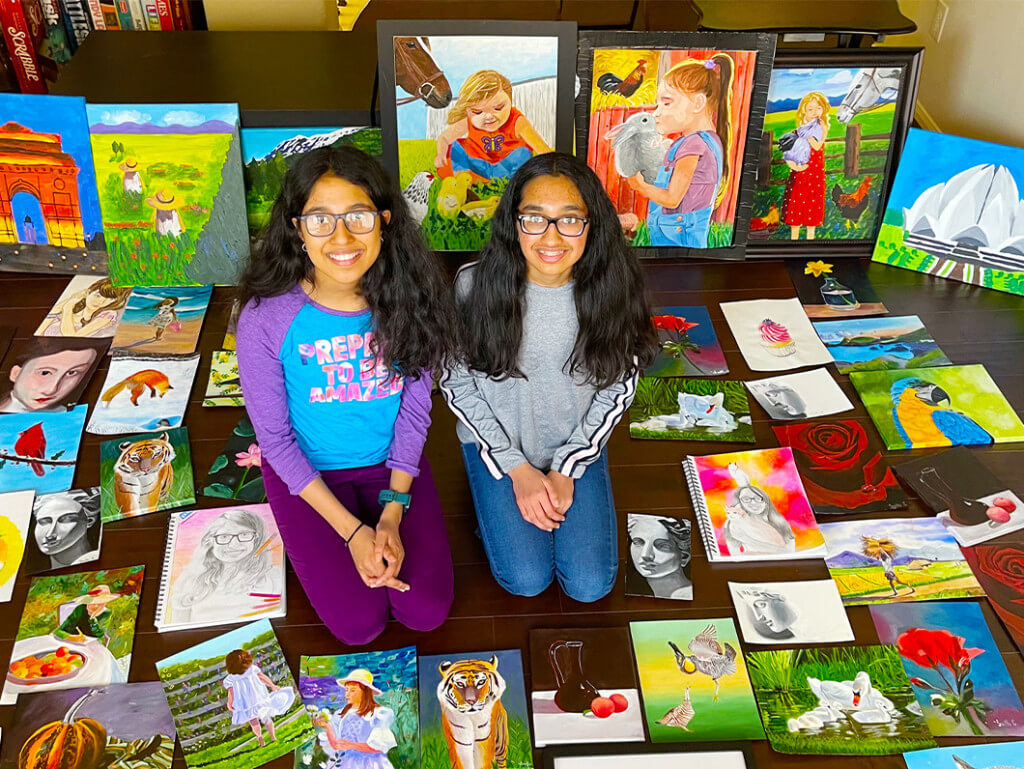 Smithi and Sruthi started learning art in 3rd grade but they have preserved their paintings from when they were much younger. Today when they look back at their art, they are very critical of their older work but they are proud of some of the work they do today.
As they reminisce the scribbles on canvas by their 3-year old selves, let's talk more to these 8th graders. With a series of interesting questions ranging from the experience of being twins to their art journey, we had a heartful conversation that made us laugh and left us highly inspired.
How does it feel to be twins or have a twin sister?
Being her practical self, Sruthi said, "It has its pros and cons."
"It is awesome to have a twin when you go to new places because you never have to be alone."
"But since we have the same hobbies, we also compete a lot with each other."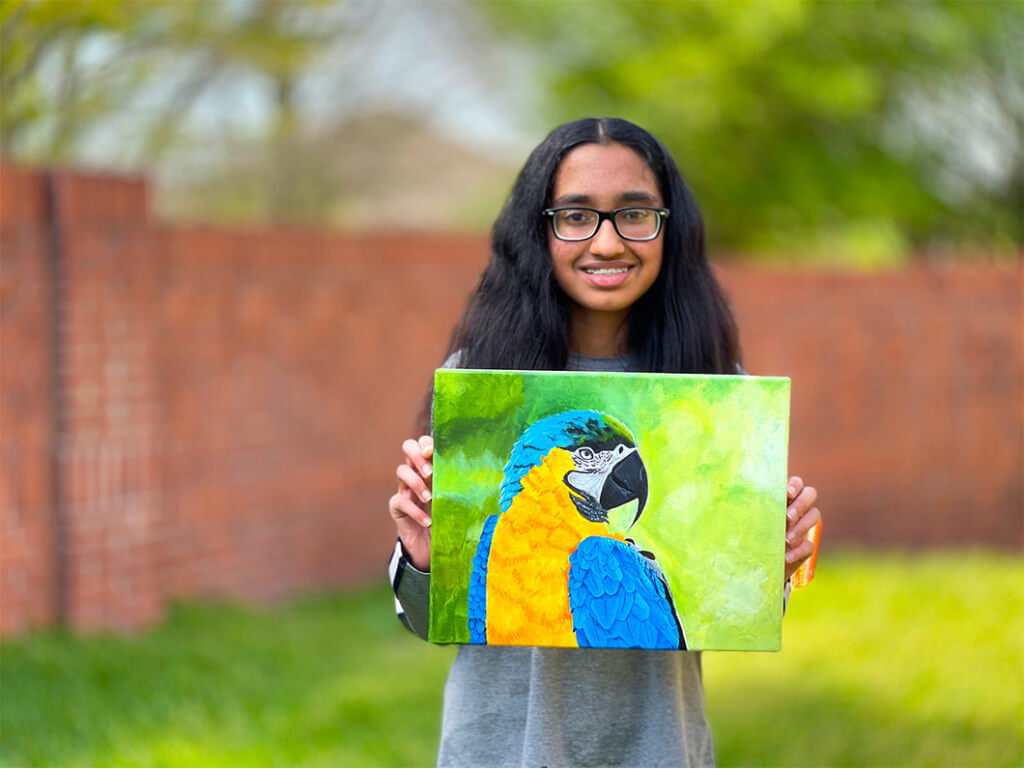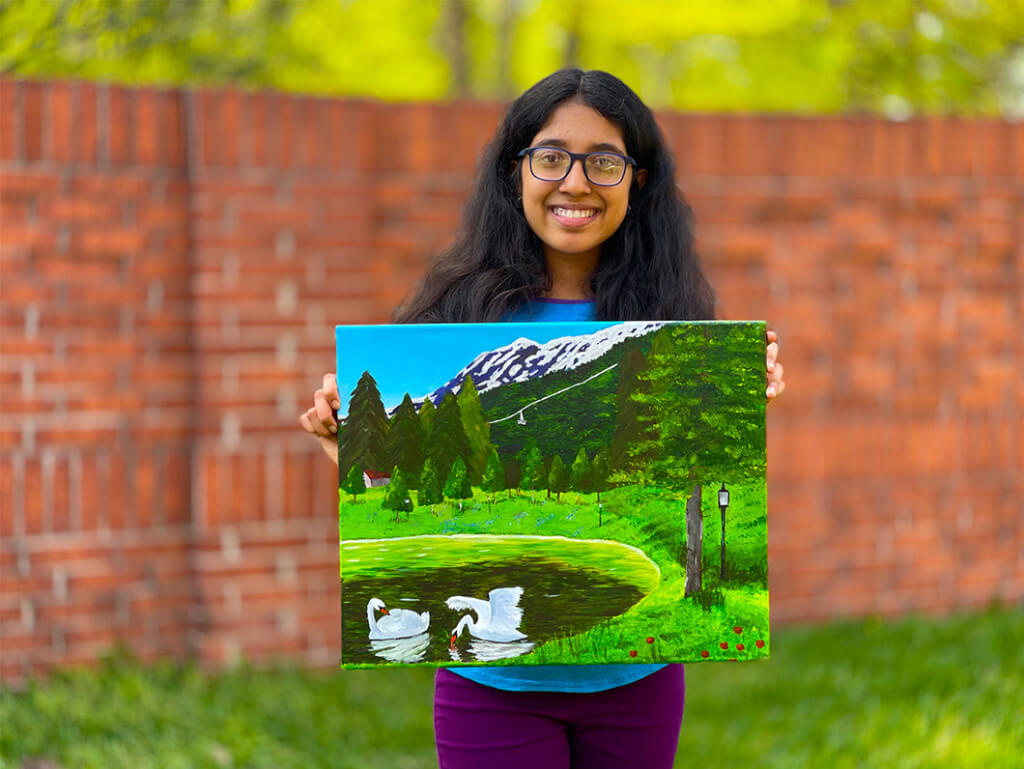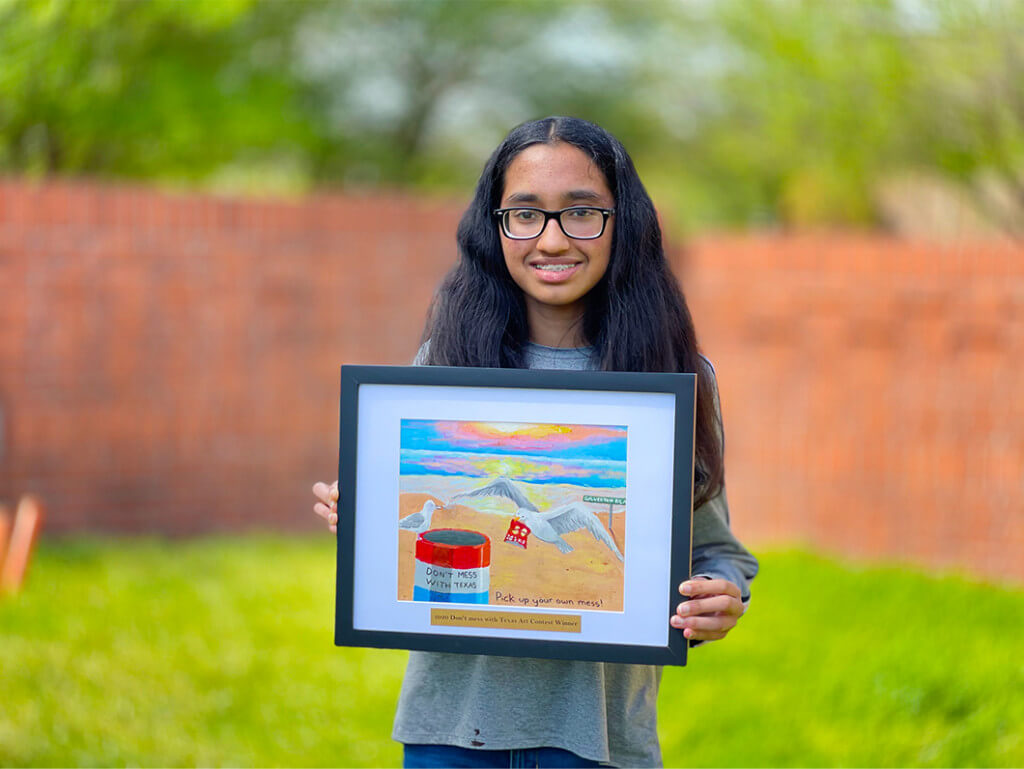 How often do you sketch?
"We doodle while taking notes, especially when we are bored."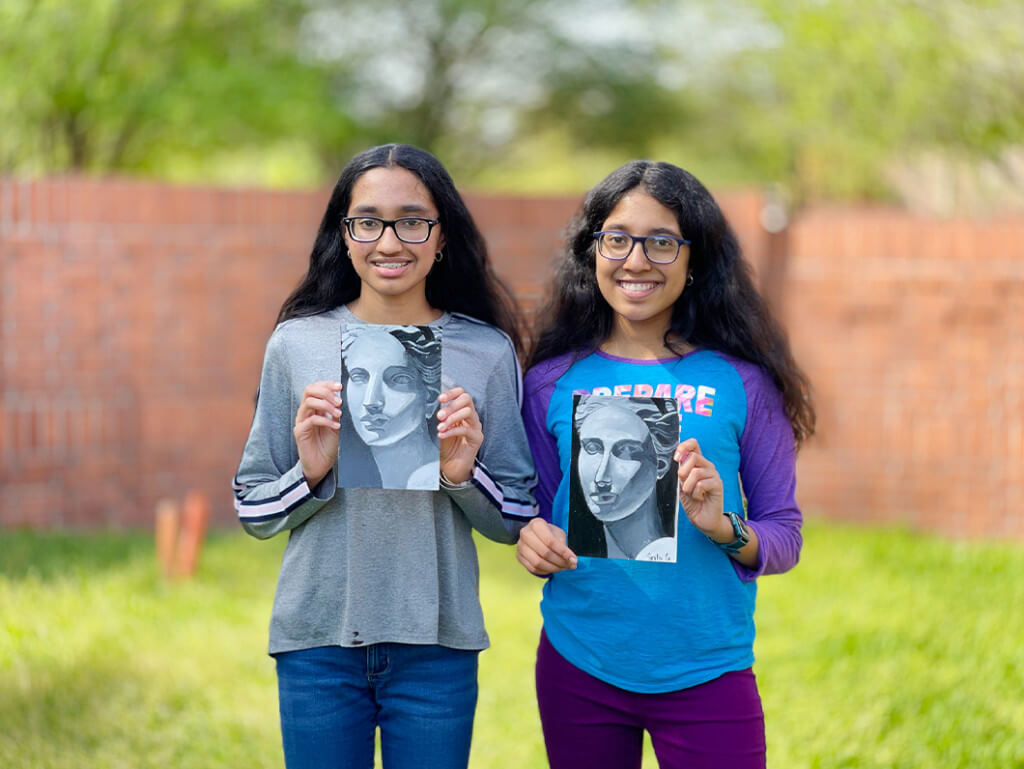 "We don't sketch daily but we take art lessons in school so we sketch over there too."
What's your favorite medium?
Smithi likes both acrylic painting and pencil shading among the visual arts mediums. "I feel like I have more control when I do pencil shading, and I like acrylic because it's nice and colorful",she explains.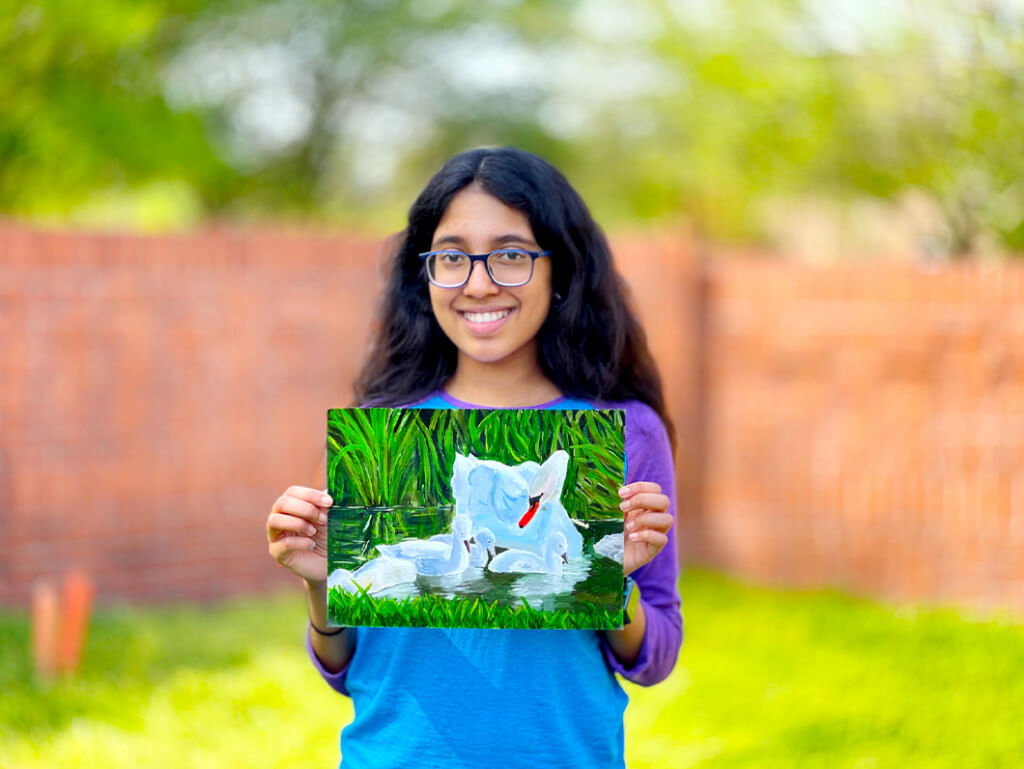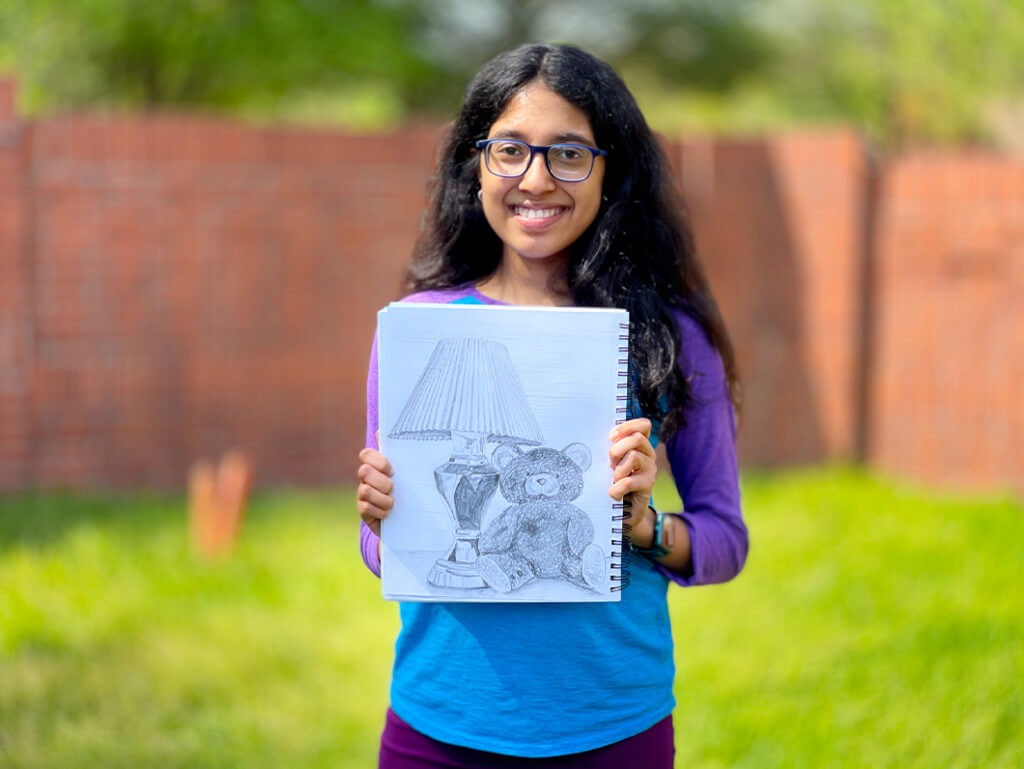 Sruthi absolutely loves pencil shading as she feels that she can add more details in this art medium. "Pencil shading is also something you can do anytime, anywhere you are." That is so true!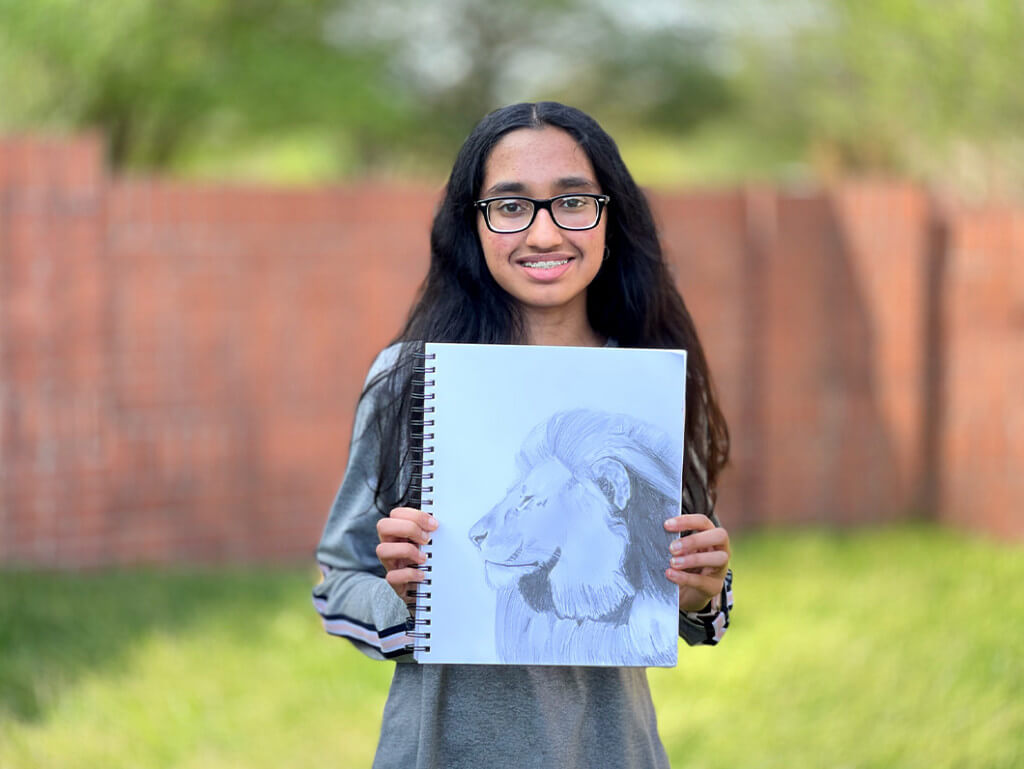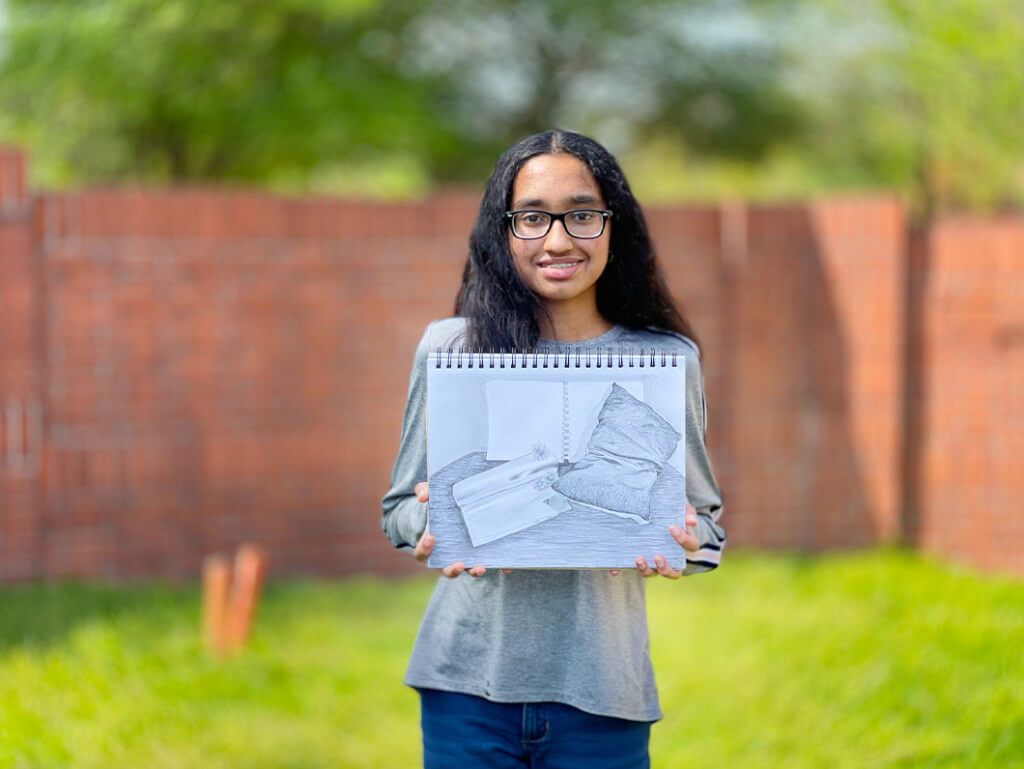 Who is your favorite artist?
"Well, that's a hard question", they both agree. "There are so many artists who are so good."
Smithi says that she likes all artists for their own style of artwork. "I like Kehinde Wiley's artwork because it's very realistic and his work has really nice backgrounds. I love his style of portraits, like the portrait of Barack Obama."
Sruthi adds that although she doesn't have a favorite, she too appreciates Wiley's artwork. "Wiley goes into a lot of realistic details and I like his highlights as well."
What a beautiful choice!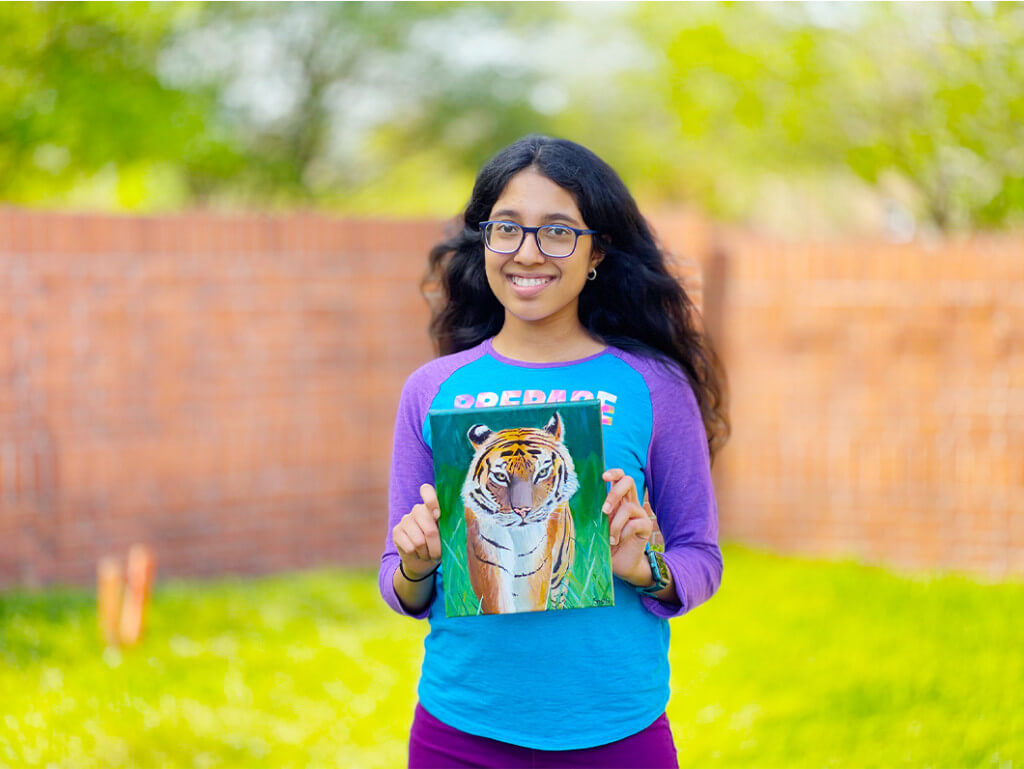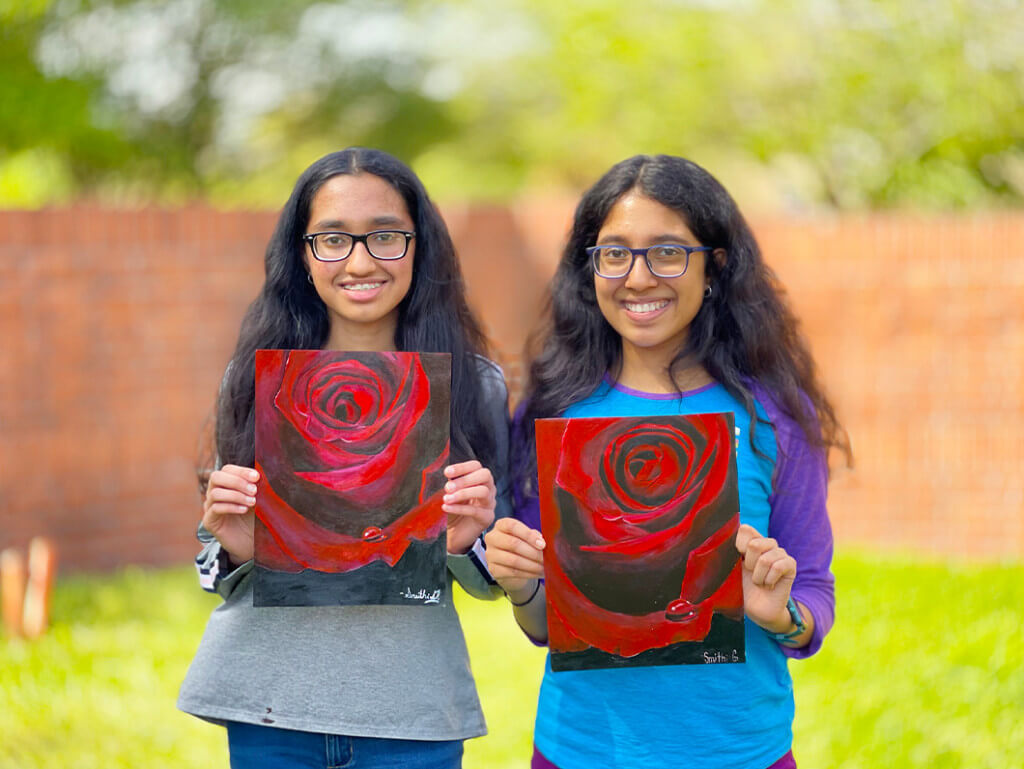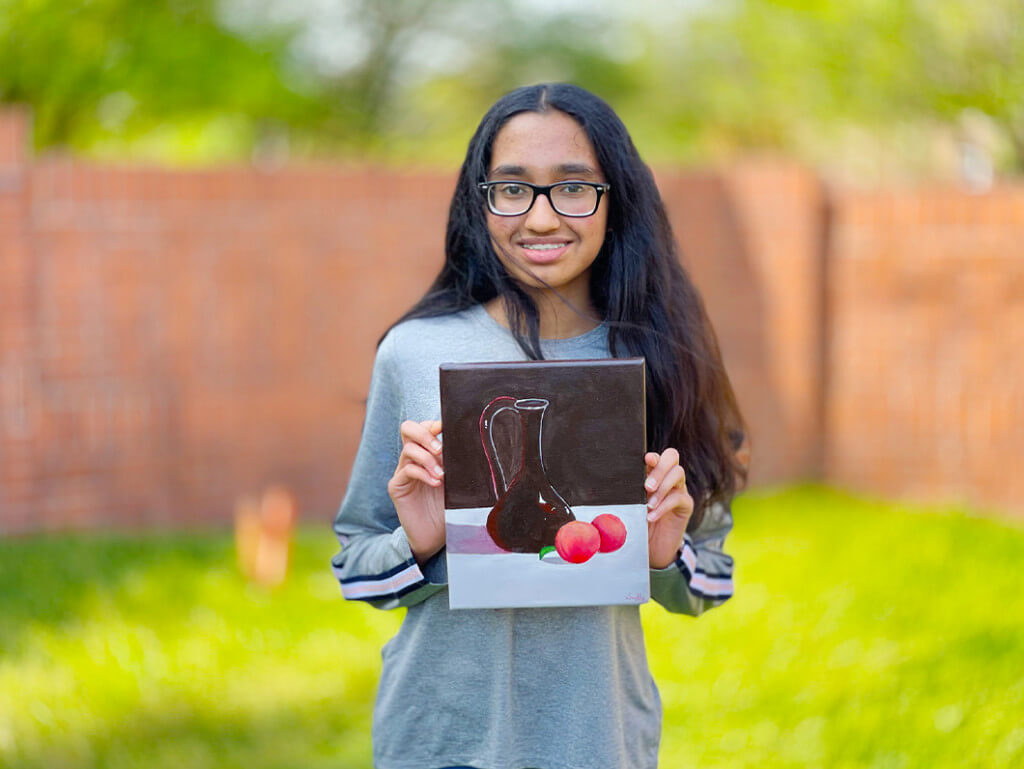 Which medium are you enjoying now in Nimmy's online art classes?
"I like acrylic painting because it's easier to fix the mistakes, has beautiful colors, and I love how it's layered and opaque", Sruthi said.
Smithi was quick and excited to add how much she enjoys painting with watercolor. " I have never learned watercolors anywhere else, so it's very new and experimental. And it's fun to play with watercolors and to see how the colors blend."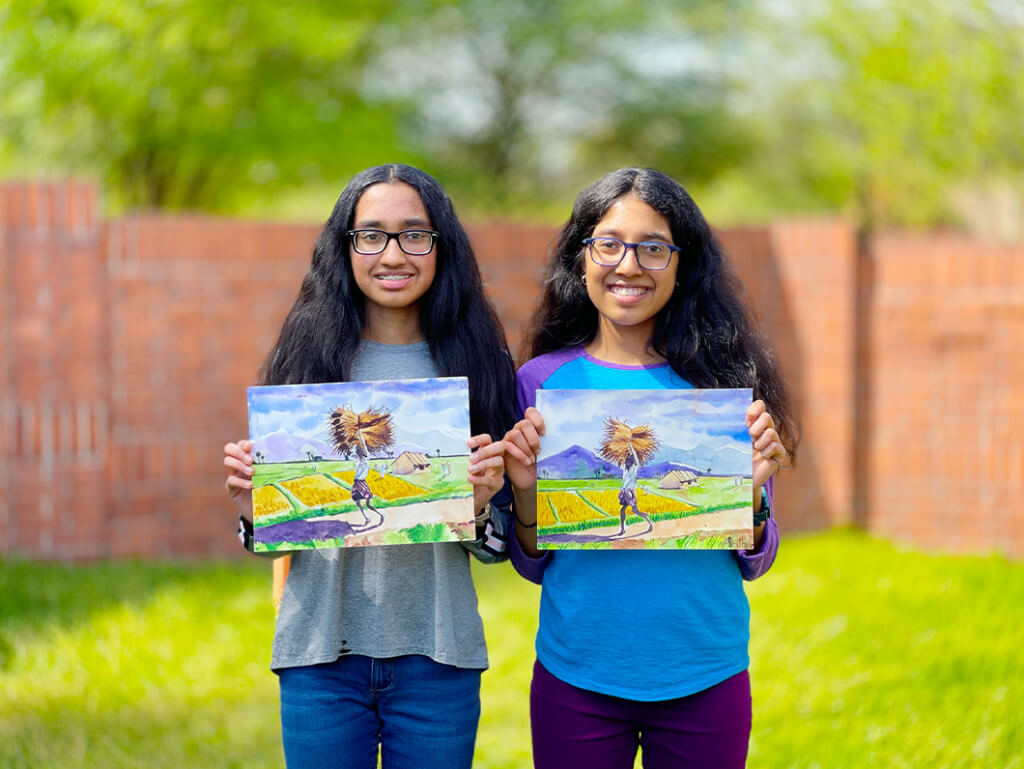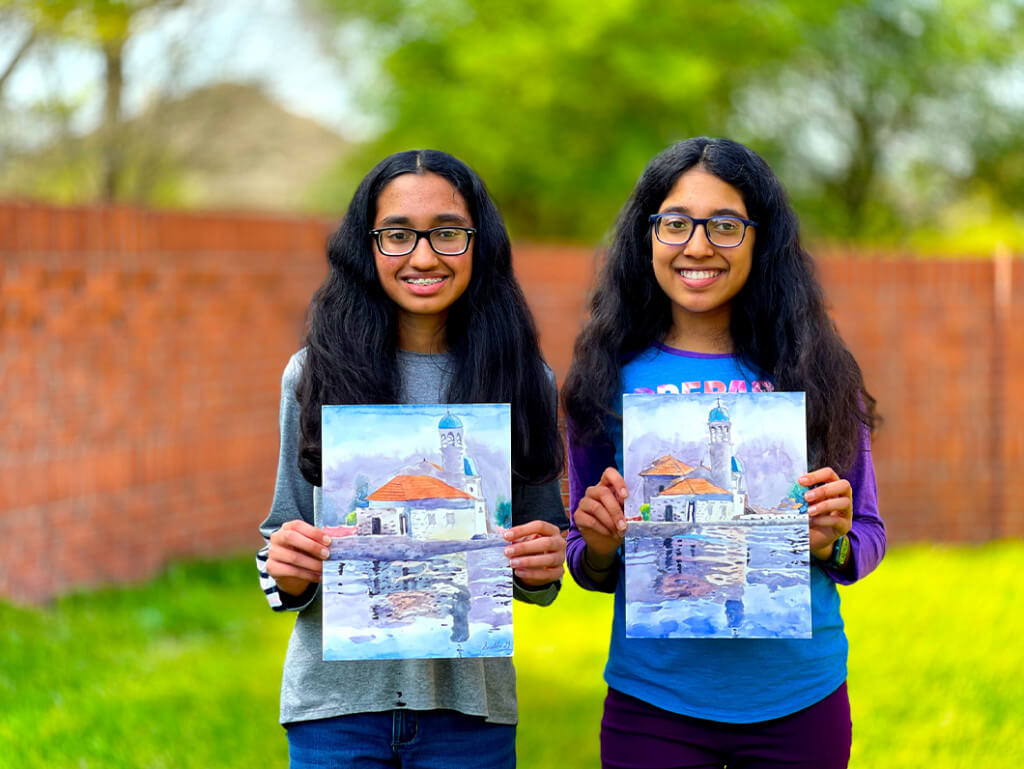 Have you ever thought of having your own art exhibition?
Both Smithi and Sruthi shared a giggly smile between them and said that they never really thought of that.
They think they should wait till high school senior years so they would have enough artwork. They want to enjoy the present and continue learning art.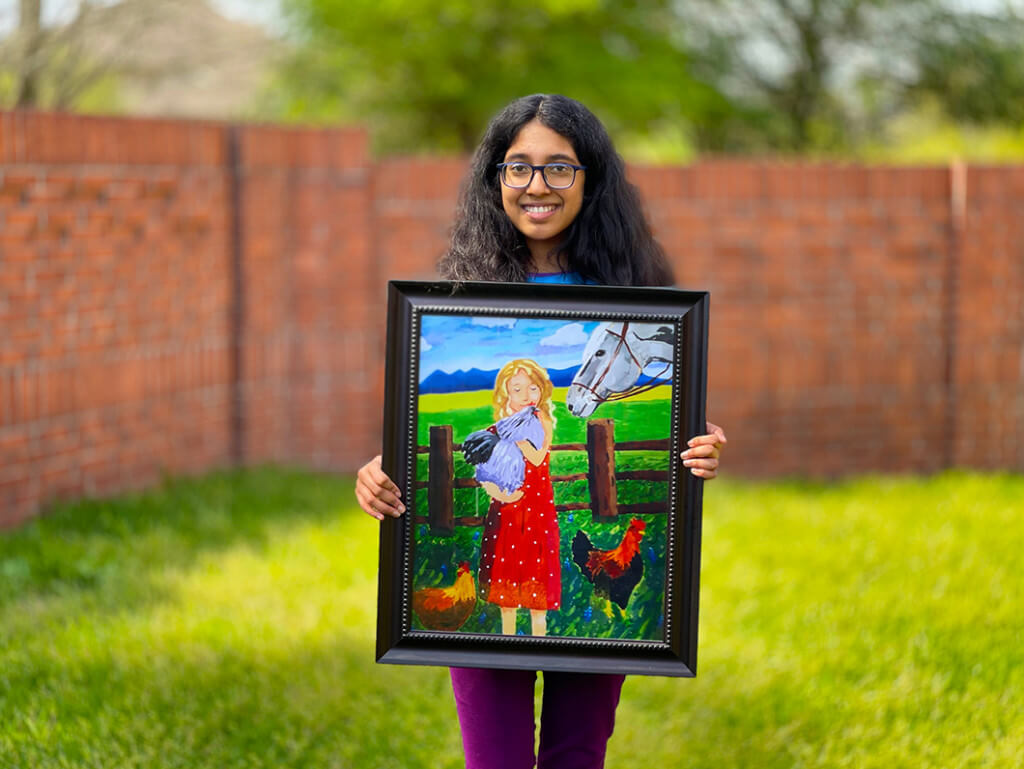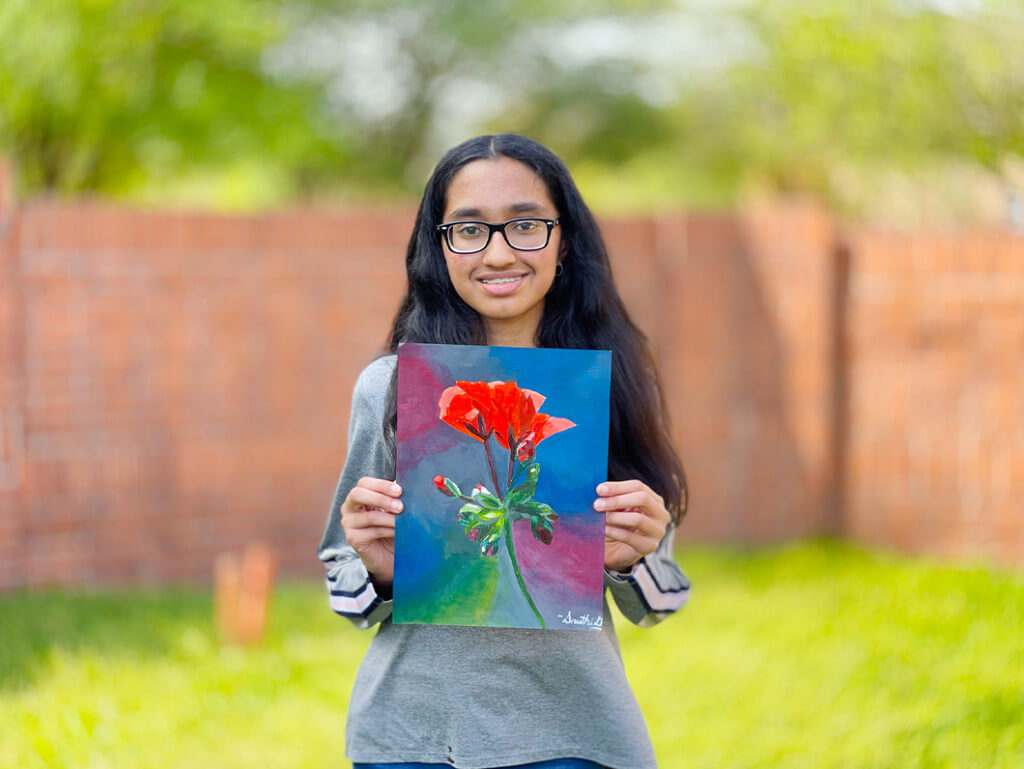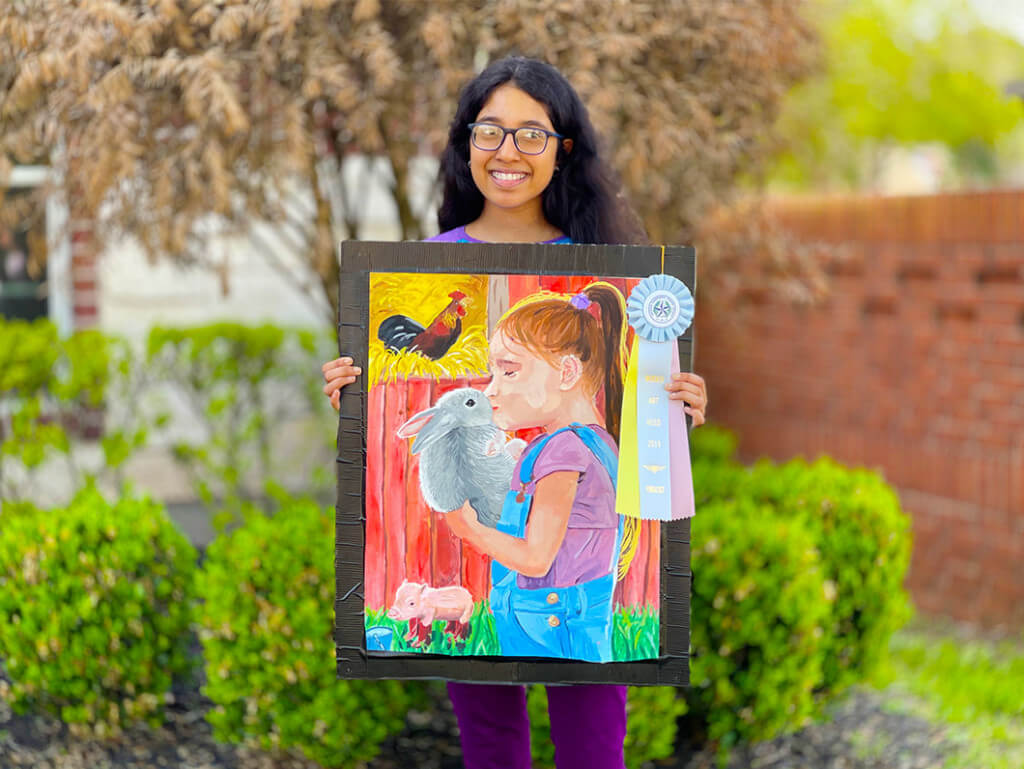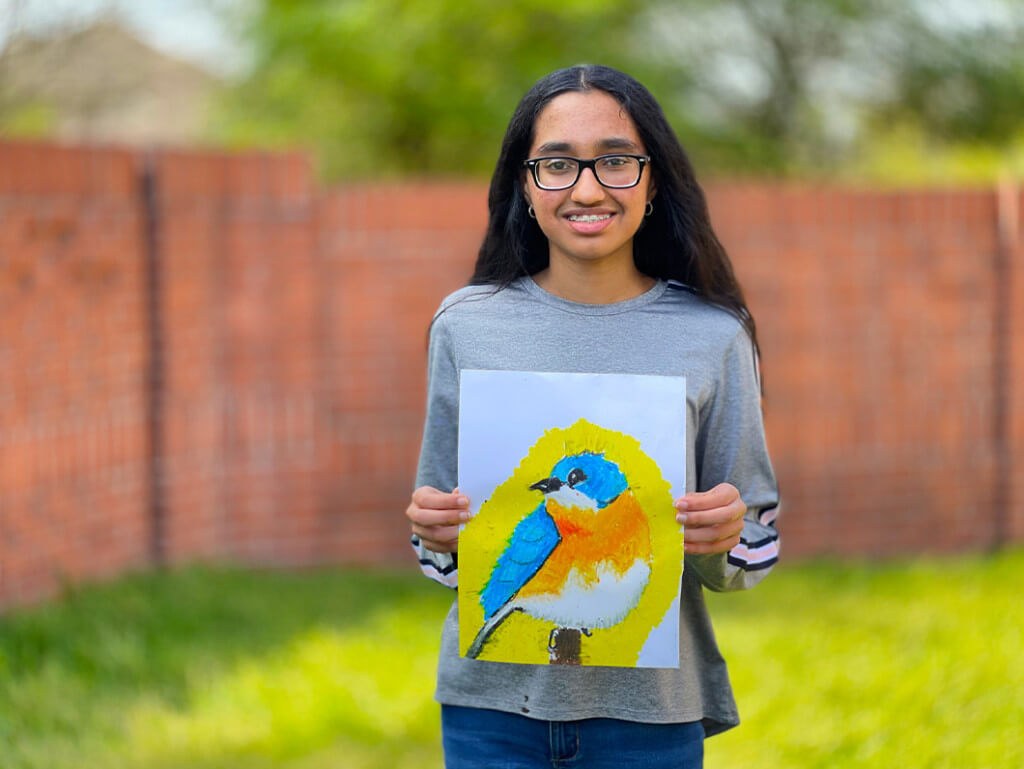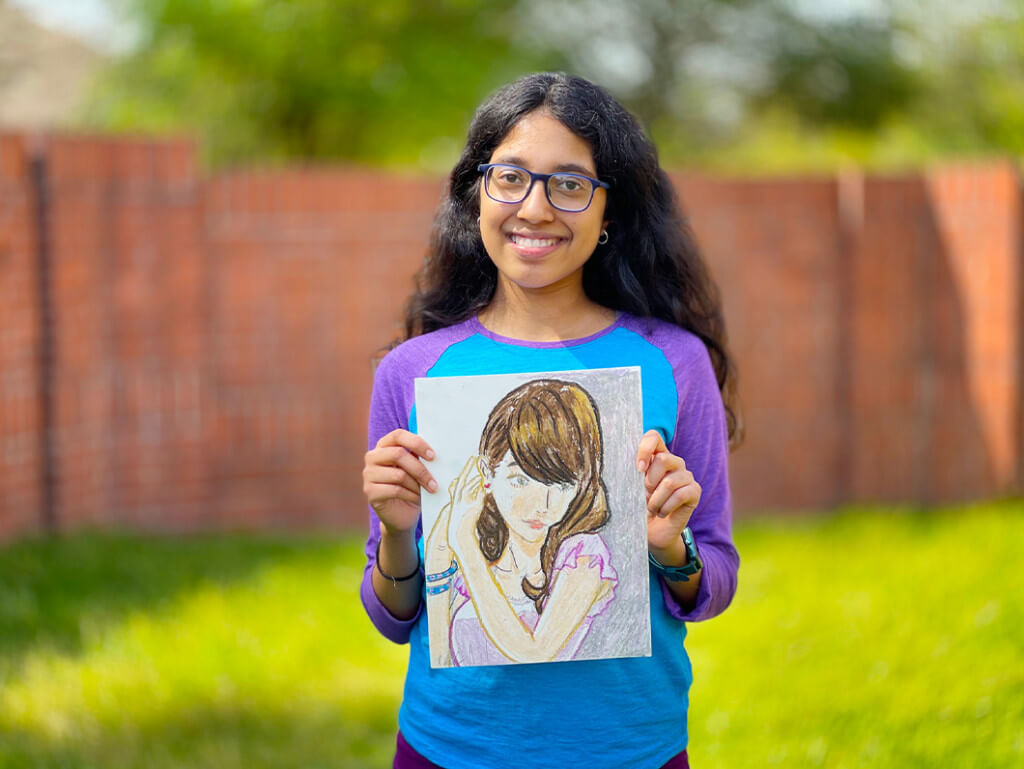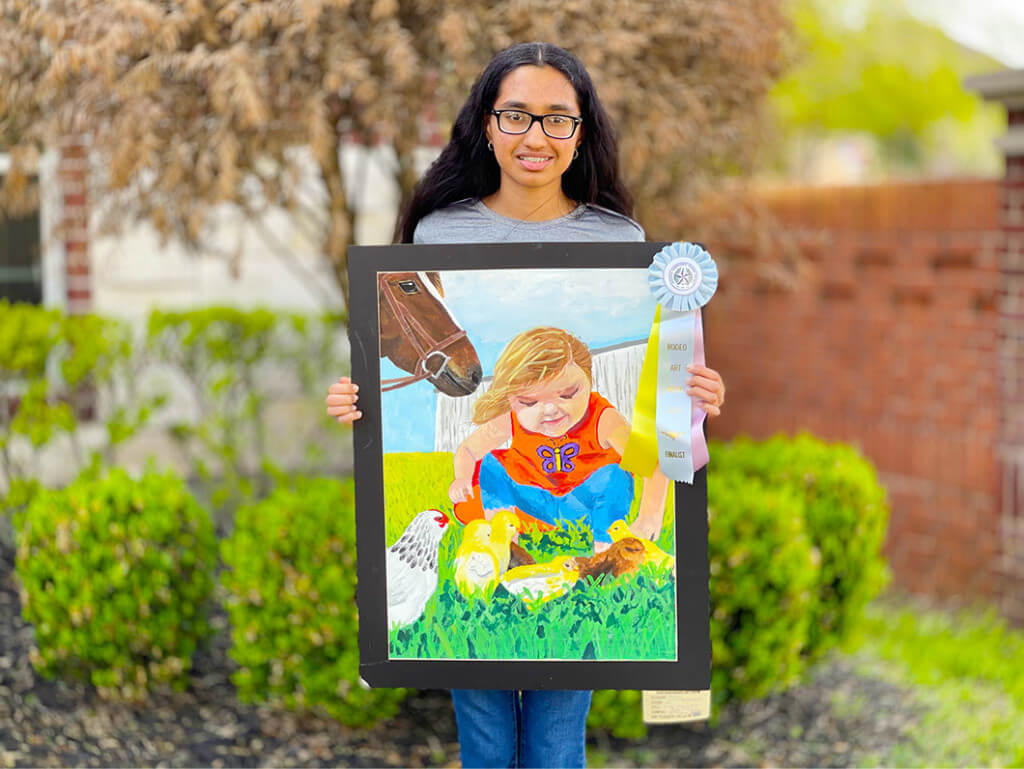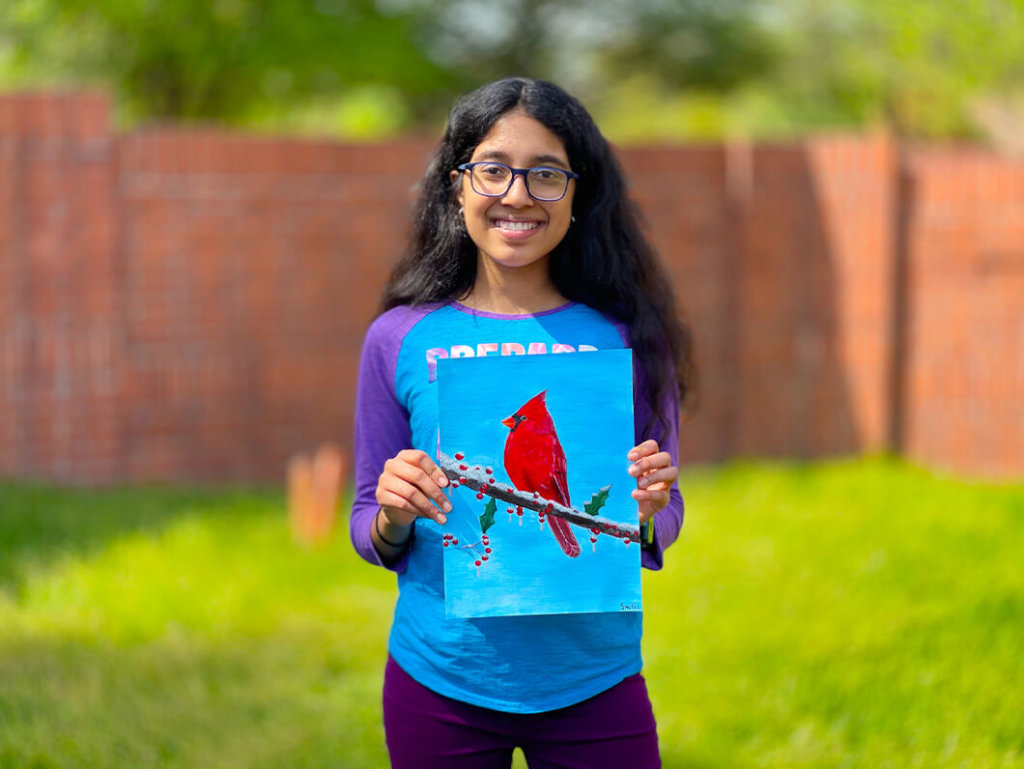 We have seen Smithi and Sruthi evolve as artists over the past few years. By continuous learning and practice, they have built a strong foundation in the different mediums, in a way that lets them create their own multi-media art. At this point in their art journey, they have developed their own style of work which can be seen in every piece of artwork they complete. And that is the beginning of a true artist's journey.
How does it feel to be learning online this year?
Sruthi and Smithi feel that learning online isn't really a problem, and it isn't much different from in-person lessons.
Sruthi adds, "Although one would think that in-person classes are better, online learning is the best we have in this situation."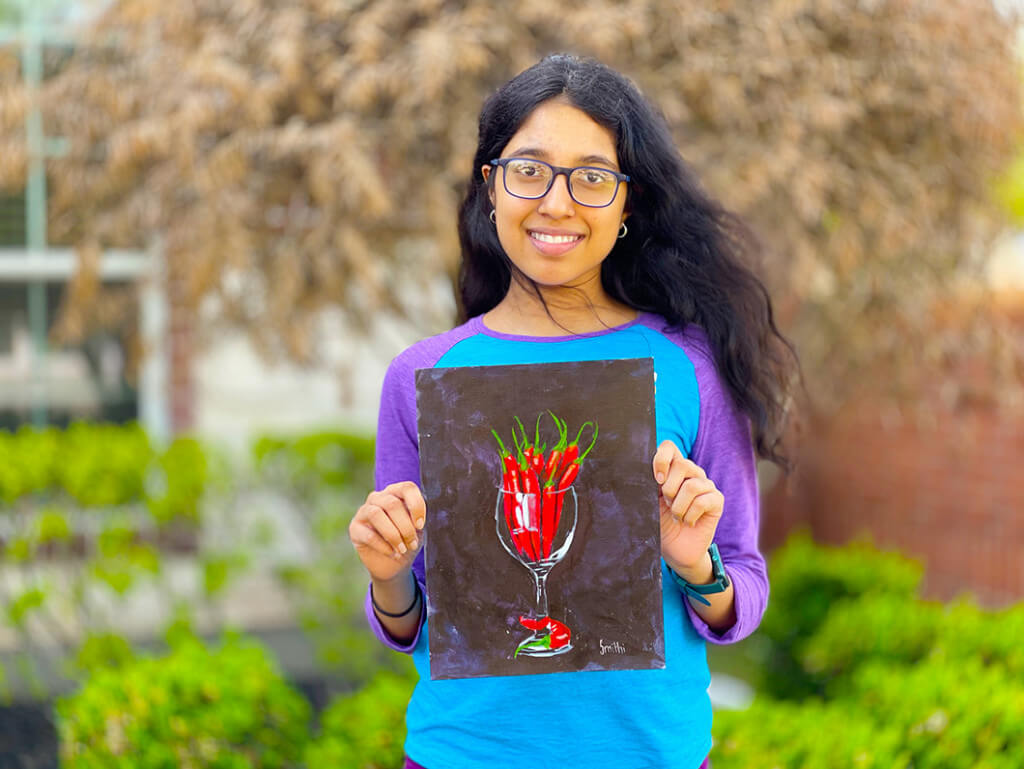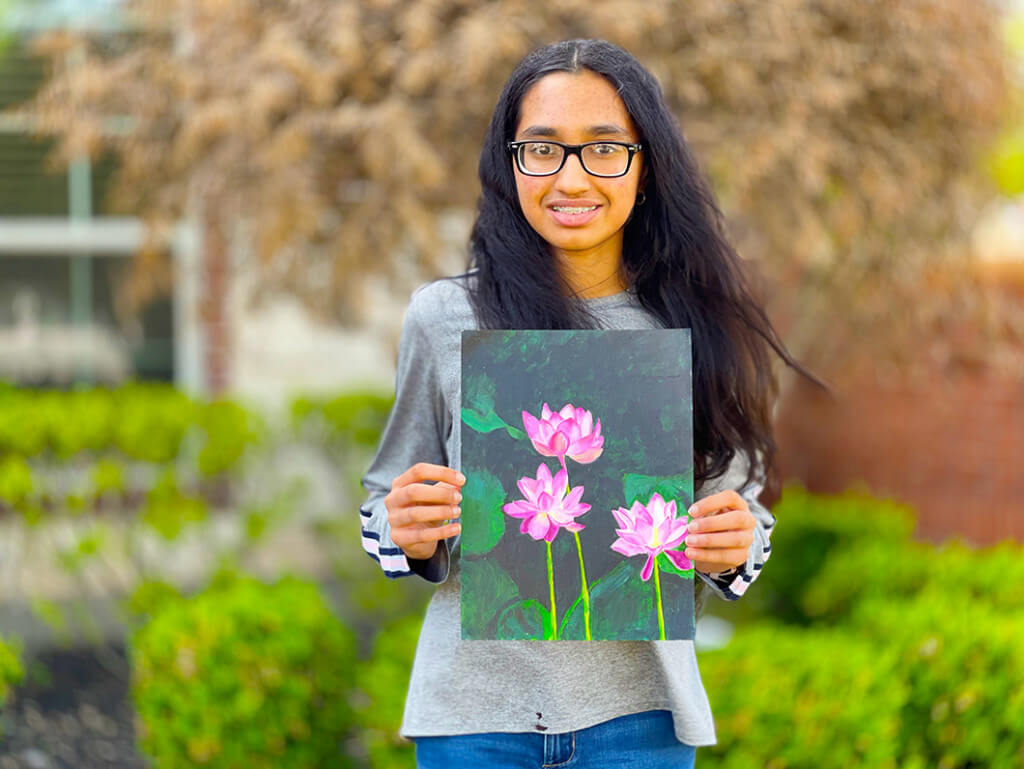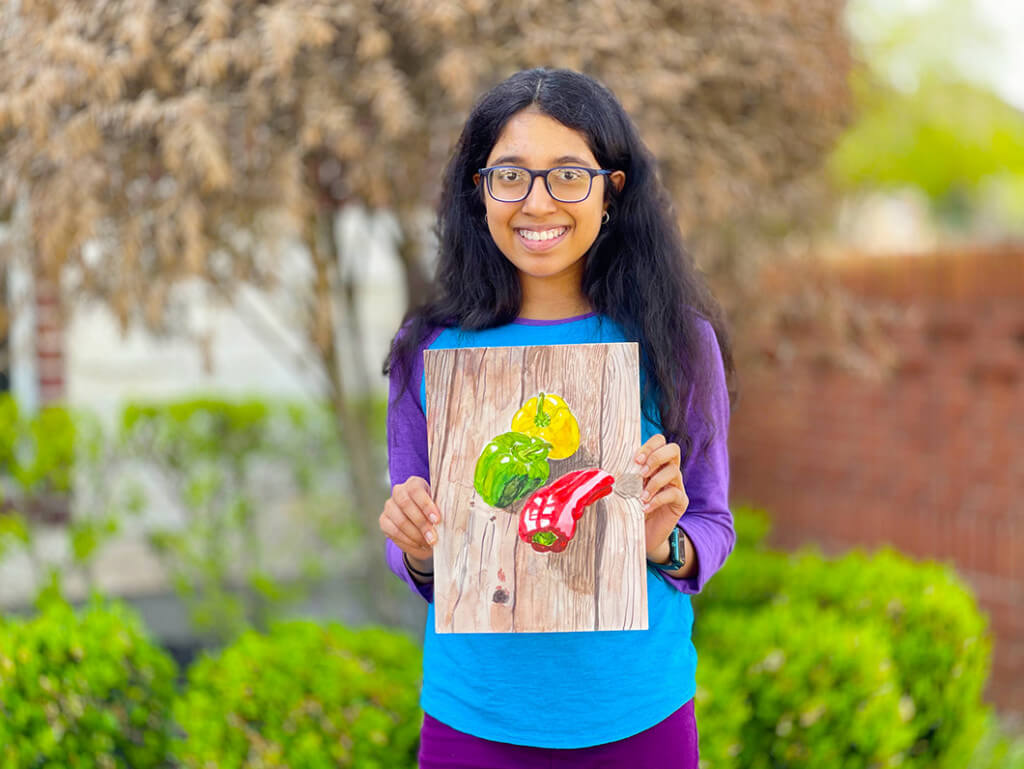 What other hobbies do you both have?
Sruthi loves gymnastics and is very good at it. She has lost practice since the pandemic but hopes to get back soon. She also likes to play the piano, which Smithi also loves.
Both are excellent dancers as well.
How do you manage your time with all these activities?
Smithi and Sruthi are very organized. In their words,"We create a list of things to do, and then finish school work as soon as possible so we have time for other things."
What's your latest art project that was challenging?
"We just finished our self-portrait for our art class."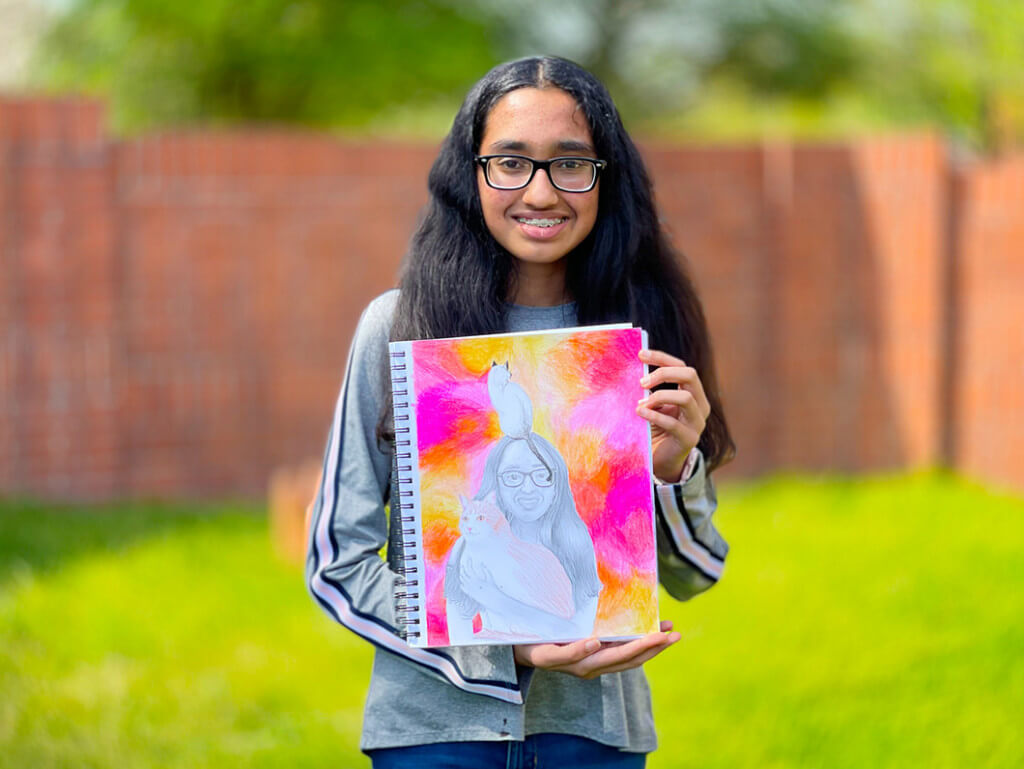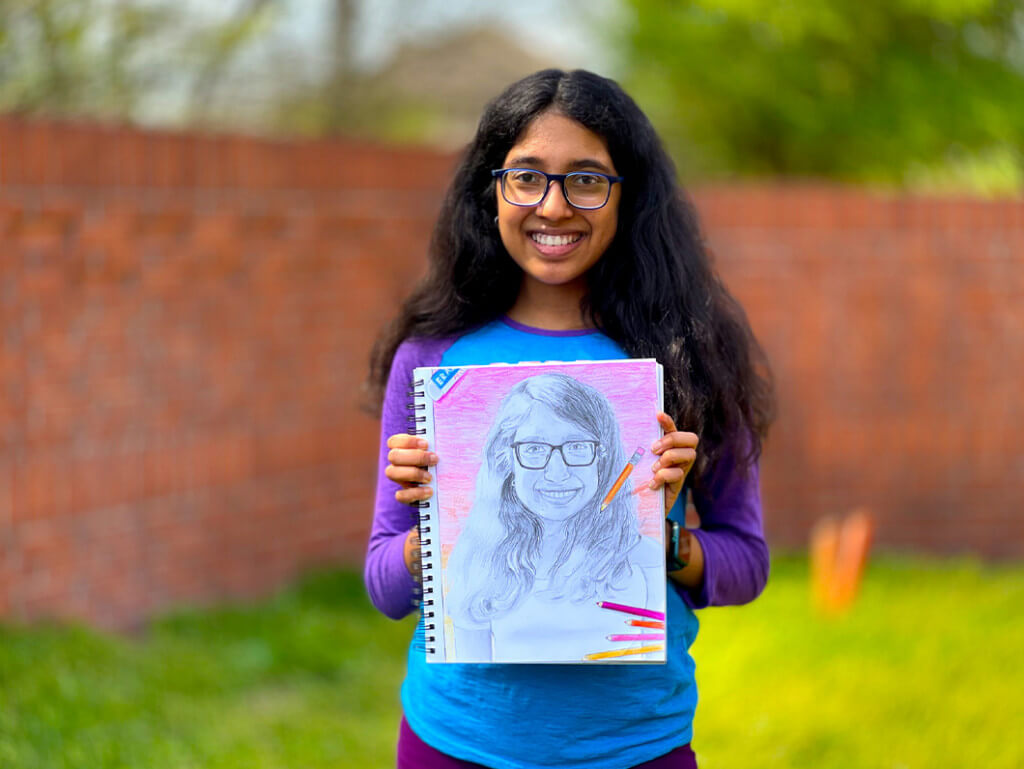 And what beautiful portraits they are! The recreation from reference photos is as great as the little background elements and ideas they added in their self-portrait.
"The most challenging part was to draw the mouth with the smile. I had to rework many times to get it right", says Smithi.
What's your tip for someone who has just started learning art?
Smithi's tip – "Keep going, and keep creating art because there is no specific way to create art."
Sruthi's tip – "Mistakes are okay because we can always try again. Keep learning and practicing, and over time, your hands will know what to do, your eyes will know what your art should look like."
Wow, very wise words, and so inspiring.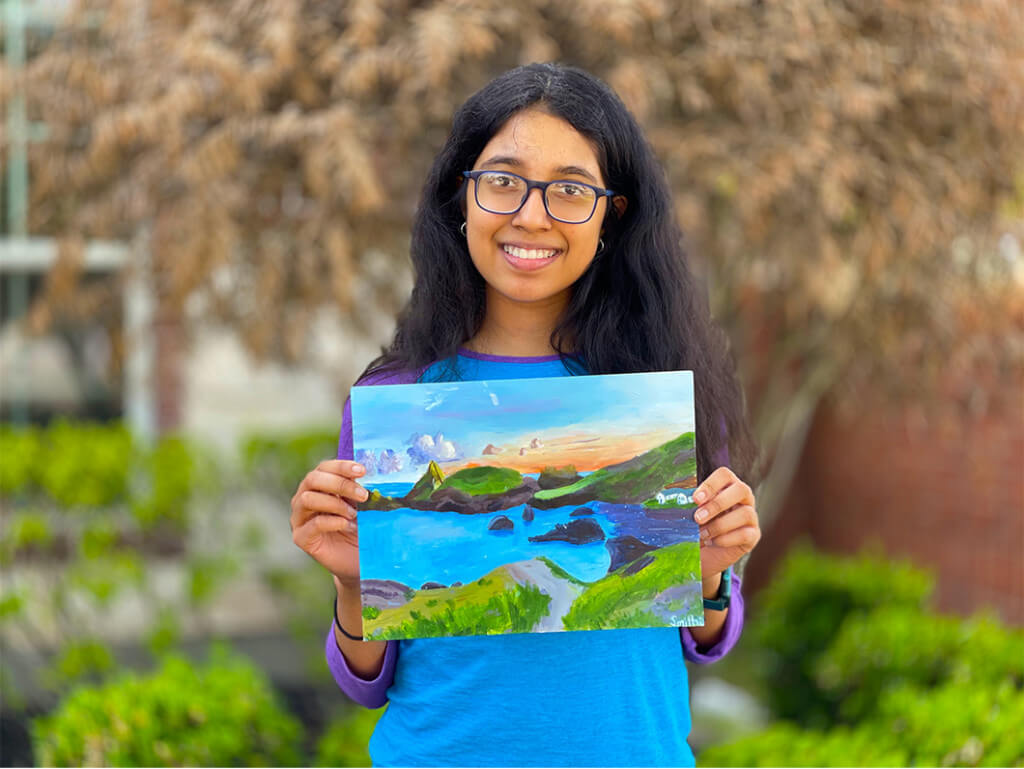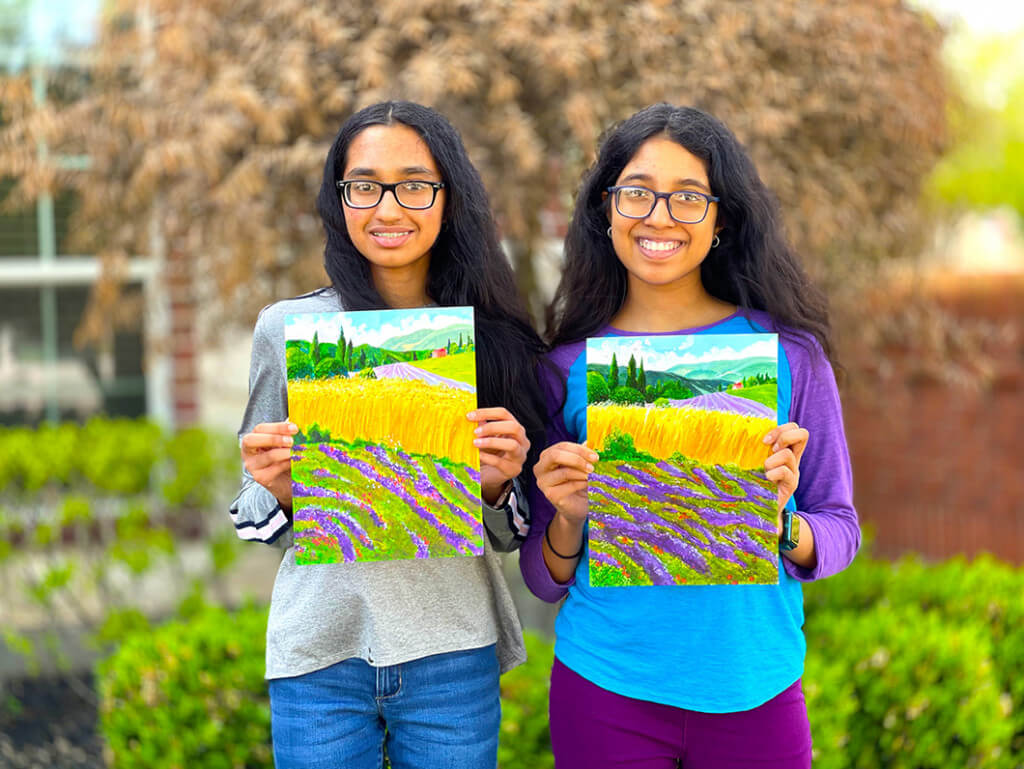 Being the seekers of perfection, Sruthi and Smithi have always made sure that they try again and again, until they get the final artwork as intended.
With the right amount of self-criticism, they have found their path to better themselves through each and every artwork. We wish them the best in their life ahead and believe that we will see these young artists soon at their very own art exhibition.
Join our Online Art Classes to embark on a learning journey, that not just nurtures your child's creativity but guides them through a path of learning while having fun.
Stay tuned for our next artist spotlight.
Nimmy Melvin, the award-winning visual artist, envisions nature, the surroundings, and every object around through a different perspective. An expert in the usage of different mediums of painting, including acrylic, oil painting, watercolor, and oil pastels, she has the knack to inculcate knowledge in kids.