Watercolor is a light and beautiful medium that brings a lot of joy to the artist. The flow of the medium and the unique result it brings, is always intriguing to the little minds at our online art classes. Young children enjoy playing with watercolors, and have an innate curiosity to find out how it works. These 7 watercolor tips for kids will help you support your child as they begin to explore this beautiful medium.
As they say, knowing is half the battle. Let's first understand how the watercolor medium works and what to expect.
Understand the watercolor medium
Transparent:
Watercolor is a transparent medium. You can create beautiful layers of translucency like you see here in this video created for one of our online art classes.
As a result, you can also layer the colors from light to dark by simply varying the amount of water in it.
Unique results:
Because of its transparent nature, you often cannot paint over a layer of watercolor to make changes. This means the artist has to be present and need to execute each stroke with a clear intent. But at the same time, keep an open mind as watercolor presents very unique results each time you attempt.
Free-flowing:
The very essence of this medium is the water that brings with it the magic of natural flow. It is this free-flowing nature that lets artists create beautiful blending of colors in the most natural way, and create a different impact every single time.
Because of this characteristic of watercolors, you have to wait to see the final effect of your painting. This curiosity can make it very intriguing and relatively difficult to master compared to other mediums.
Unpredictable:
When you start a watercolor painting, it is important to have a plan for your composition and for the values you intend to use. But watercolor seems to have a mind of it's own.
The value of color you see on your palette is darker than what you will see when you paint on paper. Once it dries, it becomes lighter than how it looked when it was wet.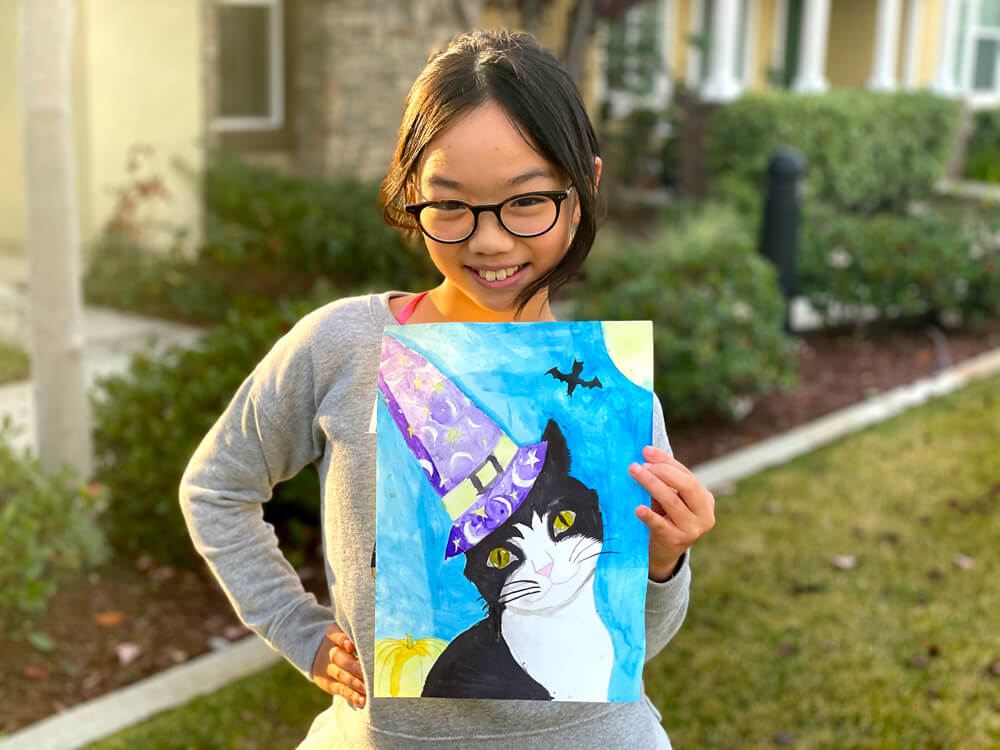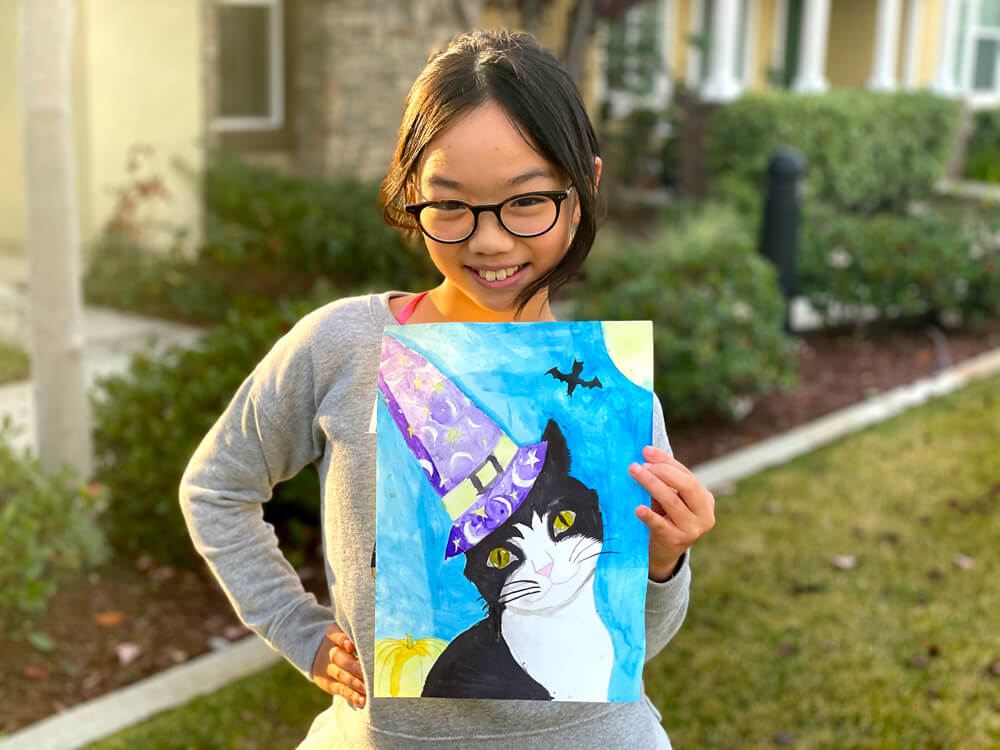 7 tips to help your child learn watercolors
As parents and educators, we can enable kids to use their inquisitiveness to create beautiful artworks in watercolors.
Tip #1: Use quality materials
Brush, paint and paper – The material trio that brings the difference in the painting. Artists who work with watercolors use premium quality materials like Arches Watercolor Paper Block and Daniel Smith watercolor paints along with the smooth strokes of the Princeton Velvetouch brushes.
For young kids and beginners, Canson watercolor book with at least 300 GSM thickness is a great choice for beautiful results. The thicker paper absorbs the water and does not rip away.
Good quality paints like Winsor & Newton bring out the vibrant colors and make a painting attractive. The brush quality determines the ease of movement for your child and the water holding capacity.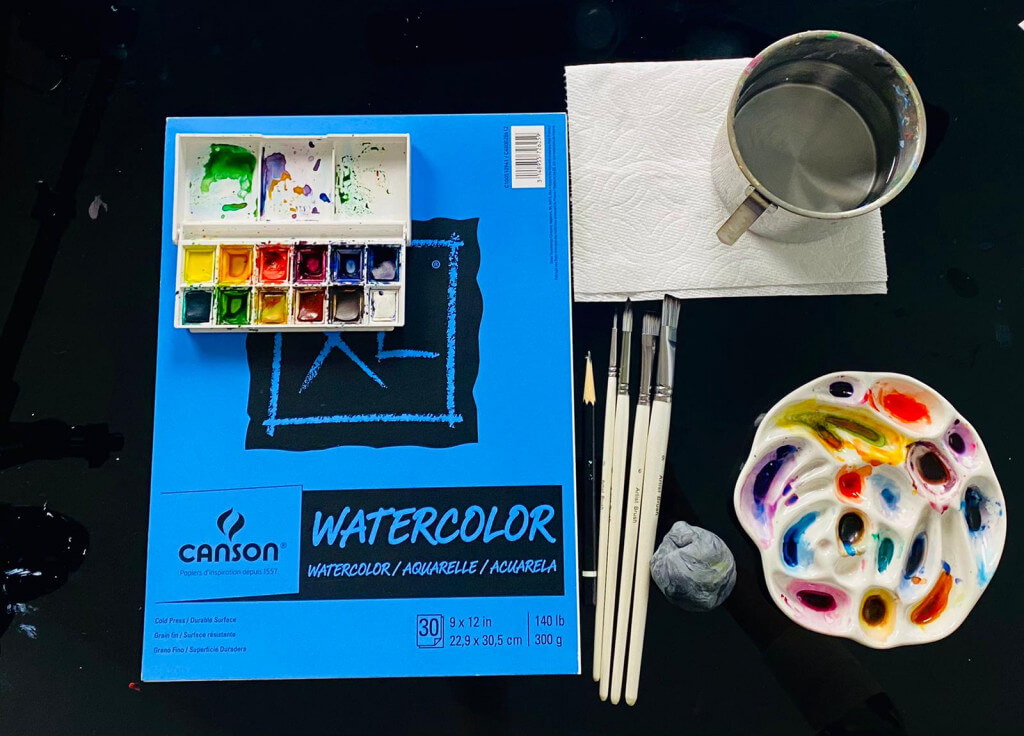 With the right materials, your child will enjoy the process of creating art using watercolors.
Tip #2: Sketch light for watercolors
Great paintings need a good sketch. Good sketches for watercolors are made with light shades so that the pencil lines are not visible in the final painting. If your sketches are dark, gently use an eraser to make the shades lighter, so that they are still visible but would disappear on applying the watercolor.
Tip #3: Test before you apply
Now that you know, that what you see is not what you would get, always make it a point to test before you paint. Remember – the color on paper will be lighter than what you see in the palette, and watercolor dries lighter too.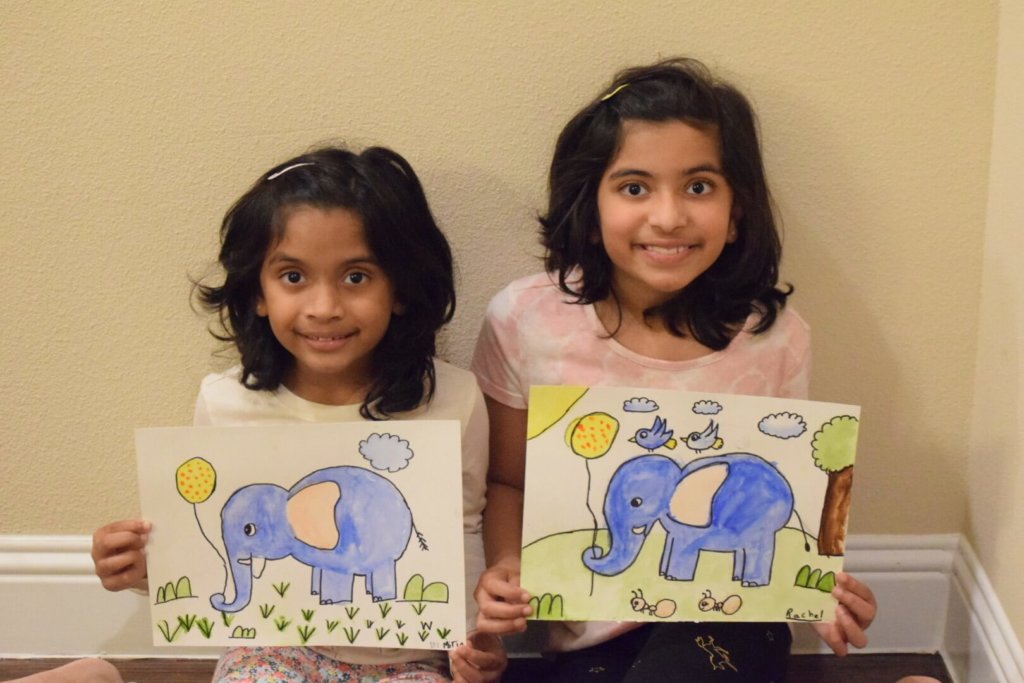 Tip #4: Use 2 cups of water
Since water plays a vital role in determining the value of your colors, it is important to use clean water when creating your colors. Otherwise, it can alter the values and you may not get the intended results.
Replace the water as it gets dirty or use 2 cups of water, one to clean the brushes and one to use for mixing in the colors.
Tip #5: Clean the brushes thoroughly
Residual paint in brushes can also alter the results. Clean the brushes thoroughly every time you change your color or the value (the lightness or darkness) of your color.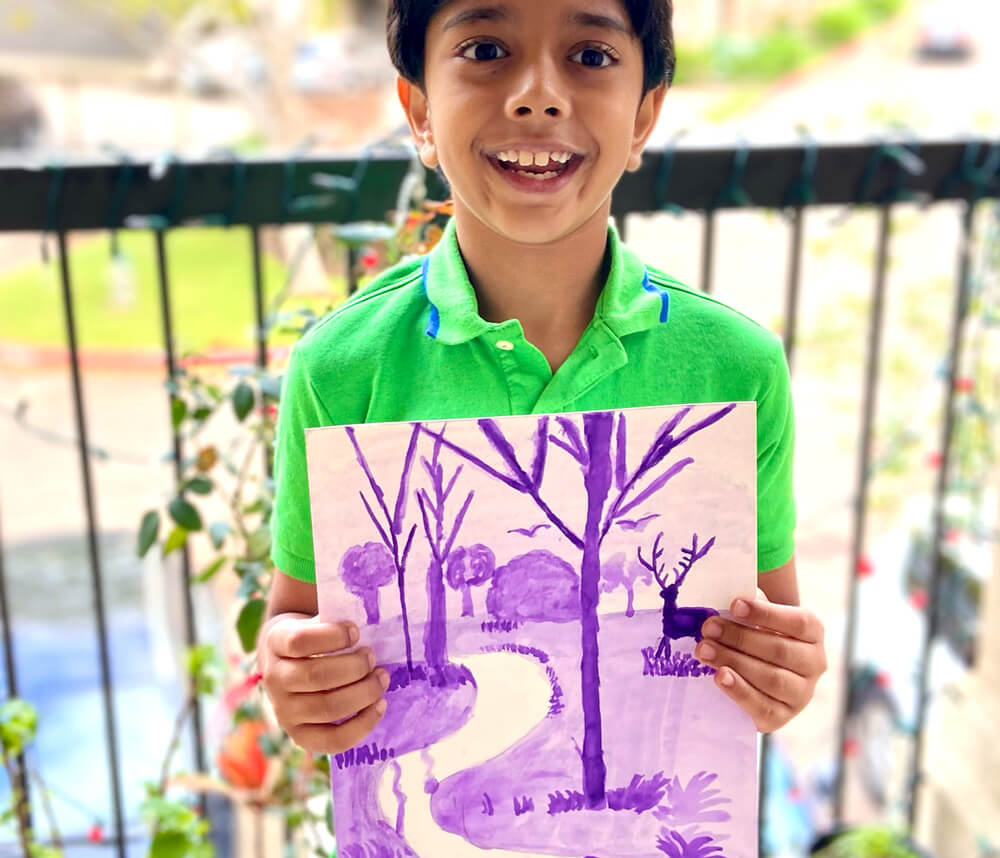 Tip #6: Know when to stop
Plan how you want your painting to be. But most importantly, know that once you have painted, you have to let it be. Don't try to paint over and over to correct your mistakes. This will only ruin the paper.
So train yourself to be curious and patient to see how it turns out and to be happy with the results.
Tip #7: Practice your lessons
As a beginner it is hard to understand how much water and how much paint is required. Encourage your child to practice their art lessons frequently. Help them try out different colors with varying levels of water to see the differences. Make a color value chart with different values of each color.
Find your happiness
Watercolor has a free flowing property just like that of a river. Although it can seem hard to tame, it isn't all that difficult. It is this free flowing nature that makes watercolor interesting.
So let go, and find happiness in the magic of watercolor.
Interested in building a strong foundation for your child in multiple mediums of visual arts? Join our online class to explore multiple art mediums. Learn different art techniques with interesting age appropriate art lessons for children from 5 -7 years and 8 – 12 years.
Have a question for us? Email us at hello@nimmysart.com