'Learn from Masters' blog series brings to you how kids learn to paint famous artworks at our online art classes and learn about the master painters. This week we learn to paint a Frida Kahlo portrait, learn about her life and history, how it influenced her style of painting, and the unique styles and techniques in her paintings.
Frida Kahlo – Fun and Interactive Portrait Painting For Kids
Frida Kahlo is known as a surrealist painter and for the symbol-filled self-portraits. Her fierce determination and often challenging life fueled her work. Artists used symbolism to express meaning or a message in an indirect manner whereas surrealism was about uninhibited expression.
In our online art classes at Nimmy's Art, we worked on creating a portrait of Frida for the kids using acrylic painting.
Who was Frida Kahlo
Frida Kahlo de Rivera was a Mexican artist best known for her self-portraits. Her paintings are strongly influenced by Mexican folk culture and use lots of bright colors and dramatic symbolism. Initially studying medicine, Kahlo changed her career path following a serious bus accident. As part of her recovery, Kahlo underwent thirty-five operations but she kept painting. Her mother had a special easel made for her so she could paint in bed, and her father gave her a box of oil paints and some brushes.
Frida often painted portraits of herself. She created one hundred and forty three paintings, and of these, fifty-five are self-portraits. Read more about her life in this kid-friendly book, The Story of Frida Kahlo.
"I paint myself because I'm so often alone and because I am the subject I know best," -Frida Kahlo.
Frida's painting style
Symbolist painters used a wide variety of subjects including heroes, women, animals, and landscapes. They gave their subjects deep meanings such as love, death, sin, religion, or disease. They would use metaphors or symbols rather than real life to represent something.
Surrealists, on the other hand, depict their thoughts through creatures or scenes that are not usually seen in real life.
"They thought I was a surrealist, but I wasn't. I never painted dreams. I painted my own reality."
Check out this digital portrait of Frida Kahlo by award-winning artist Nimmy Melvin. You can purchase customized prints here.
How can kids create a Frida Kahlo portrait?
Frida Kahlo's portraits feature her unibrow which is a distinctive characteristic in her paintings. Her choice of vibrant color in clothing is an influence of the Mexican Art culture. Kids can easily create a Frida Kahlo portrait focusing on the features that are unique to her paintings.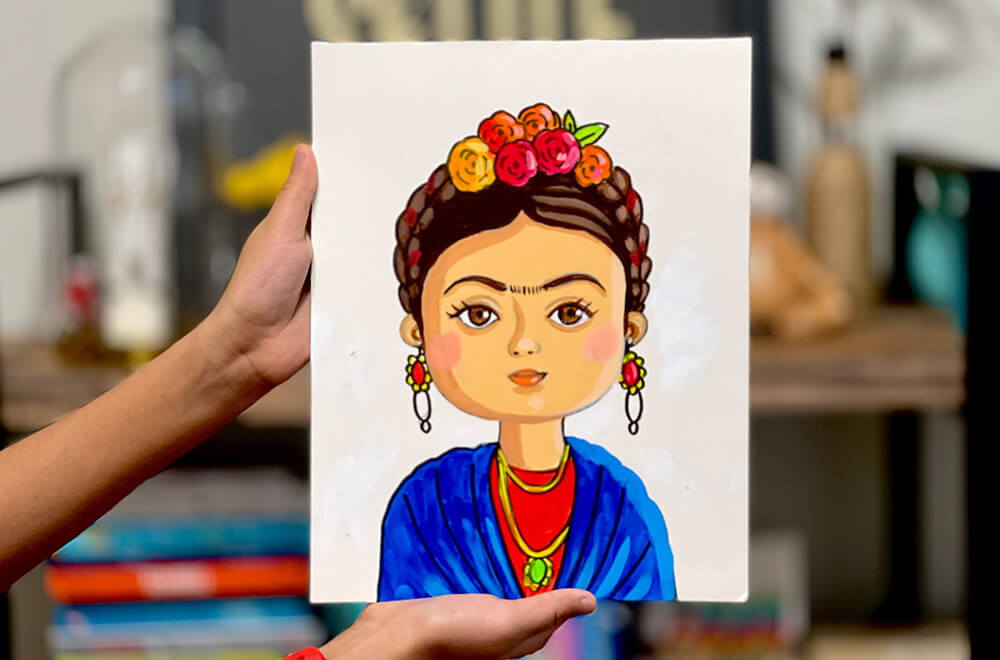 Portrait painting often requires the subject to be observed in detail. Although we created this portrait painting class for 8 – 12 years kids, it can be attempted by any age by varying the amount of details in the painting, and retaining the key features.
In portrait painting, we can use any style to create the portrait. Recreating the face structure realistically is often challenging. To make it easy for kids without losing the identity, we created a cute portrait of Frida Kahlo.
We identified and focused on the unibrows, the jewelry and flowers as a key feature to add to our paintings and we chose an easier shape for the structure of the face. The jewelry and flowers are seen in many of Frida's self-portraits and it is known that she loved her garden.
Our young artists were given the freedom to choose the color of the clothing while keeping in mind the influences and styles that guided Frida's choice of colors.
Benefits of Learning about Master Painters and Fine Art
Art appreciation and art history are the most interdisciplinary modes of learning. They link not only to the art work and the artist but to the science, language, politics and society at that particular point in time. Appreciating art is not just about recognizing a Frida Kahlo painting, it is introducing children to a new way of seeing. Art appreciation helps our children become more sensitive to others' point of view, and to visual expression and imagery around them.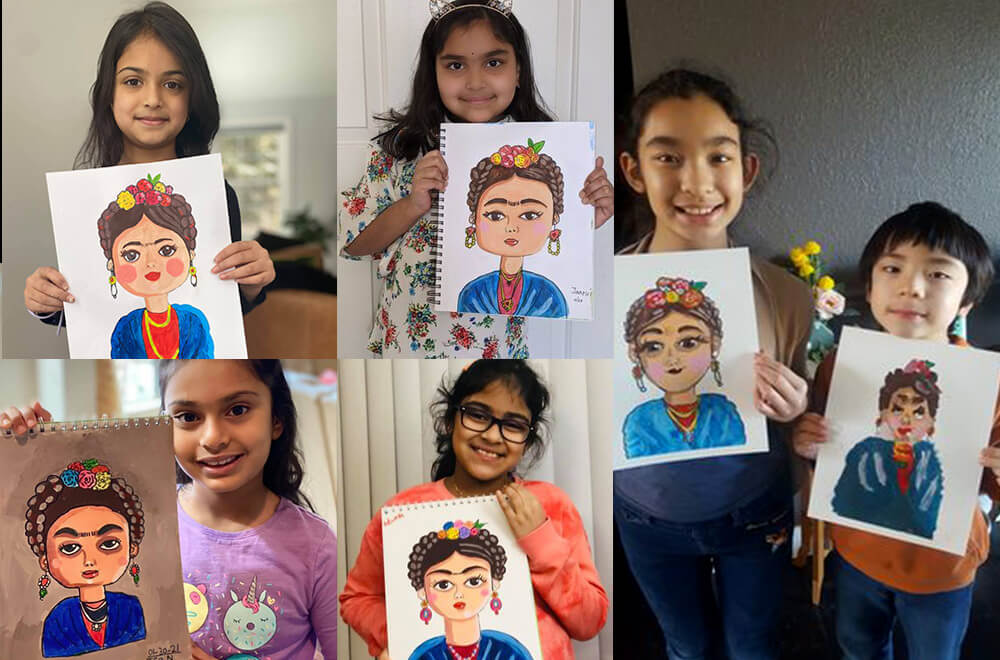 Tools and techniques that enable us to introduce art in an easy, accessible and fun way to children can help remove the perception that art is for a few sections of the society.
Everything in technology is instant at the click of a button. It does not allow the opportunity for children to take their time and observe slowly. This is why it is so important that we engage our children in activities that develop not only their motor skills, but also social, emotional and cognitive skills. Art appreciation can do this.
Pick up a brush and create your own portrait of Frida Kahlo. Join our online art classes for more master painter sessions.
Frida Kahlo: Appearances Can Be Deceiving – Fine Arts Museums of San Francisco Exhibition Tour