Artist Spotlight blog series brings to you the amazing students at the art classes by Nimmy's Art and showcases their work, their love for art, and their journey till now. So get ready to be amazed!
Mukund Menon – Young Artist
Under our spotlight today, we have a very diligent student – Mukund Menon. He's been a student of Nimmy's Art since 2020! He started learning at Nimmy's Art when he was still in Hong Kong, but classes started a little too early then, so he decided to choose video classes. He kept practicing through the video lessons at Nimmy's Art Academy!
We really had fun during our interview, we had a lot of questions but he answered them all actively. Let's know more about Mukund the 4th-grade student, an active kid, and budding young artist.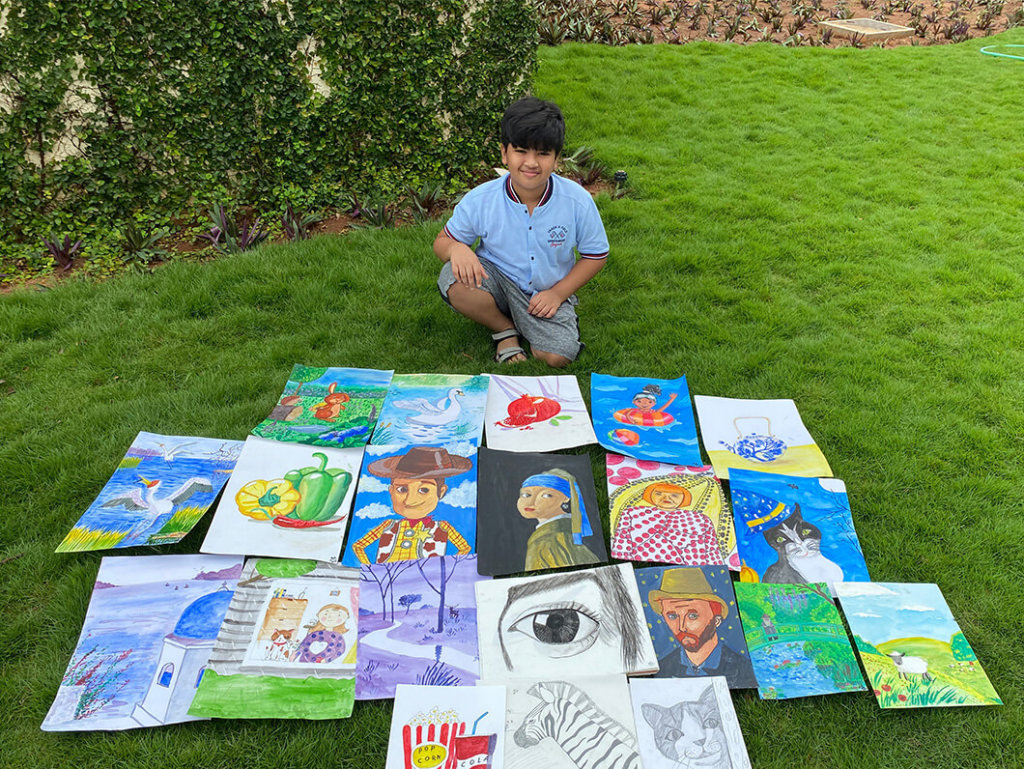 How often do you sketch or draw?
"Whenever it's my break time. I do like drawing, and I do it very often."
When he was younger, Mukund didn't like drawing at first, but he just got so into it when he saw his mother's painting. He remembered his mother was painting circles, and he couldn't resist the colors on the painting. Now, Mukund practices every single day! There's no day that he isn't holding a pencil.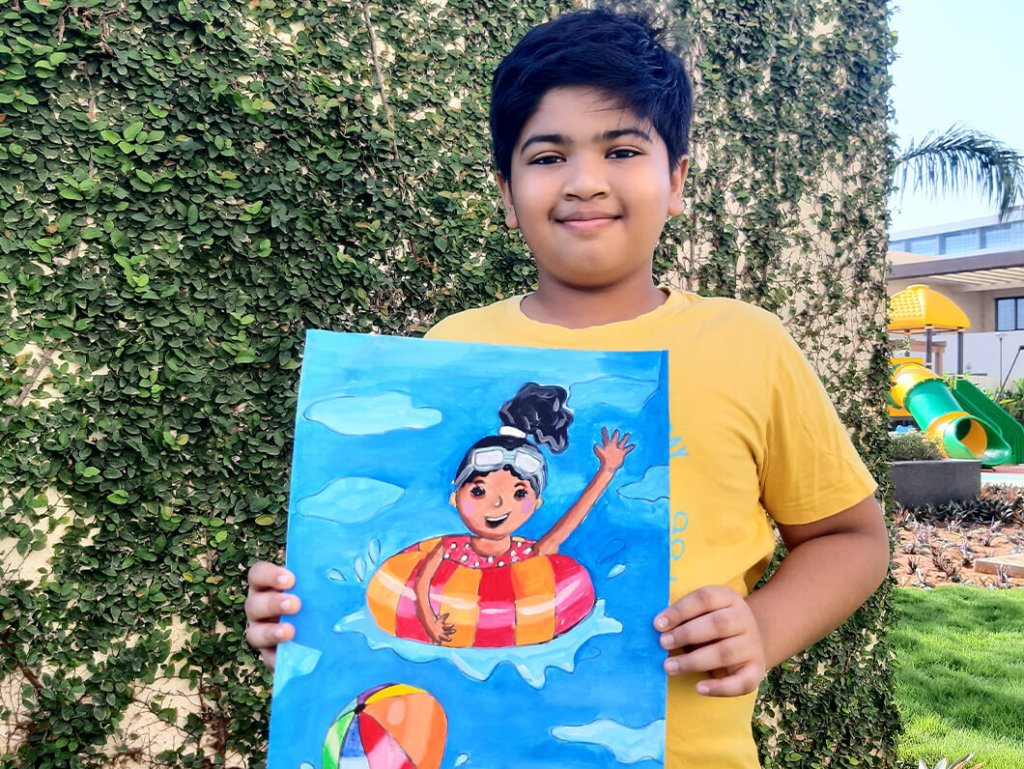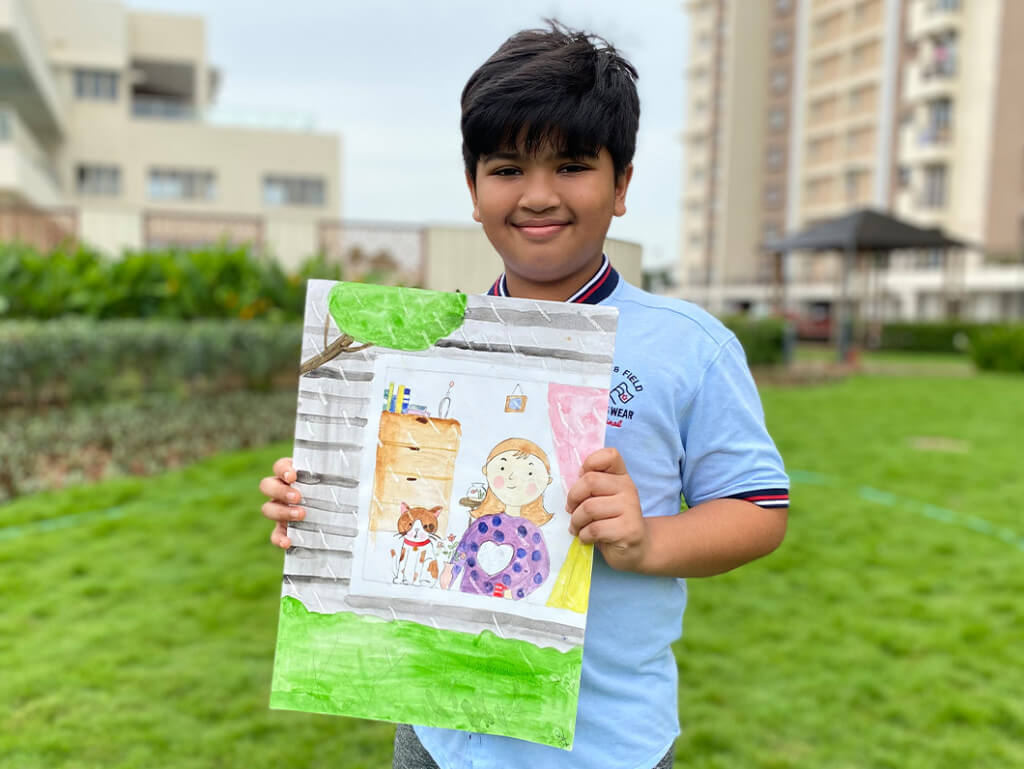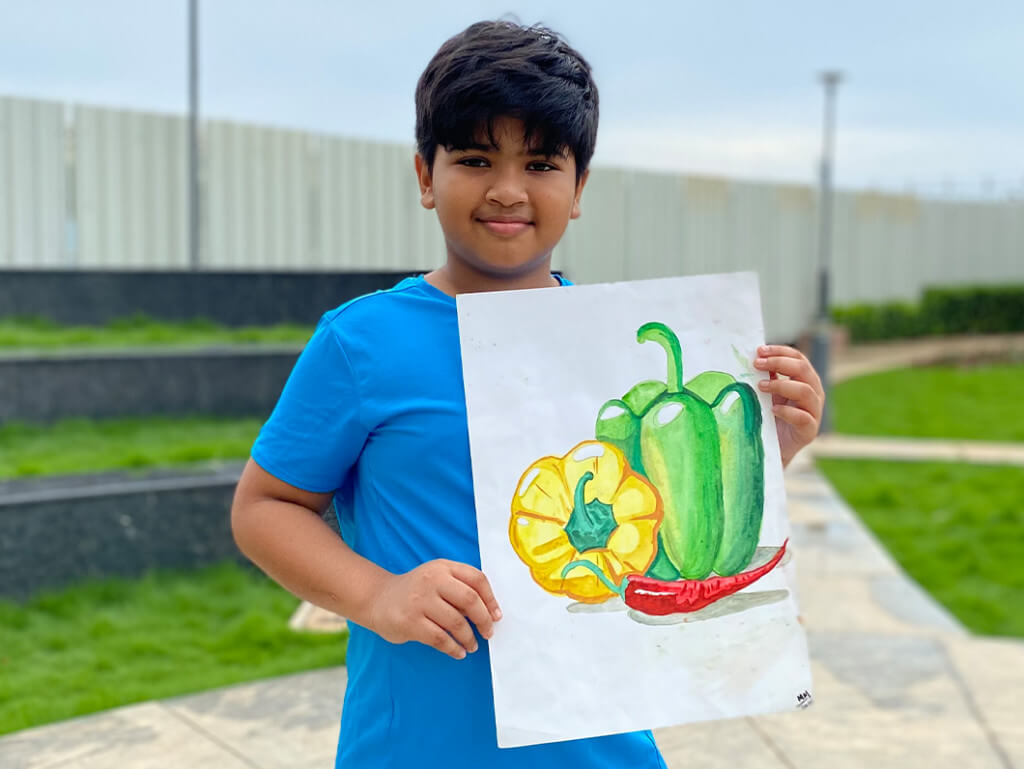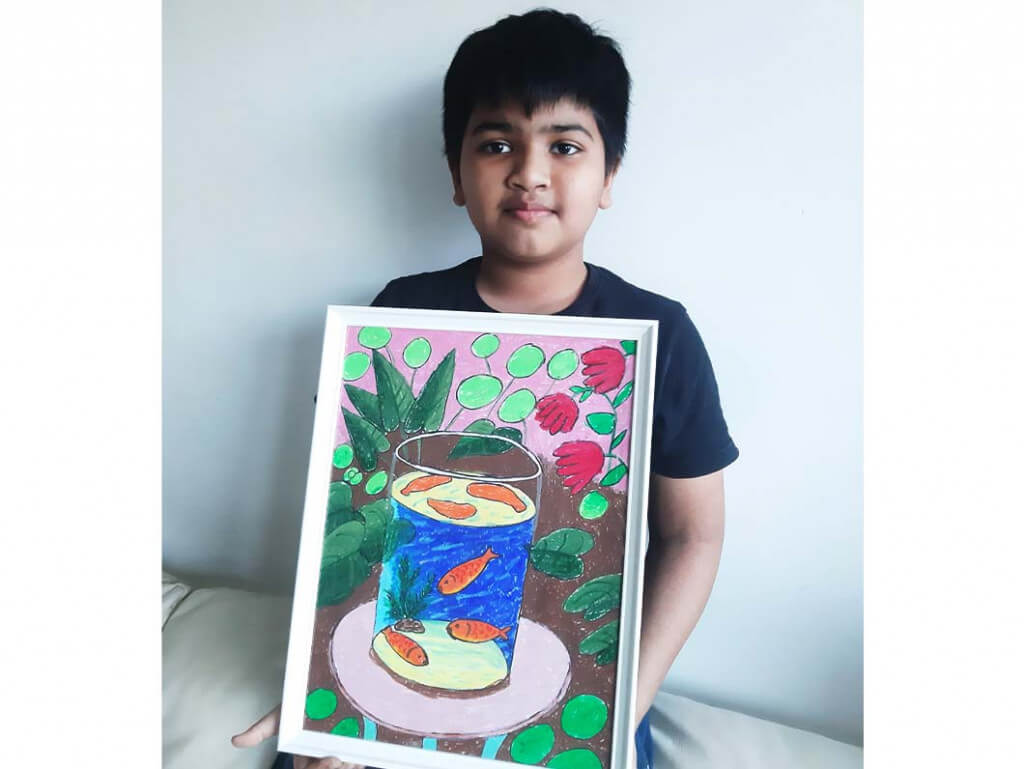 How does it feel to be learning art online through Videos Only?
"It feels so calm and relaxed, "It's easier to follow because I can pause and wait for it. Then go!"
He doesn't feel rushed with his video lessons, and he likes making artworks as much as possible while the video goes on. Mukund likes learning with videos because of its advantages, like taking breaks or pausing the video whenever he has doubts. He loves to learn in his own pace.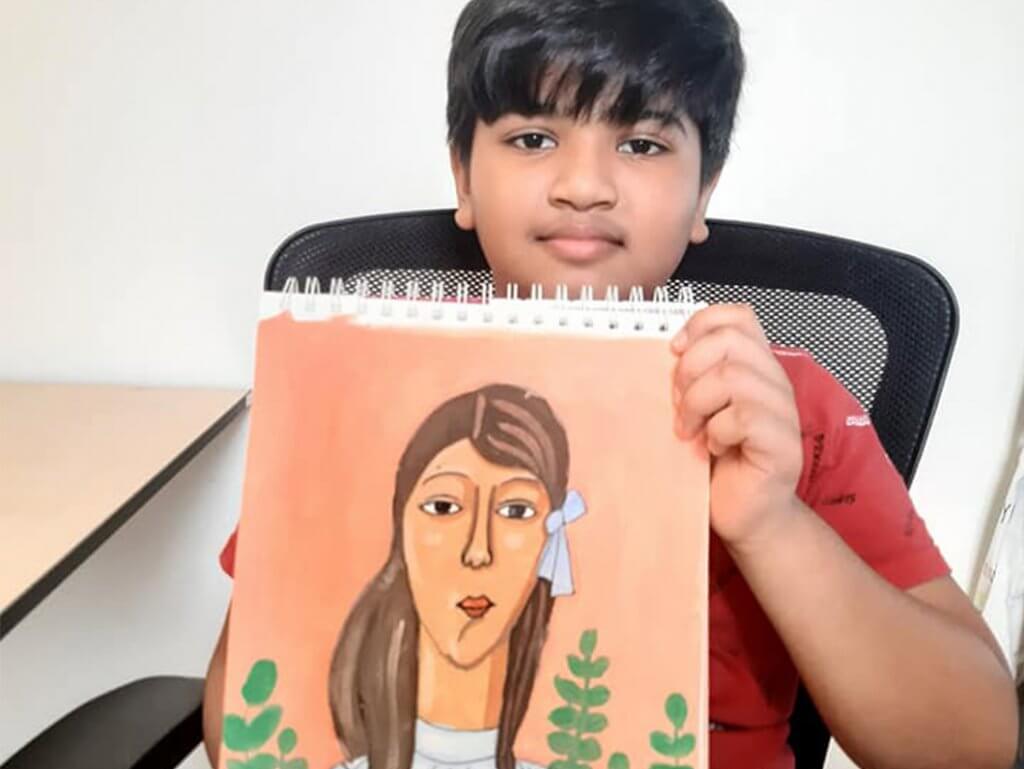 How do you do your Art homework?
"I don't do the homework, but I follow the main lesson."
As an active student, he always tries his best to make time for both Nimmy's Art Academy and his school online classess. He makes sure that he can follow Nimmy's video lessons as much as he can while still finding the time to study for his academics.
What is your favorite medium in our art class?
"Watercolor and Charcoal pencil drawing."
Ever since he was three years old, he loved drawing animals, especially birds. He uses watercolor for his paintings because it's much easier to hold the brush and do the strokes. Mukund is also quite skilled with pencil drawings and sketches. It's his first time learning the new medium Charcoal Pencil Drawing but his work is amazing. Check out his fantastic charcoal drawing!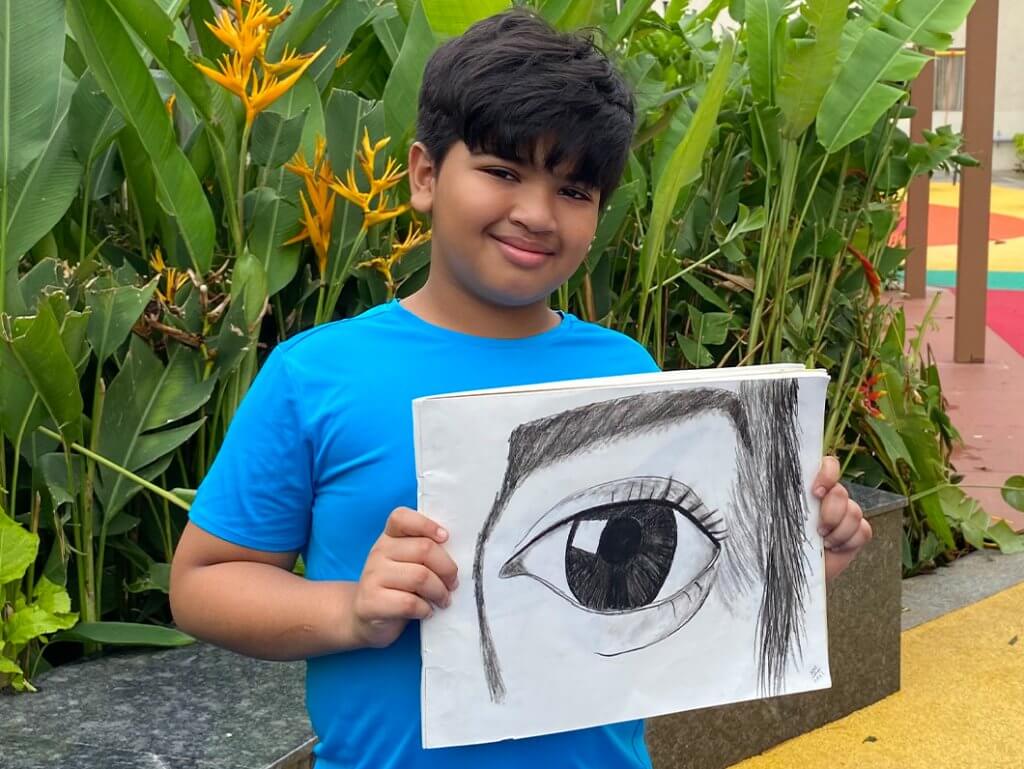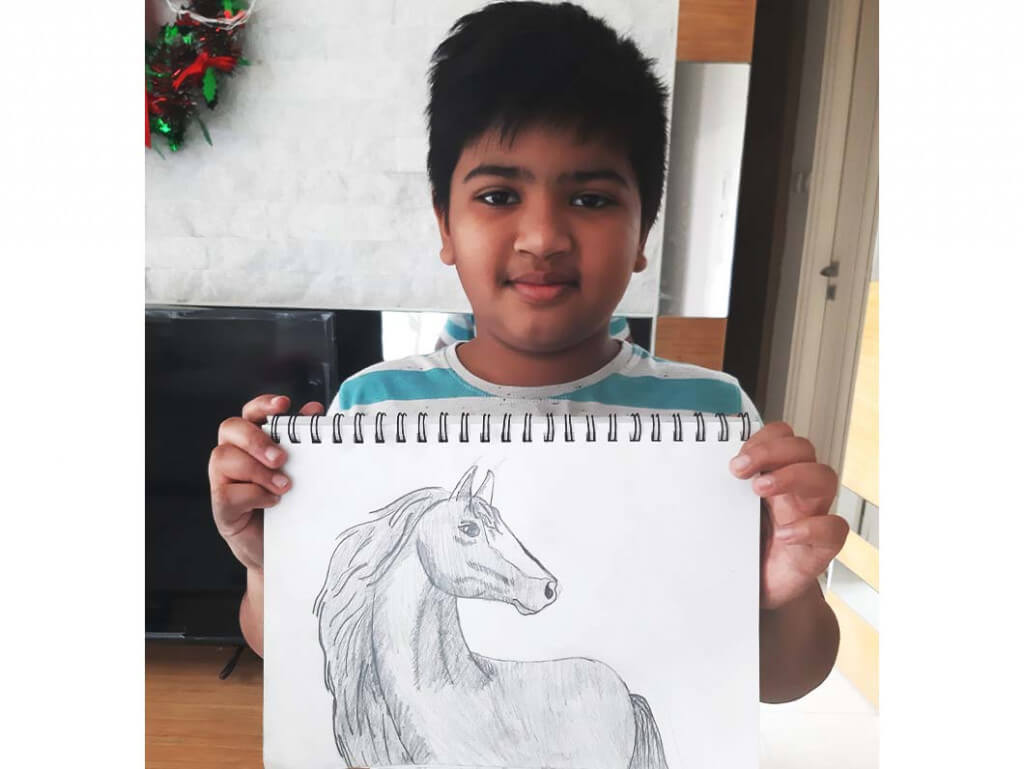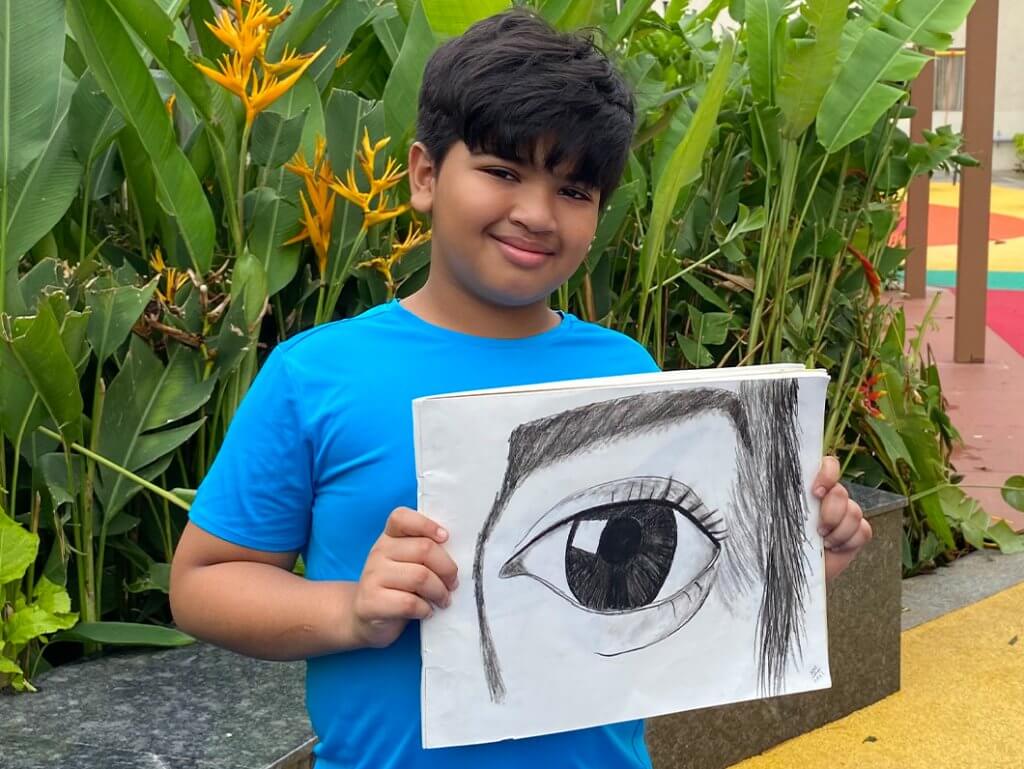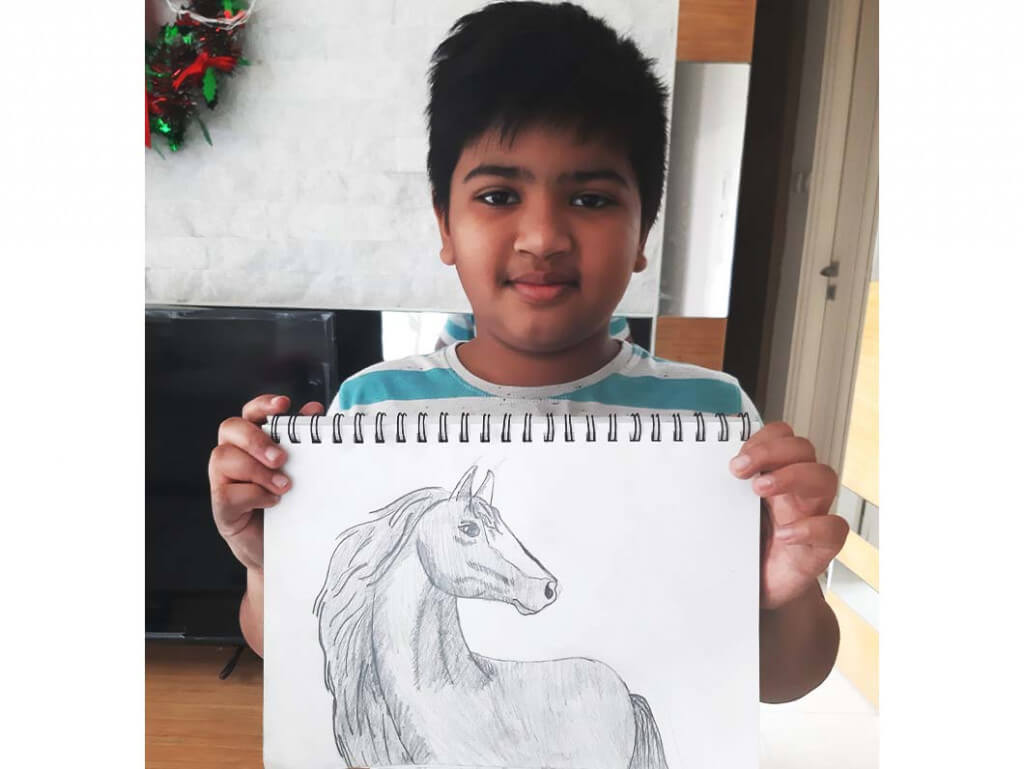 What is your favorite artwork in Nimmy's Art Class?
"I love the monochrome painting I did in the first week."
Monochrome painting is a painting using only one color. For Mukund, he painted a brook, many trees, and a deer using only the color violet.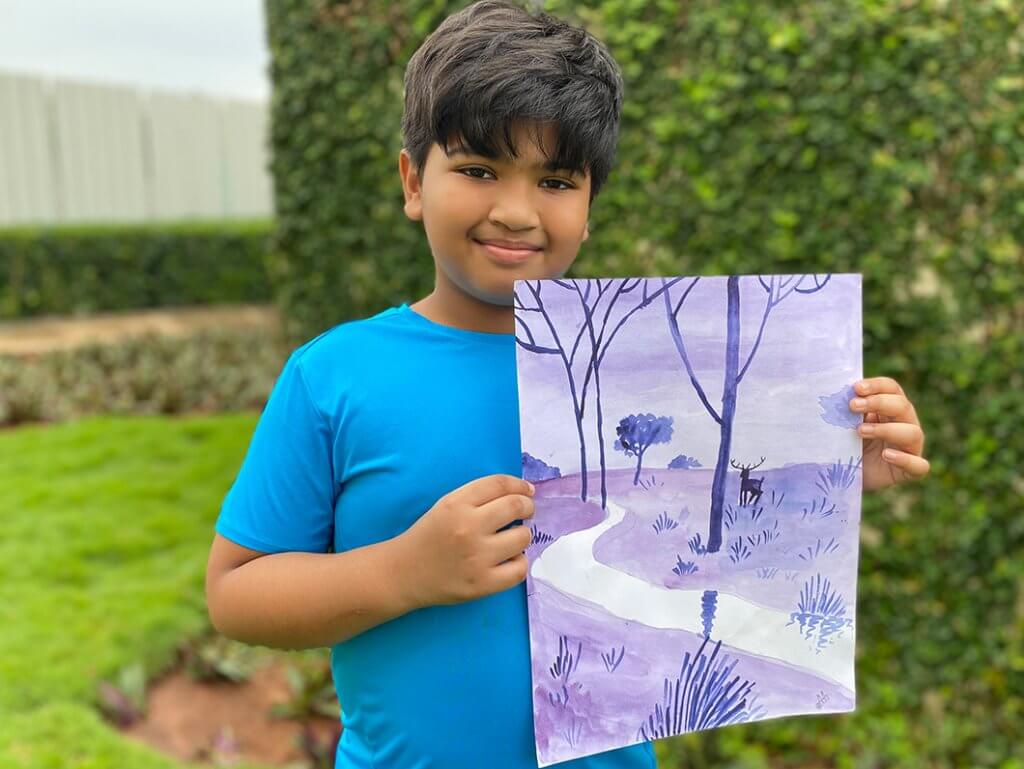 When is your best time to draw?
"When I have nothing else to do or when I'm happy."
At first, it was about drawing whatever he imagined or came to mind. After learning through Nimmy's Online Art Classes and video lessons, his imaginations wandered off to the wonders of animals. He's been drawing animals since the age of three!
Aside from art, what other hobbies do you have?
"Watching TV, playing games, and cooking."
Mukund likes to cook egg dishes when he's not practicing drawing. He likes making scrambled eggs or omelets. Sometimes, he plays online games, board games, or he plays chess. He also plays football and attends Taekwondo classes.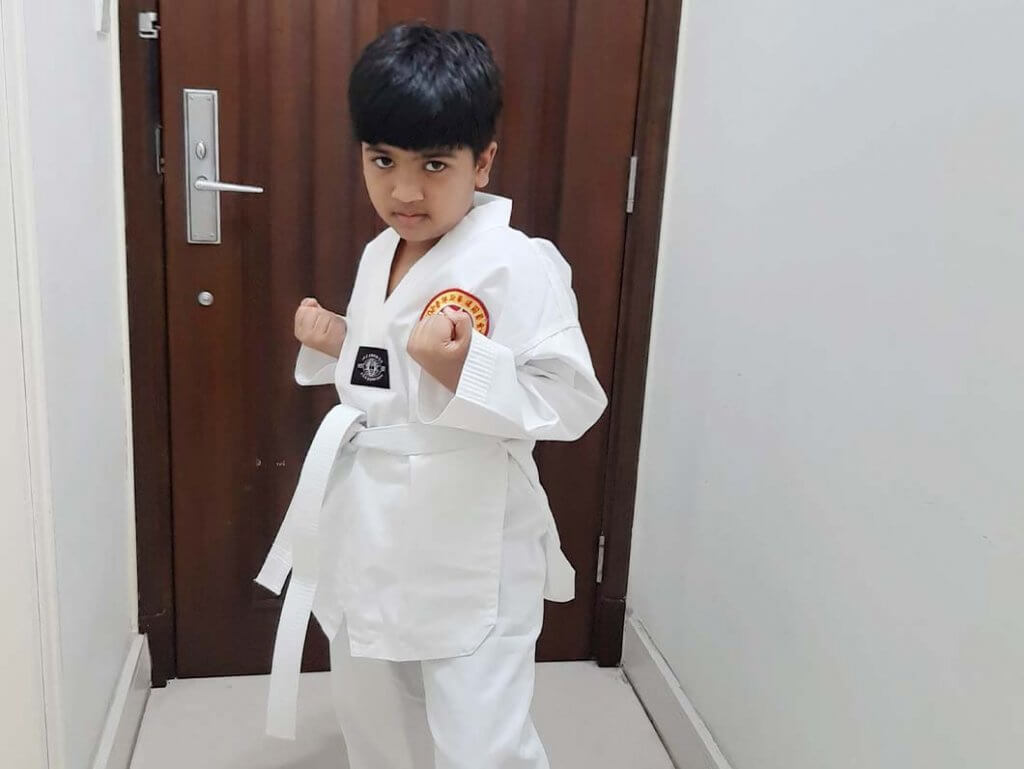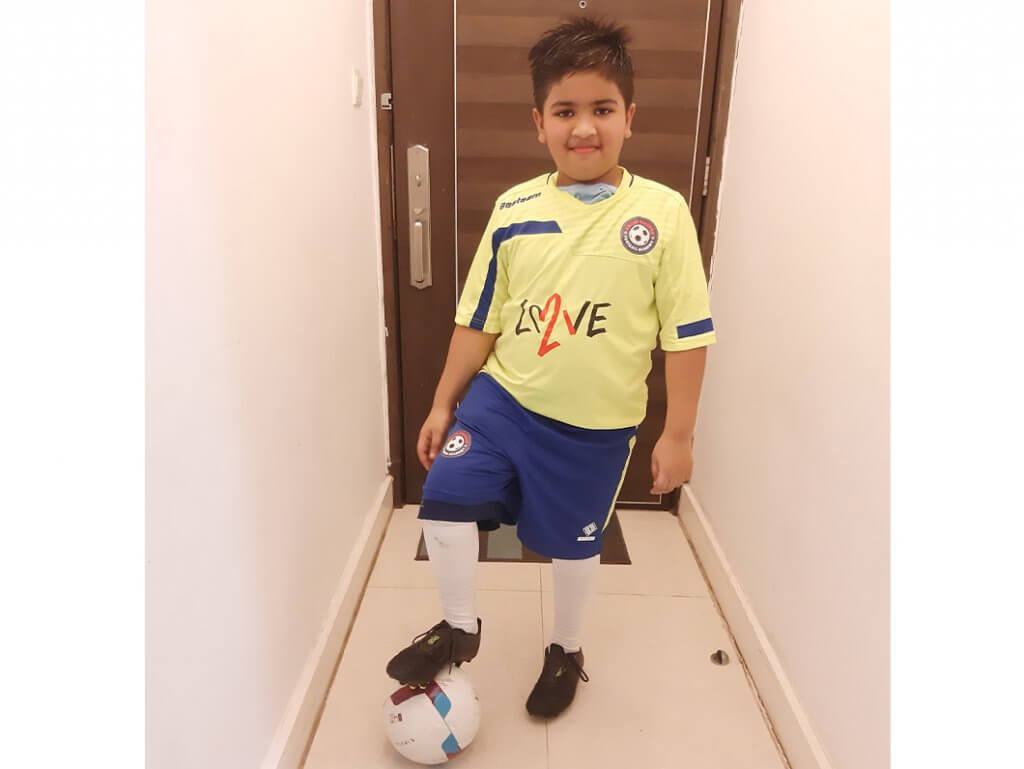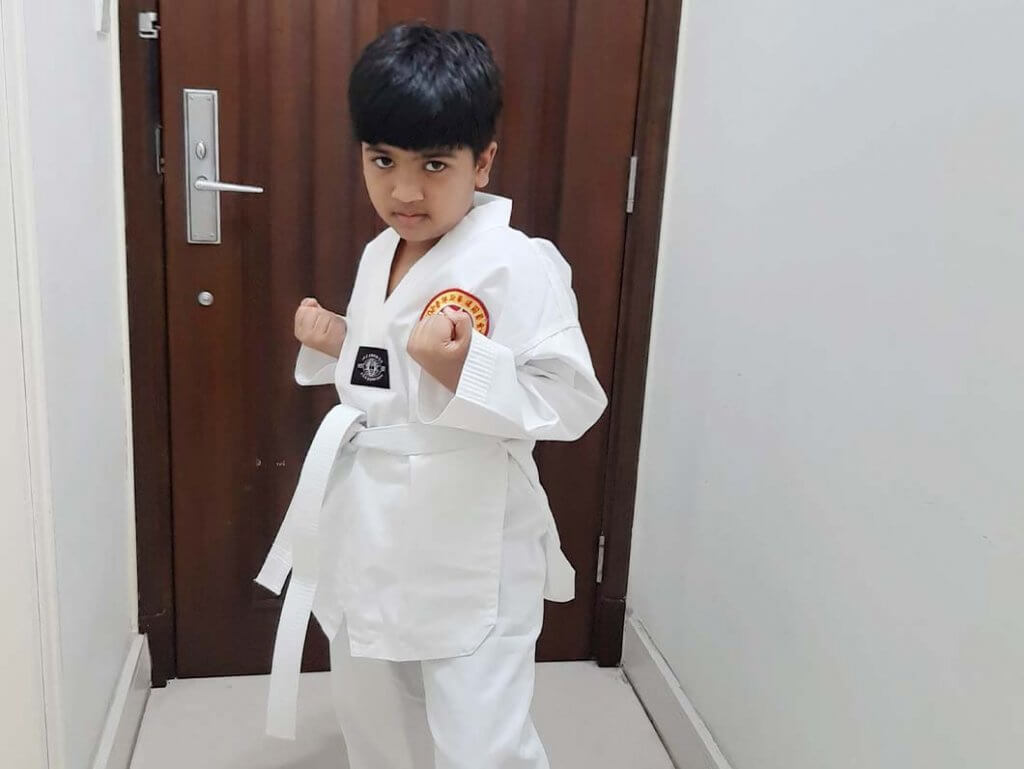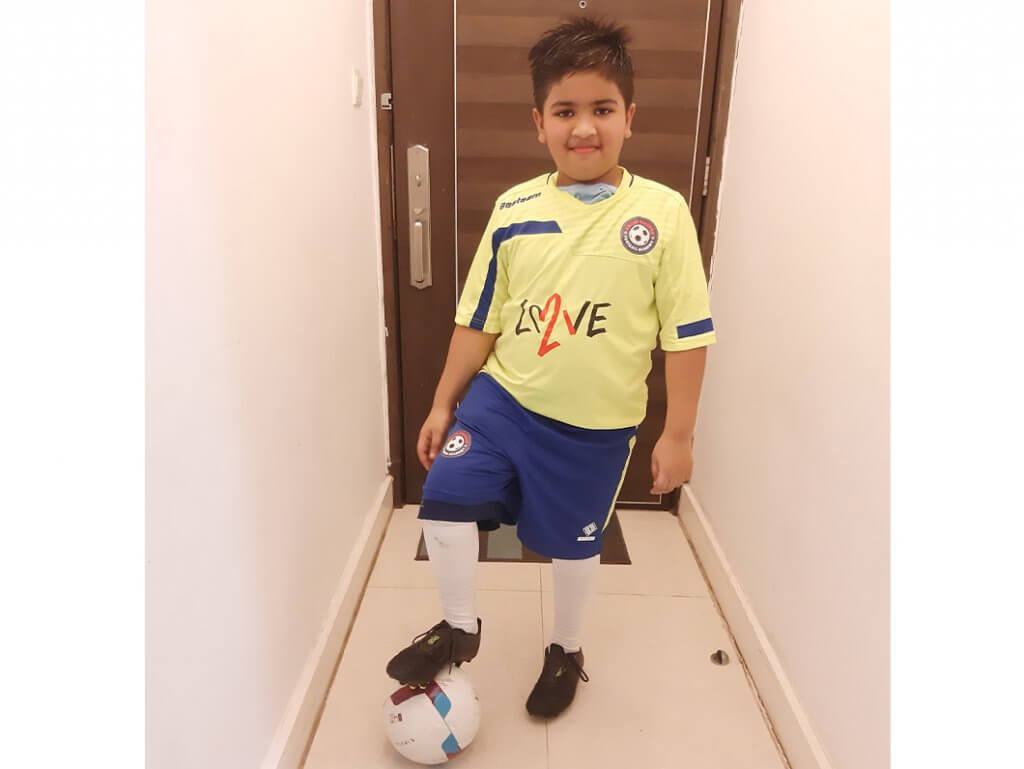 If you drew everything that came to your mind, what would you be drawing right now?
"Animals. I like drawing animals and birds the best."
However, he likes drawing whatever he sees. If he sees something about dinosaurs, then he's going to start drawing dinosaurs. There was also a time when Mukund had gotten very interested in dragons and started making a lot of art about them.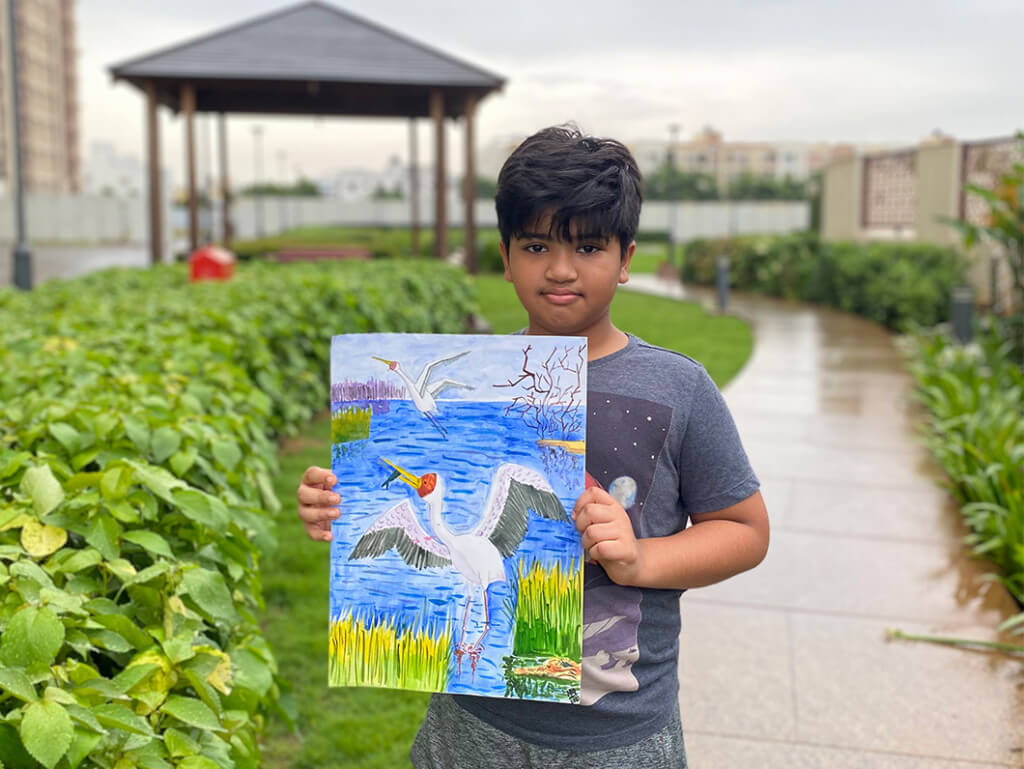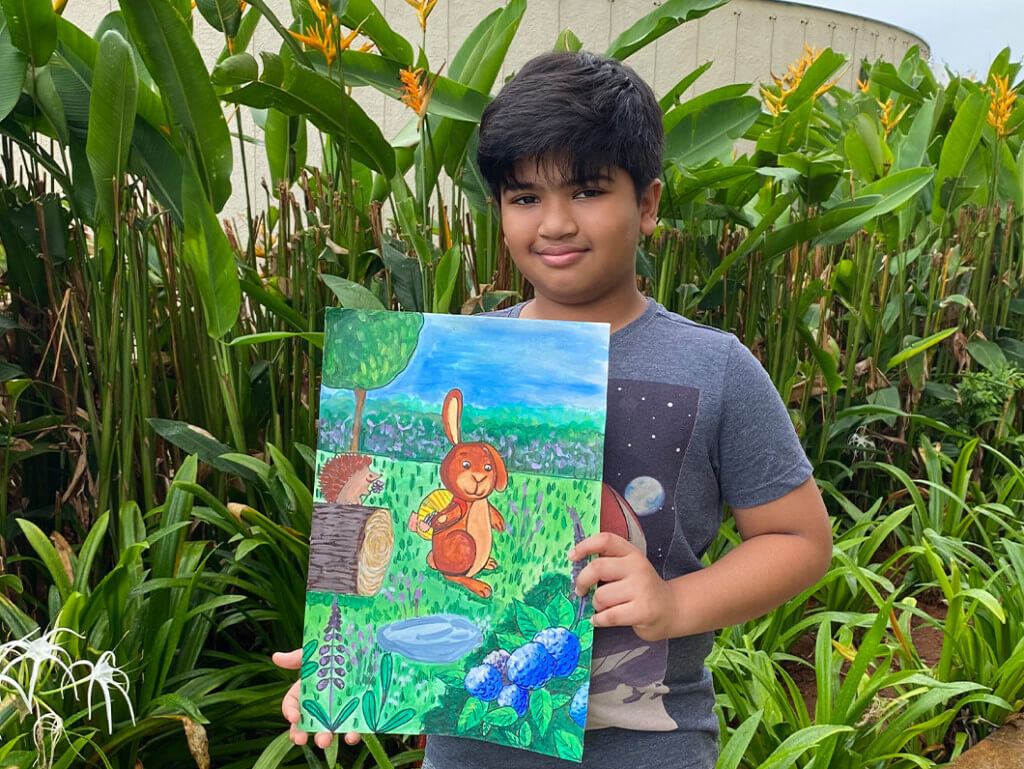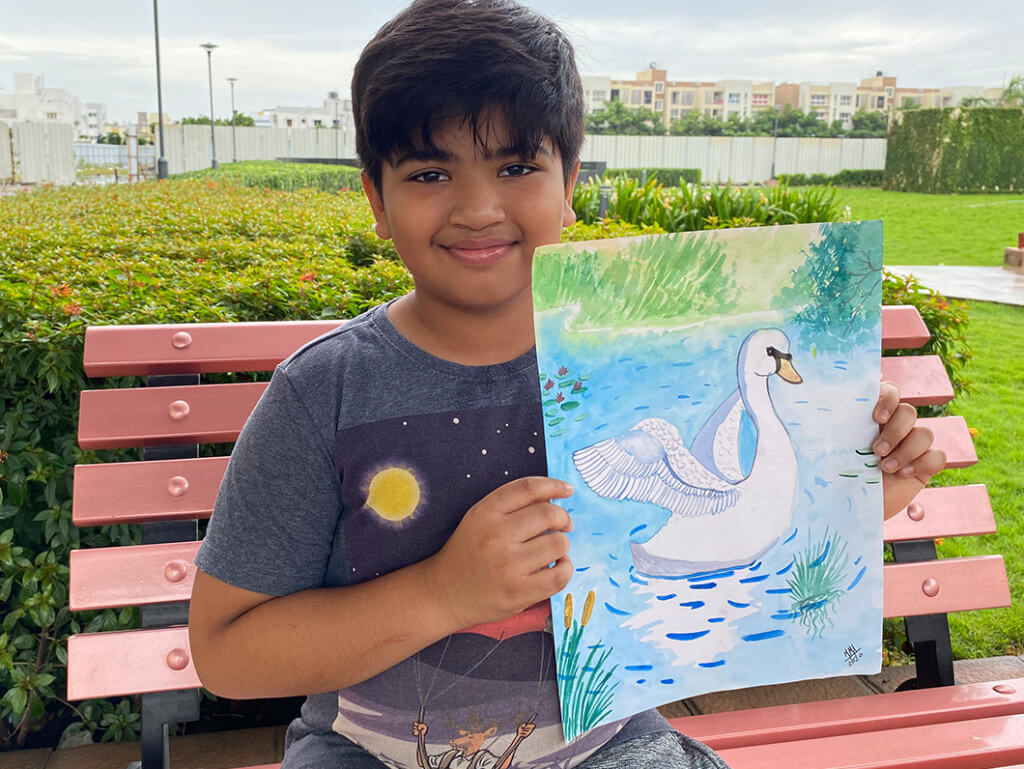 If you become an art teacher and could teach your students anything at all, what would you teach them?
"Watercolor and Charcoal Pencil drawing."
The first thing that he would teach them to draw would be a small island and a tree. He wants to show the calming side of his love of nature and animals in the art.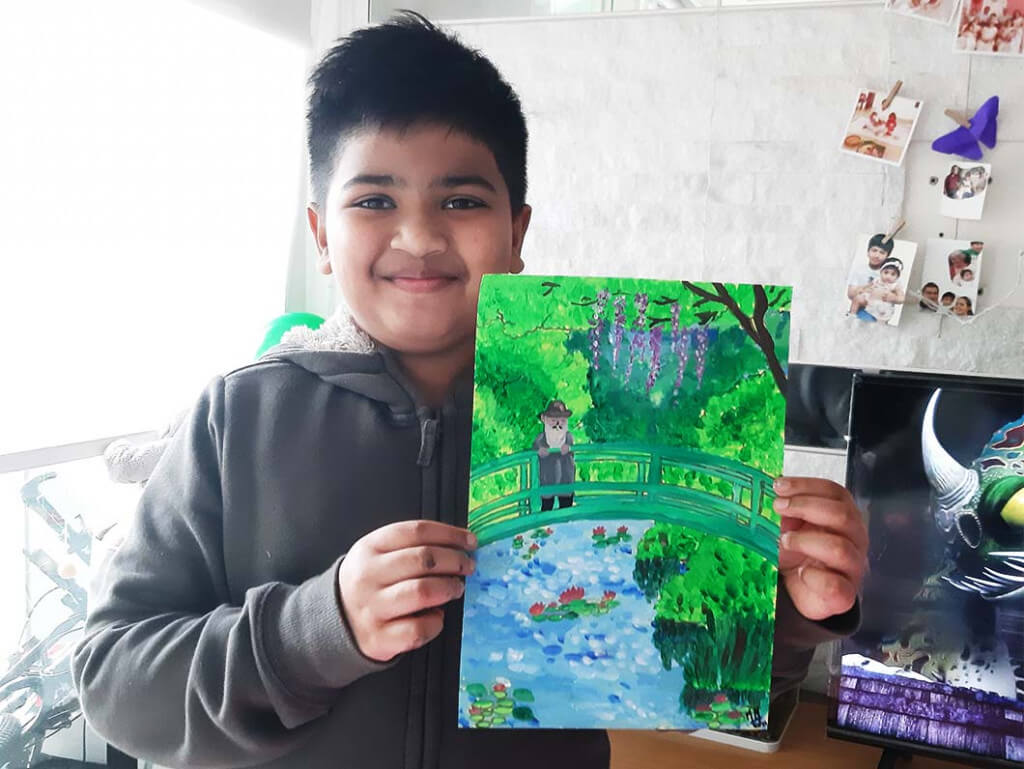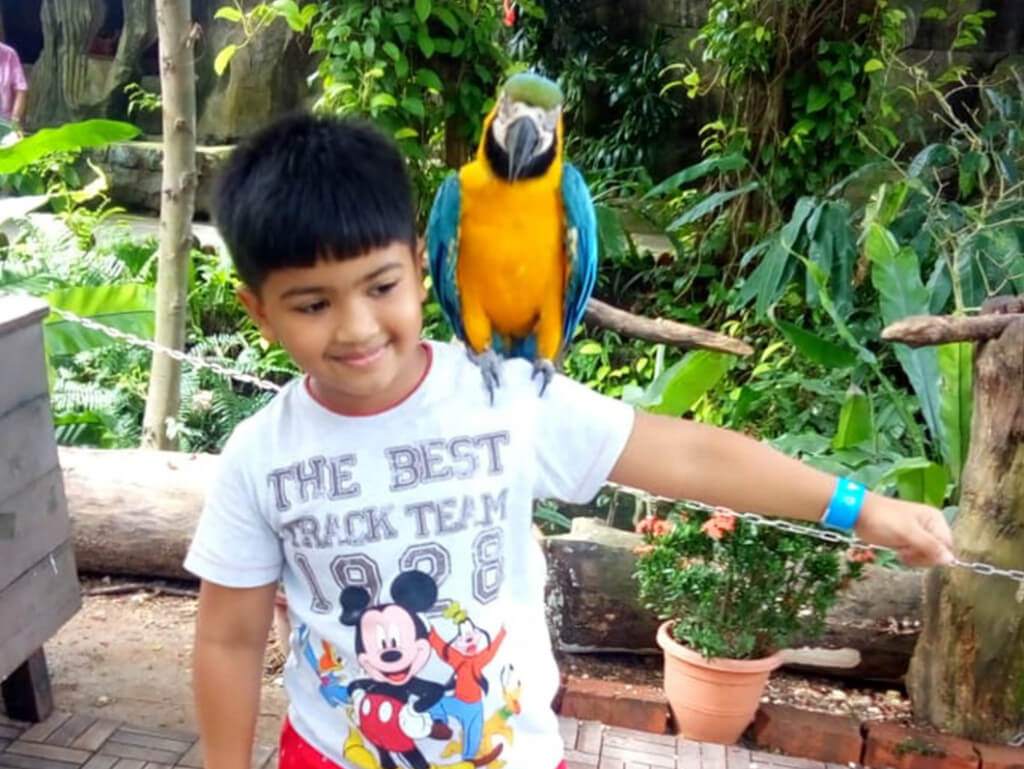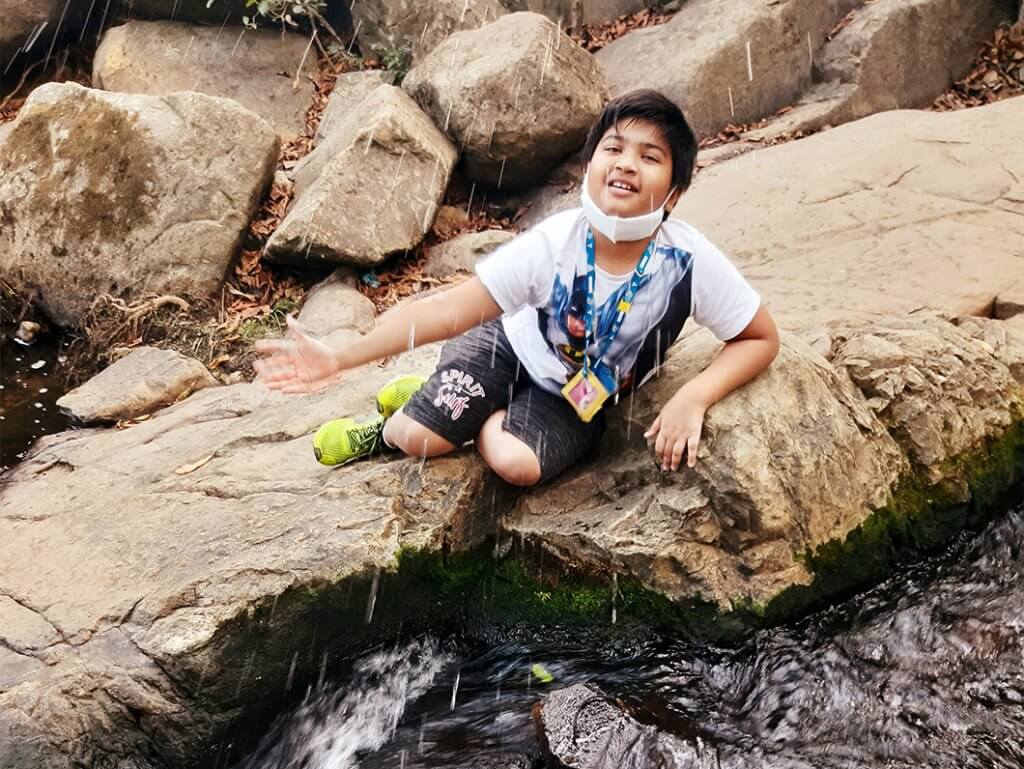 If you could become any cartoon character for one day, who would you be? Why?
"I would be Hiccup from How to Train Your Dragon so that I can be with real dragons."
He says that even though he isn't in love with dragons right now, he would still draw them from time to time.
What tips or advice do you want to give to other kids like you who love art?
"If you start doing art, never stop!"
Mukund also has a little sister who's also passionate about art, and this is what he says to her every time.
We enjoyed Mukund's energy and loved hearing about all the amazing things he is doing at such a young age. Mukund has so many interests and things he does, and we can't wait to hear and see what is next from him!
Mukund Menon will be a great artist in the future. He knows how to nurture his skills and talents.
Stay tuned for our next artist spotlight.
Nimmy Melvin, the award-winning visual artist, envisions nature, the surroundings, and every object around through a different perspective. An expert in the usage of different mediums of painting, including acrylic, oil painting, watercolor, and oil pastels, she has the knack to inculcate knowledge in kids.