Artist Spotlight blog series brings you the amazing students at Nimmy's Creative Art Classes Online, showcasing their work, their love for art, and their journey till now. So get ready to be amazed!
Shubhra Gaikwad – Little Artist
Today in our Artist Spotlight with Creative Art Classes Online, we will meet Shubhra Gorakh Gaikwad. She is a bright, cheerful, and talented six-year-old girl living in Johns Creek, Atlanta.
Shubhra is a first-grader in Wilson Creek elementary school who loves reading, talking, watching movies, and making beautiful masterpieces. She started doing art at three and a half years old. Since then, she has fascinated us with her artworks.
Did we tell you that Shubhra also likes to bake cakes and write stories? Isn't she awesome?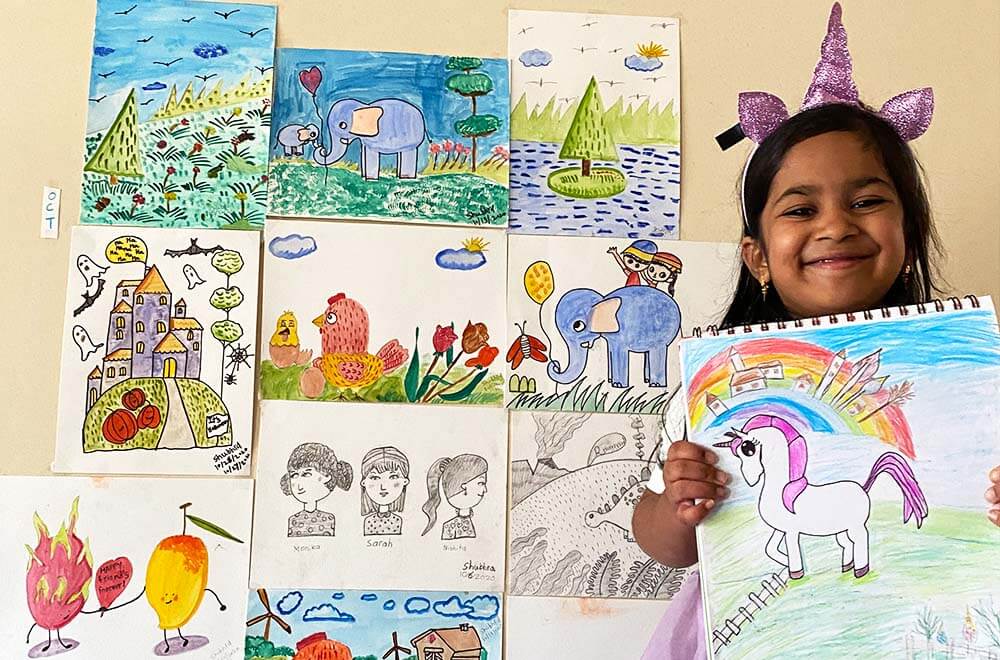 Can you tell us your favorite medium in Nimmy's online art class?
"I love oil pastels the best!" She replied excitedly.
Shubhra likes to blend colors using oil pastels and can even blend colors using colored pencils, acrylic paint, and watercolors.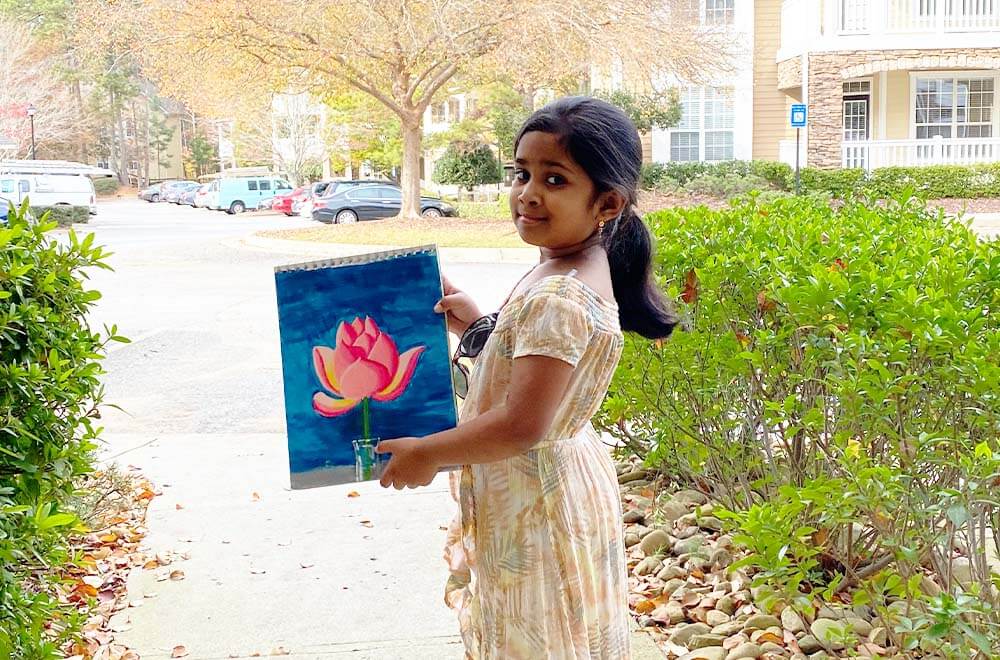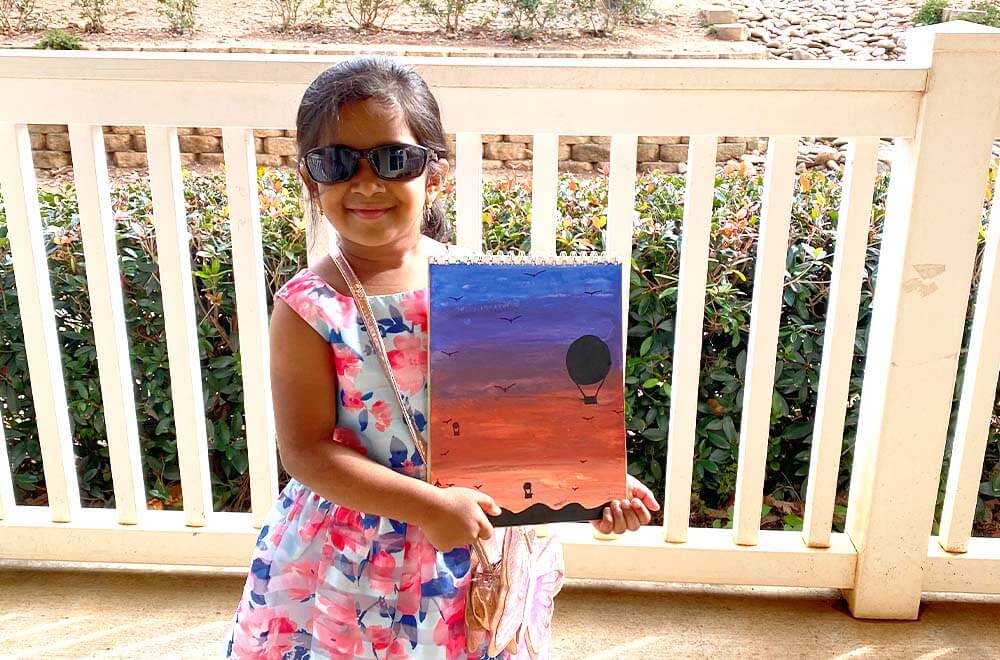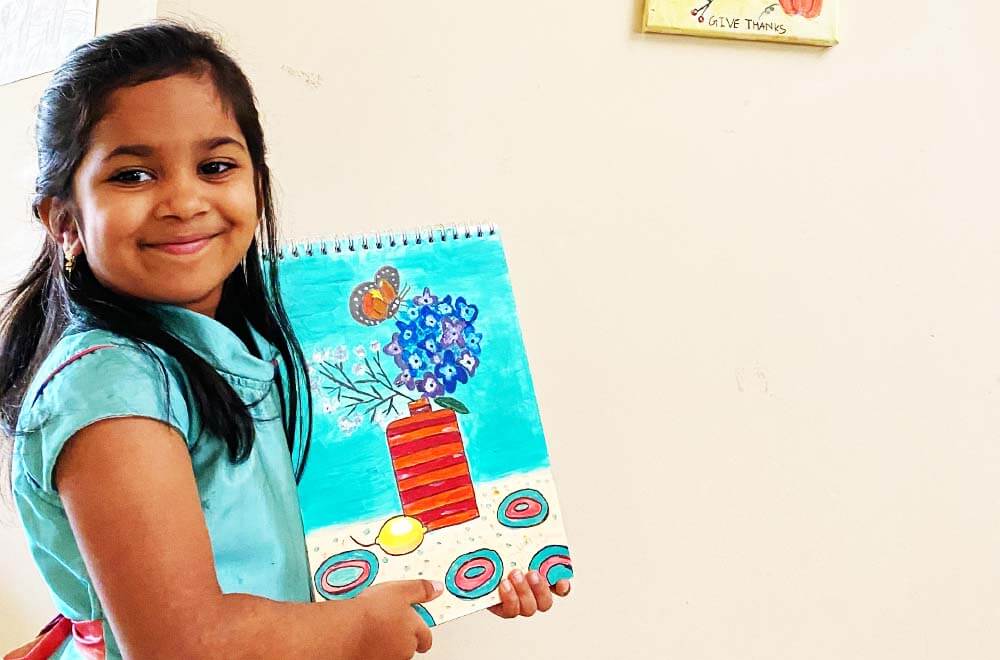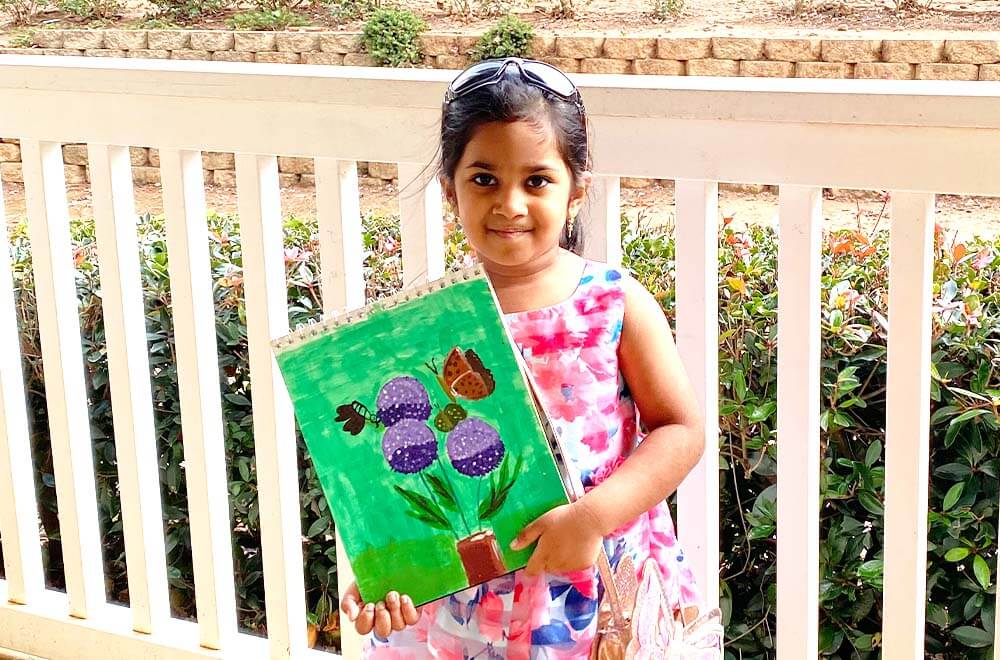 What do you like to draw the most?
Smiling, Shubhra excitedly replied, "People!" I enjoyed learning about different ways to be creative with creative art classes online.
Shubhra also told us about a unique and lovely portrait she made for her mother's birthday.
What else do you love asides from art?
"Storytelling!" While giggling, she continued, "I also love music, and I am learning how to play the piano."
Shubhra recently got a piano and has been learning by herself from YouTube. She has also been taking martial arts and started learning Taekwondo when she was three.
Our Little Artist with a spotlight on creative art classes online is so full of energy. Her taekwondo master loves her and always asks for her if she cannot make it there.
She came second and third place in one of the Taekwondo tournaments. She even showed us one of the moves she did during the event!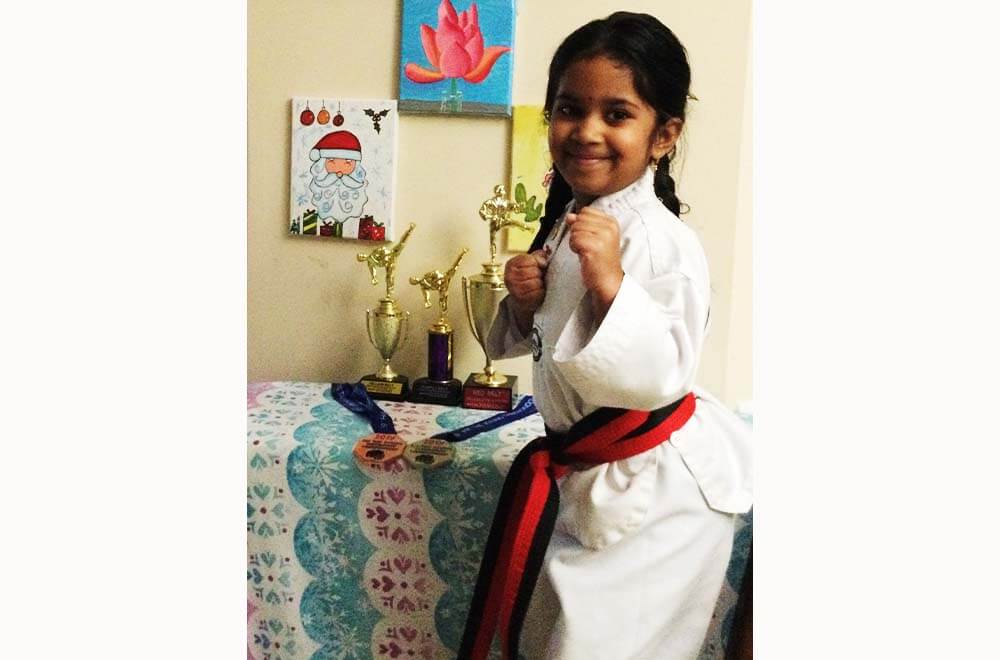 What would you love to be in the Future?
"A doctor or a teacher!" She quickly replied. She explained her career choice, "I want to teach everyone, and I want to be responsible and take care of people."
Shubra is never bored. During her free time, she calls her grandparents and talks; sometimes, she will simply do some art & crafts on her pants. Yet, she usually ends up poking holes and cutting her pants.
She also plays mom or sister to her dollies which she has named: Bluey and Sally. From our conversation with her, Shubhra seems more likely to be a teacher when she grows up.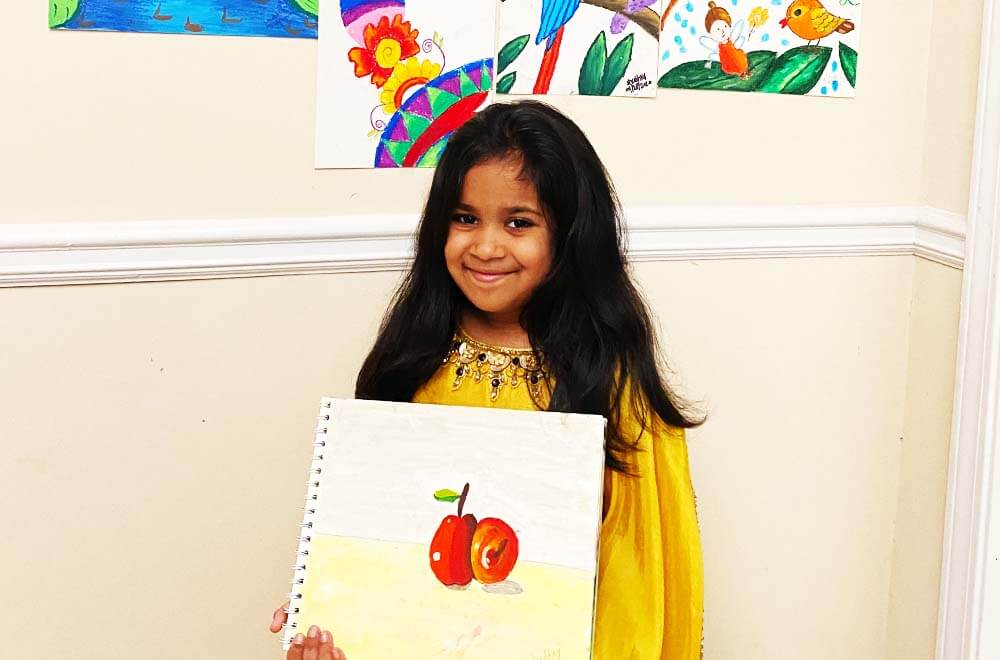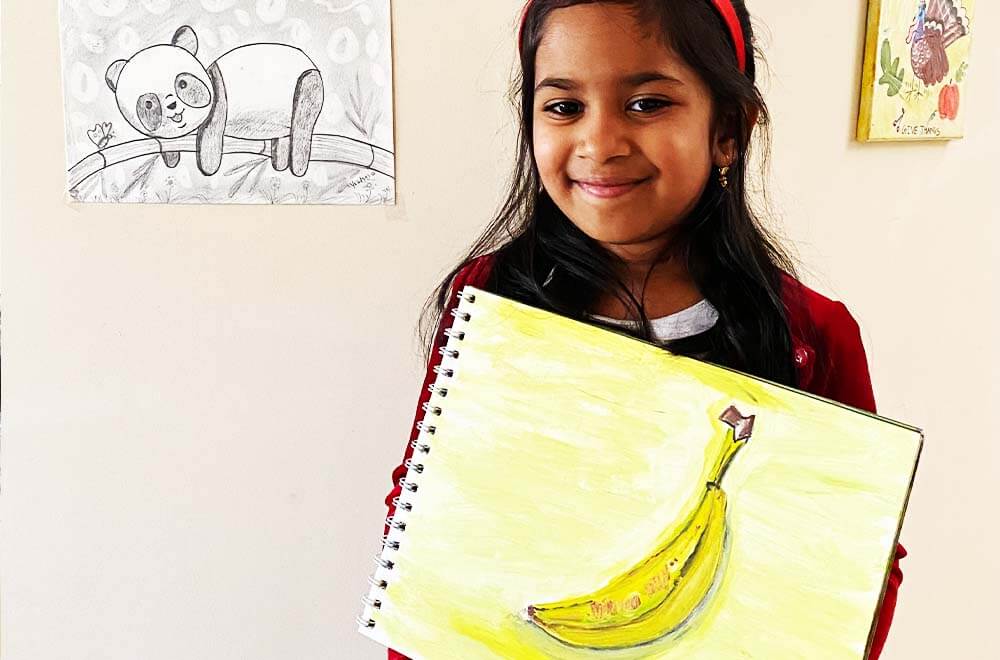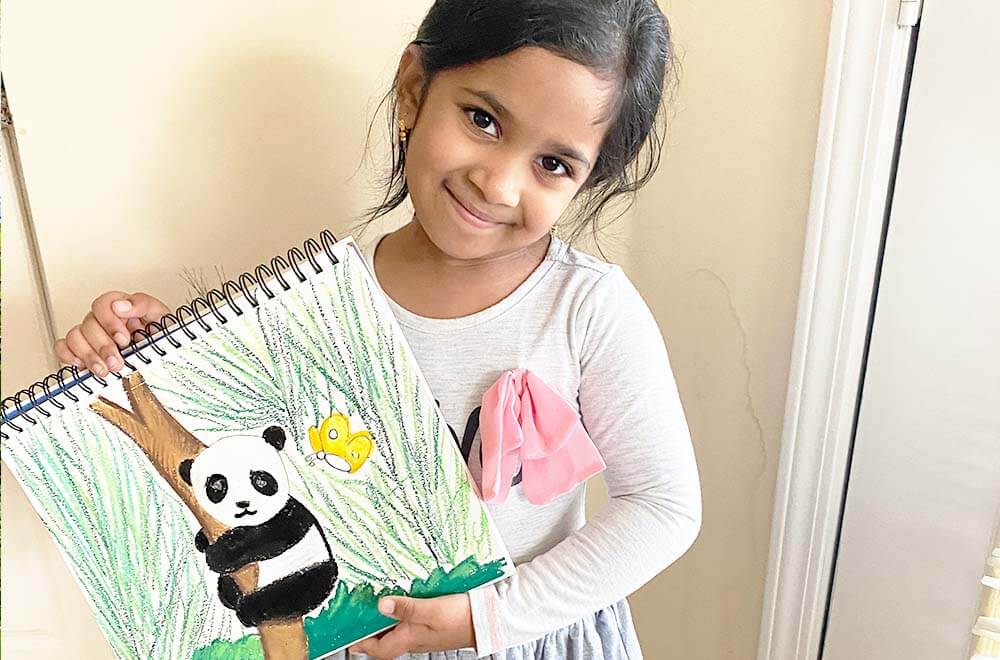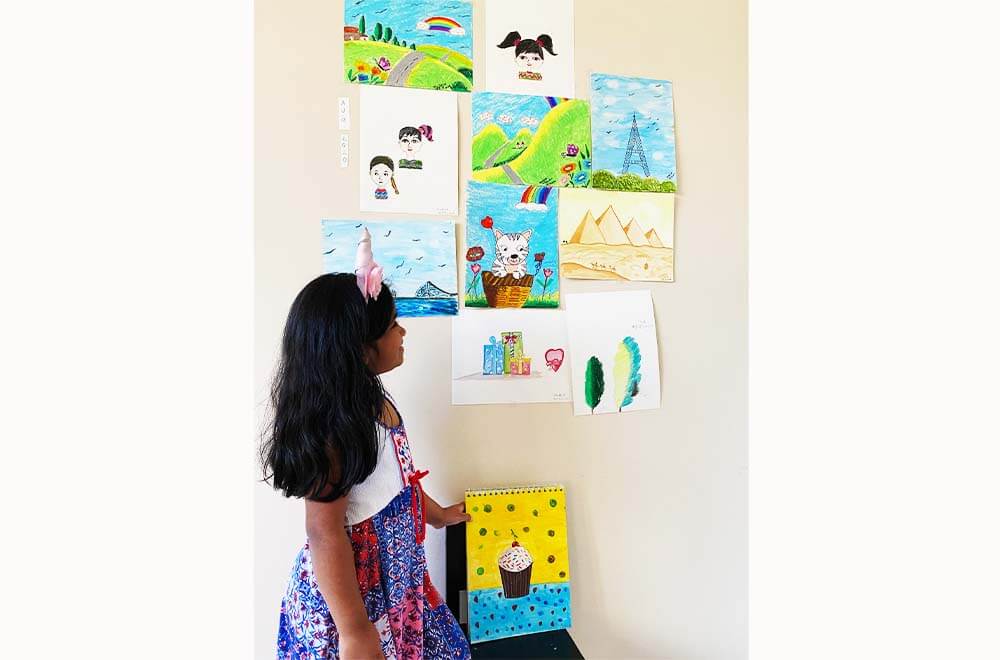 Let's assume you are an online teacher at Nimmy's creative art classes online. What tips will you give your students?
Be organized. You should always get your materials ready for artwork.
Tip for Oil Pastels. You should take two colors and then mix the first into the second color to blend.
Keep practicing! If you practice daily, you will become perfect.
Rightly said, Shubhra! These tips are essential to developing one's creativity in the arts.
Shubhra is love and light-packed in a soul, and we hope to see more of her lovely artworks!
Stay tuned for our next artist spotlight.
Nimmy Melvin, the award-winning visual artist, envisions nature, the surroundings, and every object from a different perspective. An expert in the usage of different mediums of painting, including acrylic, oil painting, watercolor, and oil pastels, she has the knack for inculcating knowledge in kids. Learn through Nimmy and her amazing creative art classes online.