The Artist Spotlight series brings you the fantastic students at Nimmy's Art live online lessons and showcases their work, love for art, and journey till now. Get ready to be amazed because we have a lot to show you!
Mithra Senthilkumar – Young Artist
Today's Artist Spotlight brings you a wonderful young artist – Mithra Senthilkumar. She is a 9-and-a-half-year-old artist who practices art with Nimmy's live online classes while having many other activities at school.
Mithra diligently takes on her 4th-grade school lessons from STEM to Music. Her favorite subject in school is Social Studies because Math is hard! Aside from Nimmy's live online art classes, she also takes piano and Tamil classes.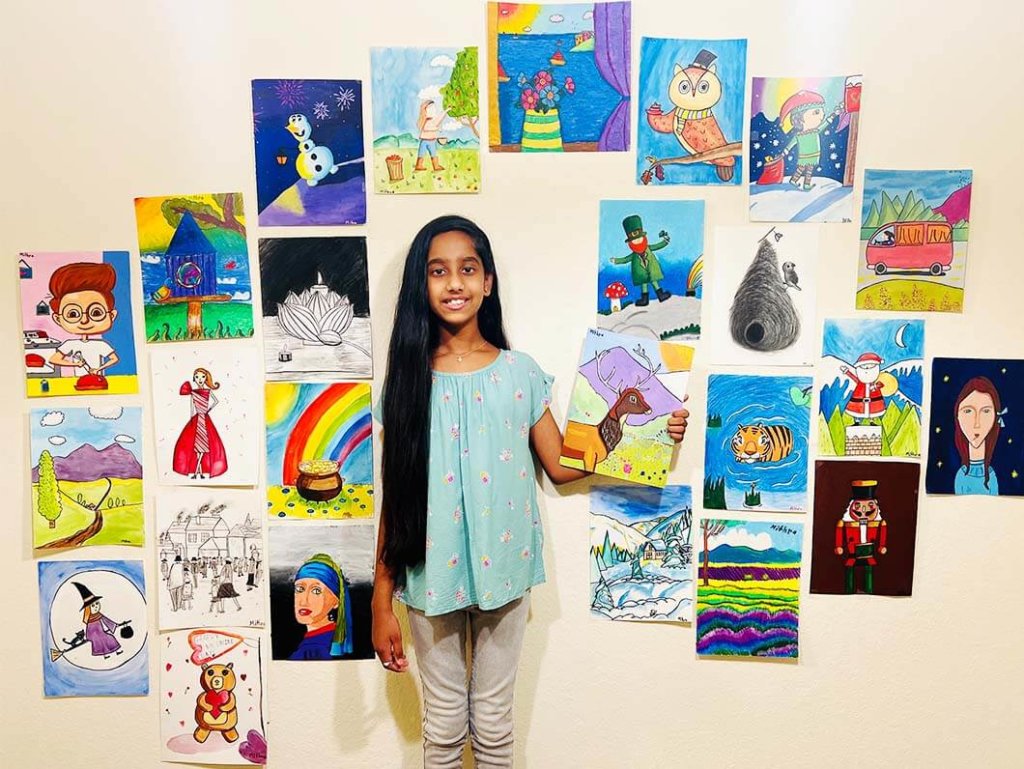 What do you like about Nimmy's art online art class?
"Mrs. Nimmy goes very slow and easy. She gives us all kinds of tips"
Mithra likes how she can learn more from the tips and advice in Nimmy's live online classes. Nimmy's live online classes also involve video lessons that young artists can watch as many times as they want.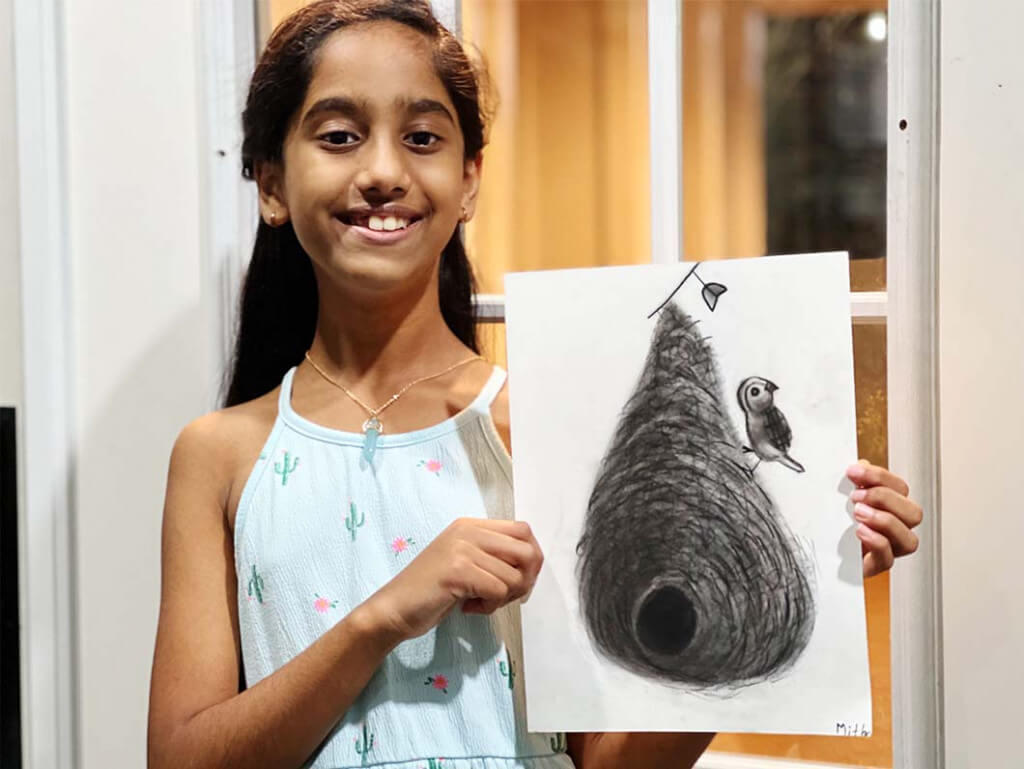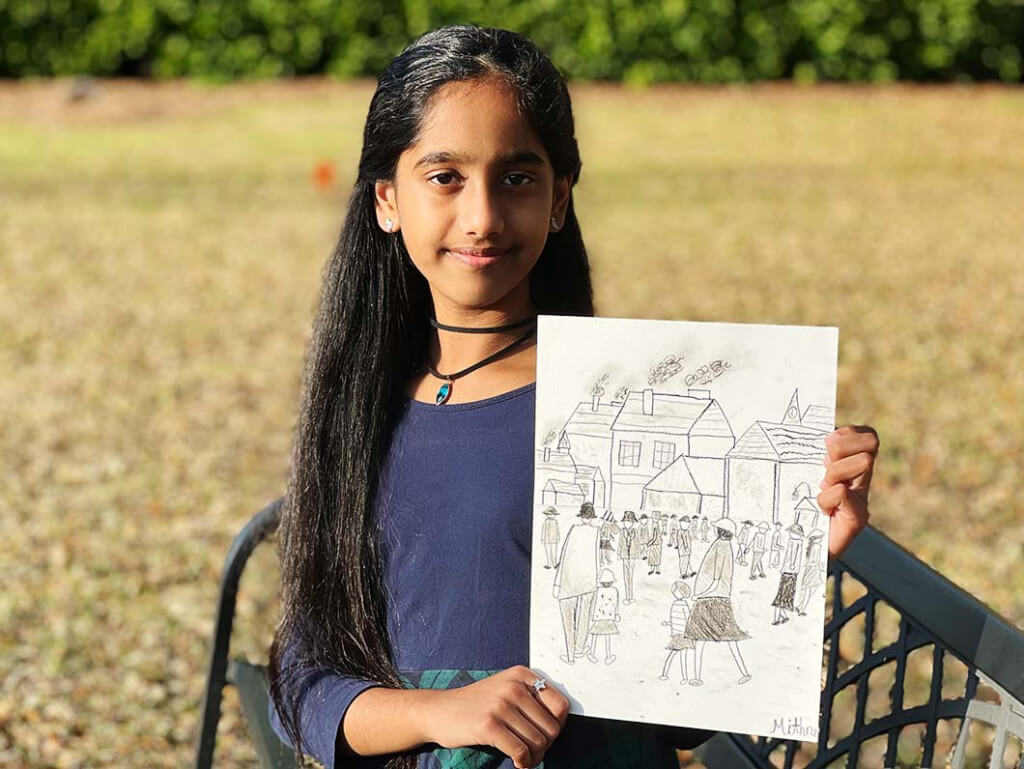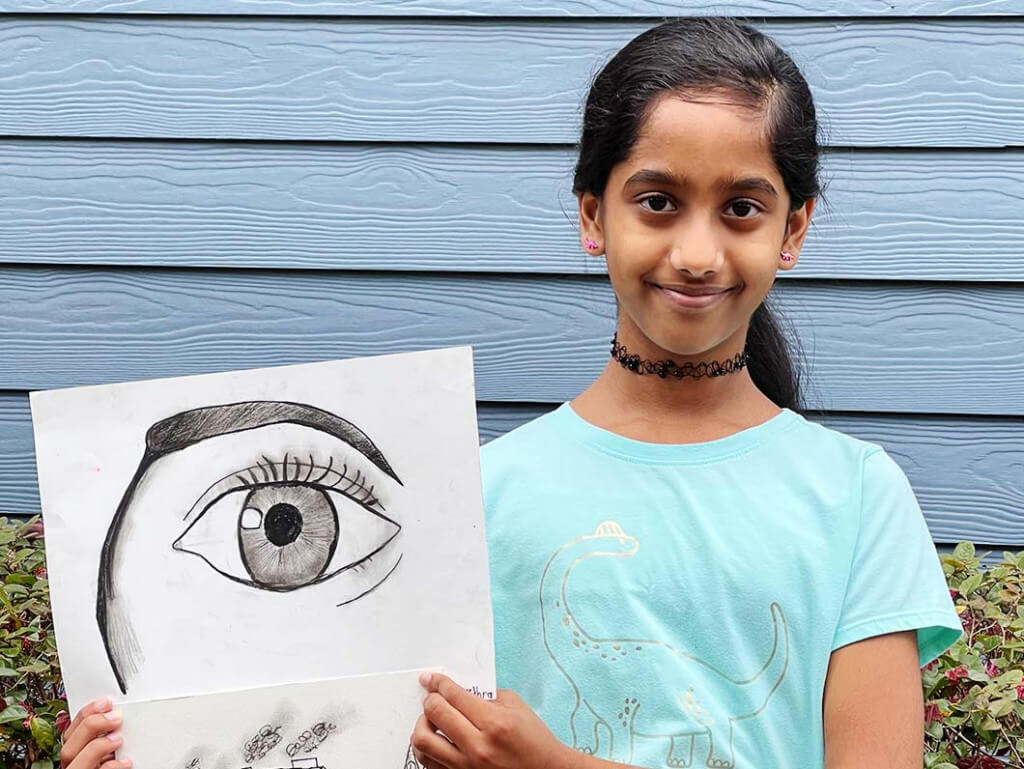 How often do you draw or paint?
"I do it whenever I'm in a good mood, or when I get a good idea."
Mithra enjoys small bursts of creativity! She lets her imagination run carefree whenever she gets a good idea for an artwork.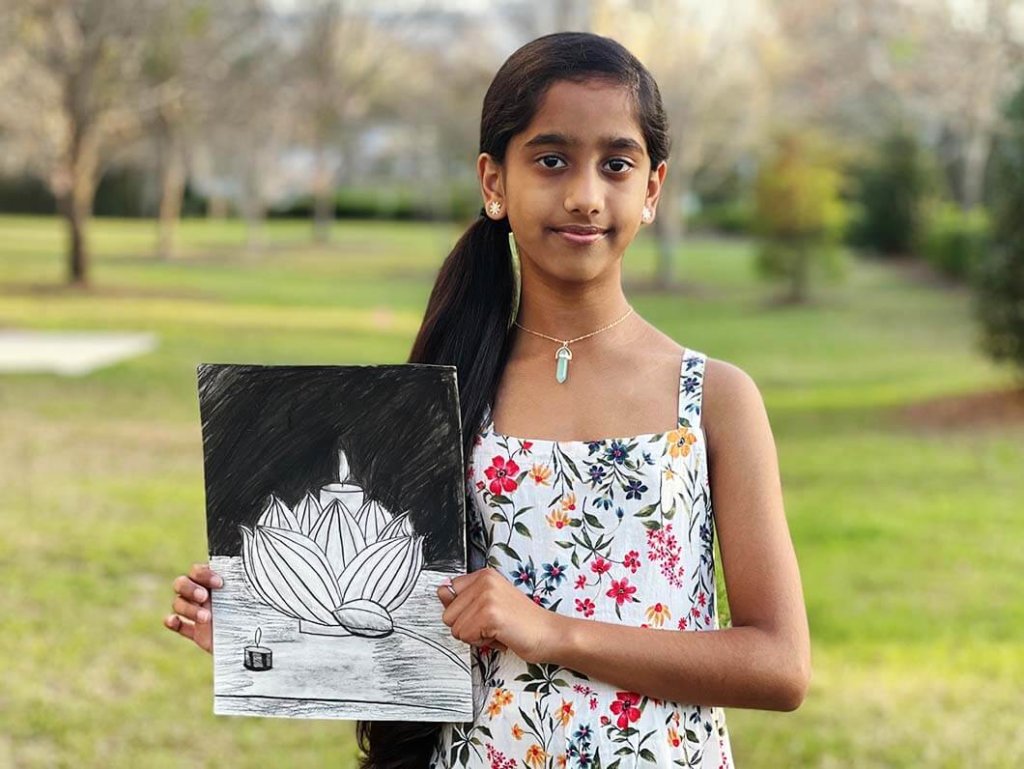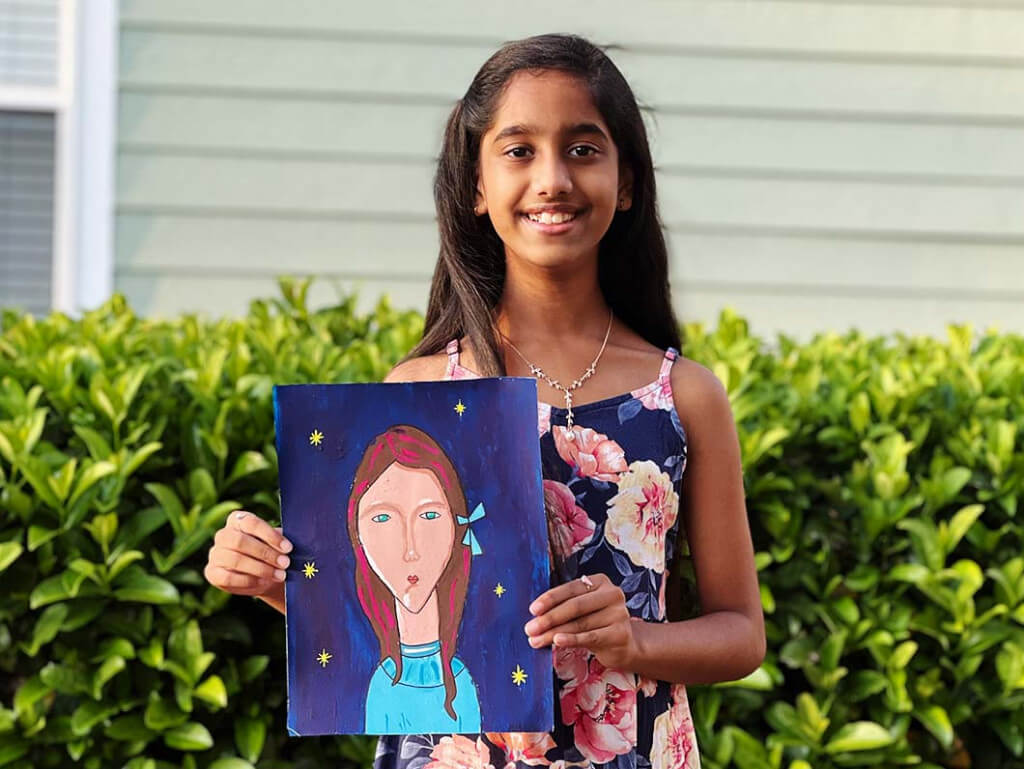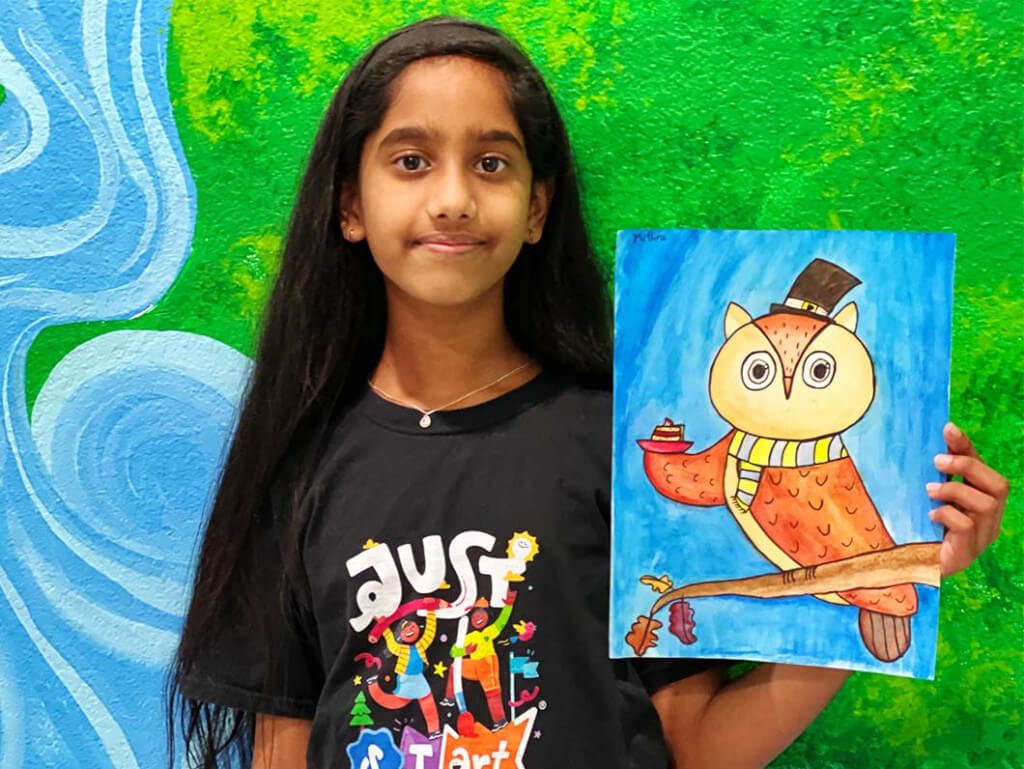 What is your favorite medium in our live online art class?
"Watercolor and Gouache."
She enjoys gouache paintings because it's easier for her to do.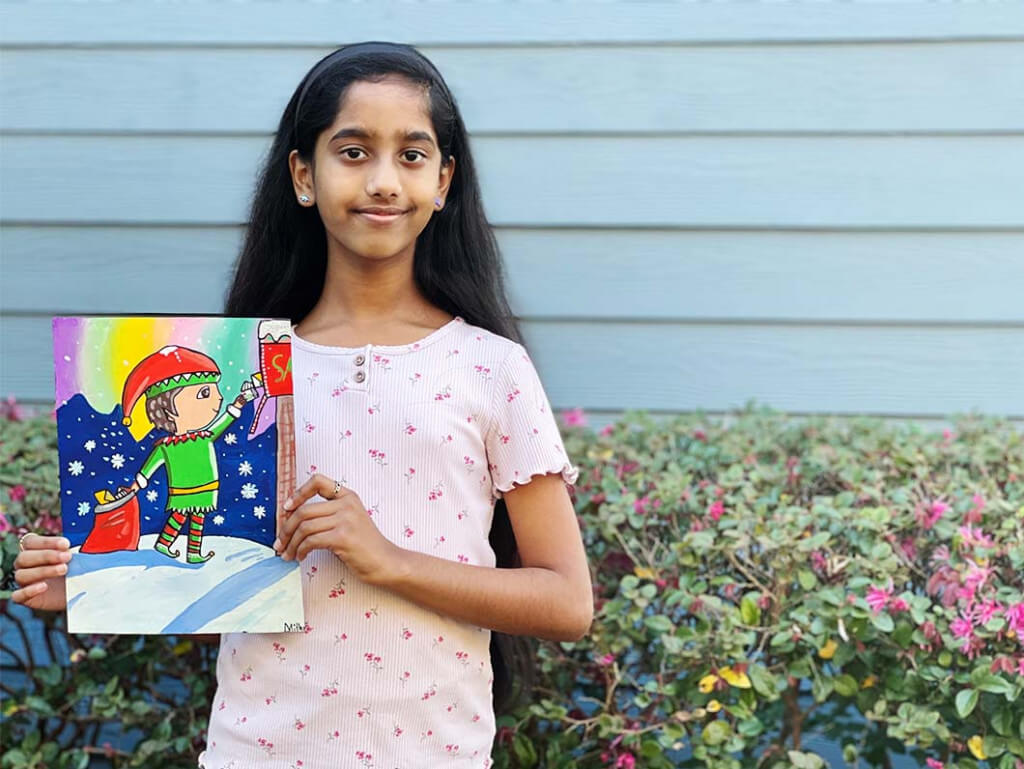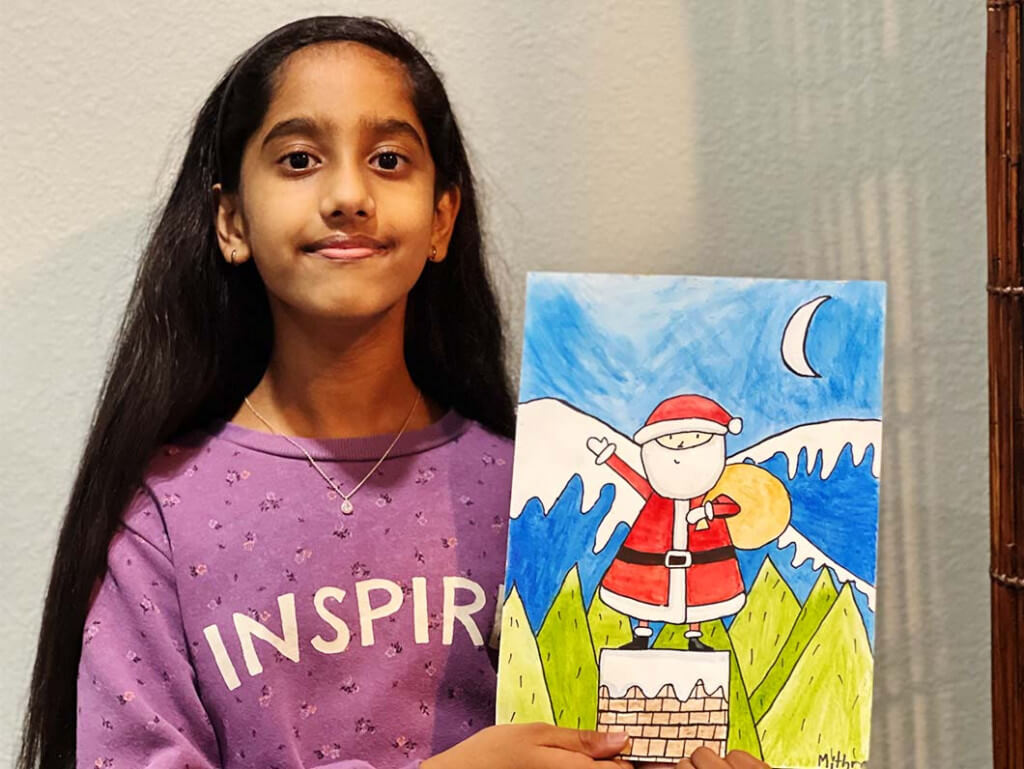 From all of your artworks, do you have your favorite?
"Santa Claus on the Chimney one!"
Mithra also likes the painting she made titled "The Nutcracker" which won in the Christmas Art Contest. Check out her super awesome artwork!
Besides painting and drawing, what are your other hobbies or interests?
"I like to write dinosaur books and play with Legos."
Mithra has written 5-6 dinosaur journal books. She started getting interested in dinosaurs when she was tasked with a project to write about dinosaurs in 3rd grade. Until now, she's still learning more about dinosaurs and is inspired by historical Paleontologists like E.D. Cope.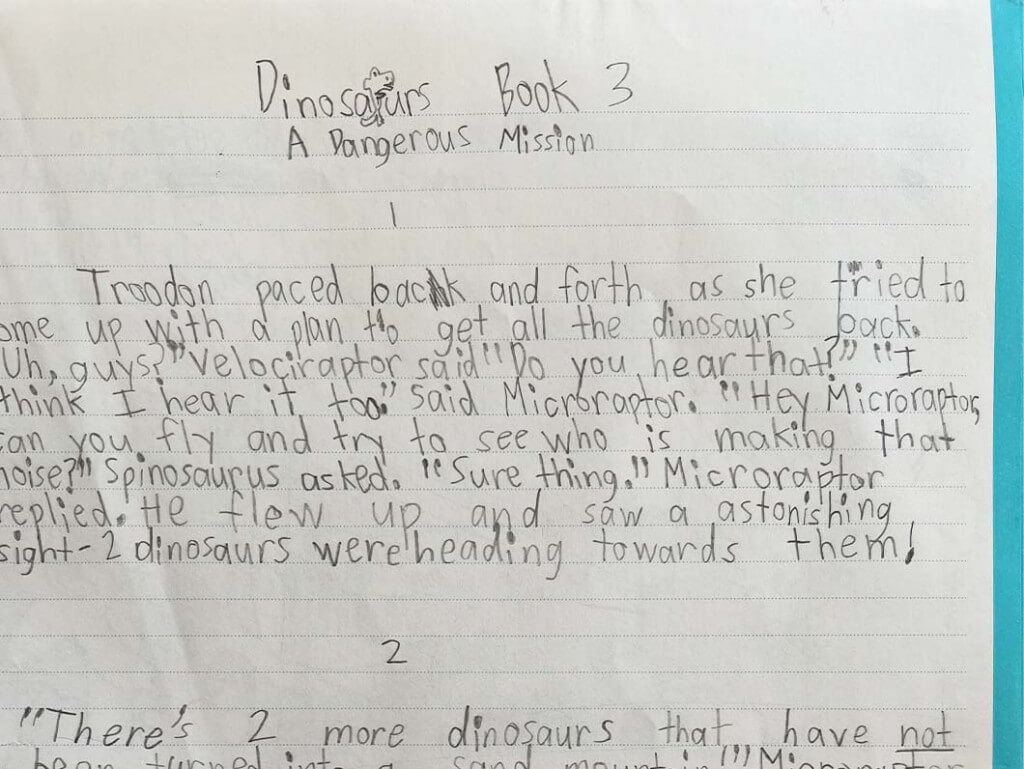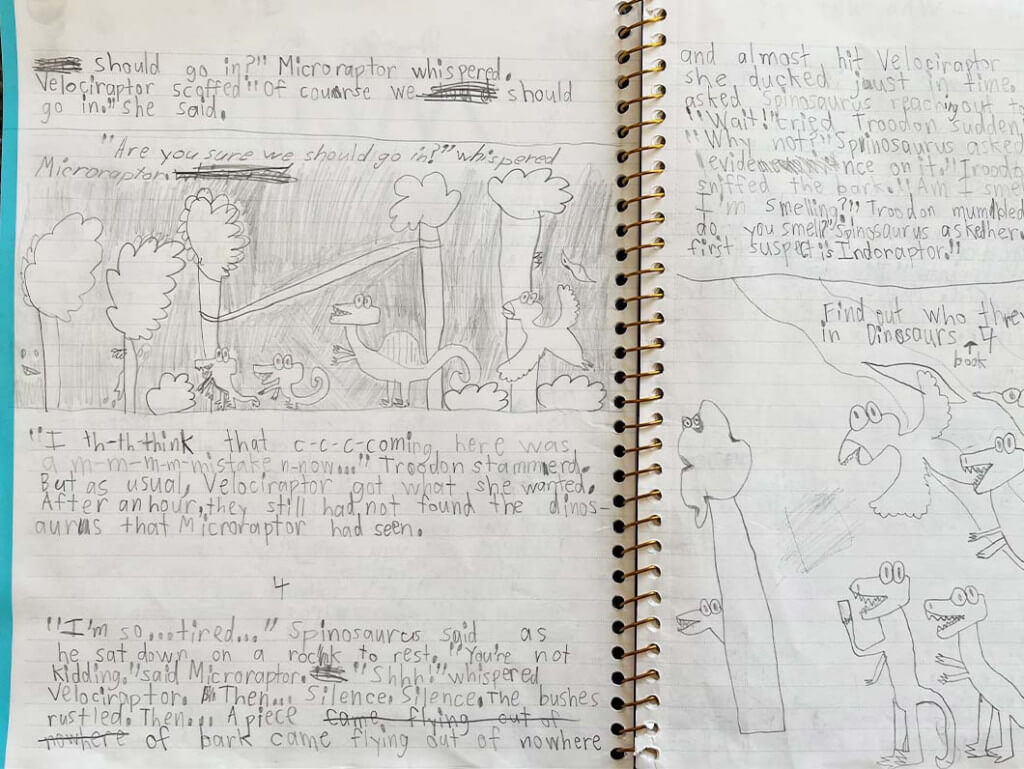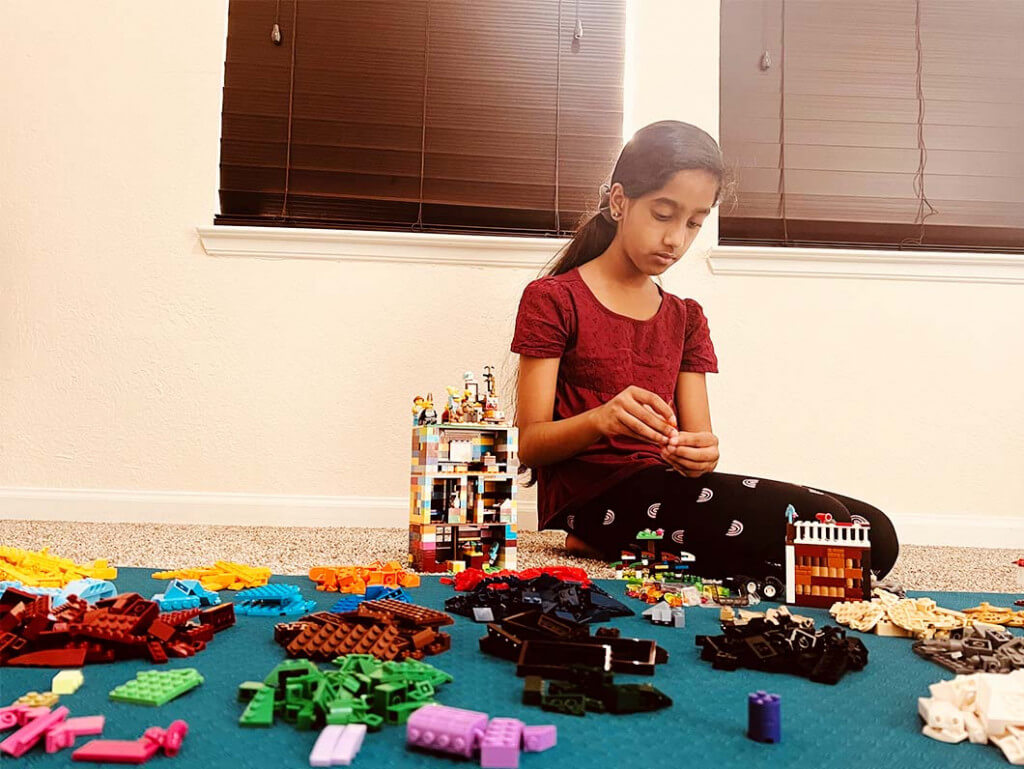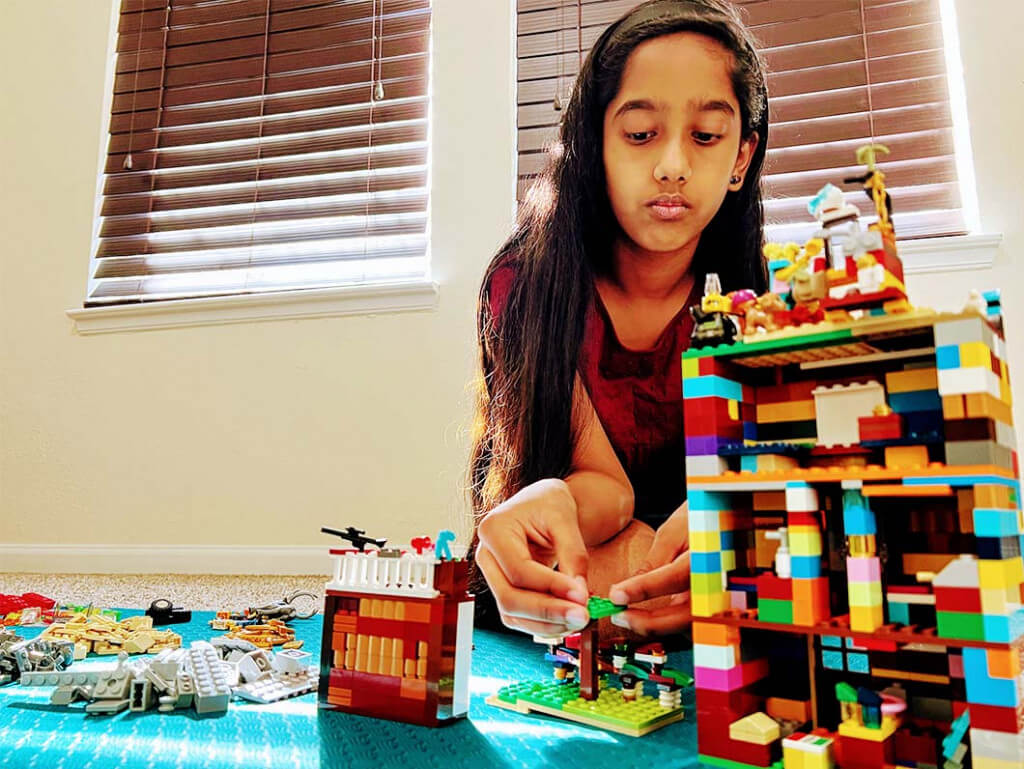 What is your favorite cartoon character and Why?
She wasn't sure who to pick as her favorite character, but she decided to settle for Mort from All Hail King Julien. She also said they would watch the new Disney movie, Encanto, after the interview. Maybe she'll have a new favorite character!
What would you love to be in the Future?
"A Paleontologist!"
Without hesitation, Mithra is firm in her answer to become a paleontologist in the future! Paleontologists are scientists who study the history of life on Earth through the fossils hidden under the ground. How exciting!
If you will become an art teacher what would you teach to your students?
"I would teach them watercolor painting."
For now, Mithra doesn't know what to teach her students if she became an art teacher. We can only imagine the wonders she's thinking about! Will it be King Julien? Santa Claus? Or Dinosaurs?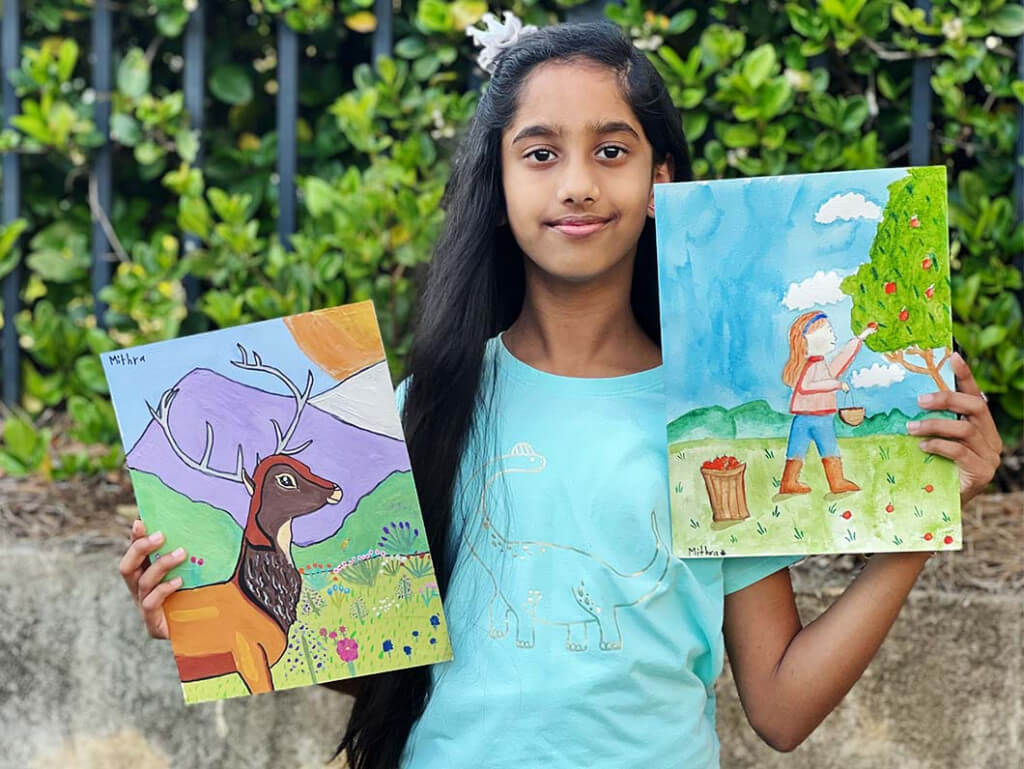 What tips or advice do you want to say to other kids who want to learn painting?
"I would tell them to be patient with their artwork."
She believes in being patient with the artwork even after getting it wrong. Art takes time and practice, and never giving up is always the way to go!
Looks like we will have another scientist in the future! Keep going Mithra! We are proud of you and happy that at a very young age you already have a good foundation.
Stay tuned for our next artist spotlight.
Nimmy Melvin, the award-winning visual artist, envisions nature, the surroundings, and every object around through a different perspective. An expert in the usage of different mediums of painting, including acrylic, oil painting, watercolor, and oil pastels, she has the knack to inculcate knowledge in kids.