'Learn from Masters' blog series brings to you how kids learn to paint famous artworks at our online art classes and learn about the master painters. This week we talk about how kids can learn to paint a portrait inspired by Vincent van Gogh, learn about his life and history, how it influenced his style of painting, and the unique styles and techniques in his paintings.
Vincent van Gogh – Fun and Interactive Portrait Painting For Kids
Vincent van Gogh was a Dutch painter who lived a short life and wasn't successful during his lifetime. His bold usage of colors and expressive brushstrokes made his paintings extremely popular later and went on to become a major influence on post-impressionist art.
Learn more about Van Gogh's life, his evolution as an artist, and how kids learn to create portraits inspired by him at Nimmy's Art.
Who was Vincent van Gogh
Vincent Willem van Gogh was born to an upper-middle-class family and lived from 30 March 1853 to 29 July 1890. He has created 2100 paintings, most of which were completed in the last two years of his life.
Van Gogh is known to be a self-taught artist and has painted landscapes, still life, and portraits. He has created many self-portraits and each of them depicts a specific time in his life. He greatly admired the work of Jean-François Millet, and often to tried to recreate Millet's artworks in his early days. Later on, he found his own direction in painting.
It was during the last two years of his life that he painted The Starry Night, an oil painting, which went on to become one of the most recognized paintings in western art. The dramatic brushstrokes in this artwork create a feeling of movement in the swirls and patterns of the painting. His painting of the Sunflowers also became very popular after his death.
"There is no blue without yellow and without orange."
-Vincent van Gogh
Van Gogh's painting style – Post-Impressionism
Vincent Van Gogh was one of the most influential post-impressionist artists along with Paul Gauguin and Paul Cézanne. Their paintings used impressionist brush strokes, but they believed in using colors very differently.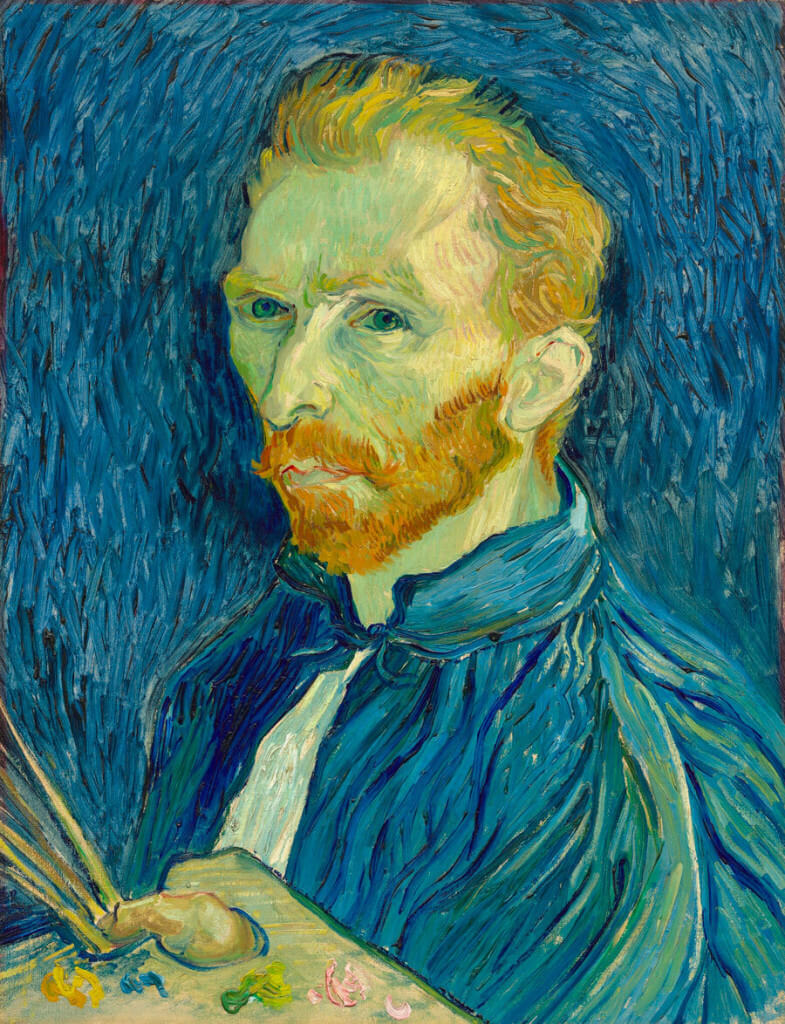 Van Gogh is known to have used bold color combinations like blue, green, and bright yellow on his self-portraits and believed that the colors in a painting should express emotions rather than real-life impressions of light and color.
The non-naturalistic colors and impulsive brushstrokes used for a strong emotional effect in Van Gogh's paintings have also led to his art being considered as a part of early expressionism.
How can kids learn to paint portraits of Van Gogh
As with any portrait study, the proportions of the facial features and their placement while sketching are of utmost importance and create a strong foundation for the painting. Our online art lessons have focused on creating simple techniques of dividing the faces into sections to simplify this process for kids.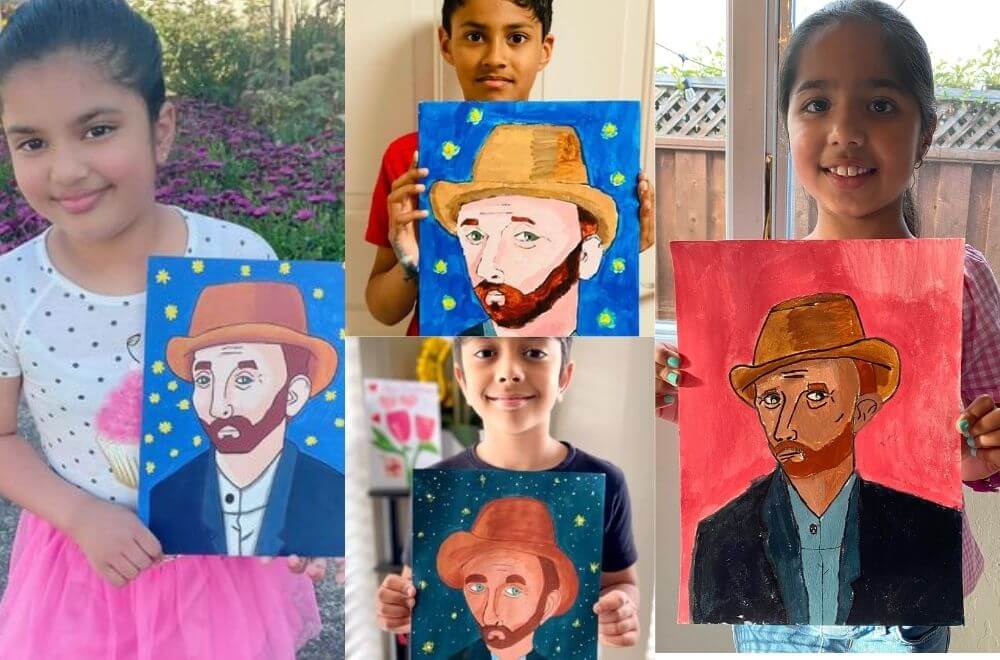 Another factor that is important to consider while creating a portrait is the facial view. The proportions and techniques vary based on whether the portrait has a full frontal view, three-fourth view, or side view. Our early online classes have covered these concepts in our pencil drawing lessons, and kids can practice these techniques using the video tutorials for improving their drawing skills.
In the portrait painting of Vincent Van Gogh, kids can add their own unique ideas by taking inspiration from Van Gogh's paintings and adding their impression of it as a background to the portrait. This provides kids with wide-ranging options to explore and learn about van Gogh's paintings and how they interpret them.
Benefits of Learning about Portraits in Visual Arts
Creating portraits is an important step in the journey of perfecting fine arts skills. Children love to communicate ideas through art and often include people around them in their drawings. Learning to create portraits in simple steps enables them and builds their confidence.
An integral part of our online courses is art history. Understanding the master painters and their influences in life inspires students in seeking new milestones as they progress. It also motivates them to experiment with art and discover their own artistic inclinations.
With no boundaries to limit their imagination and equipped with the right tools, children can evolve into wonderful artists.