A mother is a child's first teacher. The role a mother plays is undeniably important in our lives. Although everyday is a day to honor our moms, on Mother's Day, we decided to celebrate and cherish motherhood through art. We wanted our students to join with their mother figures and spend some time together in each other's company, while learning and having fun at our free online art classes that happen every month.
Motherhood knows no boundaries. The love and warmth are the same, be it humans, animals, or birds. In our Mother's Day Special online art workshop, we created a beautiful painting that reflected the pure and heartfelt love of a mommy cat and its baby kitten. We saw many mom-kid duos participate in our workshop.
Join us as we paint this cute cat duo on this special occasion using acrylic painting.
Mother's Day painting – Acrylic Art tutorial.
How to draw and paint a cute mommy cat and baby cat – Mother's Day Special – Acrylic painting
Materials needed
Liquitex Acrylic Paint Starter set
Paint Brushes – 1 big flat brush, 1 medium round, 1 small round
Canvas 8″ X 10″
Paper towel
A bowl of water
Pencil
A black sharpie
Colors used TBD
Orange
Yellow Ochre
Burnt Umber
Titanium White
Crimson Red
Viridian green
Mars Black
Red
Light Green
Cadmium Yellow
Yellow ochre
In our online art classes, we created mom-baby duos of humans and birds. Each artwork was in a different medium. While creating faces we use simple techniques to define proportions and placement of facial features. Kids are often interested in drawing people who are important in their lives, or the animals, birds and plants they see around them. Learning the basics of human and animal anatomy helps them improve their artistic skills and imaginative thinking.
We start today's painting by creating the basic shapes for the composition and then moving on to facial features and detailing.
Let's begin with the sketch for our Mother's Day Special painting.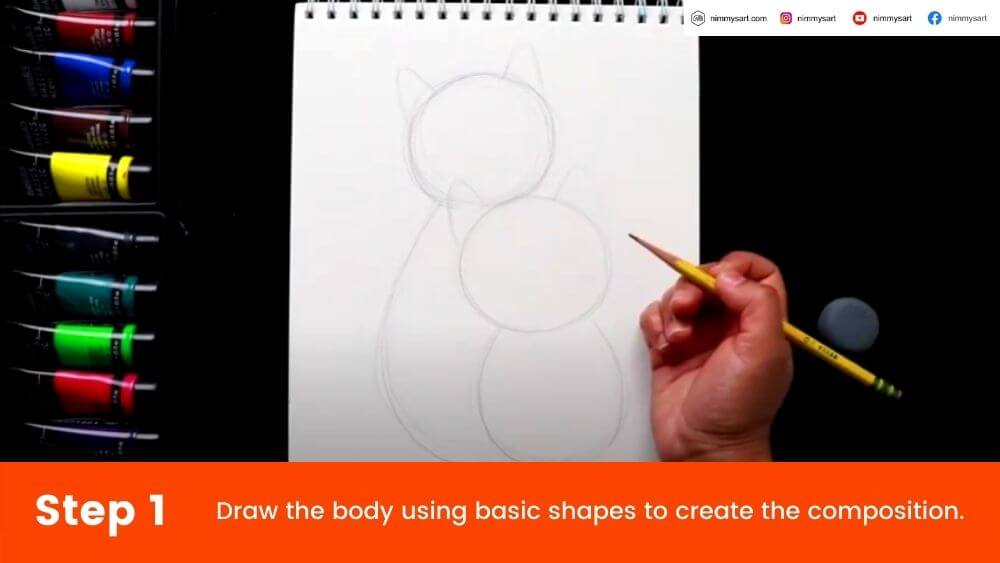 Draw the sketch – draw circles for the head, ovals for the body and triangles for the ears.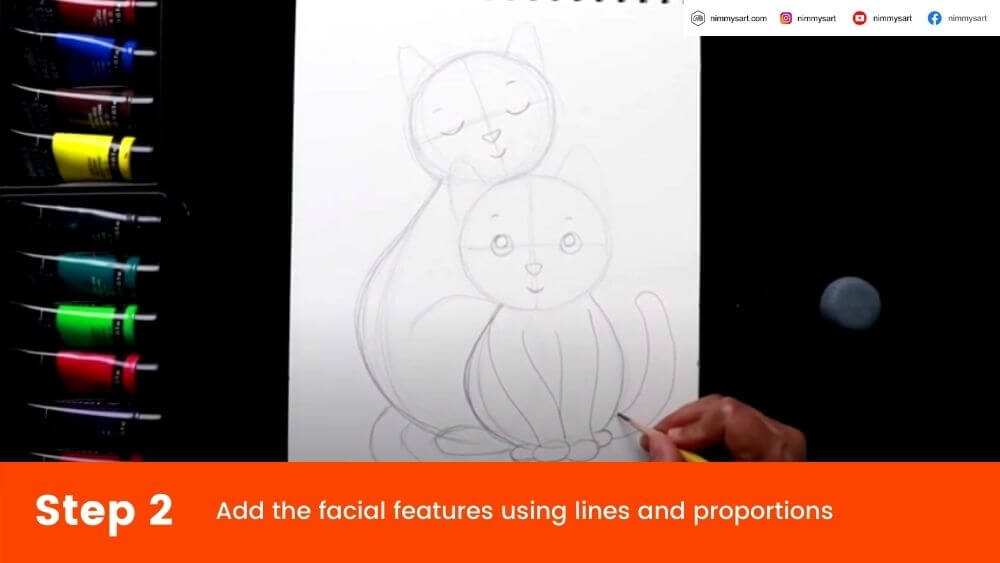 We will use proportions to draw the features. Use basic lines and shapes to draw the facial features and body parts.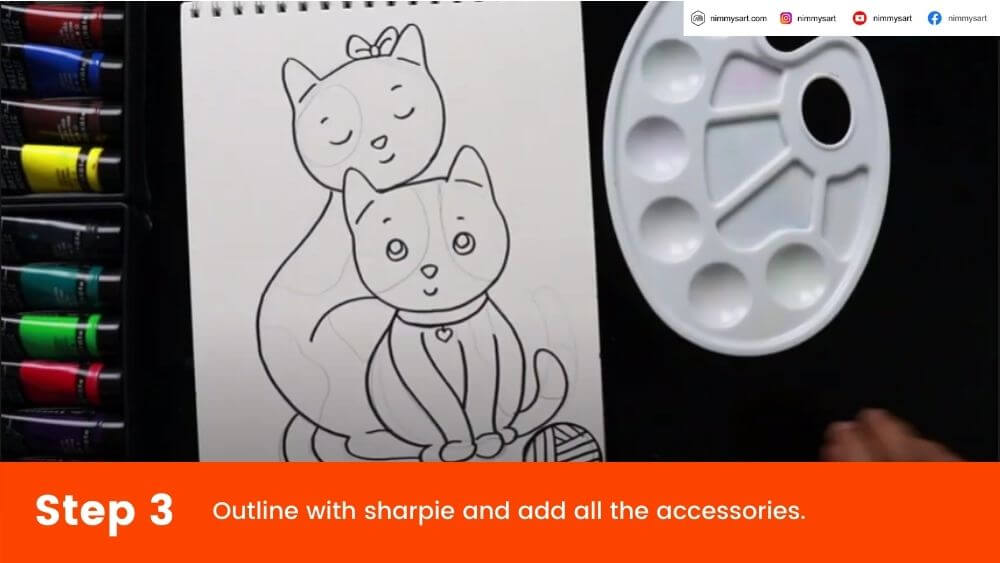 Complete the detailing for the body and outline with sharpie.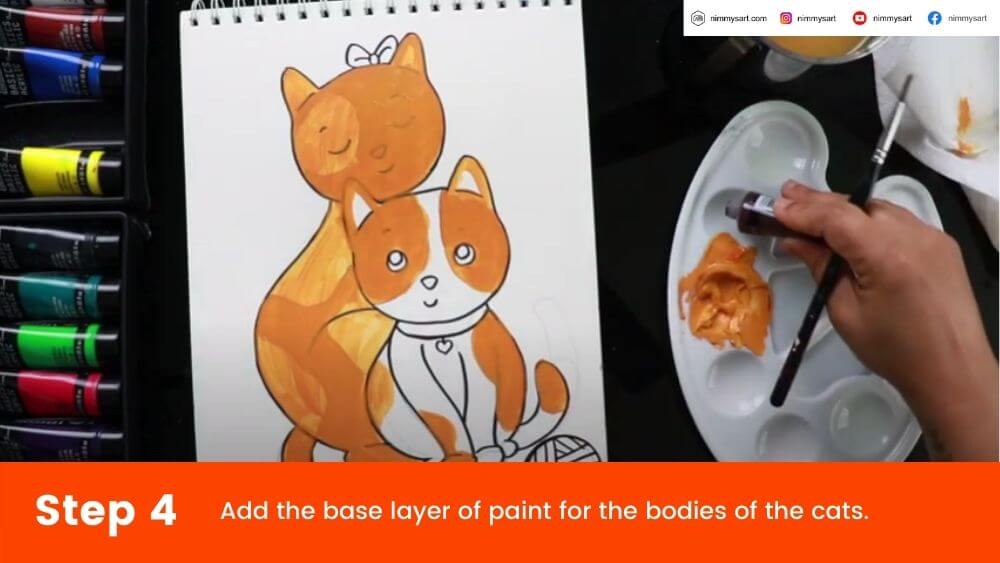 Start painting the base layer for the bodies of the cats.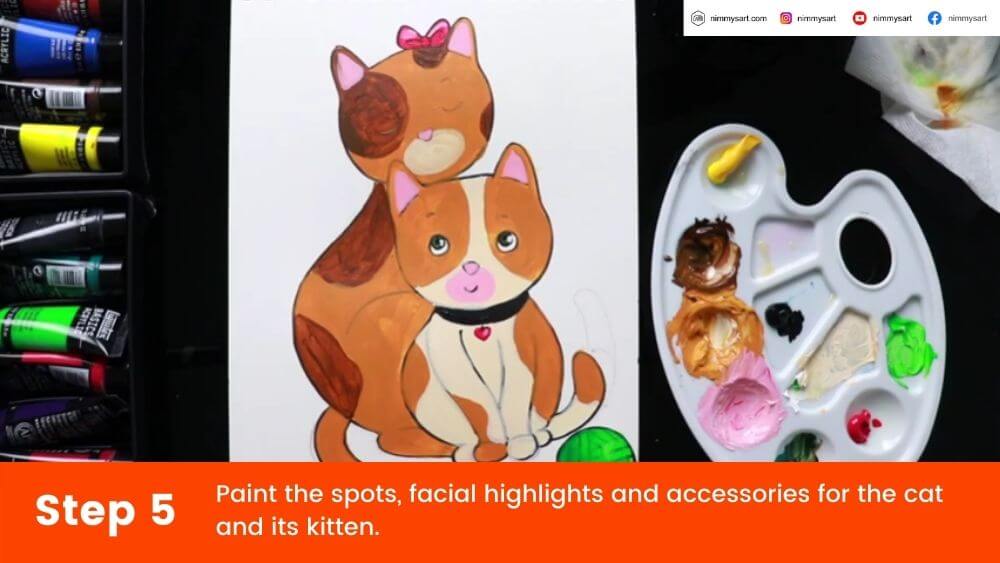 Paint the facial features and color variations in different parts..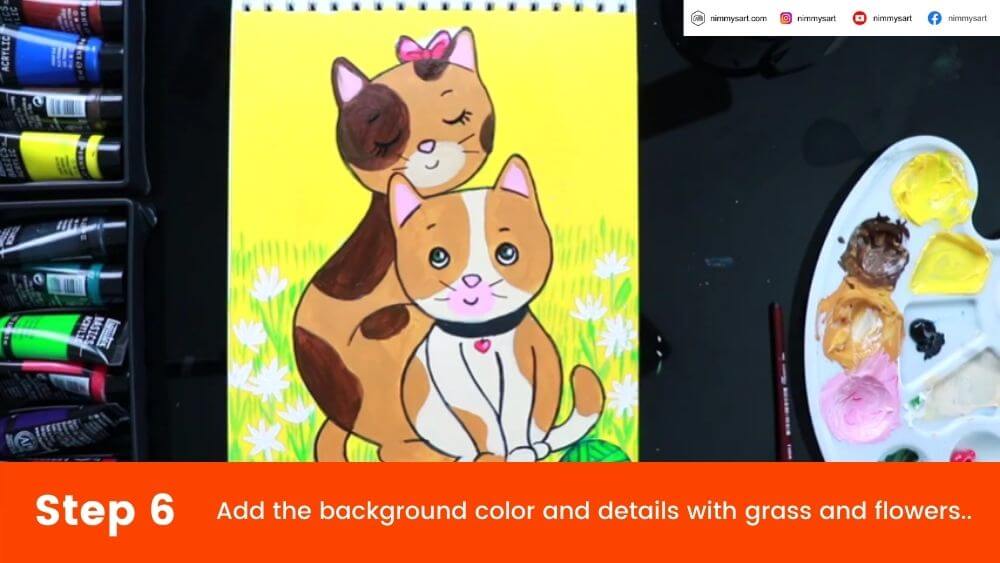 Paint the background and add grass and tiny flowers to create a beautiful image.
Use a medium brush to paint the base layers of the body.
Use a large brush for the background base layers.
A small brush is the best choice for the details like facial features and background details.
Use more layers on the body to provide a rich look.
Cute mommy cat and baby cat are now ready to celebrate Mother's Day!
Tips:
Acrylic paint is water-based, but use only a drop or two of water while using it.
To clean up the brushes, use a mild soap immediately after painting. This helps for a longer brush life.
We hope you had fun creating this Mother's Day Special acrylic painting. Share your work with us.
Looking to learn art while having lots of fun? Join our Summer Art Camp where kids can learn through interesting art projects.
Share about the class with your friends. Learn and have fun together.