Artist Spotlight blog series brings to you the amazing students attending art lessons by Nimmy's Art and showcases their work, their love for art, and their journey till now. So get ready to be amazed!
Krupa Karthik – Little Artist
Today we are meeting Krupa Karthik, a beautiful 10-year old girl from Nashville, Tennessee. She is a fourth-grader and she started taking our online art lessons last August.
Krupa started drawing when she was four-years-old. She also began using color pencils and crayons since preschool. Stick with us as we explore Krupa's smart, calm and creative world.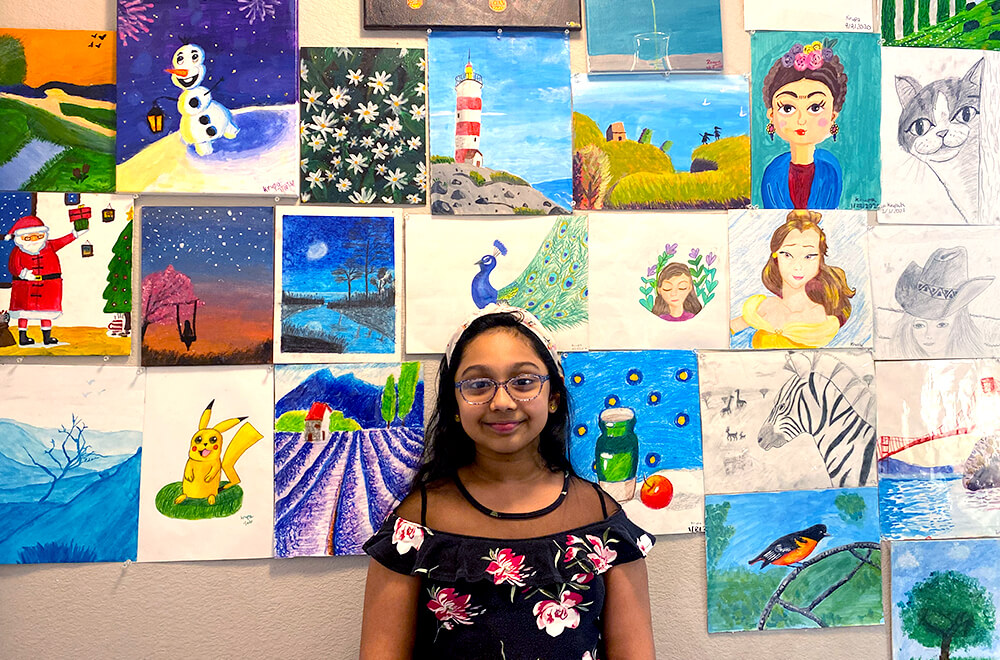 What is your favorite medium in art?
"I like oil painting and acrylic because it has bright colors and if you make a mistake, you can cover it with a different color when it dries," she replied confidently.
Krupa started doing acrylic in Nimmy's art class and her favorite work so far is the lighthouse.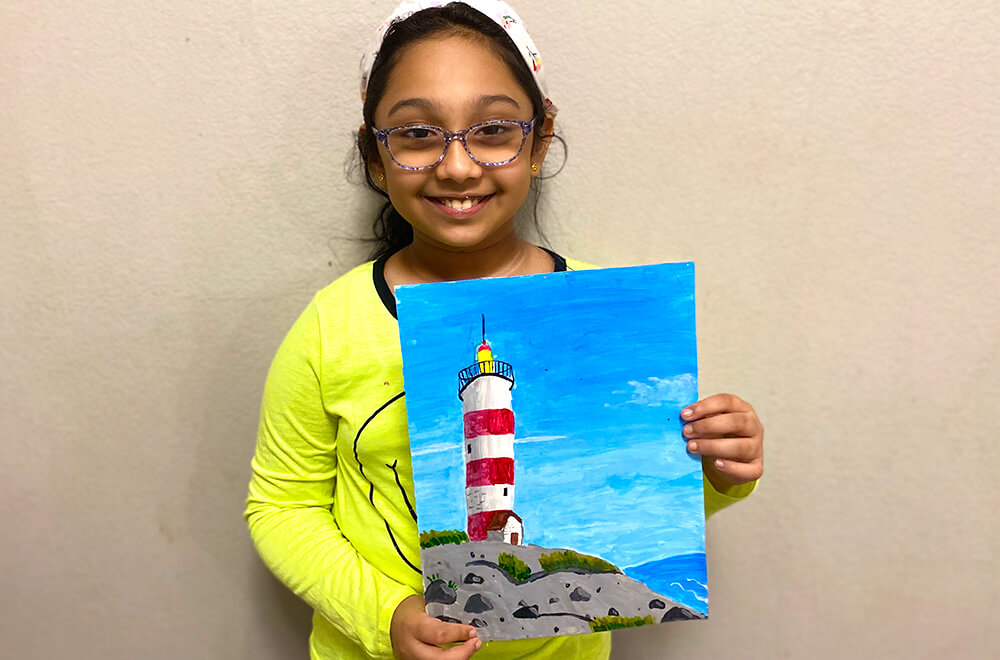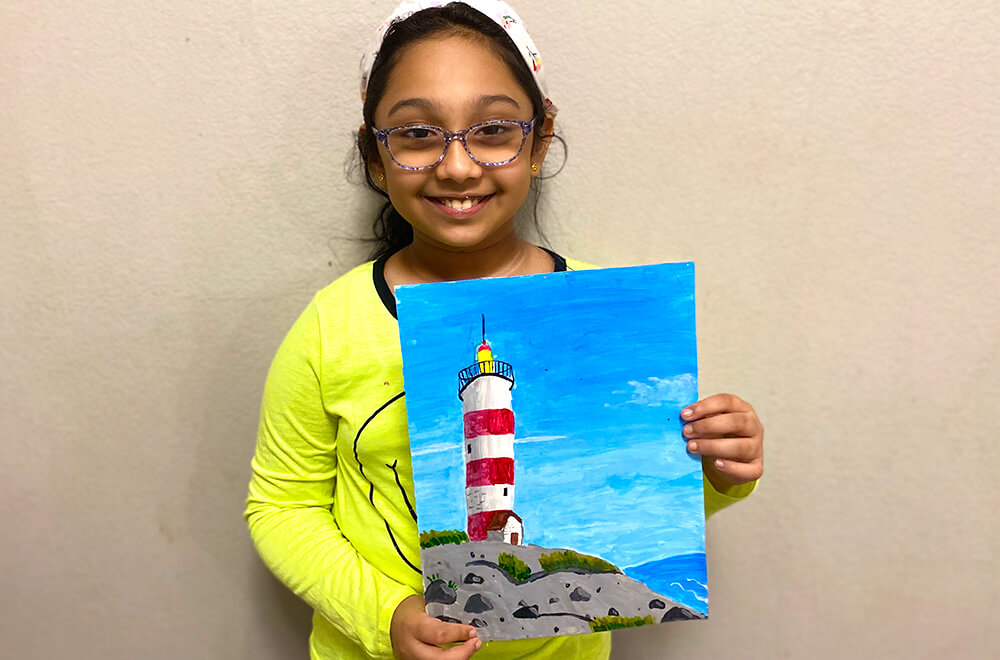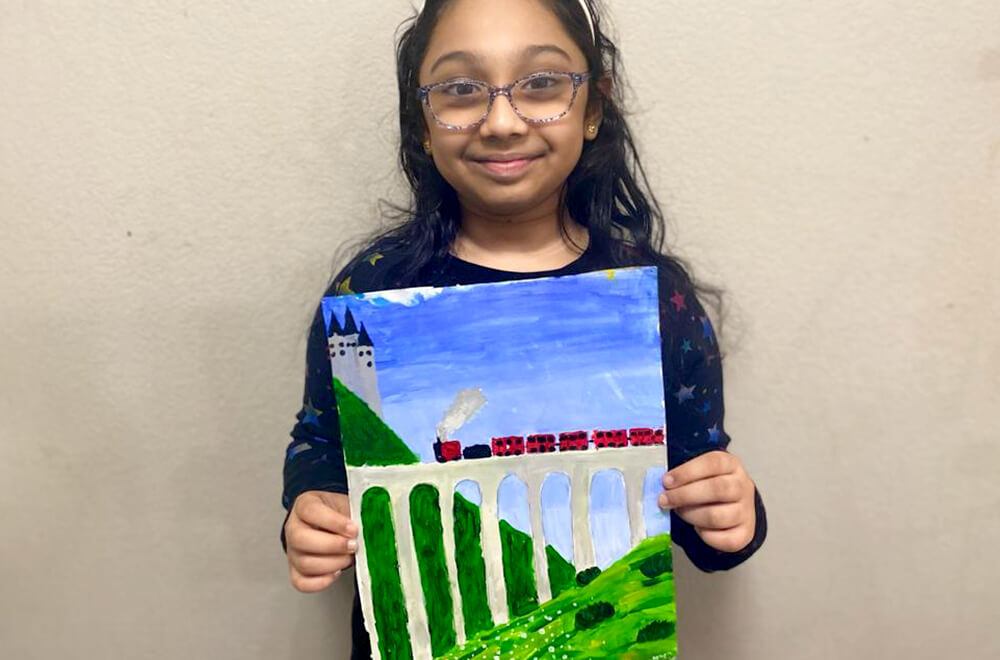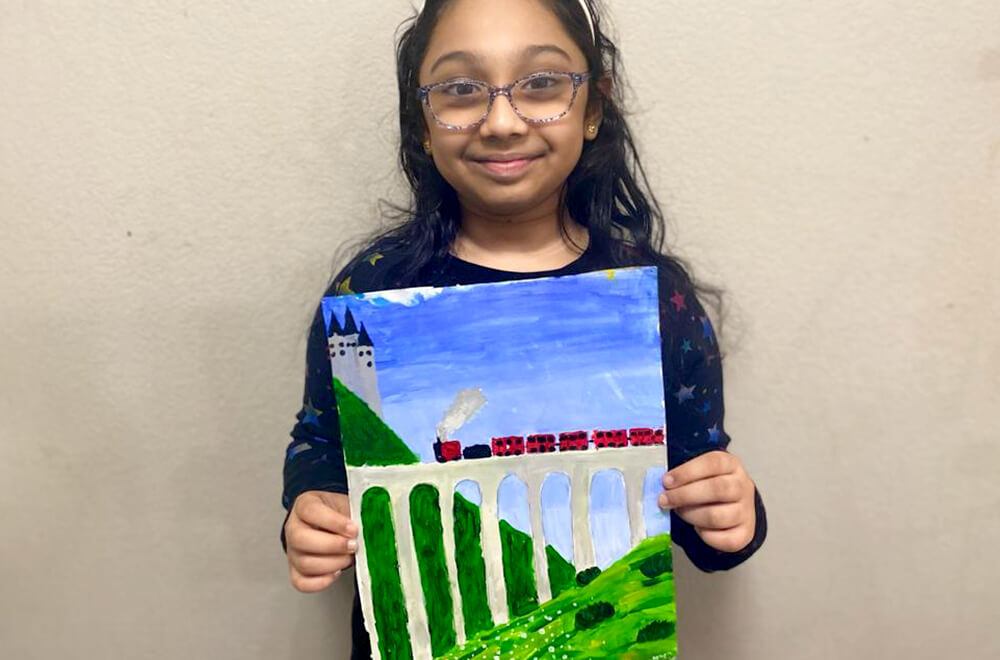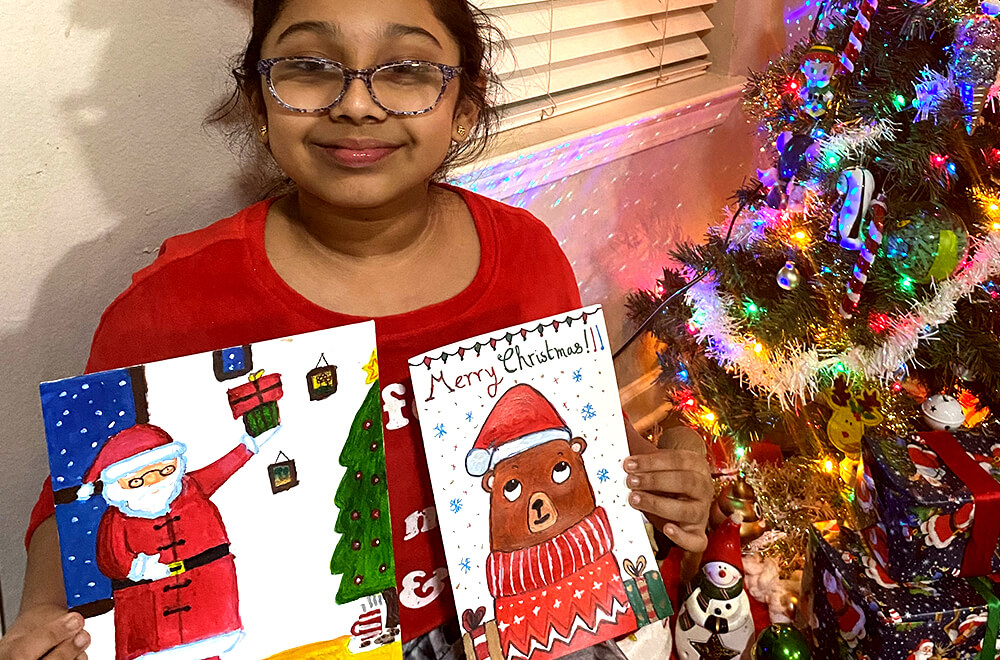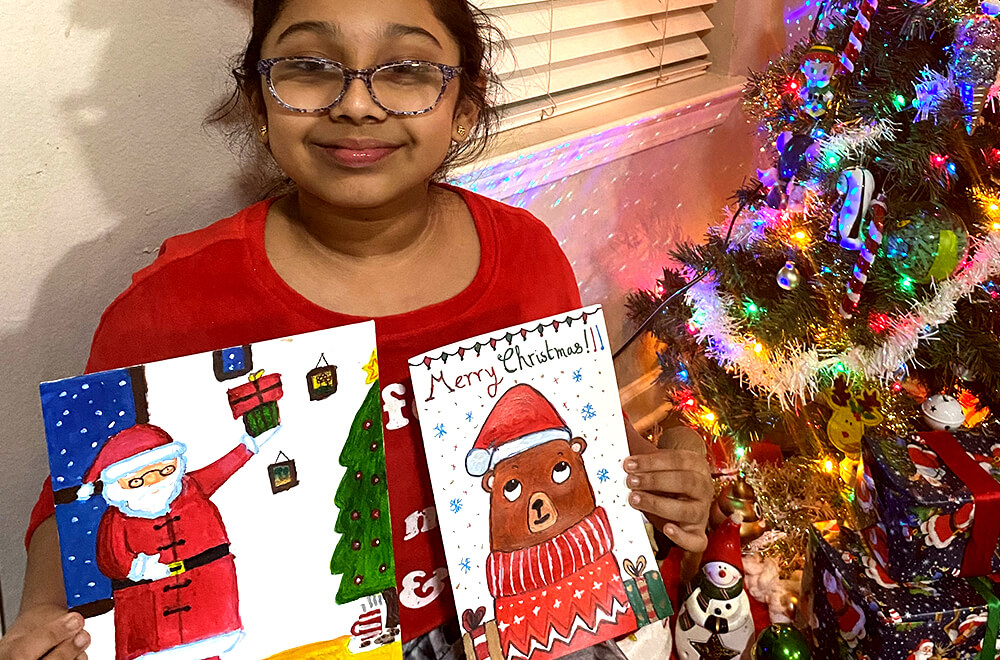 Aside from art, what else do you like?
"I like to make crafts with paper and I like to play the guitar" she said.
According to her, she started learning crafts from YouTube. She learnt to play the guitar in third-grade and has been playing beautifully with consistent practice.
Krupa also likes reading, bike riding and she is a member of the Riddle club in her school where she gets to read books and answer questions on them.
Her favorite books are Harry Potter & the Sorcerer's Stone and Mulan.
Krupa also likes scary books and movies.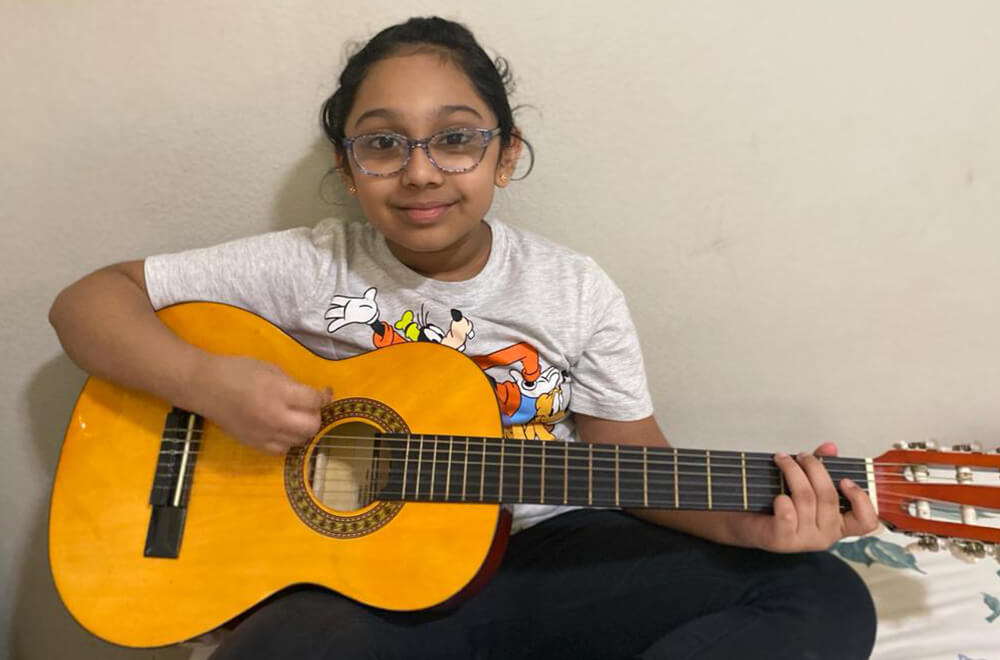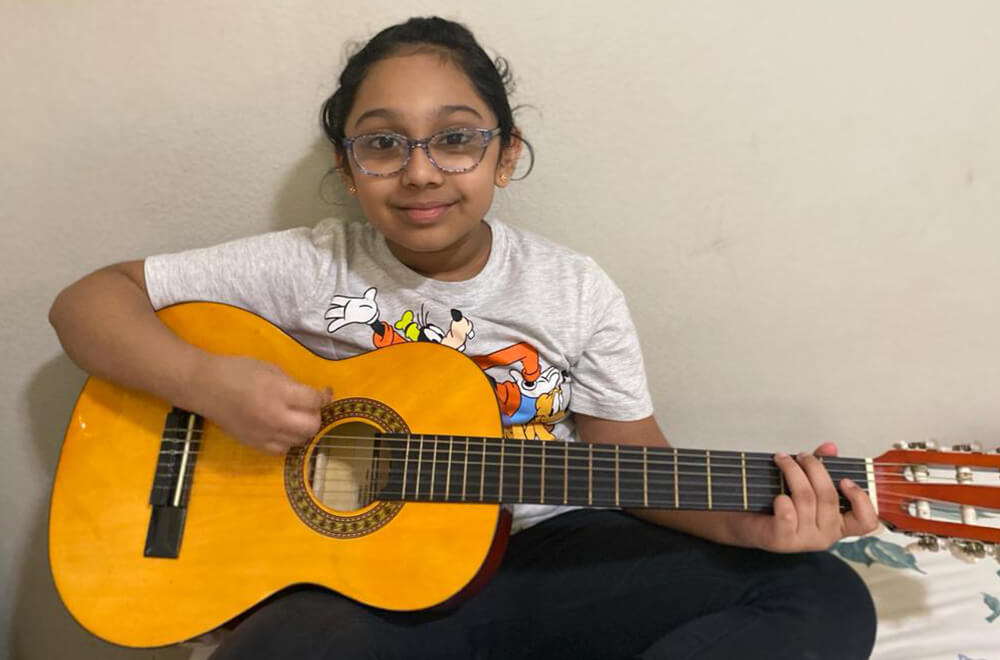 Do you have any friends who live close by?
"Yeah, I have some friends from school in my neighborhood – Anwitha, Jagathi, Stuti, Ally and Genesis."
Krupa also has a brother who is four-years old, who might start learning arts soon inspired by Krupa.
What's your favorite subject?
"I like Math because it includes numbers and it's easy to solve", she replied giggling.
She is currently learning three-digit divisions and it's really fun for her. Solving Math, however, hasn't been the same due to the pandemic and it has been a little difficult typing numbers and symbols but with some help, she has been doing just fine.
What do you like to draw the most?
"I love to draw portraits", she said while exhibiting a few of her outstanding portrait collections. She loves creating portraits of her favorite princesses the most and the art lessons in portrait, especially Frida Kahlo's portrait lesson, have really motivated her to try more.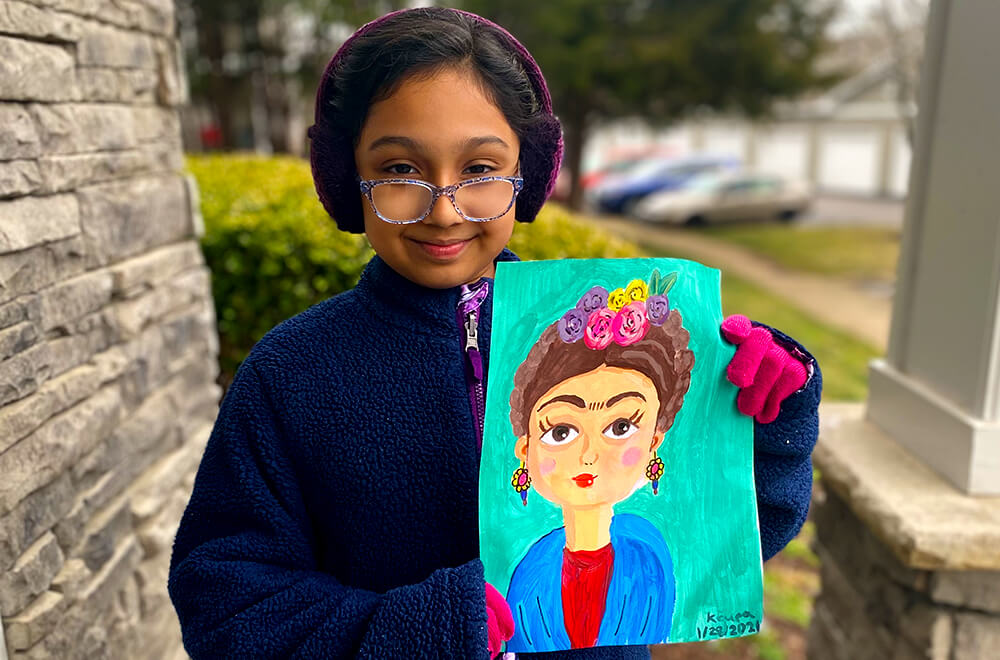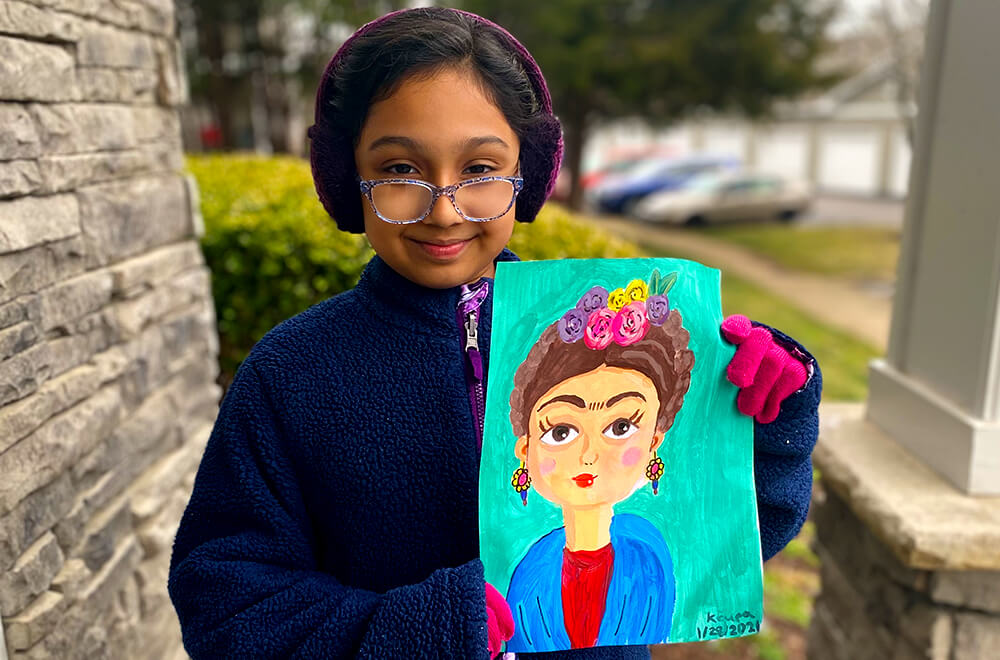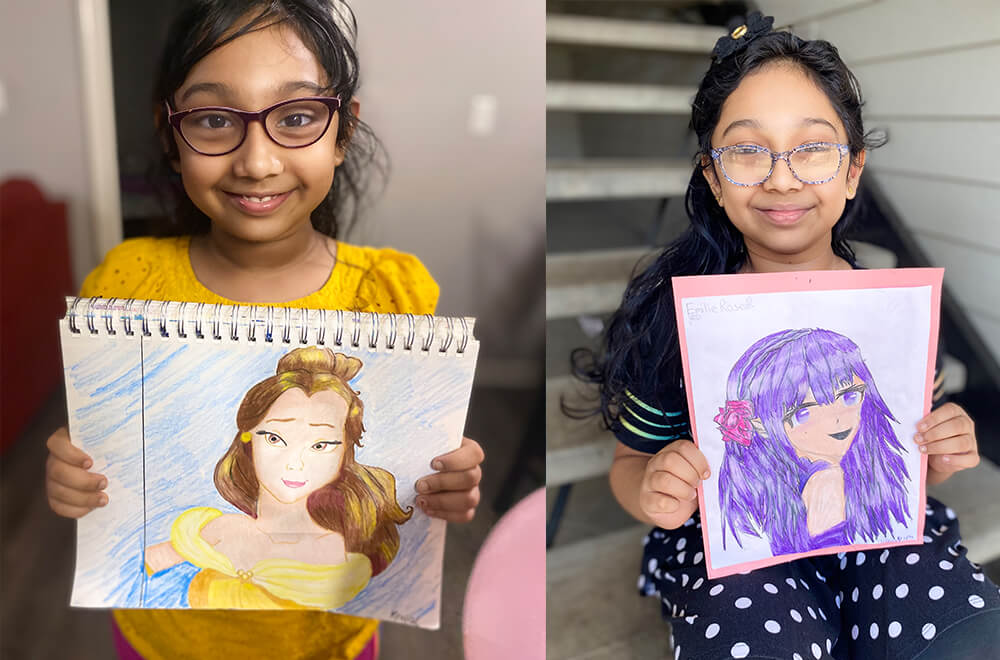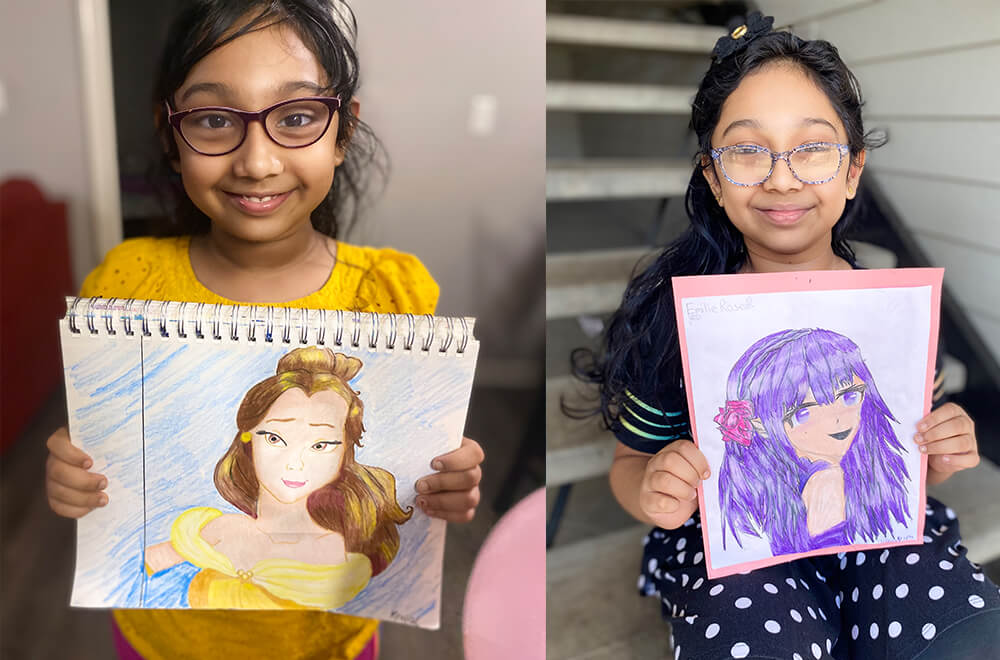 Do you like the online school or the in-person school?
"Well, I think in-person school is more fun than online because you get to meet with other students and chat with them or go to the playground with friends unlike the online classes."
"Sometimes, in the online class, when a participant asks a question, the teacher tries to make different people answer to get the class together," she said.
We also asked her about her favorite pet and Krupa says that she would like to get a dog as a pet since they are fluffier than cats. Cute, right?
What do you like about Nimmy's classes the most?
"Well, I like the art she does and I love the fact that she is really kind and nice, she also patiently answers our questions."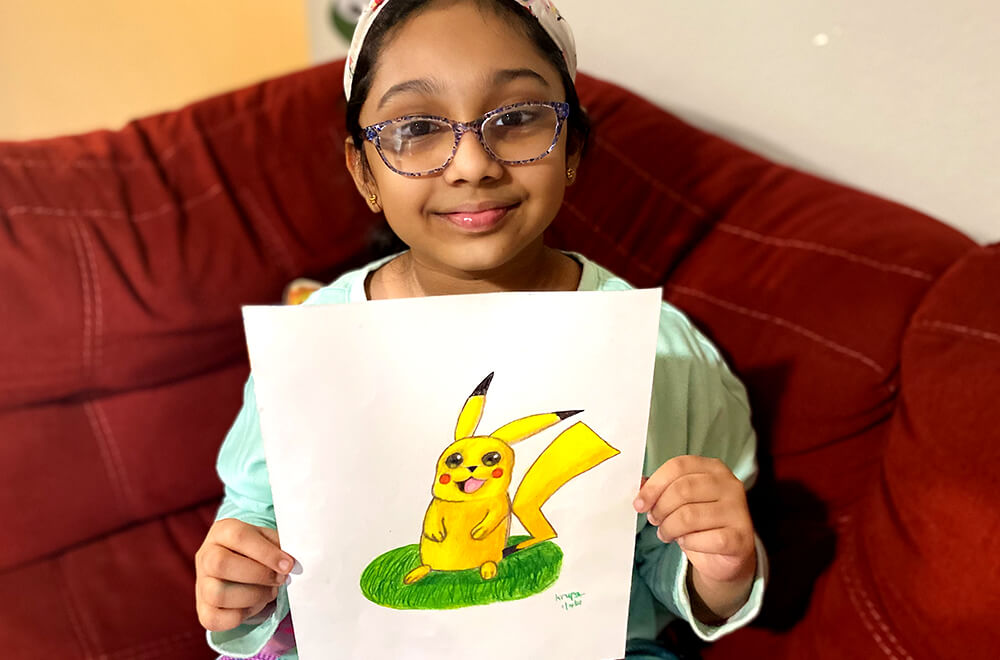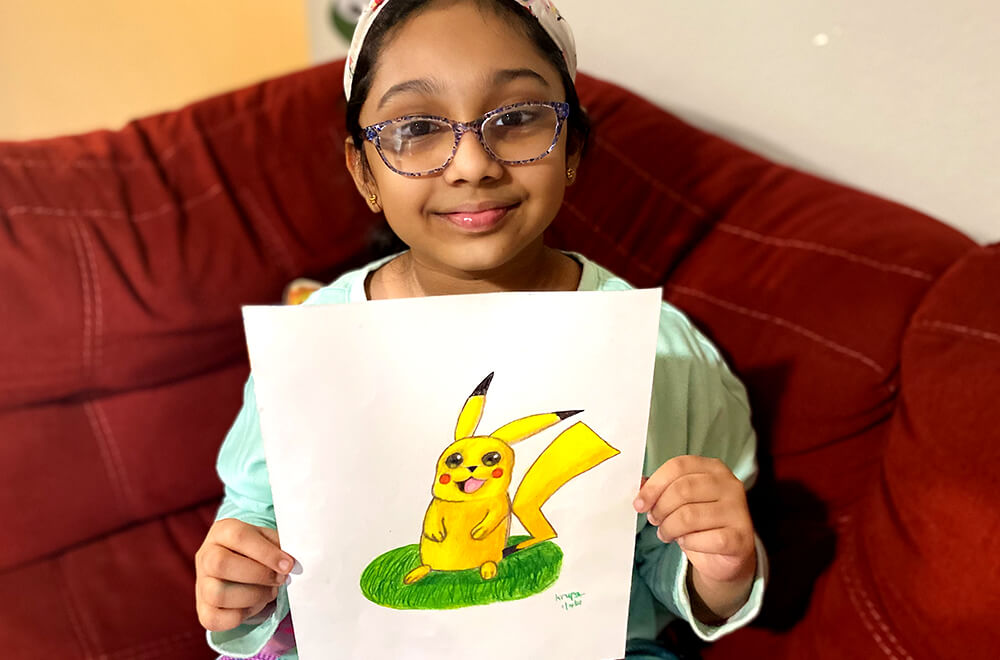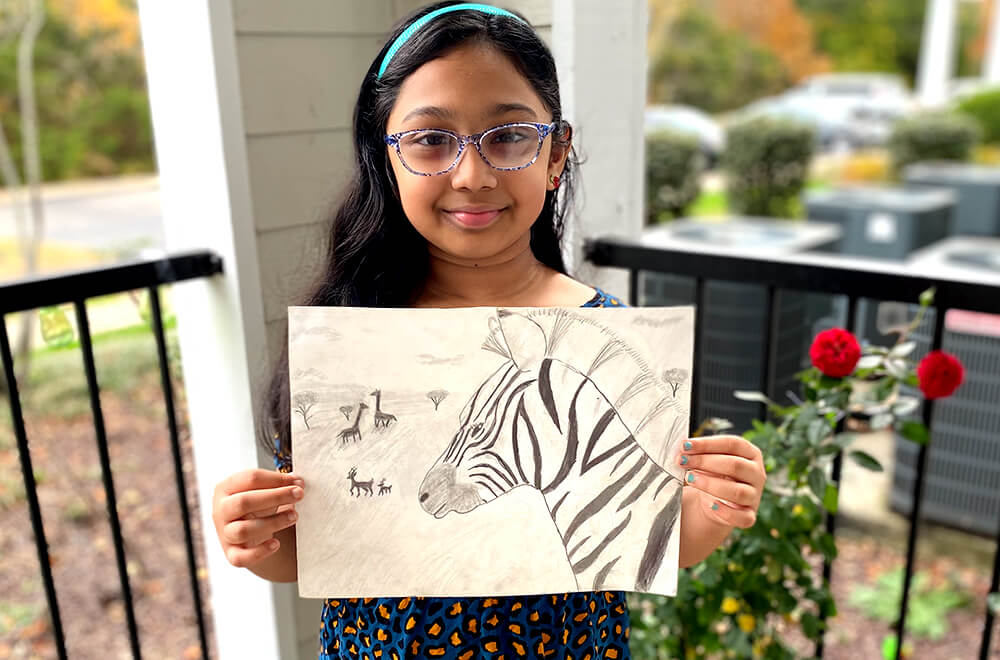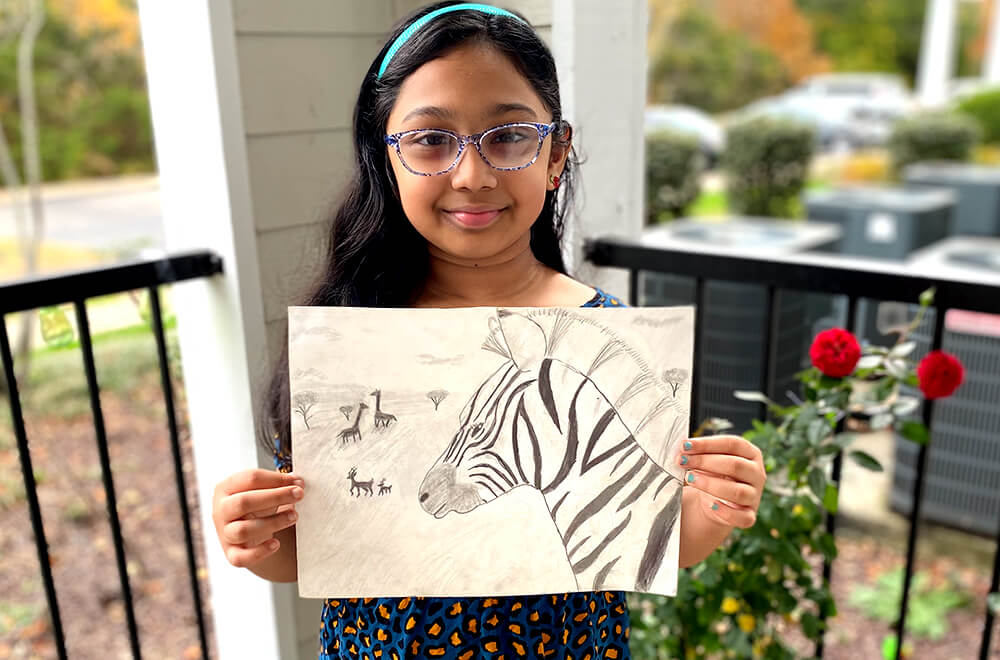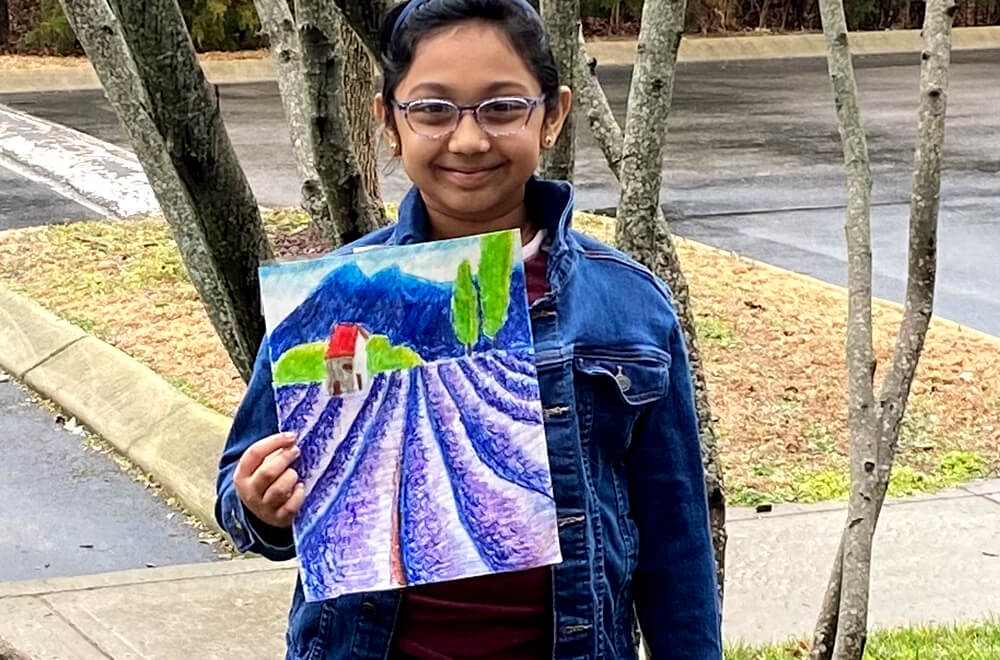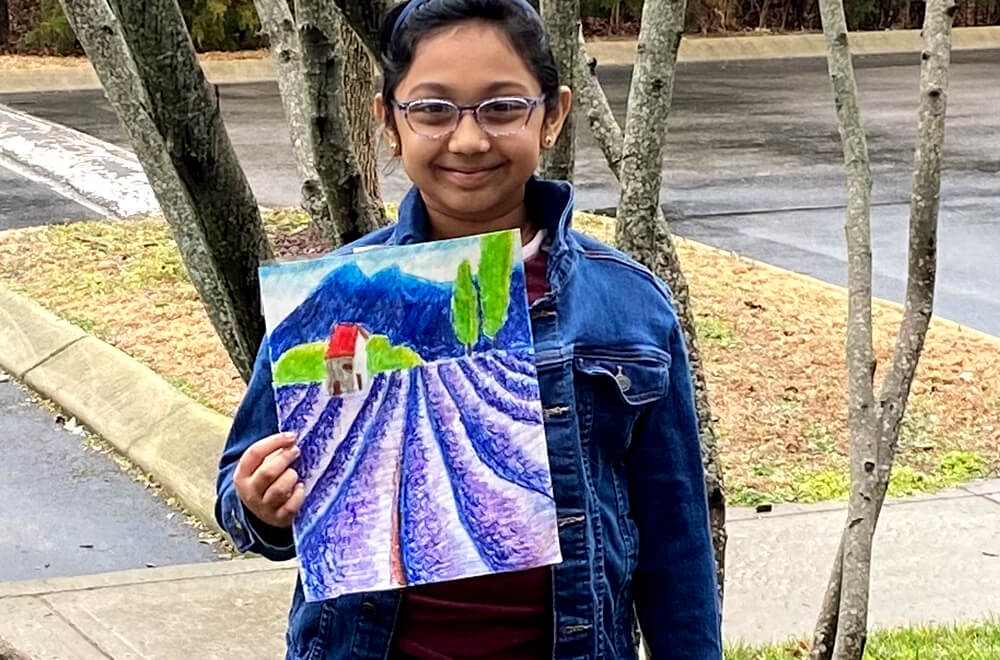 What do you want to be when you grow up?
"An artist. I would be both an artist and take art lesson for others as an art tutor." she said while giving us a dreamy smile.
Krupa loves art. She spends time sketching and painting lovely artworks.
Krupa wants to do big paintings and try oil paintings medium when she grows up.
If you get a chance to take art lessons, what will your art tip be?
"There is no need to rush things in art. You can work slowly so as not to mess up your work until you get better"
A great tip from our young and brave art tutor Krupa Karthik! Art truly requires patience and consistency.
We hope you enjoyed every bit of our conversation with our lovely Krupa.
Stay tuned for our next artist spotlight.
Nimmy Melvin, the award-winning visual artist, envisions nature, the surroundings, and every object around through a different perspective. An expert in the usage of different mediums of painting, including acrylic, oil painting, watercolor, and oil pastels, she has the knack to inculcate knowledge in kids.