Valentine's day is a great time to spend with your loved ones. And creating a Valentine's day painting together is the perfect way for all the art lovers out there. We, at Nimmy's Art family, felt that this month's free art class for our students and families should be filled with all things that bring out the freshness of love.
This month we had little kids from 4 years old to grandparents join our online art workshop. We always encourage learning our art lessons together as a family. The support and encouragement from their family can motivate students to take stronger steps forward in their art journey.
Join us as we paint this beautiful little girl in a garden using acrylic painting.
Valentine's Day painting – Acrylic Art tutorial.
How to draw and paint a Valentine's Day painting in acrylic
Materials needed
Liquitex Acrylic Paint Starter set
Paint Brushes – 1 big flat brush, 1 medium round, 1 small round
Canvas 8″ X 10″
Paper towel
A bowl of water
Pencil
A black sharpie
Colors used
Orange
Primary yellow
Titanium white
Burnt umber
Mars black
Viridian green
Burnt sienna
Primary red or pink
Yellow ochre
In our online art classes, we include portrait and human figures as subjects because it is important to understand the proportions while drawing portraits. This skill builds a strong foundation in human anatomy and portrait painting, encouraging students to try and recreate images of people in real life.
Our main subject in today's painting is a little girl holding a flower in her hand. The direction of the head determines the angle of the body. As a result, an easy starting point for a human figure is to start from the head of the subject.
Let's begin with the sketch for the Valentine's Day art.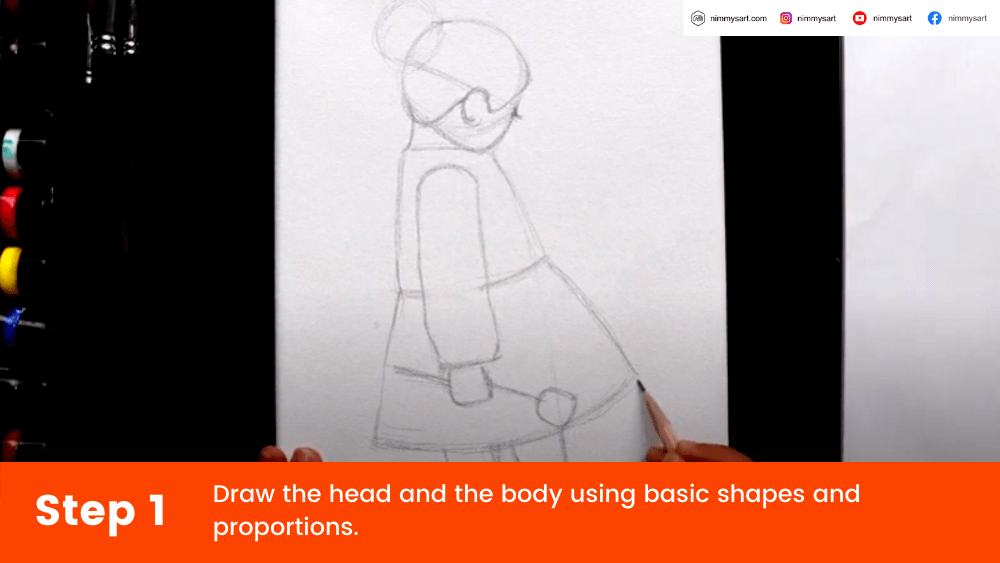 Draw the sketch – draw a circle for the head and use proportions to draw the features. Use basic lines and shapes to draw the dress, arm and legs for the body.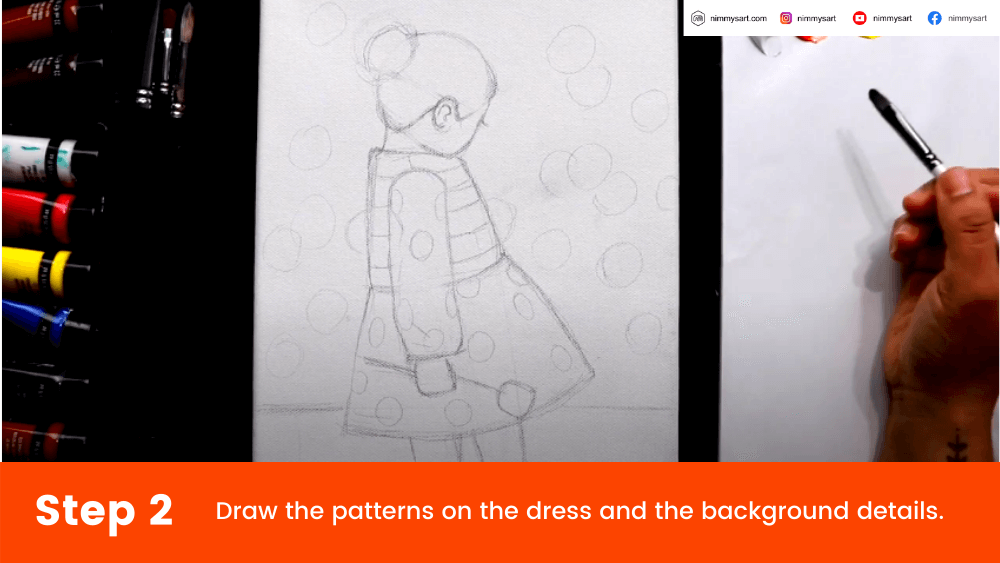 Draw circles and lines as patterns in the dress, and small round flowers for the background.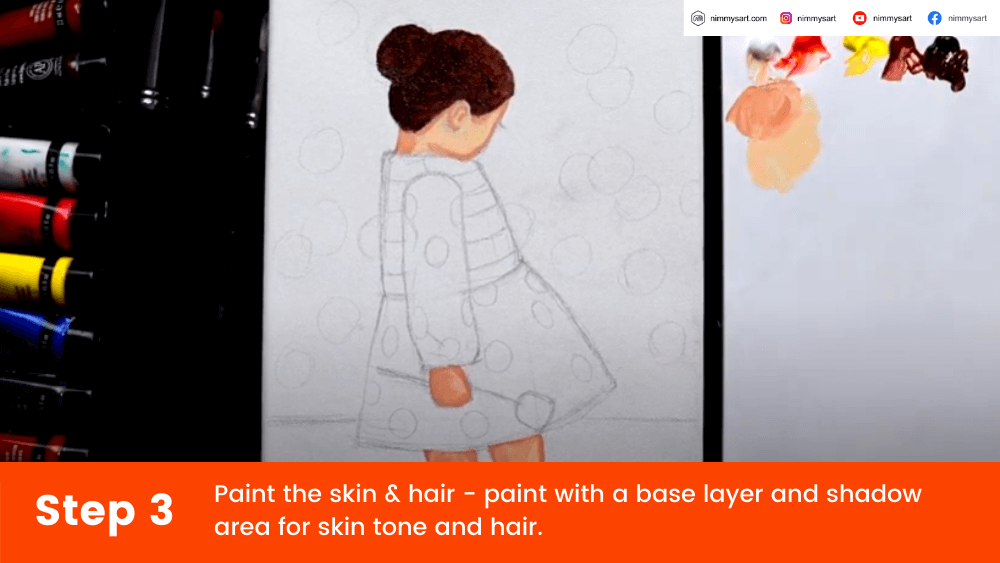 Choose the skin and hair color, and paint the base layers using acrylic.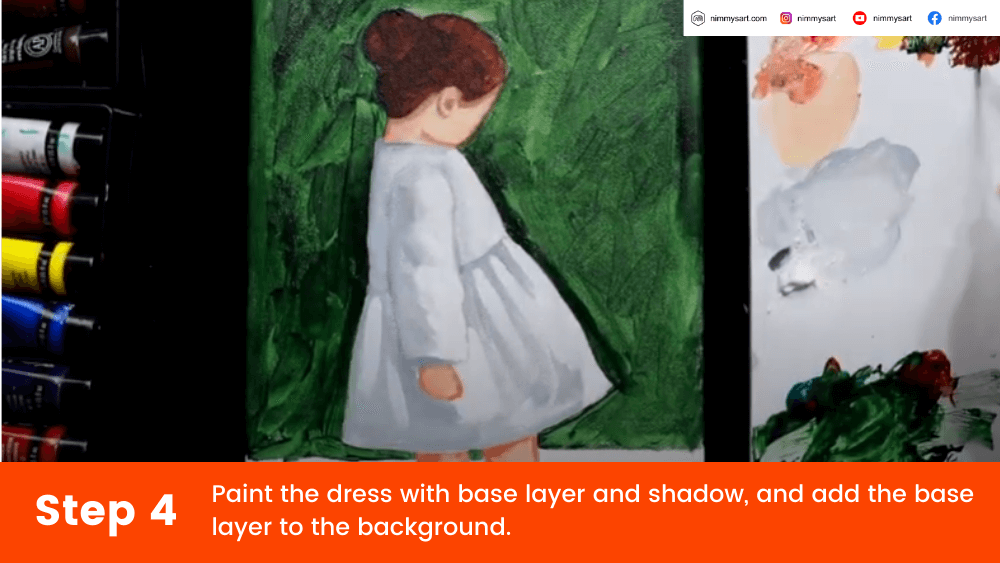 As the next step, paint the background and dress for the girl.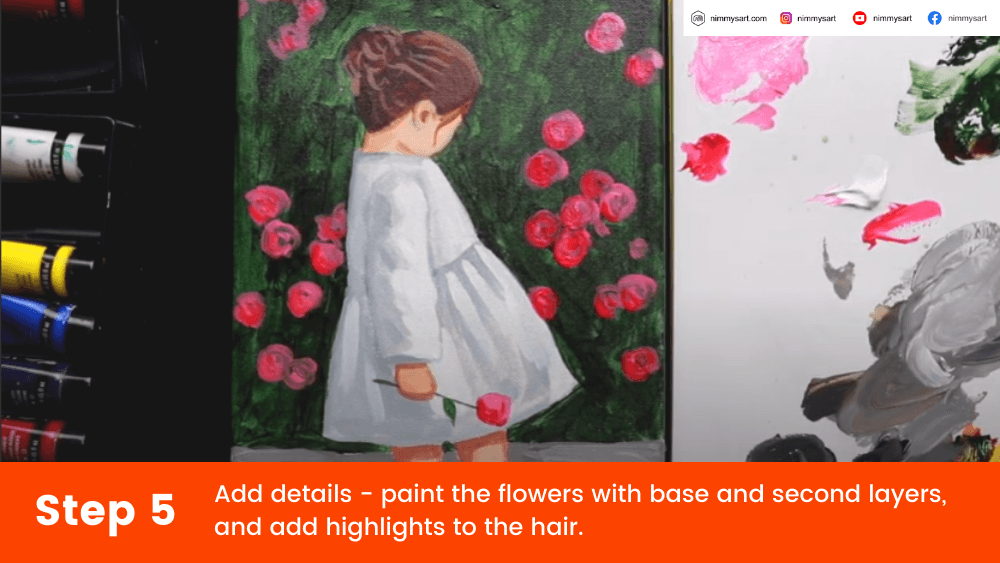 Complete the painting by adding the flowers in the background and the highlights to the hair.
Use a medium brush to paint the base layers of the girl.
Use a large brush for the background base layers.
A small brush works well for the details like layers in the flowers, face and hair highlights..
Use more layers of varying tones in the background for giving a rich look.
Our little girl in the garden for Valentine's day is now ready!
Tips:
Acrylic paint is water-based, but use only a drop or two of water while using it.
To clean up the brushes, use a mild soap immediately after painting. This helps for a longer brush life.
We hope enjoy creating this beautiful Valentine's day painting with your family! Share your work with us.
Looking to attend another of these free and fun art workshops? Join our next free art class to create another beautiful painting.
Share about the class with your friends. It's always fun doing art together.