Meet Zara Vivek, a 5 year old budding artist from our Little Artist group who joined our online art class in September 2022. A multitalented kid, little Zara is a pianist and a young YouTuber !! Let's get to know more about Zara through this blog.
What made you interested in our art class for little artists?
"I love drawing , because it is fun".
"Zara loves to draw but she also loves to paint and explore different mediums of art. She likes to color and bring life to her pictures ! Zara has always been interested in art – be it sketching, coloring or painting. It has always been a favorite activity of hers. She likes making personalized greeting cards, with her drawing, for her friends. We came to know of Nimmy's art classes who teach art class for little artists in a fun and engaging way from a close family friend, and we made Zara enroll for a trial class. The materials used in the class excited her a lot and we could see it really sparked her interest.", says Zara's proud parents.
What's your favorite art medium from Nimmy's art class?
"My favorite art medium is watercolor".
Zara shares her first artwork – a bright red fire truck that goes vroommmm!! She also shares some of her favorites – a pumpkin with a cat and a rockstar bunny that goes "Guitar, Guitar", Guitar".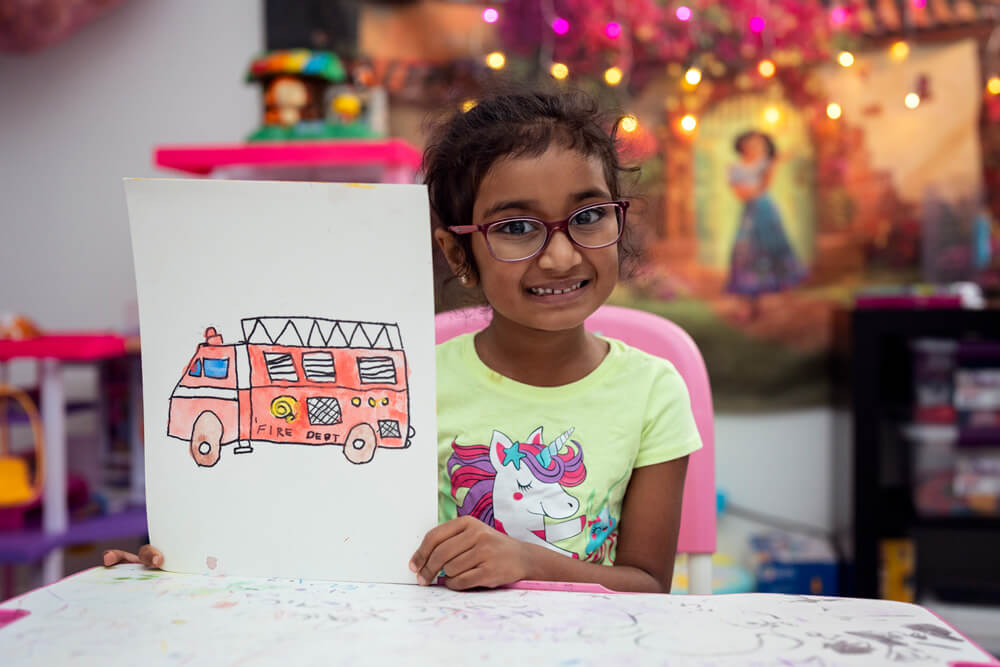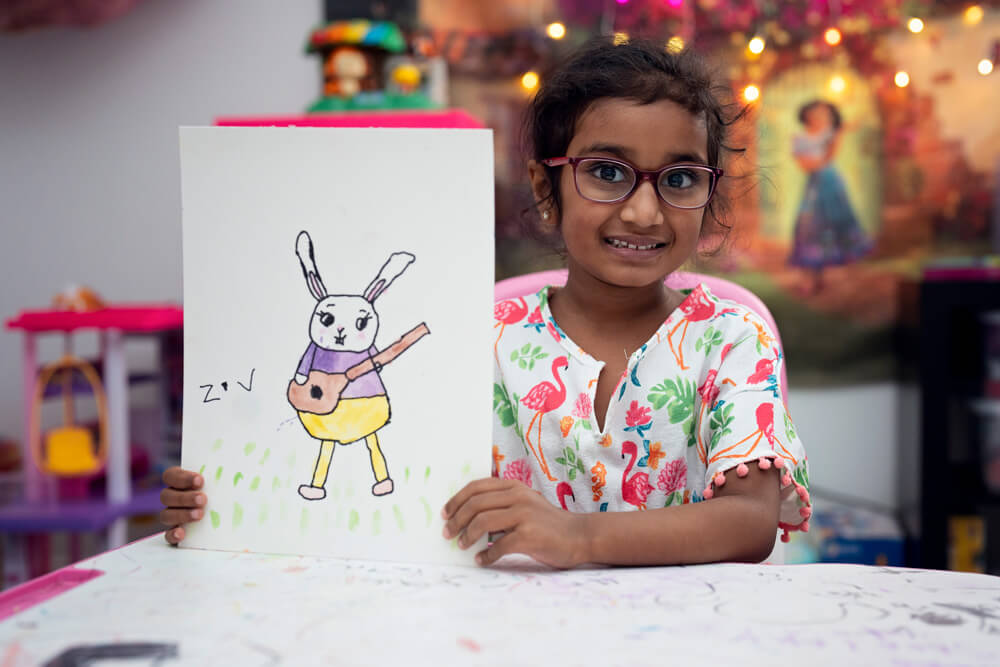 From all of your artworks, do you have a favorite? Why do you like it the most?
"My most favorite is the Corgi", an oil pastel artwork says Zara.
Little Zara has made a fun and happy song that her Corgi can sing:
"Ruff ruff what do you see, Ruff ruff what do you see
Ruff ruff what do you see, I see a turkey and it is yummy!"
Zara has another favorite too -"the Rainbow Unicorn Dash" in Acrylic paint. Zara says "I love it because it has many rainbows and I love the swirls and I love the colors".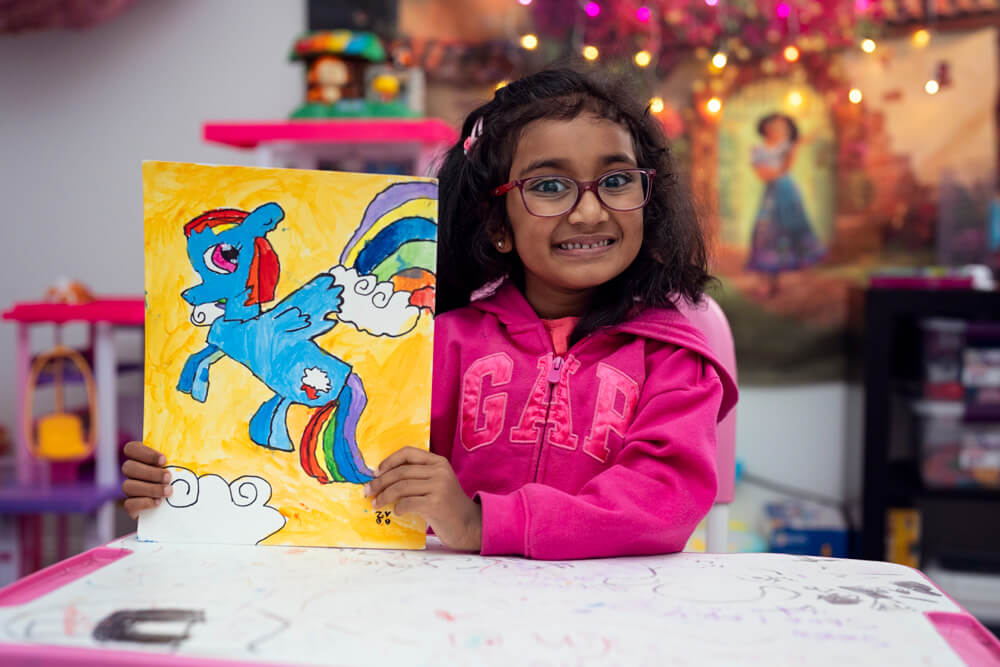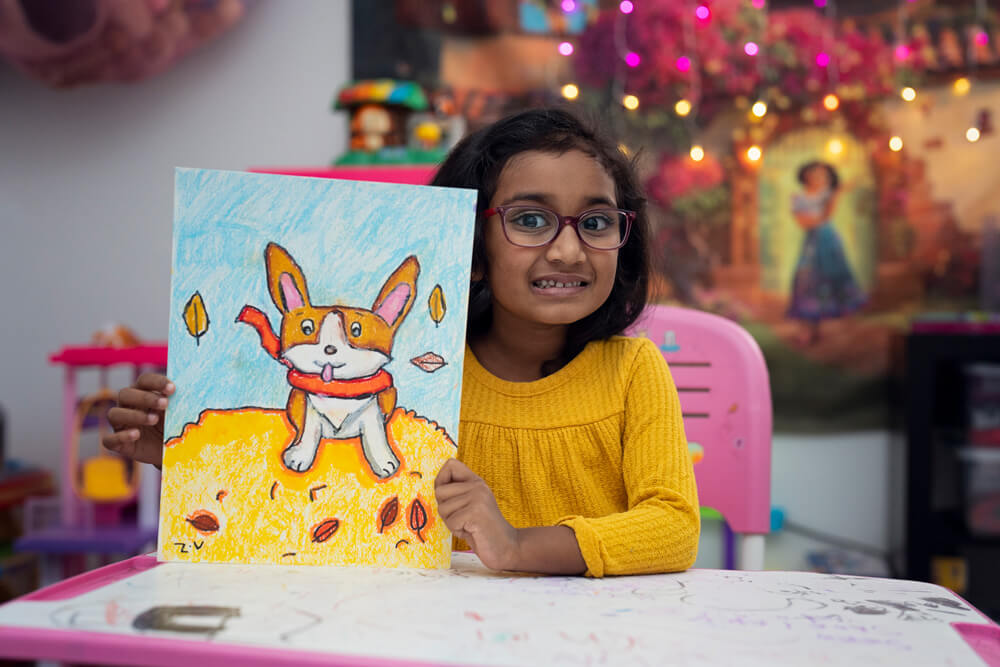 What are some new art techniques that you learned from Nimmy's art class?
"I have learned Acrylic, oil pastels and watercolor from Ms. Nimmy's class".
Zara is having a lot of fun learning different mediums of art. She loves to mix colors, blend them and paint !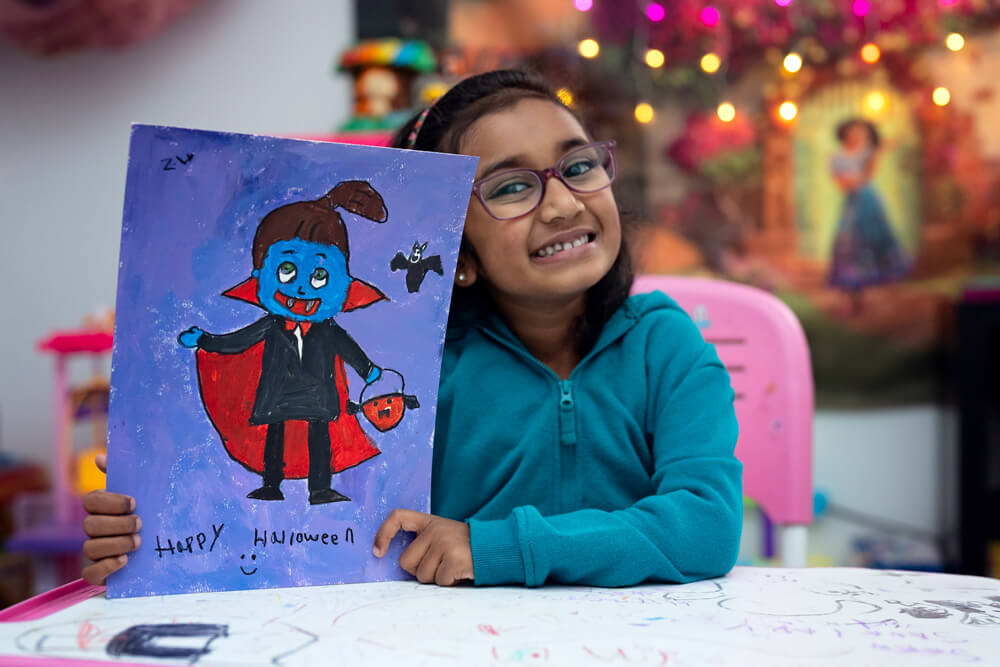 What do you want to be in the future?
"In the future I want to be a chef ! I can cook food and my favorite food is sandwich !"
"Zara likes helping us in the kitchen. She is always there in the kitchen watching, trying to learn and help in ways she could. We think that it is important to encourage our child to pursue her dreams. As they get older they may change their mind, but if she still wants to be a chef, then we would by all means do everything we could do to make it happen.", says her loving parents.
If you become an Art Teacher, what would you teach your kids?
"If I become an art teacher, I would teach them how to do flowers and hearts !"
Zara thinks flowers are very pretty and cute and in her art class for little artists, she wants other kids to be able to draw and paint them with beautiful colors too. ! Her favorite medium is water color and she wants to teach how to mix colors and get new pretty pretty colors too ! Wow !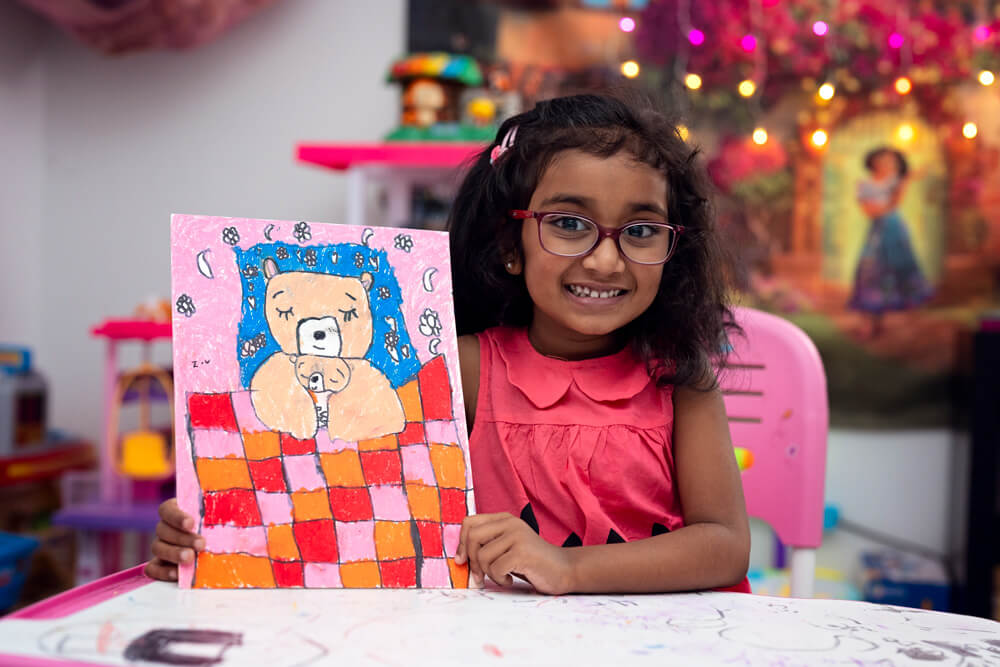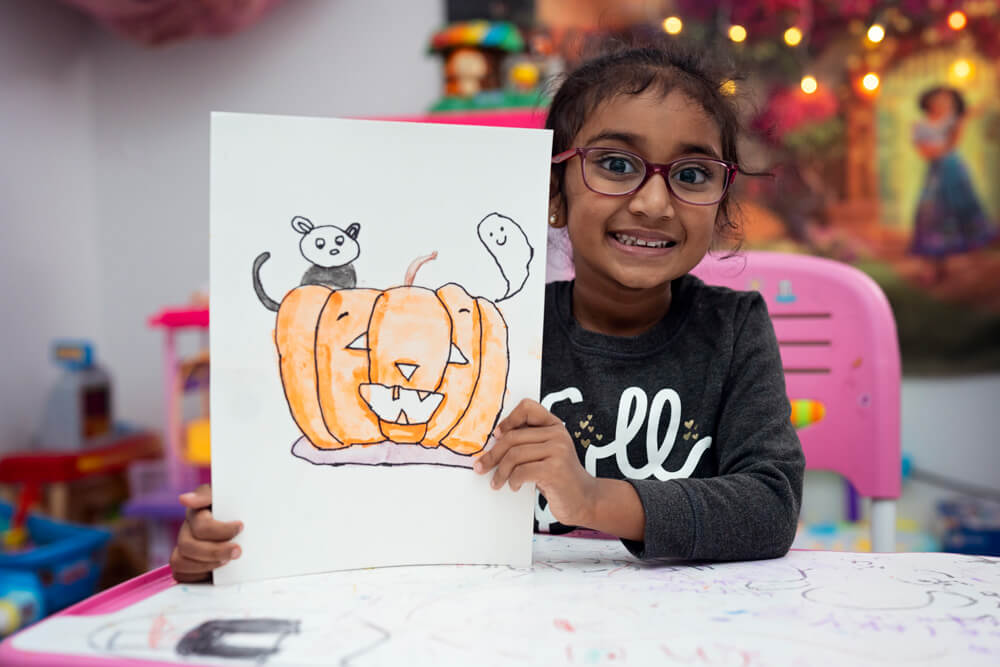 Aside from art, what other hobbies do you have?
"Apart from art, I like to play music. Piano is my instrument and I like it !"
Zara has been taking piano lessons and she loves to play the Piano. Little Zara can play rhymes and other songs on the piano too !!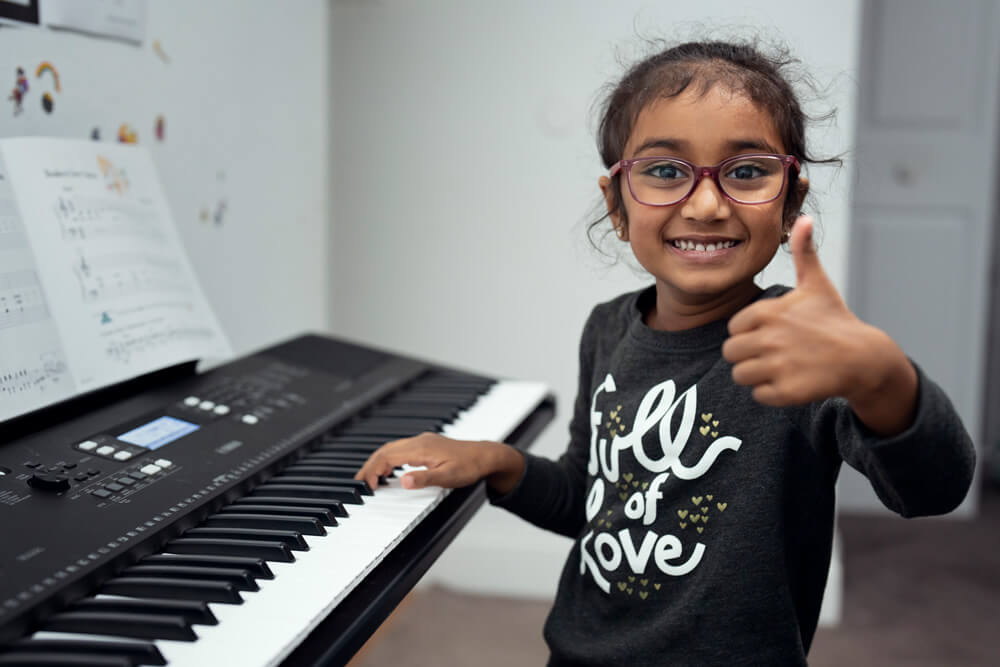 Which cartoon character do you like the most and why?
"I like Peppa Pig because she is pink and I like pink and has a red dress and I have red in my bracelet and it matches !"
Wow ! That's an awesome combination you have there, Zara ! Who can resist Peppa !
Could you please share more about your interesting youtube channel?
"I have a youtube channel called "Tales of Zara and Yohaan". I have posted videos about Hershey Park, Easter Egg hunt and Chapel Helpers."
Zara sure has some super fun videos with her! Don't forget to check out her youtube channel!
What is your favorite thing to do with your family?
"I like my family because I like to play with them, eat with them, go on a drive somewhere"
Aww, that is so cute Zara ! We are so glad to see that you have such a wonderful family who loves and supports your interests too !
What is one advice that you would like to give to other kids who want to be artists?
"If you want to be a good artist, join me in Ms. Nimmy's class !"
Zara's artwork and love towards art has increased ever since she joined Nimmy's art classes. She thinks the wonderful techniques she is learning is making her art better with each class.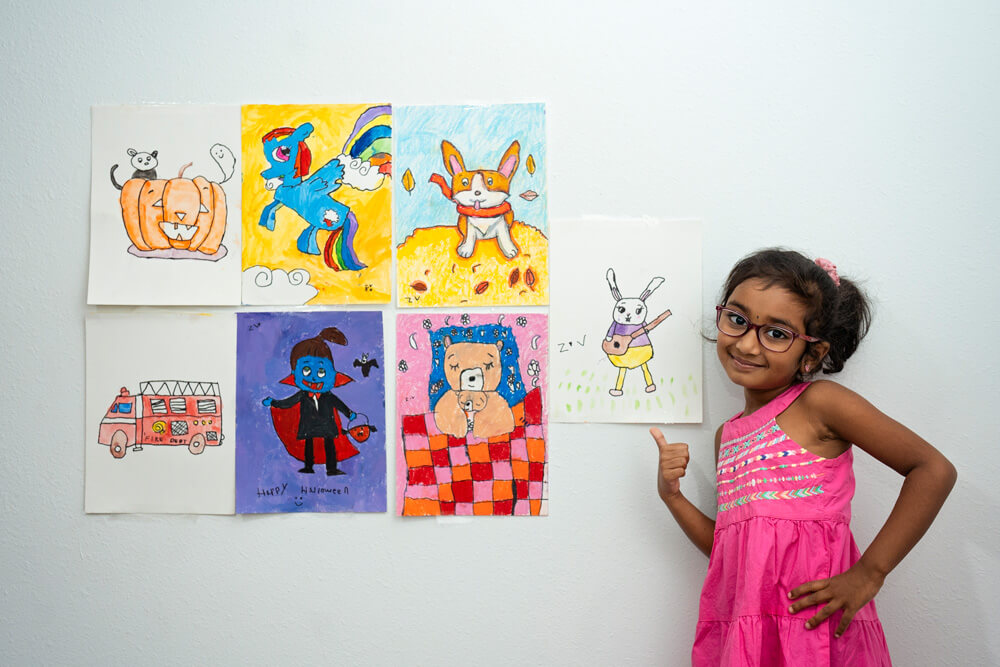 Did you enjoy reading this Artist Spotlight feature? Stay tuned for the next one!
Nimmy Melvin, the award-winning visual artist, envisions nature, the surroundings, and every object around her from a different perspective. An expert in the usage of other mediums of painting, including acrylic, oil painting, watercolor, and oil pastels, she has a knack for inculcating knowledge in kids.