Meet Varun, an amazing 11-year-old who is both an artist and an athlete! This talented Artistic Athlete loves to express himself through his creativity, often spending hours drawing and painting. But that's not all – Varun is also a dedicated athlete who loves to stay active and healthy by participating in sports like soccer.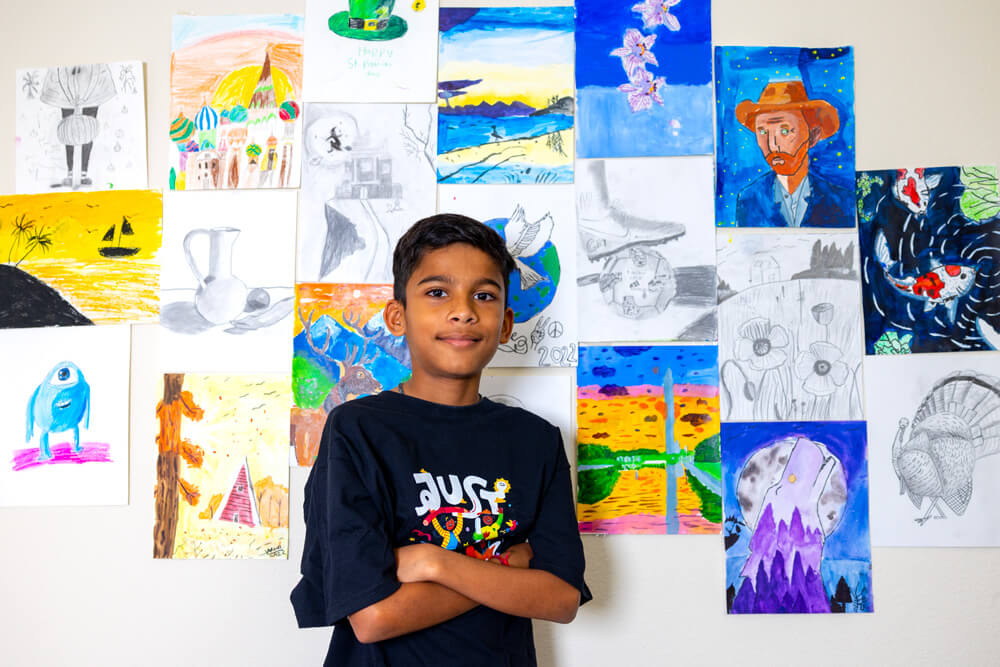 What sparked Varun's interest in art?
According to Varun's parents, he always enjoyed drawing and sketching, but it wasn't until he began attending Mrs. Nimmy's art classes that he truly developed a passion for art.
"Nimmy's guidance and support for introducing Varun to various art mediums and subjects helped him explore new creative directions and become even more enthusiastic about his art. Experimenting with different techniques and materials allowed Varun to gain a deeper understanding and appreciation of the art world, and he quickly fell in love with this new hobby. Thanks to Nimmy's Art, Varun's creativity and passion for art continue to grow and flourish!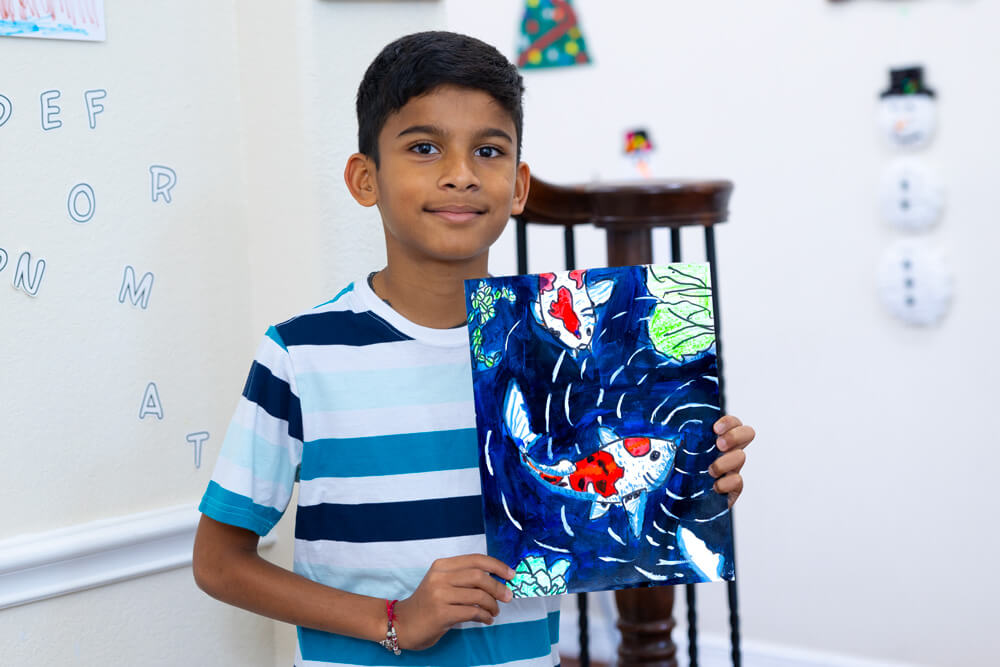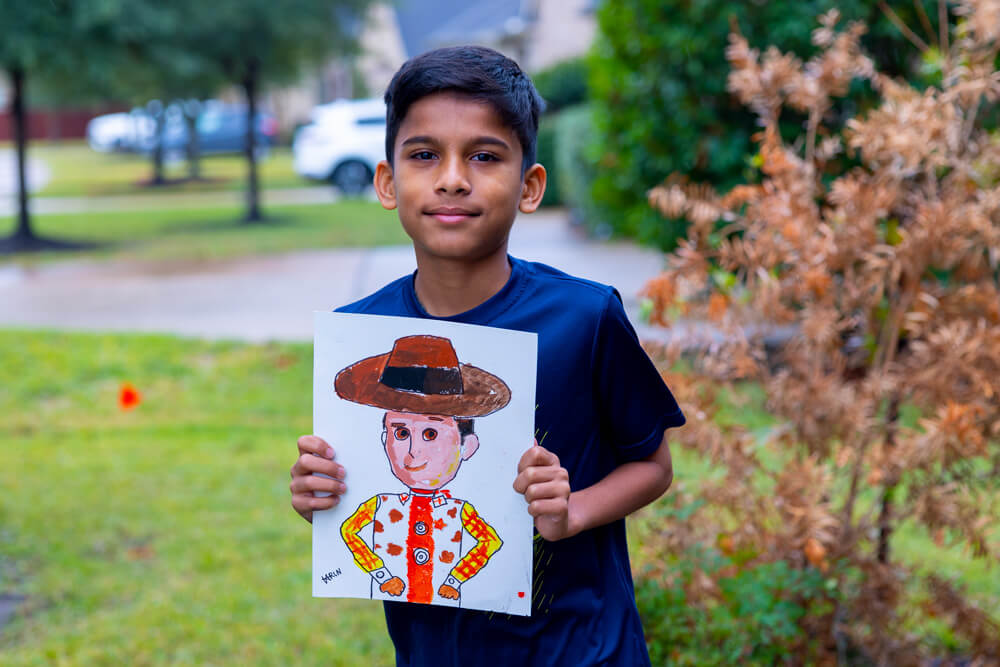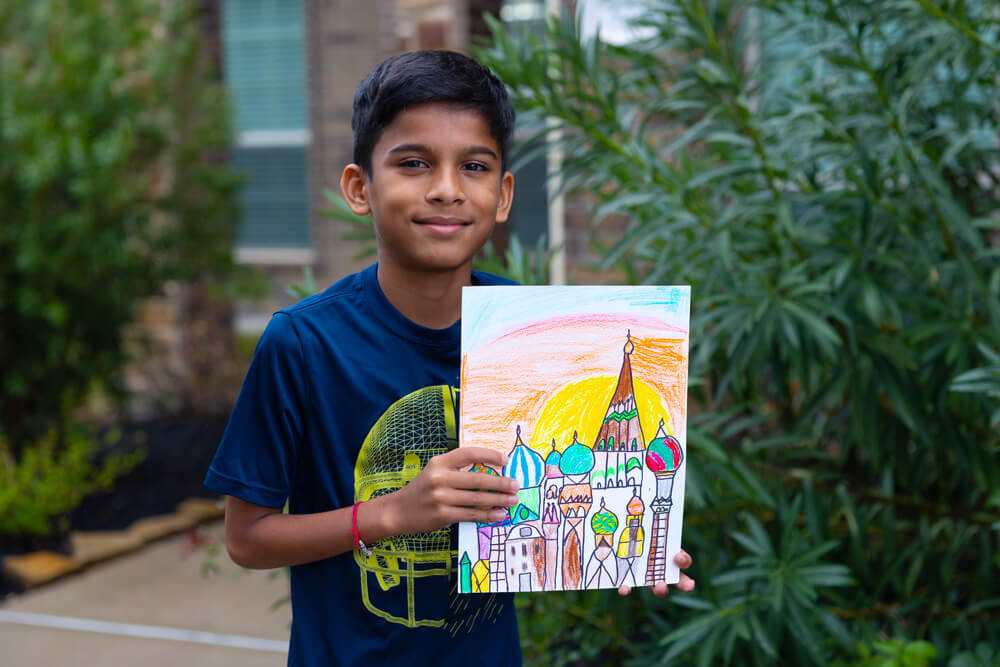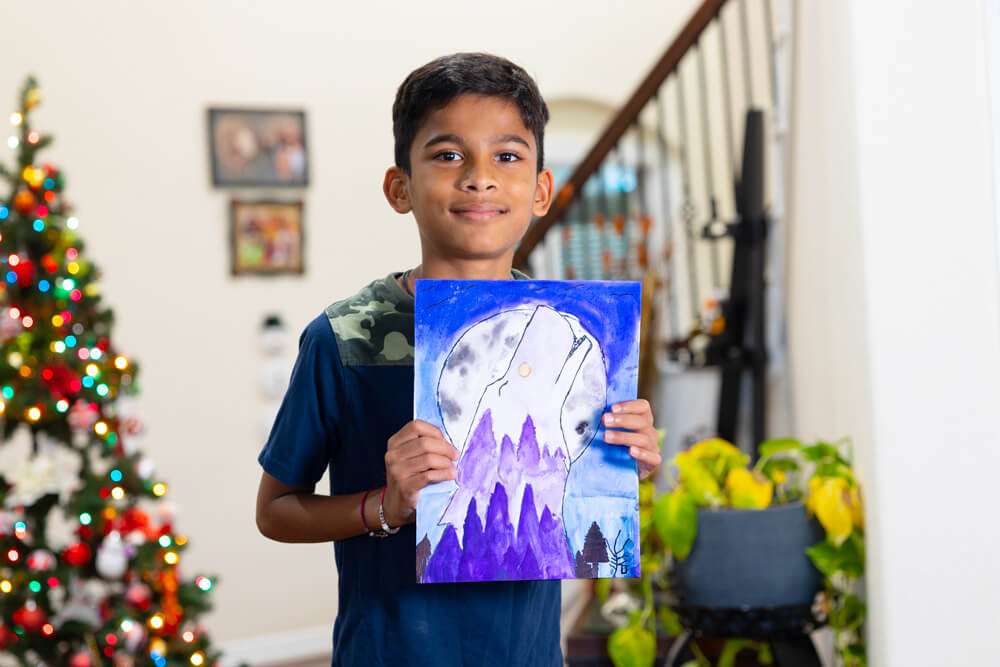 What new art techniques have you learned from Nimmy's art class?
"Within sketching, various types of shading (hatching, cross-hatching, etc.) and in watercolor the wet on wet technique are one of the many techniques I learned from Mrs. Nimmy".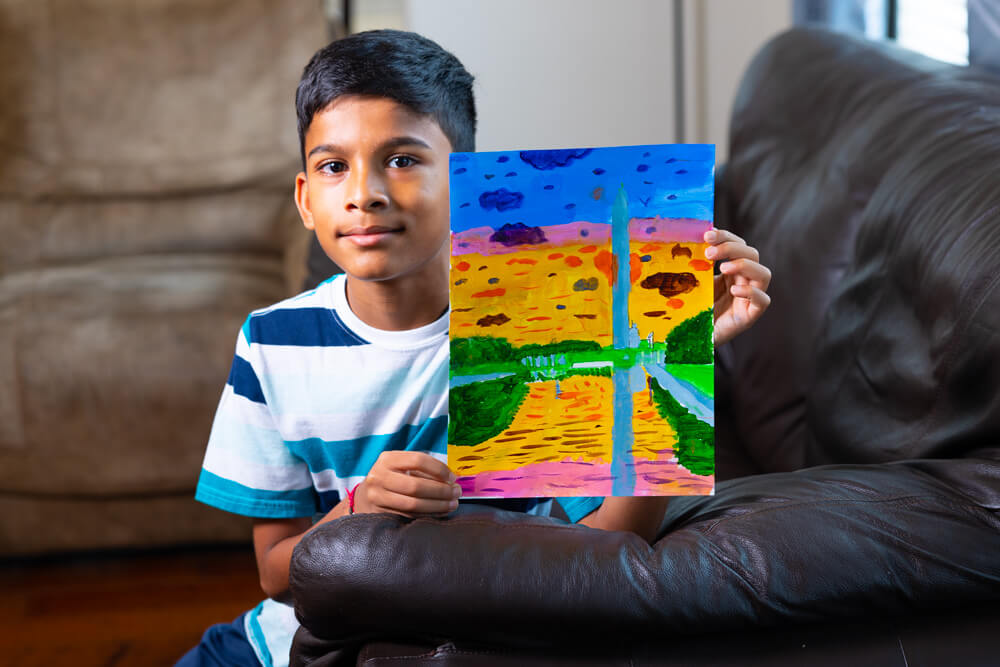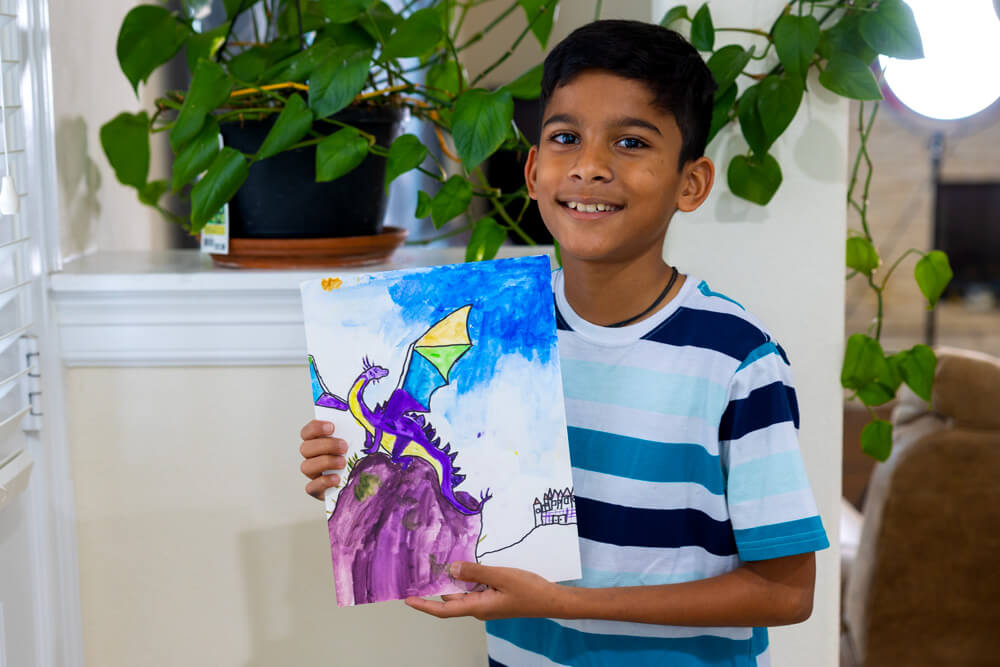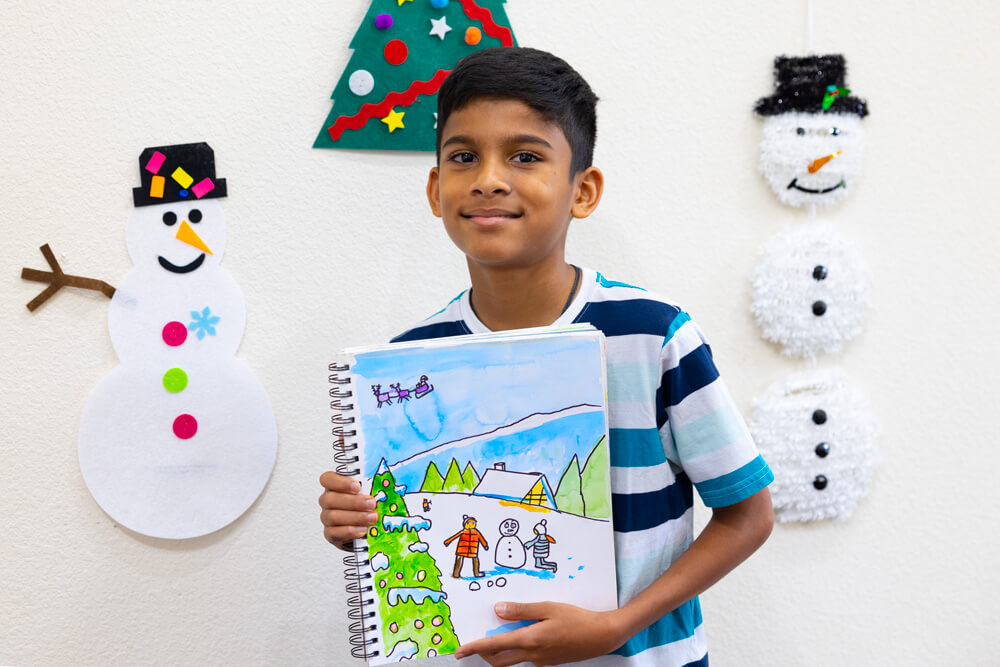 Varun shares some of his paintings and look at those wonderful brush strokes ! Amazing work !
Out of all your pieces of art, do you have a particular favorite? If so, what makes it stand out to you, and why do you like it the most?
"I have a lot of ones that are dear to me. I am a sports enthusiast, and the charcoal sketch of the Soccer ball is one of my favorites. Gouache Painting of a Bull Elk is my other favorite".
Wow! That's an excellent combination, Varun. No doubt why you are an Artistic Athlete. Combining your hobbies in your favorite art medium! Score for Varun!!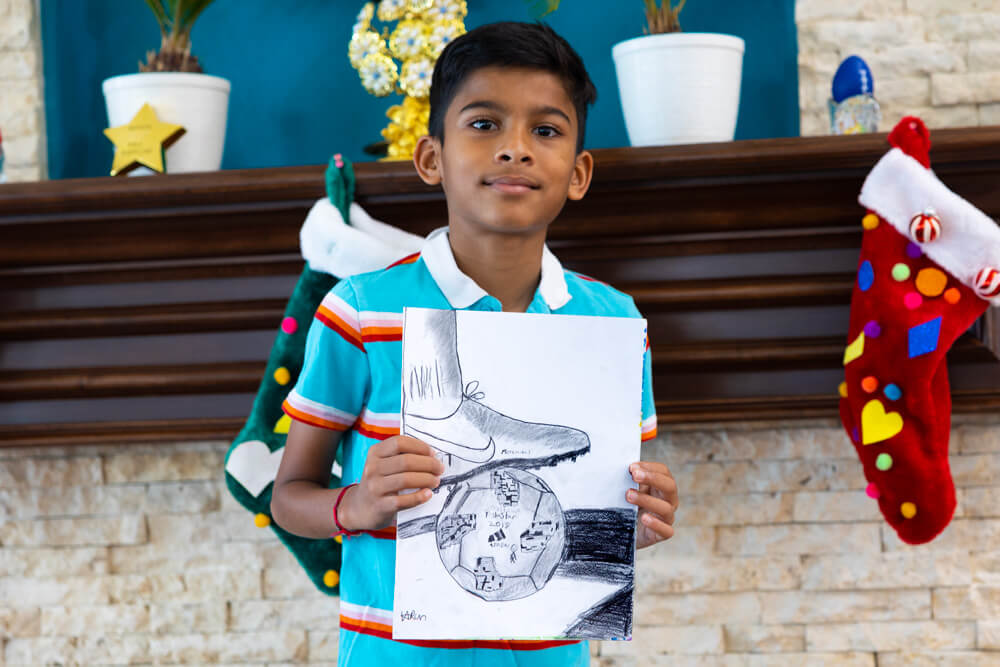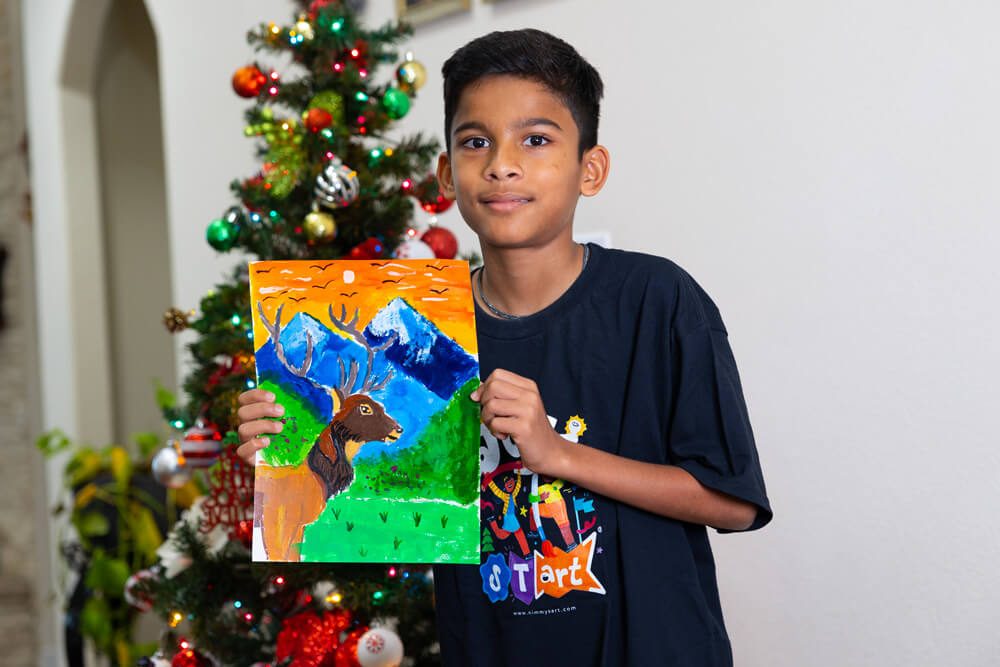 Which art medium from Nimmy's art class do you enjoy the most?
"My favorite art medium has always been charcoal. Shading & sketches using them is one of my favorite sessions in Mrs. Nimmy's classes".
Well, knowing that Varun always loved sketching, we are sure you would love Charcoal drawings. And not everyone can master the art of Charcoal drawing so easily. Way to go, Varun !!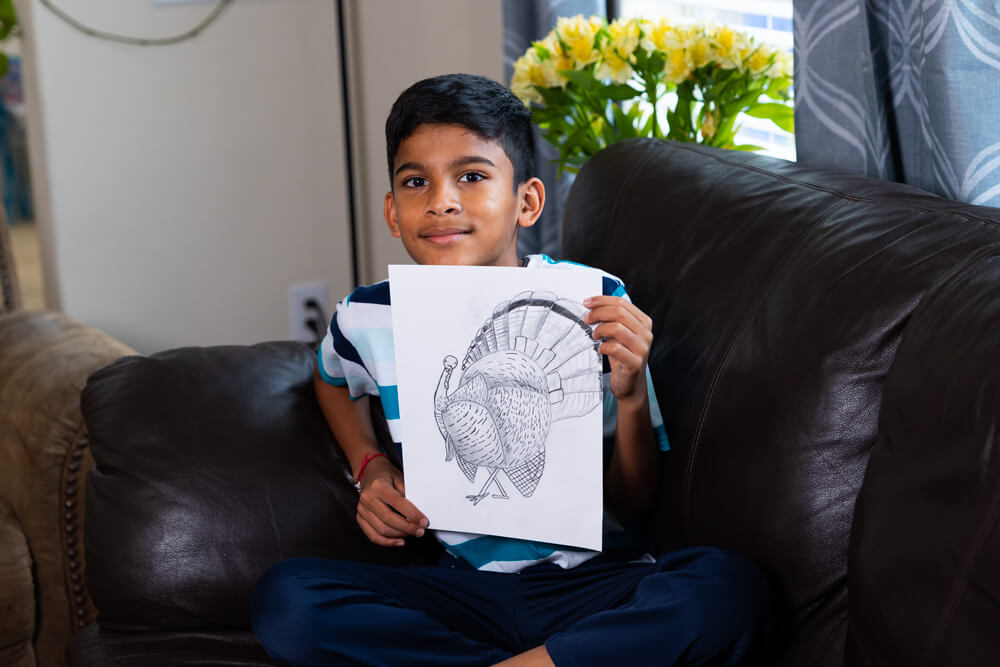 In addition to art, what other leisure activities do you enjoy?
"Mainly sports. I'm a keen basketball & soccer player. I Like to watch all the matches, take note of the statistics and equally play these sports".
Varun is a dedicated sports enthusiast with extensive knowledge about his favorite sports. He enjoys staying informed and keeping up-to-date about the teams and athletes he follows. Varun's interests doesn't stop there, he loves to play the piano as well !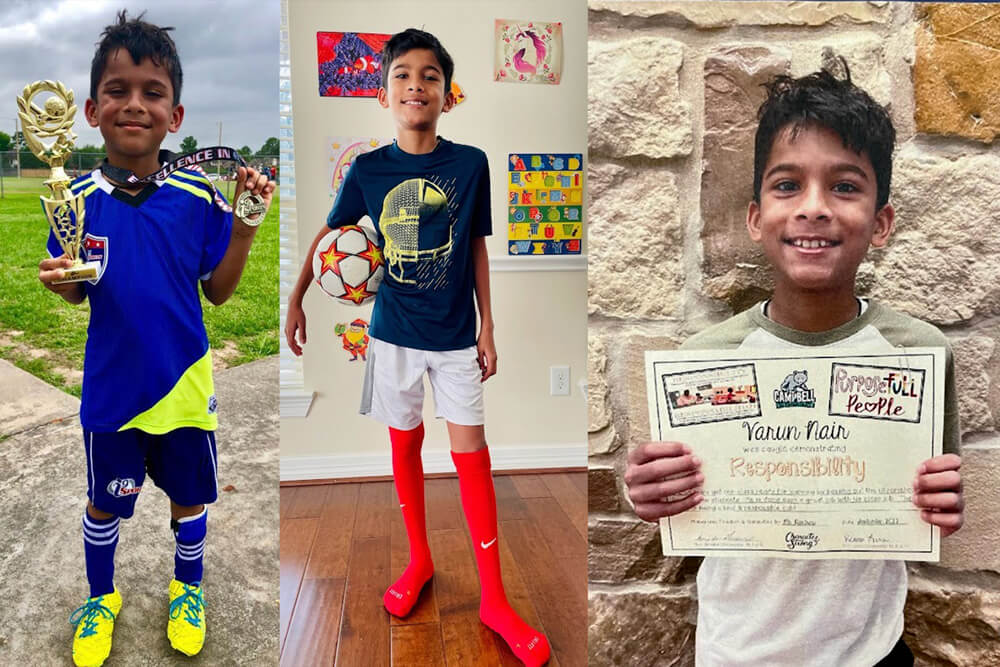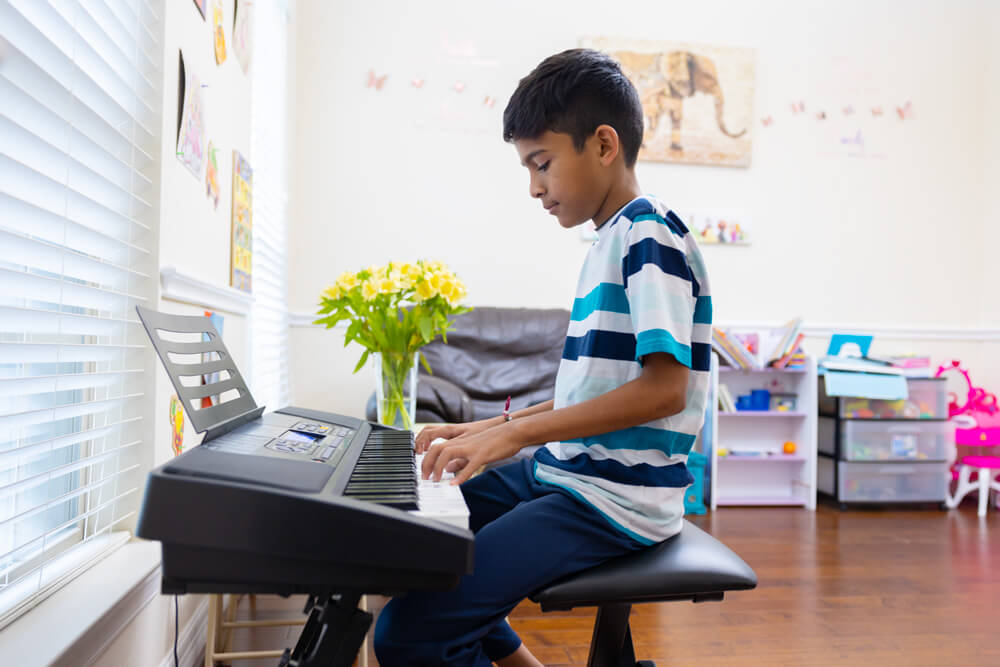 As an artistic athlete, what do you envision for your future?
"A sports person with a professional college degree as well. I would certainly like to keep up my artistic hobby alive as well."
Varun has a clear vision for his future. With both a college degree and artistic skills under his belt, he is well-equipped to pursue his dreams. We commend Varun for his dedication and wish him all the best in achieving his goals.
What is your favorite cartoon character, and what makes you drawn to them?
"Shakes from Super Strikers (Supa Strikers) is my favorite cartoon character. He's the head striker of the team and the skills he displays in the game are my favorite."
Wow, Varun! It's so cool that you have a favorite cartoon character. Shakes from Super Strikers (Supa Strikers) sound like a great choice. You could even draw a picture of Shakes using charcoal, your favorite art medium. We would love to see your artwork of your favorite character!
What is your favorite thing to do with your family?
"Board games with my family. I like to spend time with my little sister playing basketball & various other games".
Wow, it sounds like you have a blast with your family! Playing games with your little sister sounds like so much fun. You have such a great family who loves to spend time together and do lots of cool activities!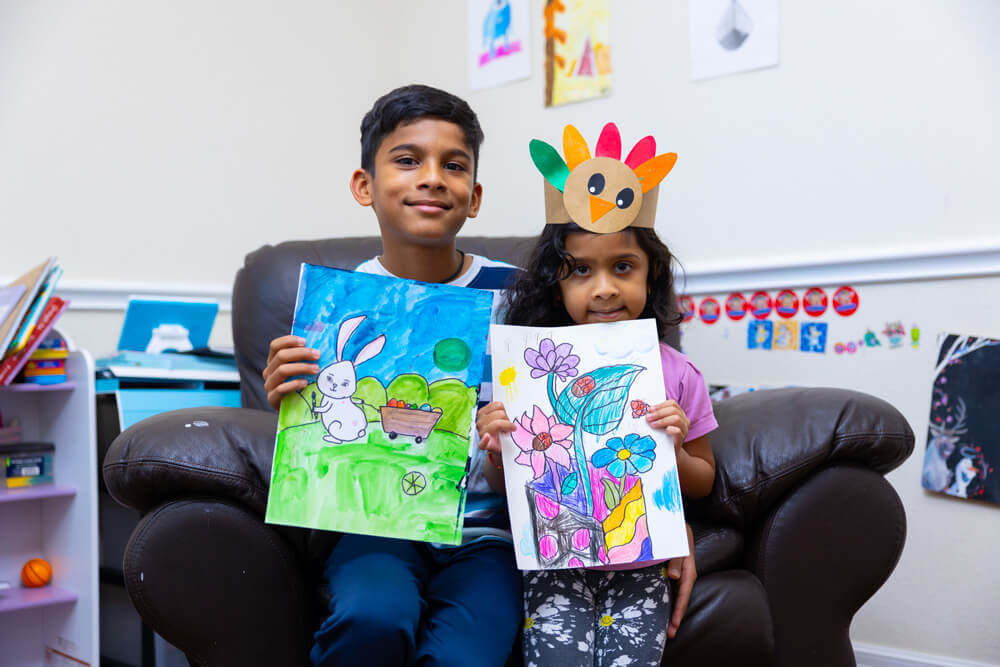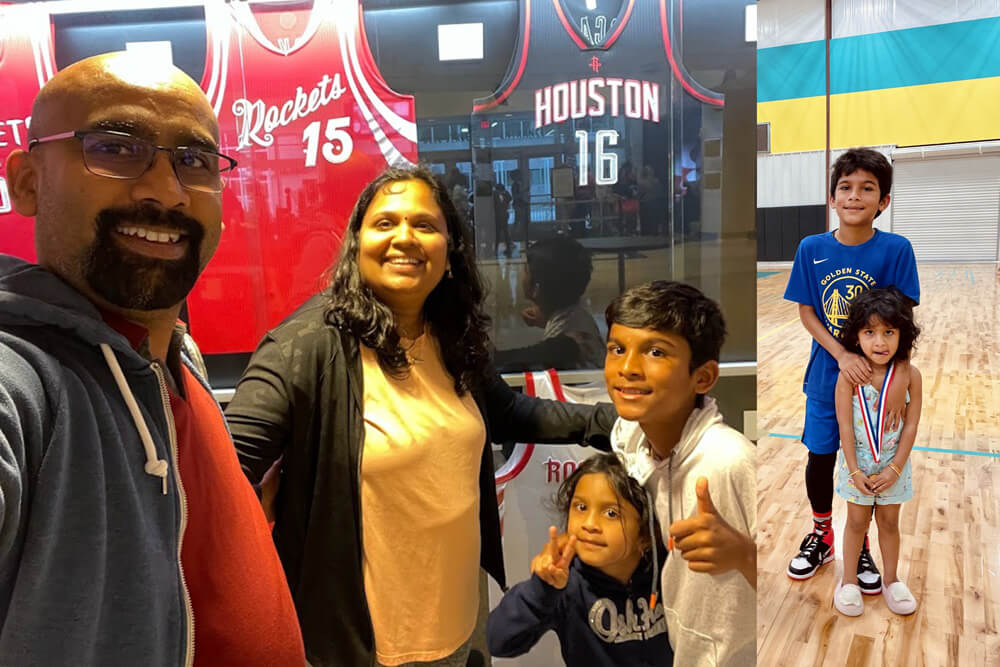 What would it be if you could give one piece of advice to other kids who want to become artists?
"To become a great artist, it's important to stay dedicated and enthusiastic about your art. Make sure you pay attention to all the tips and tricks that Mrs. Nimmy shares during class and practice what you learn outside of class too!"
Varun advises aspiring artists to have a love for art and practice consistently to improve. He acknowledges that it may seem challenging at first but encourages them to continue using what they learn in class to enhance their skills. We couldn't agree more with Varun's wise words!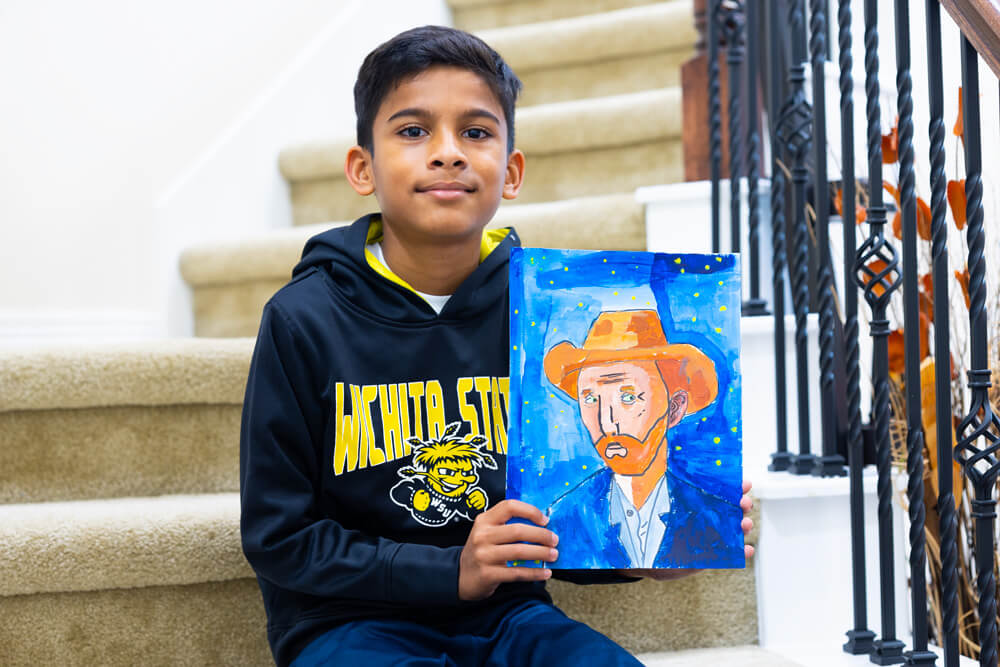 Good words from happy parents
"We are overjoyed and thrilled that Varun has been attending Nimmy's art classes. He's been a part of Nimmy's class since the very start and we've watched him blossom over the years. Her teaching methods and the quality of her artwork are incredibly motivating. We truly admire Nimmy's talent, commitment, patience, and effort that she invests in her students and artwork," expressed Varun's delighted and proud parents.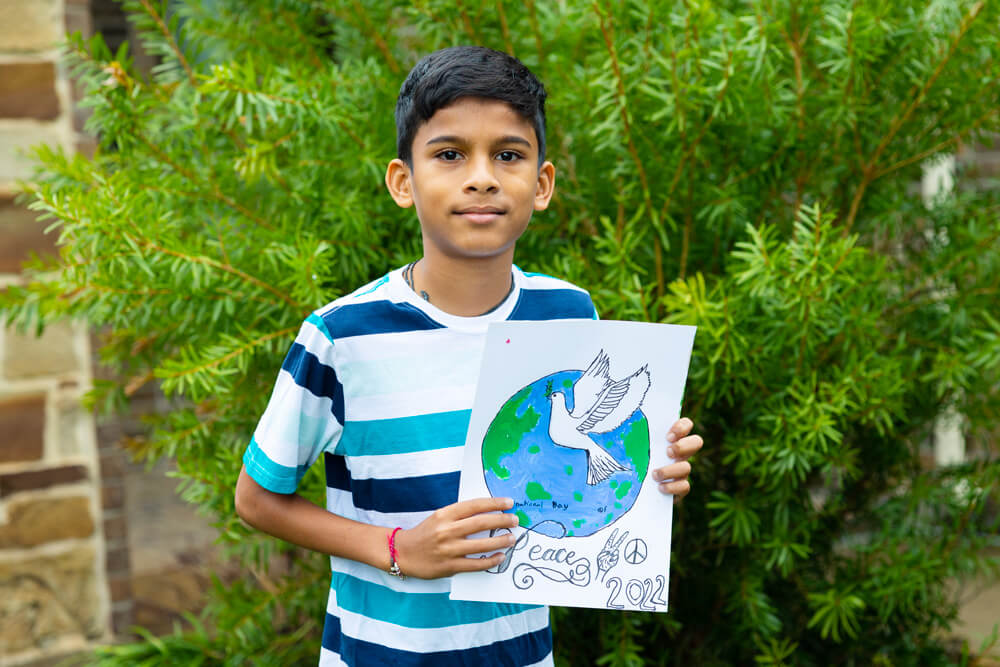 We hope you enjoyed reading this Artist Spotlight! Keep an eye out for the next one – coming soon!
Nimmy Melvin, an internationally recognized art tutor and award-winning visual artist, has taught children for over 15 years. She is skilled in various painting mediums such as acrylic, oil painting, watercolor, prismacolor, and oil pastels, and she has a talent for imparting knowledge to children.