Get ready to meet Kivanc, the 11-year-old from Georgia with skills in art and tech, including robotics! Even though art wasn't Kivanc's first love, Nimmy's Art classes sparked a passion for creativity that has been unstoppable ever since. This tech-savvy artist is on fire and ready to leave their mark on the world of art & technology!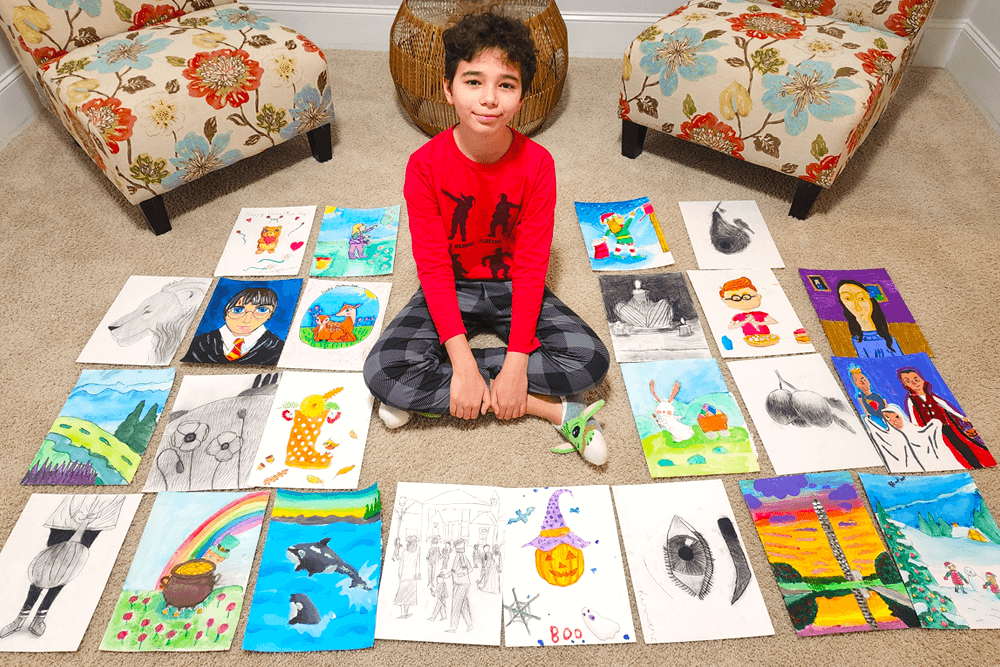 What inspired you to join Nimmy's art classes?
"Drawing and art are like some of my favorite things ever! So, I wanted to try and get better at it. I've loved making art since I was really little, like when I was just four years old!"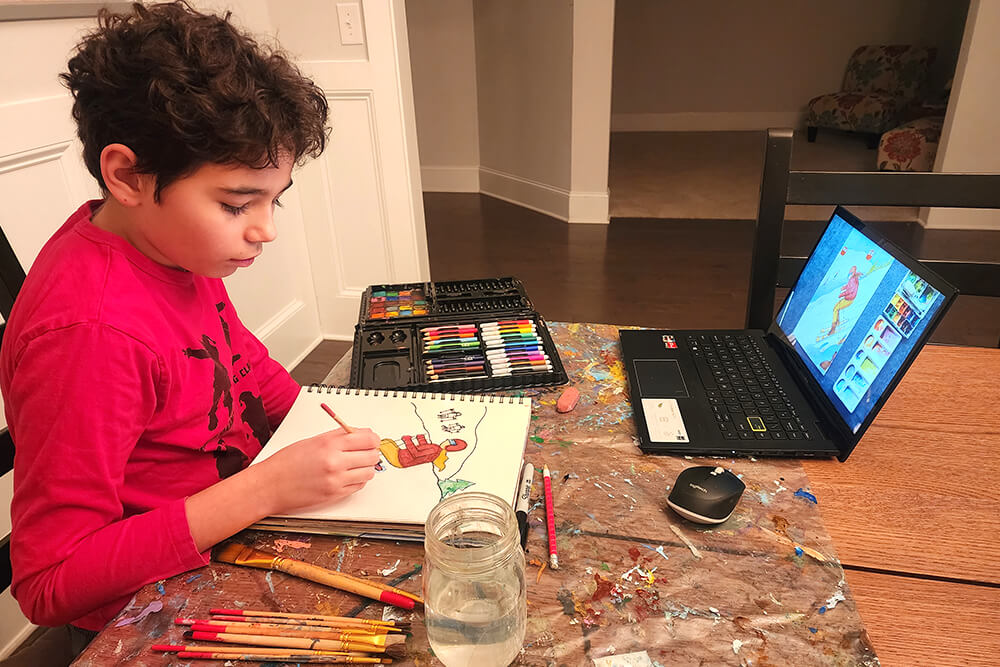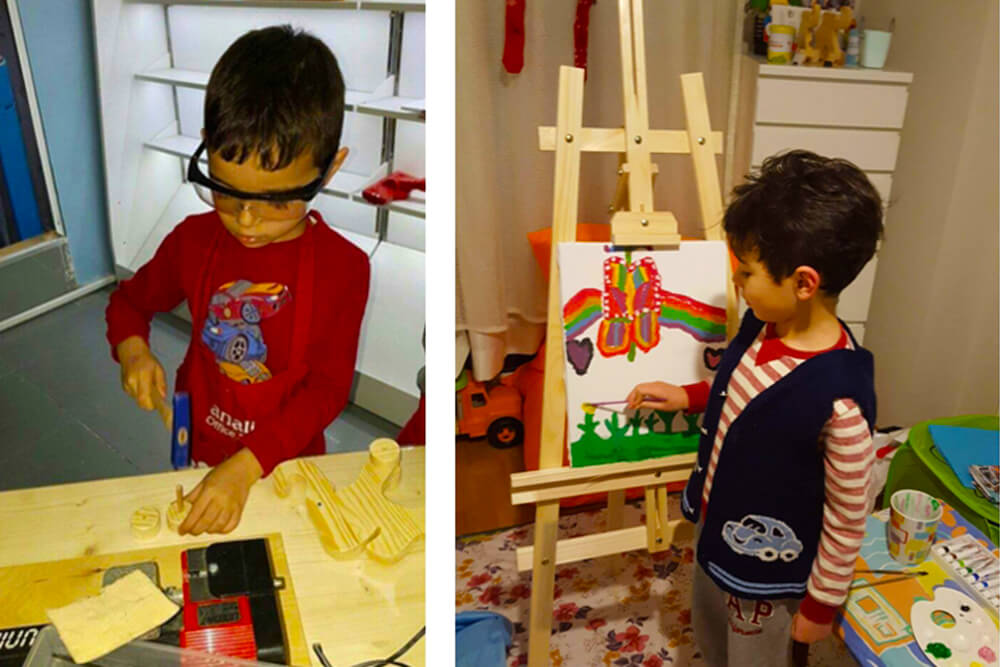 "When our little one was so young, he had a real passion, talent, and love for art! Kivanc started taking art classes in person, but then he discovered the world of Nimmy's Art and has been in the classes for two years now! He can't get enough of it and plans to continue his art journey next year. So proud of his dedication and growth!" says the tech-savvy young artist Kivanc's proud and happy mom.
After being with Nimmy's Art for several years, how do you feel about learning art through an online platform?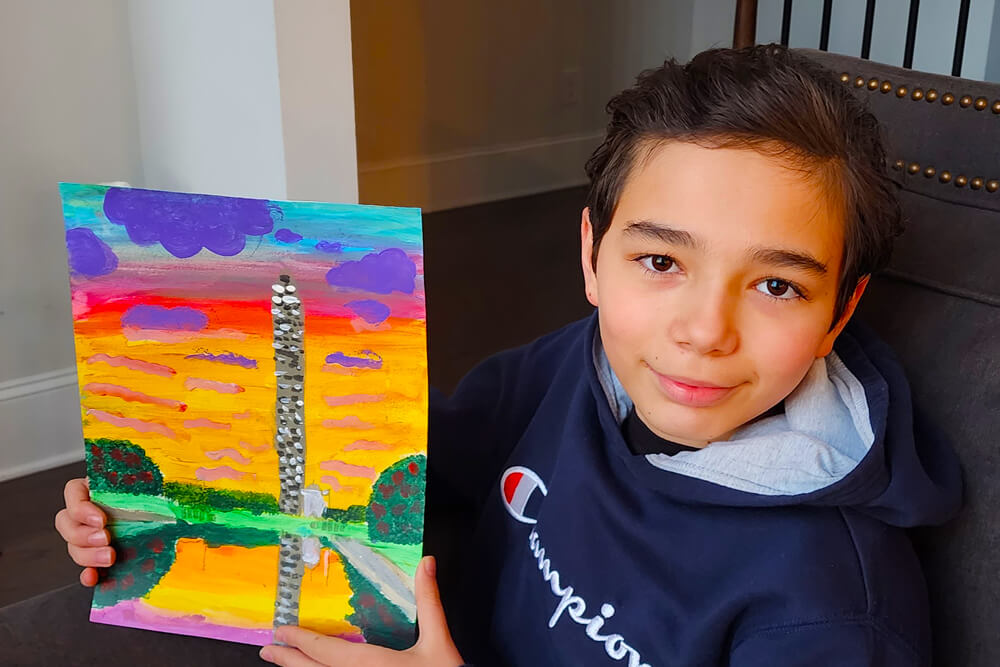 "I think it's cool and always have a blast 🚀 doing it. Even if I mess up sometimes, I don't stress 😅 because I know I can fix it. It's like a puzzle 🧩 or a game 🎮, and I enjoy figuring out how to make things work. Plus, when I finally nail it, it feels super satisfying! 💯 I guess I dig the challenge of it all." 🏆
As Kivanc's proud mom, I am thrilled to see how my son's artistic talents have flourished over the years, all thanks to Nimmy's art classes. One aspect that truly stands out is the development of his own set of 'Art Hacks' – clever little tricks and shortcuts that make his artwork even more impressive. It's also been remarkable to watch him thrive in Nimmy's Online Art classes. While traditional art classes hold their value, it's evident that Kivanc feels more comfortable and relaxed when creating art online. Overall, I am incredibly grateful to witness my child pursuing his passion for art in a way that brings him both joy and fulfillment.
We couldn't agree more, and we're eager to see the heights that Kivanc's exceptional talents will reach in the future!
What is your favorite art medium from Nimmy's art class?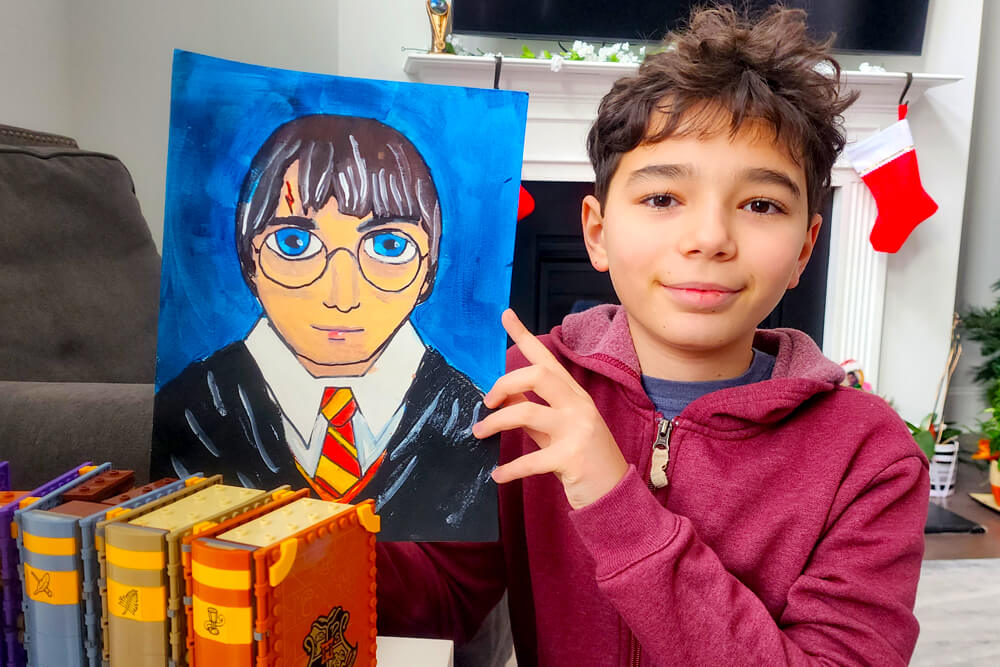 "I really love Gouache Painting 🎨 'cause it makes my art super vibrant and full of life! Charcoal is cool too, but it's just black and white. Watercolor is alright, but it can be too wet or too dry, which bugs me sometimes," says the talented artist, giving us his honest opinion.
Kivanc shares some of his favorite Gouache Painting works – Gouache painting – Sunrise at the Washington Monument , International Day of Peace , Harry Potter Portrait Study.
What is your favorite art project from Nimmy's Art and Why?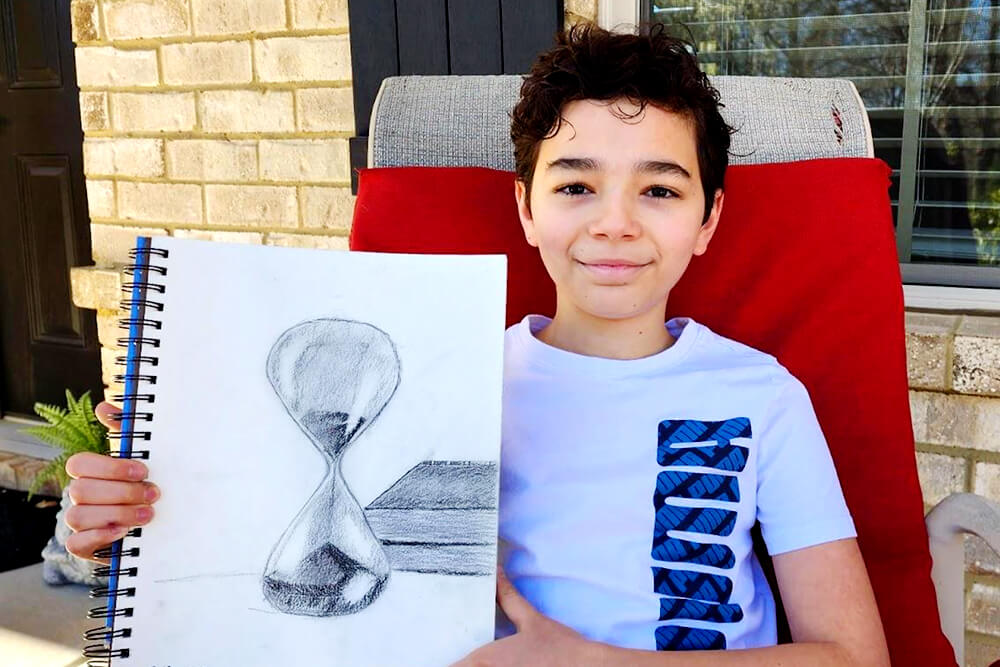 "I'm into all sorts of things, but my favorite art project was making this amazing hourglass ⏳ drawing with charcoal! I can usually wrap up my drawings in about an hour in art class, but sometimes I watch those awesome academy videos 🎥 and work on even more paintings at home. Not only is it super fun, but it also helps me get better at my art skills. 🎨🌟"
Kivanc shows off some incredible charcoal drawings from Nimmy's classes, like his top pick – the hourglass drawing, a detailed bird study of a turkey, and a mighty lion sketch! We're totally hooked on Kivanc's fantastic artwork and those super-amazing details!
What new art techniques did you learn from Nimmy's Art class?
"I learned this awesome thing about adding textures in paintings, and it makes my art way cooler! 😎"
When you draw or paint 🎨, it ain't just about shapes and colors 🌈, but adding textures makes it look real and super cool 😎. Like, if I draw a beach 🏖️, I can make the water all wavy 🌊 and the rocks all bumpy! If I paint the sky, I can make clouds ☁️ look super fluffy!
But it's not only for nature stuff. You can add textures to things people made, like clothes or buildings. A fuzzy sweater looks wicked comfy, and a shiny metal building is all futuristic and stuff. Adding these awesome textures makes my art pop out and look amazing!"
True that, Kivanc! Adding textures to a painting adds more depth and makes it look very realistic! Way to go, boy !!
As a dedicated student of Nimmy's Art, do you benefit from our video lessons to brush up on the rich array of techniques shared by Nimmy?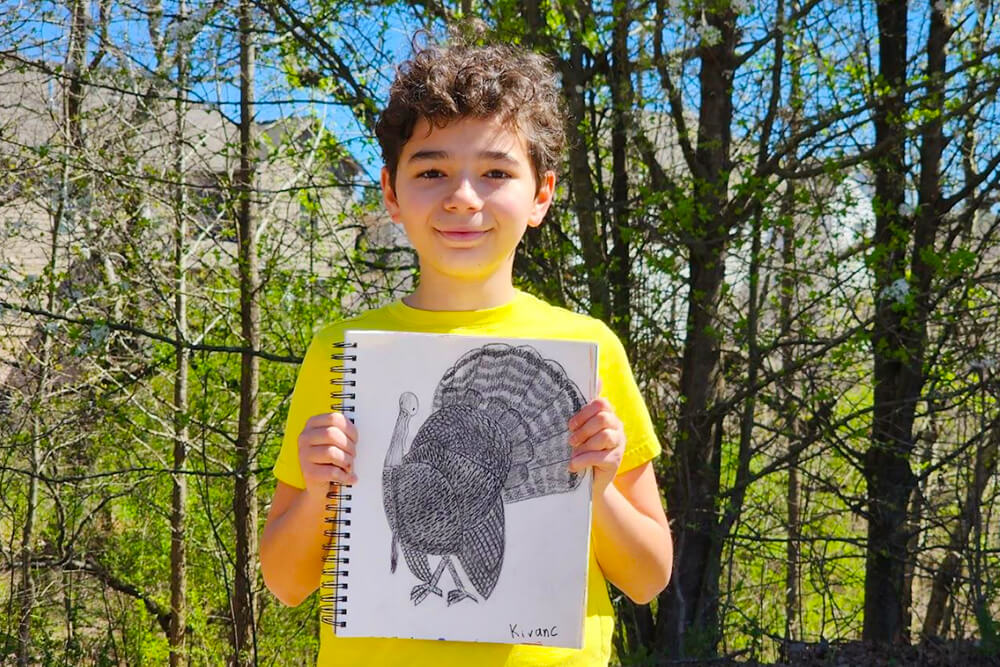 Yeah, I do watch 'em sometimes! When I'm making a cool painting or drawing, I might not finish it all at once. I might need a break or want to learn more about my drawing. The academy's video lessons are super cool for that! They don't have deadlines and keep me excited. Plus, they give me new ideas to make my stuff even better! says tech-savvy young artist, Kivanc
Which is your favorite Nimmy's Art contest, and how did you feel when you and your mom won the Mother's Day contest last year?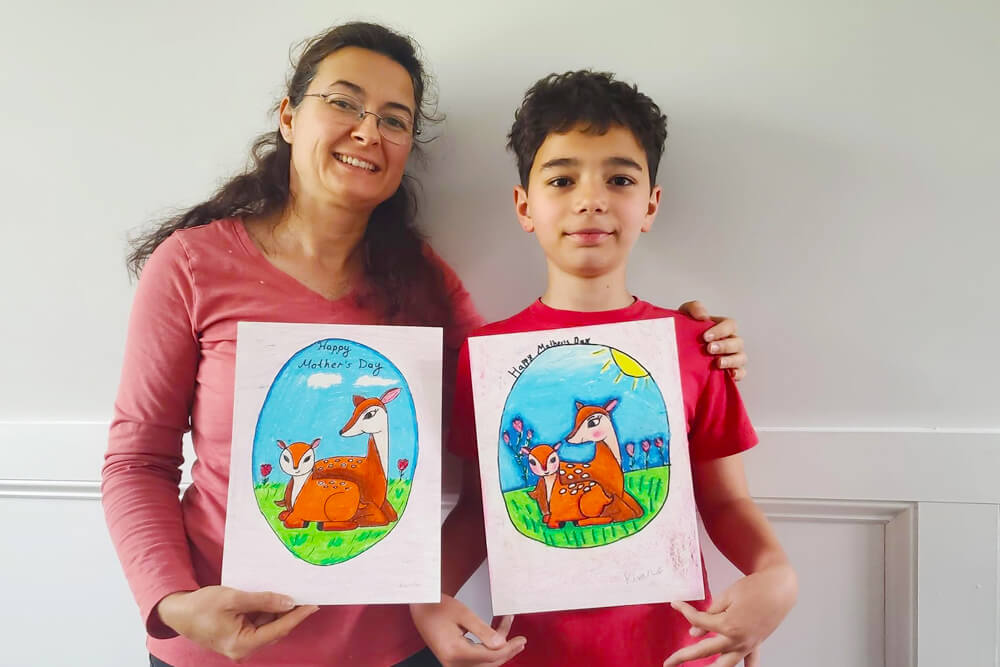 "Oh! Last year, the Mother's Day 🌺 contest was my absolute fave! I was shocked 😮 and thrilled when we won 'cause, you know, winning contests like that is super tough. It's not like it happens all the time! It's a super rare thing! 🏆"
Way to go, Kivanc! Your skills and dedication shined through. Keep having a blast with your creativity and sharing your mind-blowing artwork with everyone!
When you share your artwork from Nimmy's art classes with your friends, what do they have to say about your creations?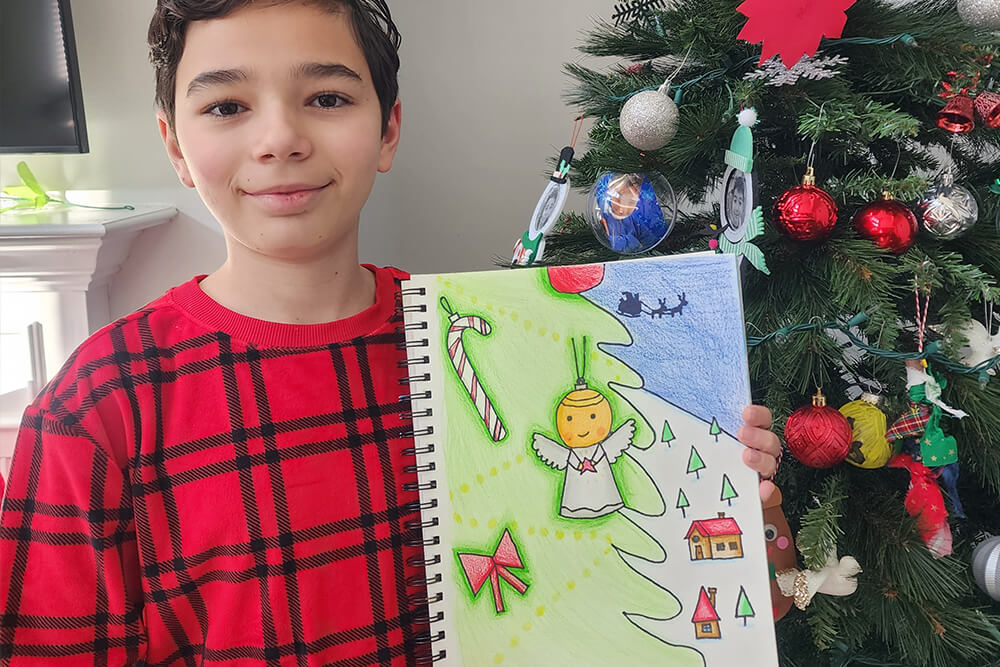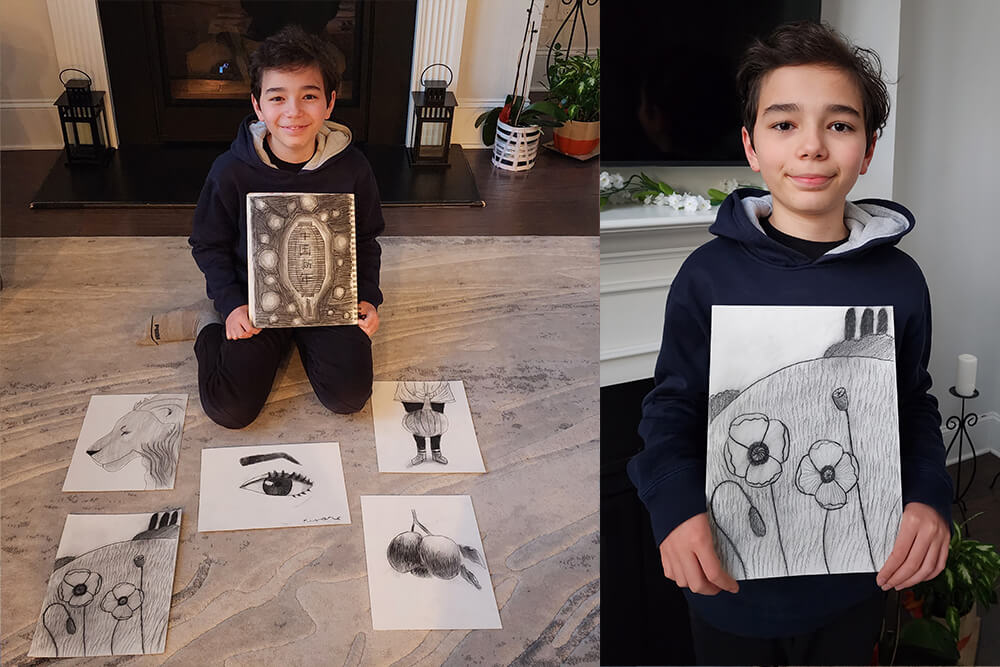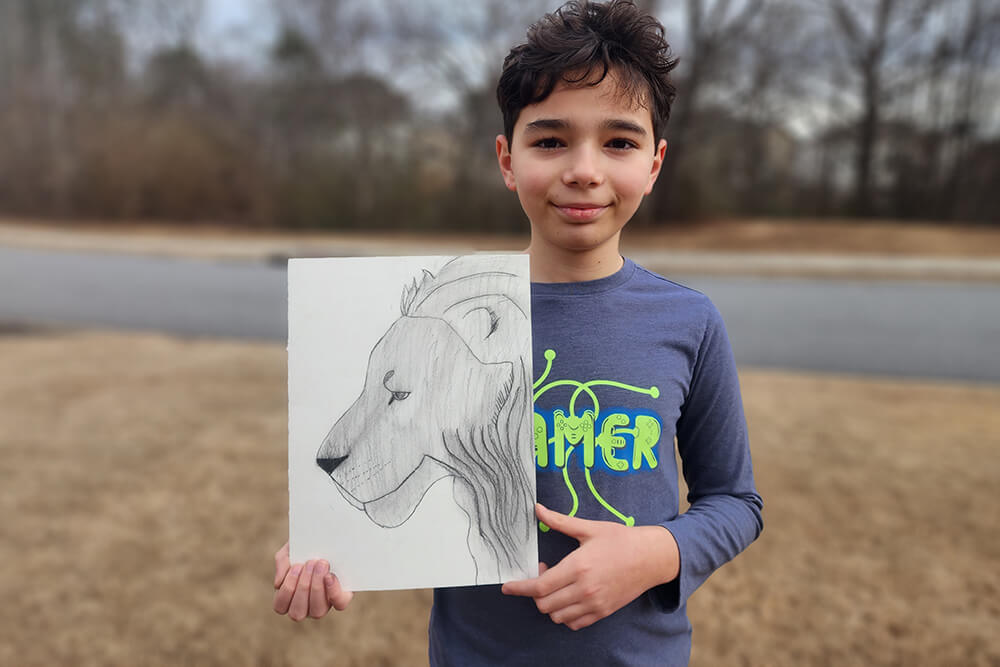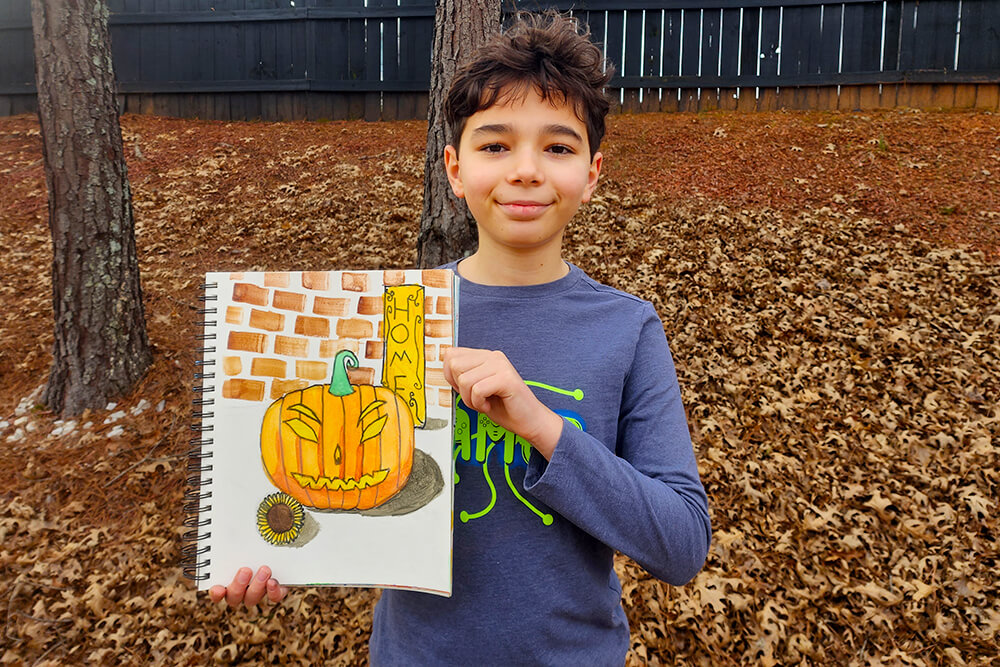 "Oh yeah, I totally did! 😄 And guess what? When my friends saw my art, they liked so many of them! They couldn't even pick just one favorite. They really loved it! 🎉
For sure, we can't pick only one from your artwork either. They're all so awesome! It proves what an amazing and talented artist you are.
What valuable insights did you gain from the Master Study Class sessions at Nimmy's Art, and which artist captured your interest the most?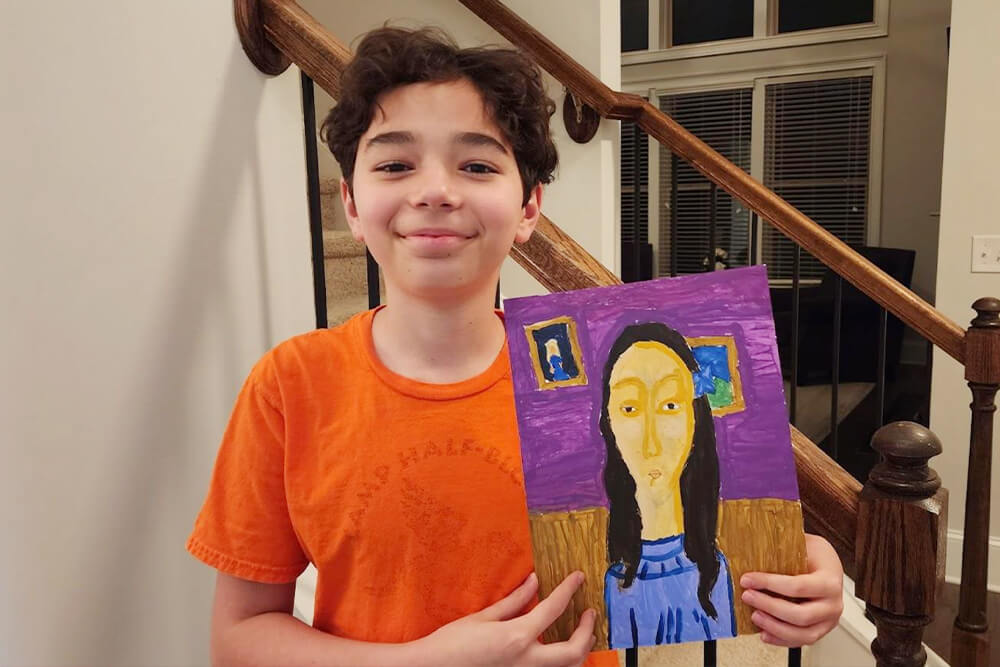 "The master study class is 🌟awesome🌟 because it helps us explore and admire the techniques and skills used by the master artists in their work. It's a fantastic way to learn about art and grow our own artistic abilities! 😃 Recreating their masterpieces is super fun and feels rewarding. 🎨
Oh, and I totally love The Scream by Edvard Munch! It's one of my all-time faves! 🖼️"
Thanks for the suggestion, Kivanc! Let's give that a go in class! 😉👍
Tech-savvy young artist Kivanc shares Acrylic painting – Alice Amedeo – Renoir (Masterstudy))
Inquiring minds want to know! Apart from your fantastic artistry, what other hobbies capture your interest and keep you engaged?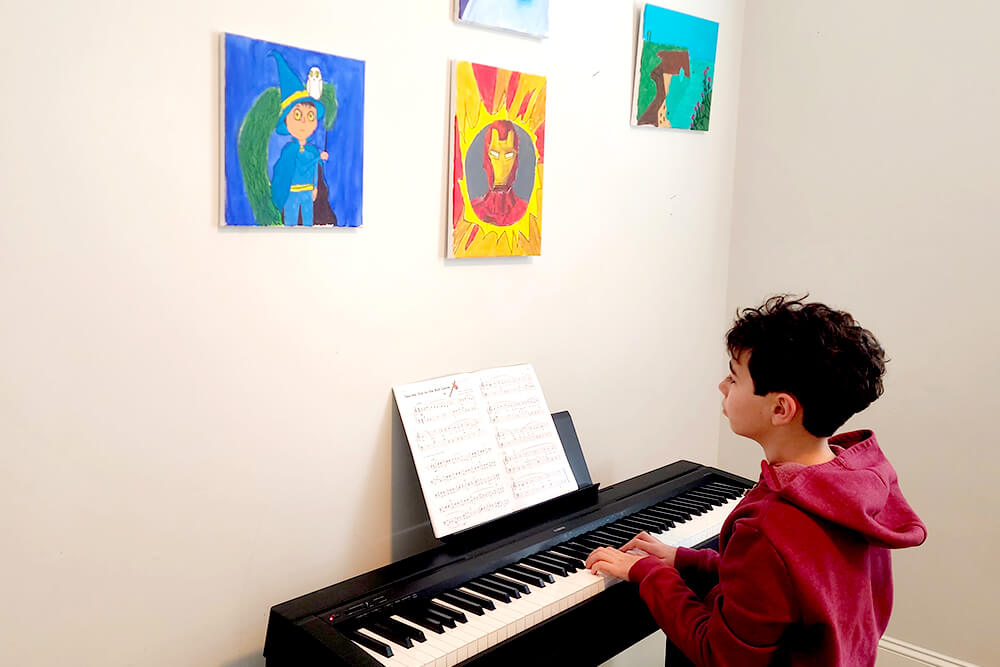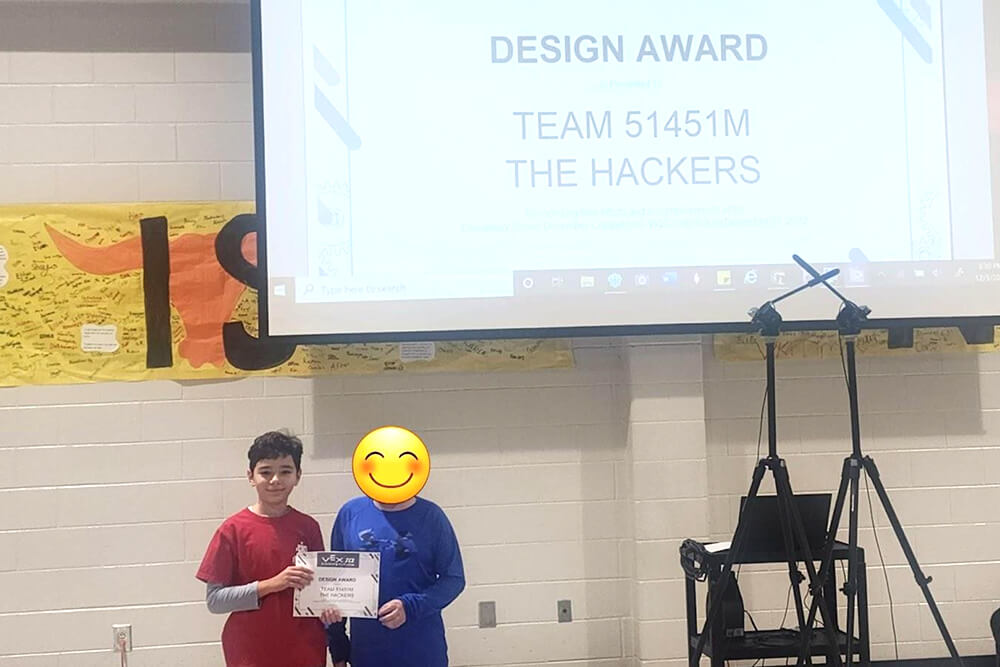 🎹 "I play the piano and take in-person lessons. I also take theater lessons 🎭 and am planning to do a stage performance in May. It's about being creative – deciding your story, plot, characters, and everything. I also do robotics 🤖 as part of a club at my school. There's a journal that keeps track of our robotics-related activities. I was the journal manager, and we got the Designer Award 🏆 for the journal."
Wow, Kivanc, that's impressive! 🌟 It's fantastic to see how you're exploring your creativity in various fields, including piano and theater lessons, as well as robotics club. As a tech-savvy artist, it's great to see how you're combining technology and creativity to excel in all your endeavors! We can't wait to see the amazing talents you showcase in the future! 🚀
As a tech-savvy artist and creative kid, how can technology and creativity blend together? Have you ever tried designing cool characters or making video games? We'd love to hear more about your experiences!
"It's like living two awesome lives at once! 😄 One is just a regular me, and the other is when I become a computer genius. 💻 I haven't done a ton of fancy computer stuff, but I did make my own video game once with me in it! 🎮 It was super cool! I enjoy creating all the different characters for my games and designing their looks. 🎨👾"
Wow, Kivanc! It's surprising and extraordinary that you can seamlessly merge art and technology! Seeing you exploring different creative outlets and using your talents to bring your unique ideas to life is fantastic. Keep up the excellent work!
If you could draw anything in our art class, what kind of character or painting would you choose? Let your imagination run wild!
"Oh yeah, I remember this one time in 1st grade we all did this painting together in class. It was inspired by "Starry Night", but we used markers and colors instead of paint. It was pretty cool! But you know what, I really enjoy drawing. I love creating my own drawings of these amazing characters from my favorite TV show called "Gravity Falls". They're like these fantastic cartoons with exciting adventures, and I just love the way they look." says tech-savvy young artist, Kivanc
Great idea, Kivanc! We are sure many artists here are excited to learn how to create awesome cartoon characters too! 😎
What is your favorite thing to draw?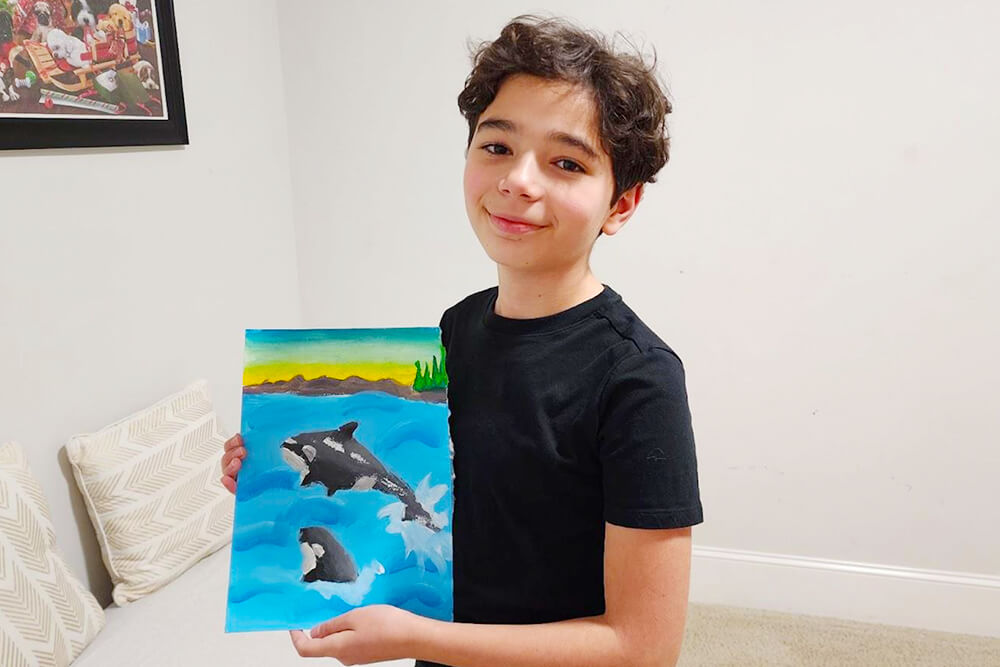 "Well, I really like to draw a lot of things, but my most favorite thing to draw is animals! 🐯🦁🦊🐰 They're just so cool and fun to draw! I like to try different things with their faces and how they move. 🤩 It's amazing how they're all so different! 🤯 I draw real animals like the ones I see in the zoo, but I also love to draw mystical animals from my imagination! 🦄🐉 And sometimes, I mix them together to make my own special magical creatures! 🧙‍♀️🧚‍♂️ It's just so awesome!"
As a tech-savvy young artist, what's one piece of advice you would give to other kids?
"Don't feel discouraged if you're unsatisfied with your art. Keep practicing, and you'll improve a lot!" That's right, Kivanc! We're all in agreement here.
A Proud Parent's Joyful Reflection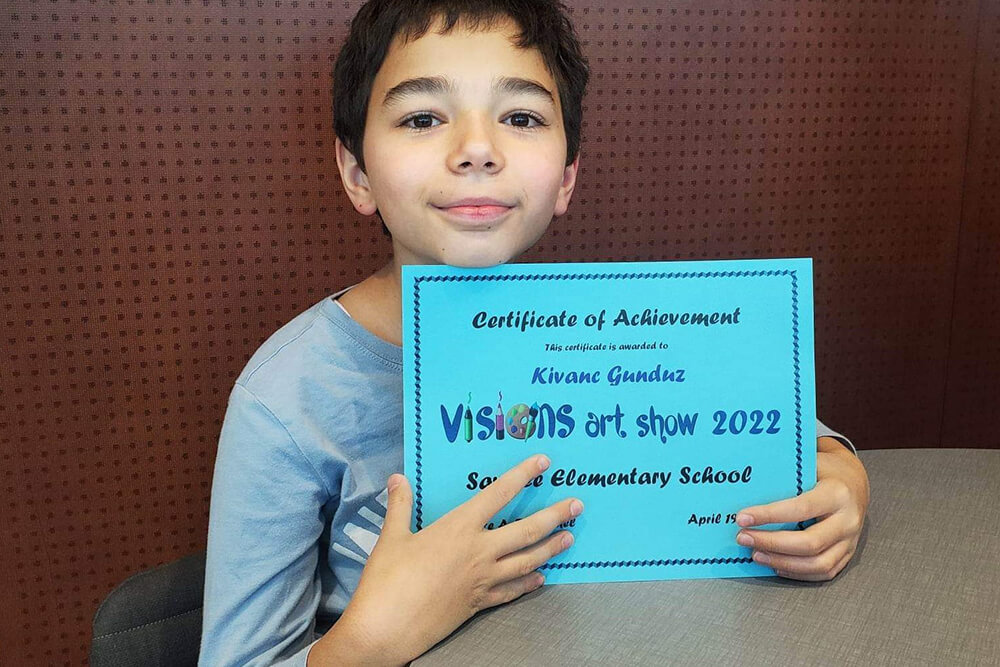 "We are delighted with the progress that Kivanc has made with Nimmy's Art classes! As a parent, I'm thrilled to see how much he enjoys the different techniques taught in the classes, such as Charcoal, Watercolor, and Gouache paint. The online lessons have made it much easier for us to fit them into our schedule, and Kivanc has improved so quickly since he started!
I love sharing his art pictures on my Instagram account, and it's beautiful to see my friends and family show so much love and support for his work. I can't thank Nimmy's Art enough for providing a supportive and inspiring environment for Kivanc to explore his creativity and express himself through art. Thank you for being integral to his colorful and imaginative world!"
It warms our hearts to see parents and students enjoying the techniques and concepts we teach at Nimmy's Art. We're all about nurturing creativity and self-expression in fun and stimulating environment! We're excited to continue supporting Kivanc and all our students on their artistic journeys. Let's make some more colorful and imaginative art together! 🎨
We hope you had a great time reading this Artist Spotlight! Stay tuned for the upcoming one – it's just around the corner!
Nimmy Melvin, an internationally recognized art tutor and award-winning visual artist has taught children for over 15 years. She is skilled in various painting mediums such as acrylic, oil painting, watercolor, prismacolor, and oil pastels, and she has a talent for imparting knowledge to children.