Get ready to be dazzled by Chloe, our incredibly talented 12-year-old creative kid artist straight from sunny California! Bursting with creativity, Chloe is a master of both drawing and painting, and she simply can't get enough of exploring vibrant new styles and techniques. Join us as we celebrate this young prodigy's awe-inspiring art journey in our "Artist Spotlight" series, where every piece is a magical masterpiece!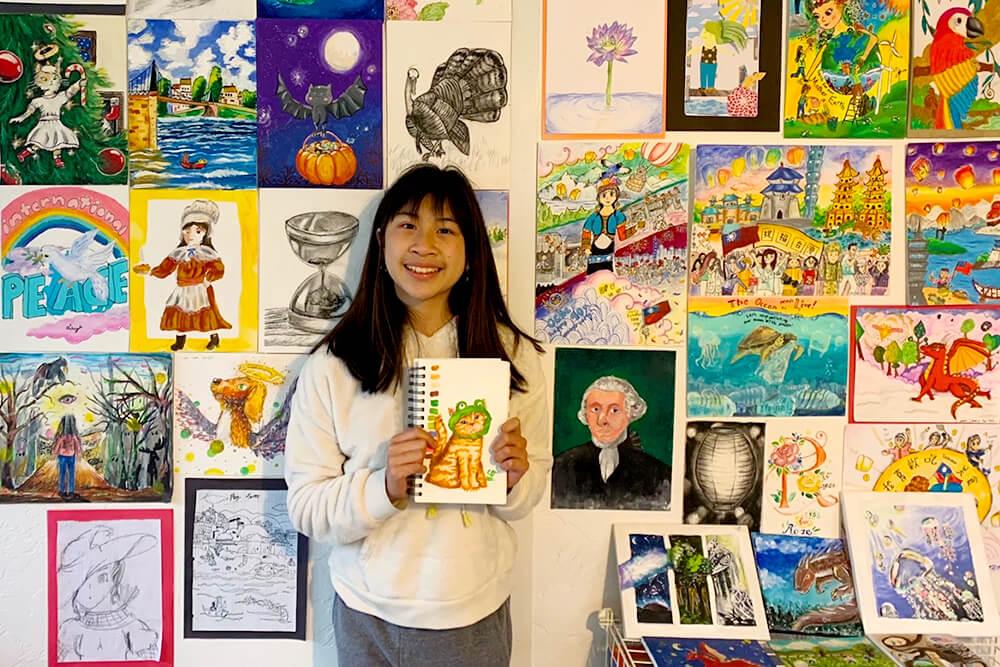 Hold on to your hats, because young Chloe's artistic genius is already turning heads in our art community, thanks to her mind-blowing art works! With an unquenchable thirst for all things artsy, she's always on a quest to learn more and level up her art skills.
Chloe's non-stop dedication, creative imagination, and can-do attitude set her on a path to become a truly extraordinary creative kid artist, spreading inspiration and joy through her beautiful works of art!
What made you excited about drawing and painting, and wanting to learn more about it in online art classes?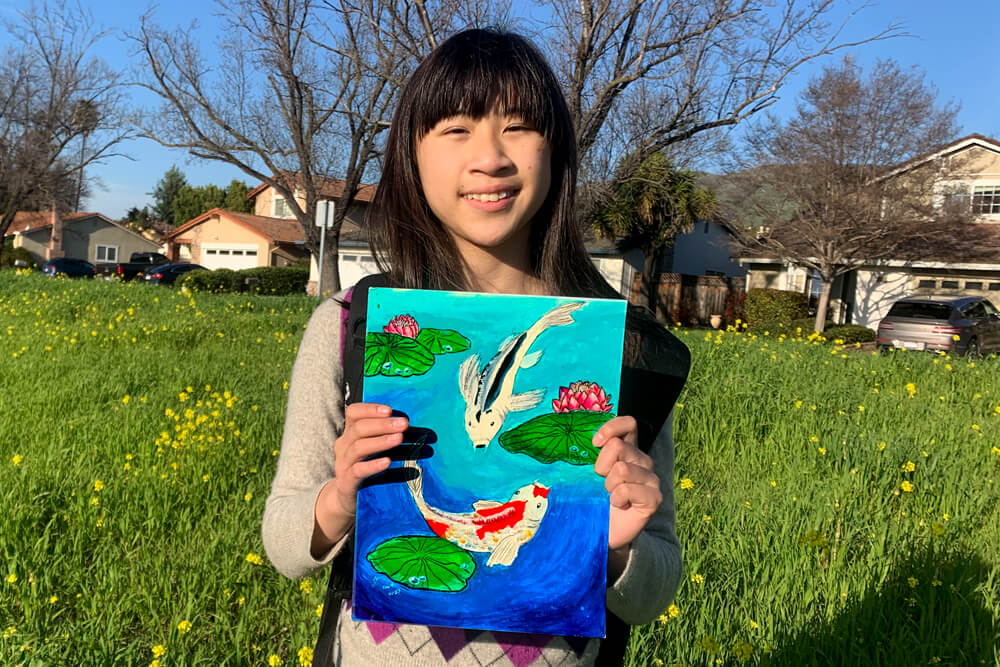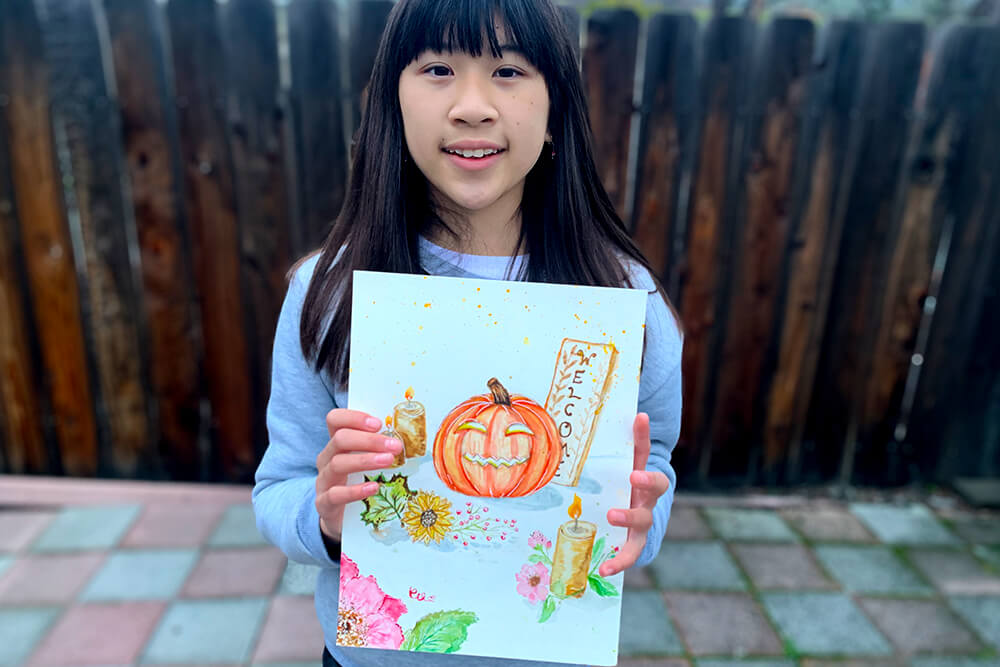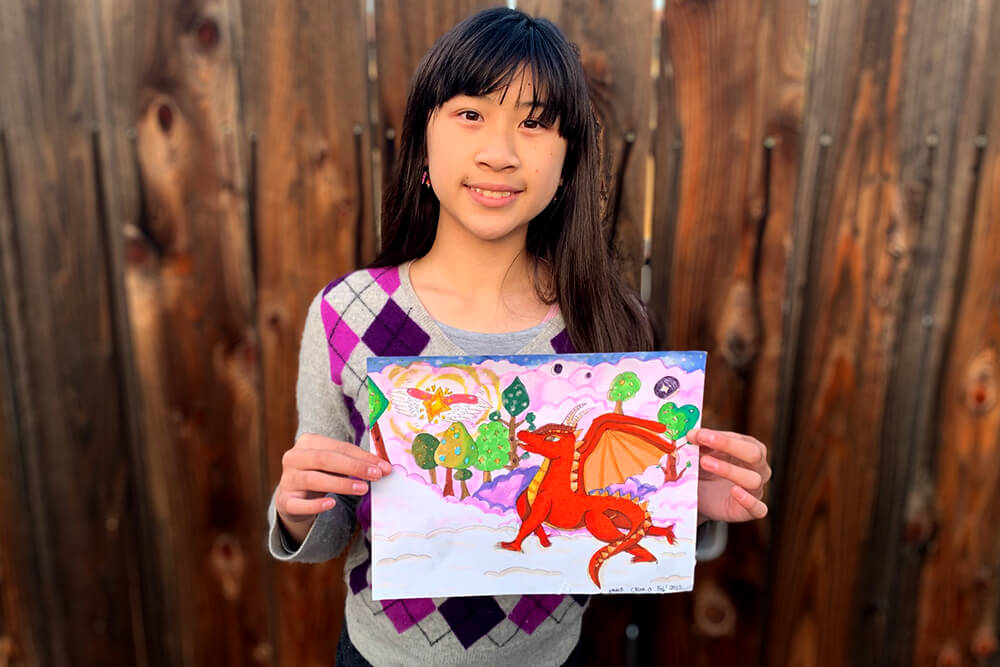 "Ever since I was a little kid, I was hooked on drawing. My mom tells me that even as a little kid, I would scribble away non-stop. For me, creating art is simply enjoyable. I remember getting into drawing when I was just starting kindergarten, and my very first masterpiece was a drawing of my favorite frog plushie, Freddy!"
"Every so often, Nimmy offers free online art classes, and I had the chance to witness her teaching approach firsthand. My daughter also participated in some of her free classes and I must say that Nimmy teaches with both professionalism and passion. She has a way of motivating children with her words of encouragement, making the learning process enjoyable. When I received a promotional email for one of her classes, I decided to give it a shot for my daughter. The master study classes are my personal favorite, as my daughter has the opportunity to learn from other renowned artists, which will undoubtedly provide her with invaluable insights into the world of art.", says our creative kid artist's very proud mom.
Wow, thank you so much for your kind words! It's really awesome to hear that you're loving our classes. We feel incredibly grateful and humbled by your support.
You've been with Nimmy's Art for quite sometime now. What do you feel about learning art online?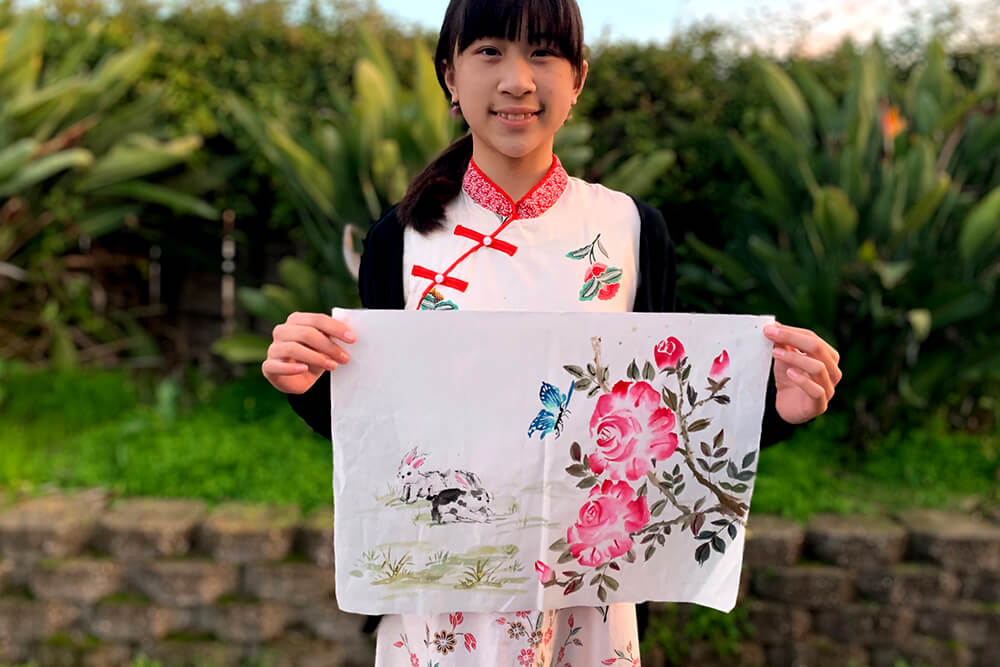 "Oh, and speaking of creating art, I can't get enough of Nimmy's online art classes! It's like having my own personal art coach, and I can take as much time as I need with the video lessons. I love learning alongside other kids, and the compliments and feedback from Nimmy's Art community pages are such a motivator for me to keep creating more awesome art. When my teacher drops a comment on my work, I know I'm in for some major skill-building. Art truly is the best! I love expressing my ideas and imagination on paper or canvas, and I always feel proud of what I make. It boosts my confidence and brings joy to others, especially when I make special cards for occasions like Mother's Day or Teacher's Day."
Which art medium did you enjoy the most in Nimmy's art class?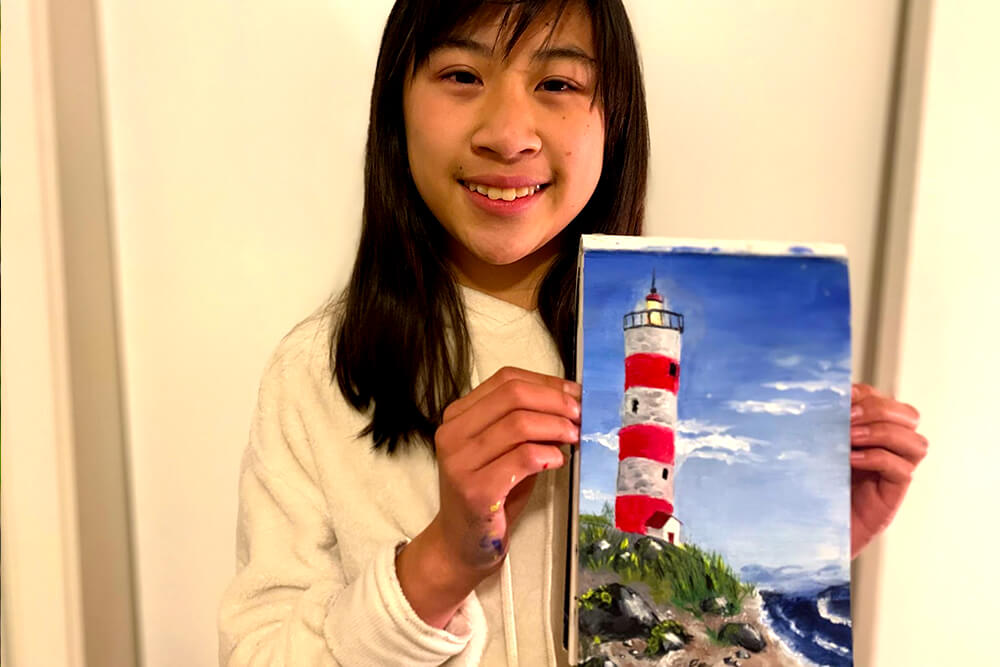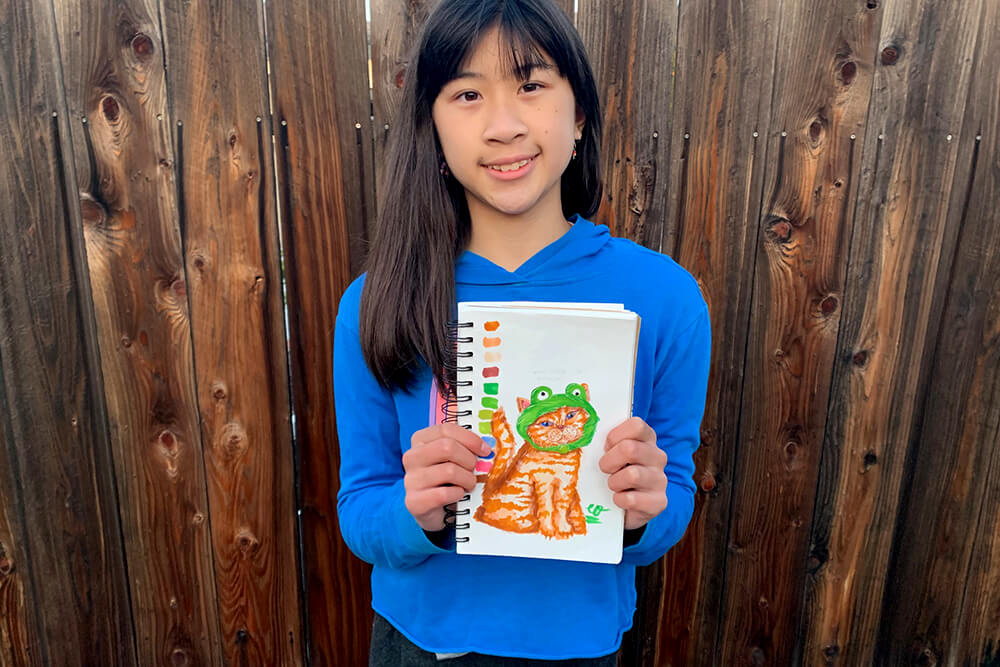 "My favorite art mediums in Nimmy's class are acrylic paint and colorful markers. Acrylic is easy to work with, and mistakes can turn into something cool. I also like mixing up different mediums like alcohol markers and colored pencils. I use mixed media paper for my drawings."
It's wonderful to see Chloe sharing her favorite artworks! Both the Acrylic Painting of Lighthouse Hills by Edward Hopper and the cute cat done using alcohol markers are fantastic examples of different styles of art.
What is your favorite art project from Nimmy's Art and Why?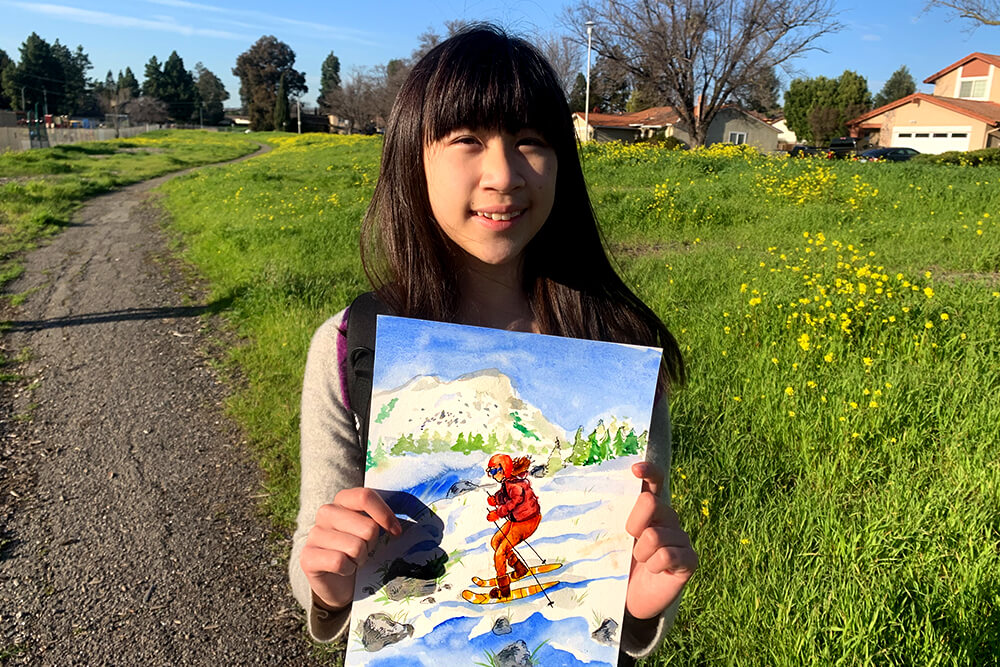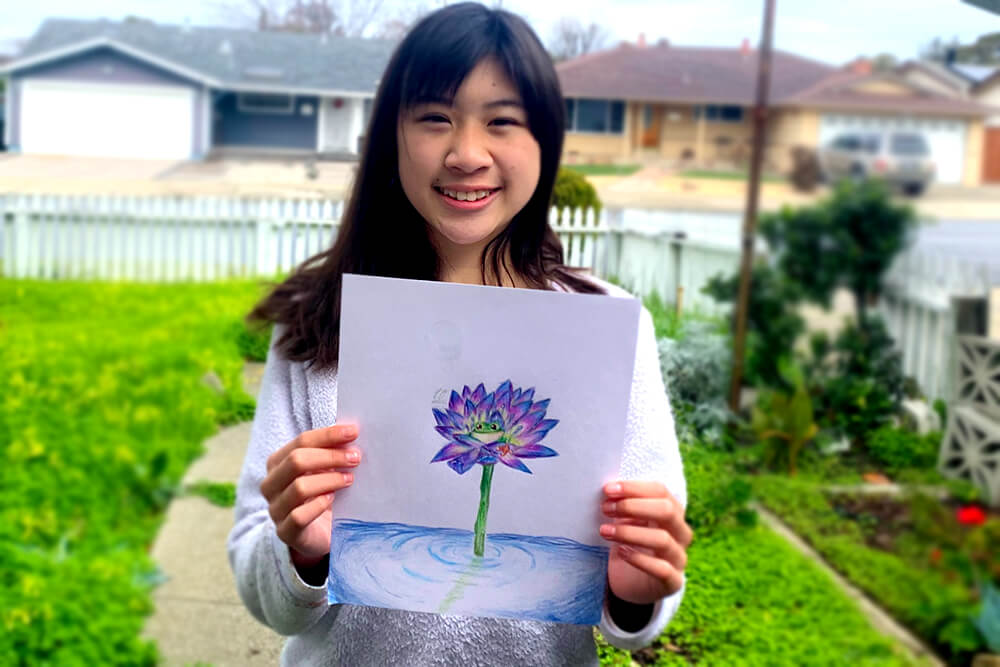 "OMG, There are so many artworks that I love from different mediums. One of my favorite projects is "Let's go skiing," which challenged me to use watercolors and capture movement. Another favorite project involved using prisma colors to draw cute and realistic frogs. It was a free class that my sister and I both enjoyed, and we were proud of our final drawings."
Great work, Chloe! Your artworks are truly remarkable and it's evident that you put in a lot of effort. Keep up the fantastic work!
What are some new art techniques you learned in Nimmy's Art class?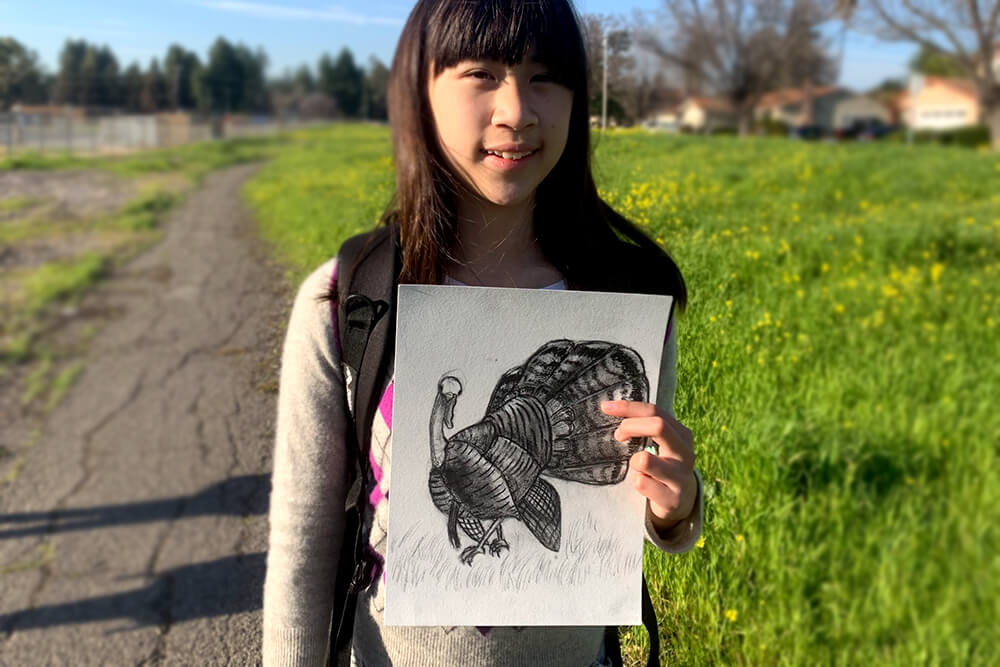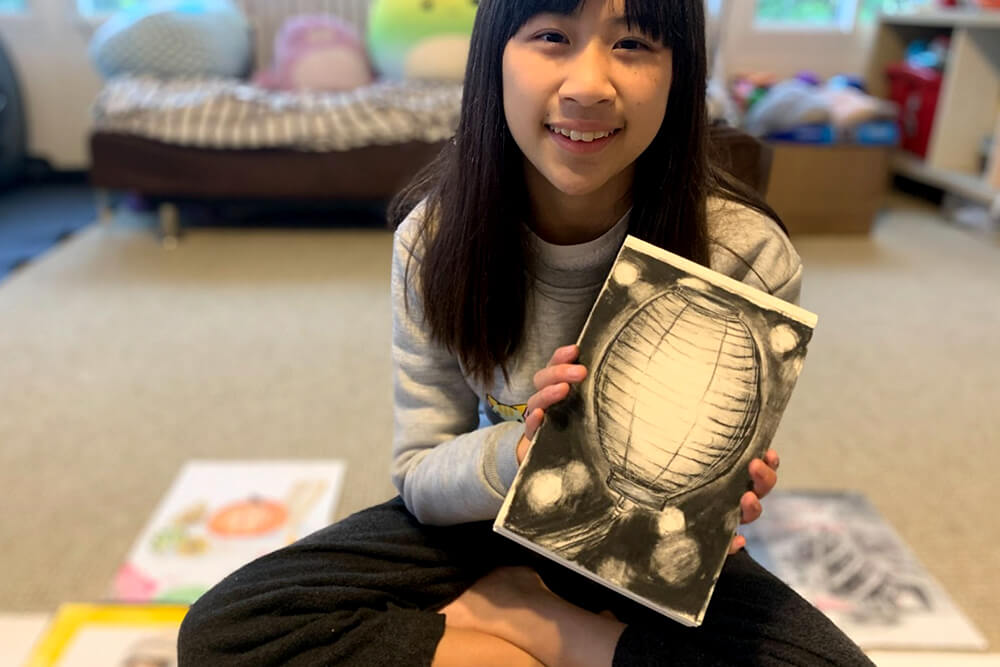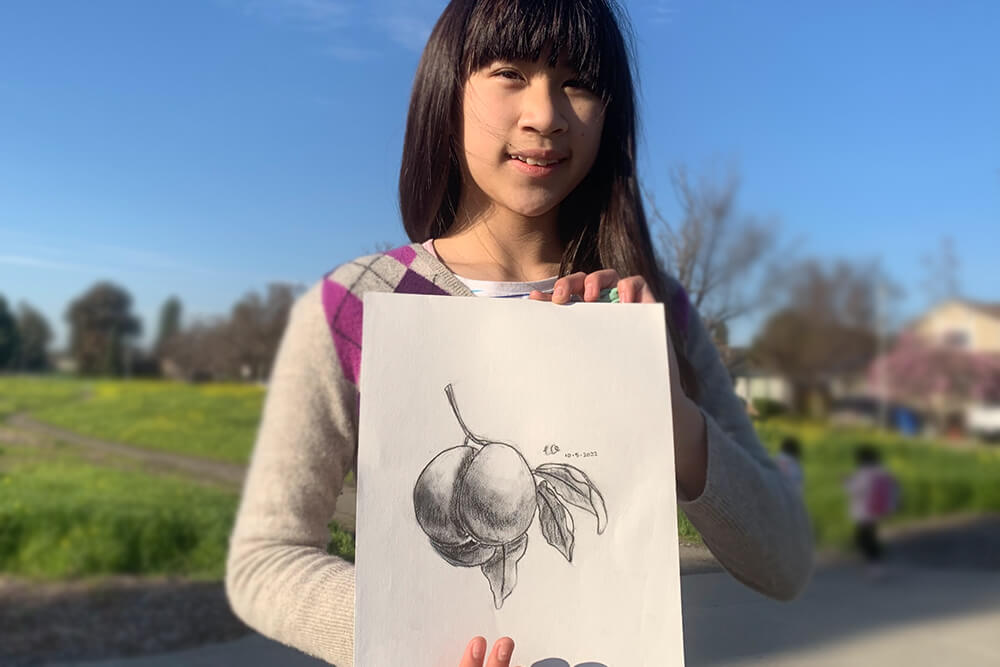 "When I started with Nimmy, I had never used charcoal before. Now, I enjoy using it for shading and creating textures. Charcoal adds cool shadows and gives a unique look to my art. It's like having a magic wand for drawing!"
Check out Chloe's amazing charcoal drawings! She shared some of her favorites, including a stunning drawing of lighted lanterns , an impressive bird study of a turkey and a charcoal drawing of " A Sprig of Plums" by William Harnett,
Do you watch our video lessons to review the techniques taught by Nimmy?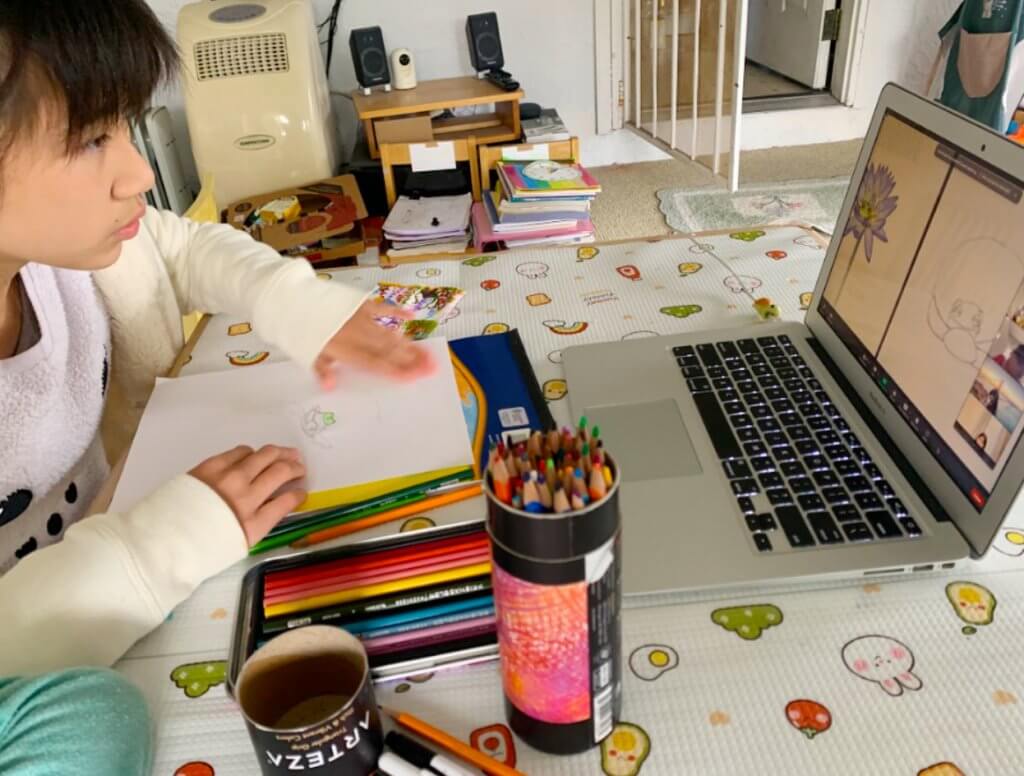 "Yes, especially when learning something new or challenging. I tried painting my first portrait, which was tough, but I learned a lot from my art class. I watched video tutorials to improve my techniques. With practice, I hope to get better at portraits."
Great job, Chloe! It's hard to believe it's one of your first pieces. We can't wait to see more of your portrait work in the future!
"Another favorite art project from Nimmy's class is a master study of Alfred Sisley's "The Bridge at Villeneuve la Garenne." I finished it in January 2023, and it was time-consuming, so I had to re-watch the video. I used acrylic paint, and the video tutorial helped me a lot to complete it at my own pace."
As a creative kid artist, you love participating in our art contests. How did you feel about winning last year's Christmas Art Contest?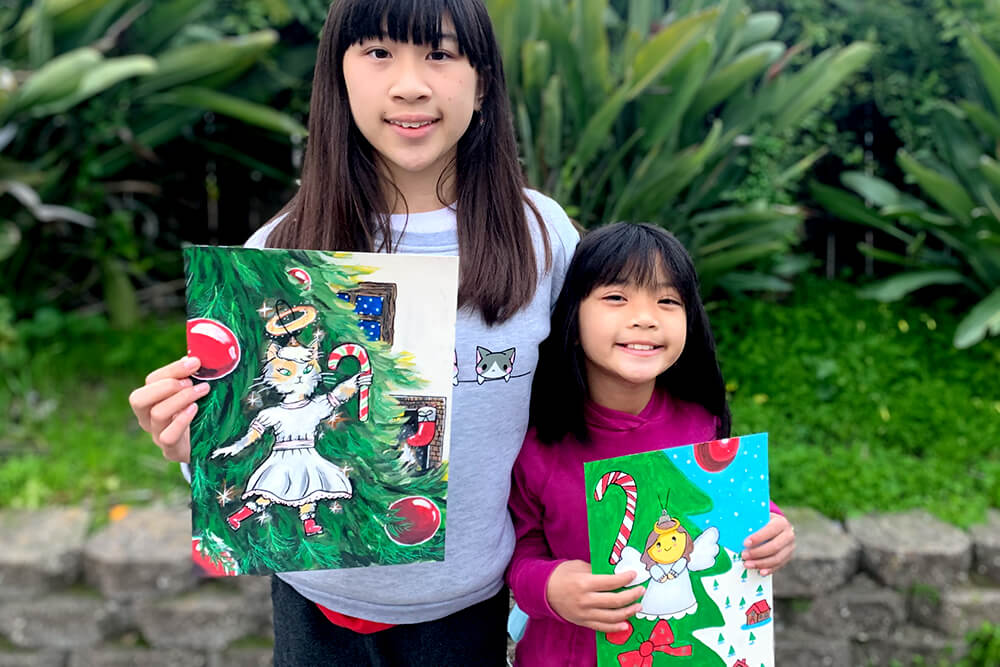 "I was very motivated to keep participating in more events, even ones I've never tried before! It's like a new adventure every time, and I'm ready to explore them all. Maybe it was the awesome time I had at the Christmas Contest with Nimmy's art".
Chloe is the proud winner of our Christmas Art Contest 2022 from the 8-12 years category. What was so amazing and unique about Chloe's art was it was very inspired from Nimmy's art lesson but the amazing artist that Chloe is, she did it in a totally different style, incorporated a very pretty character and finished it with some super amazing brush strokes ! We were all blown away by her masterpiece, and she totally deserves to be crowned the winner. Way to go, Chloe!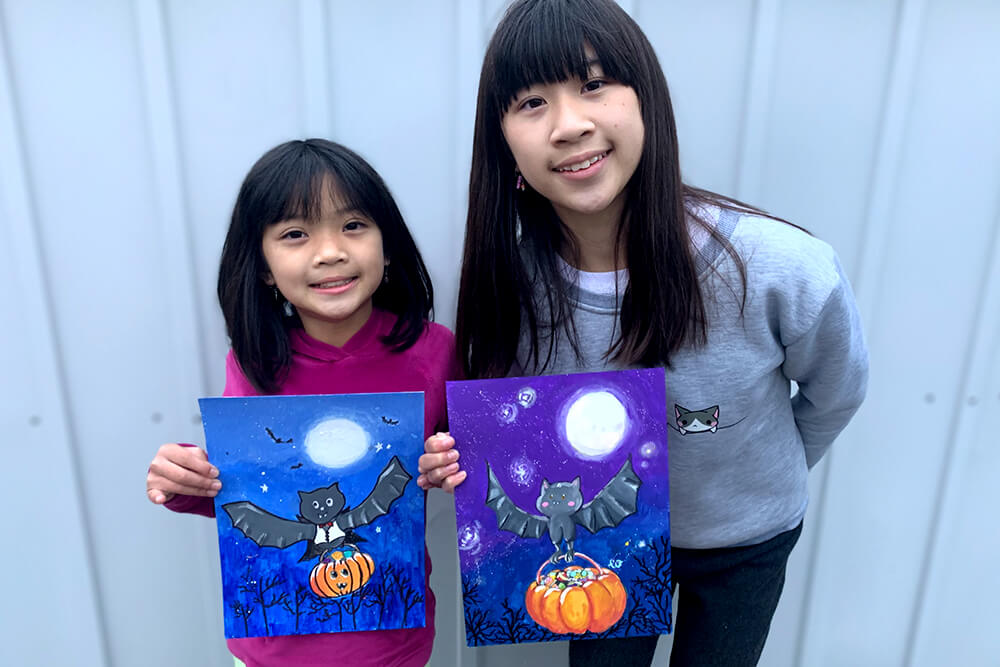 Chloe shares the Acrylic painting of a Halloween bat from our Halloween Contest this year, which she enjoyed doing with her little sister. How adorable is that ?
" I won first place in the "Into the Unknown" drawing competition at Berryessa Chinese School and am excited to represent my school in another competition. Also, I won first place in ANCCS 2022 Lantern Design Contest with my Tiger Lantern and received third prize in ANCCS 2023 Lantern Design Contest with my Rabbit Lantern, thanks to Nimmy's art classes for teaching me the skills and techniques! 🏆🎨🐯🐰"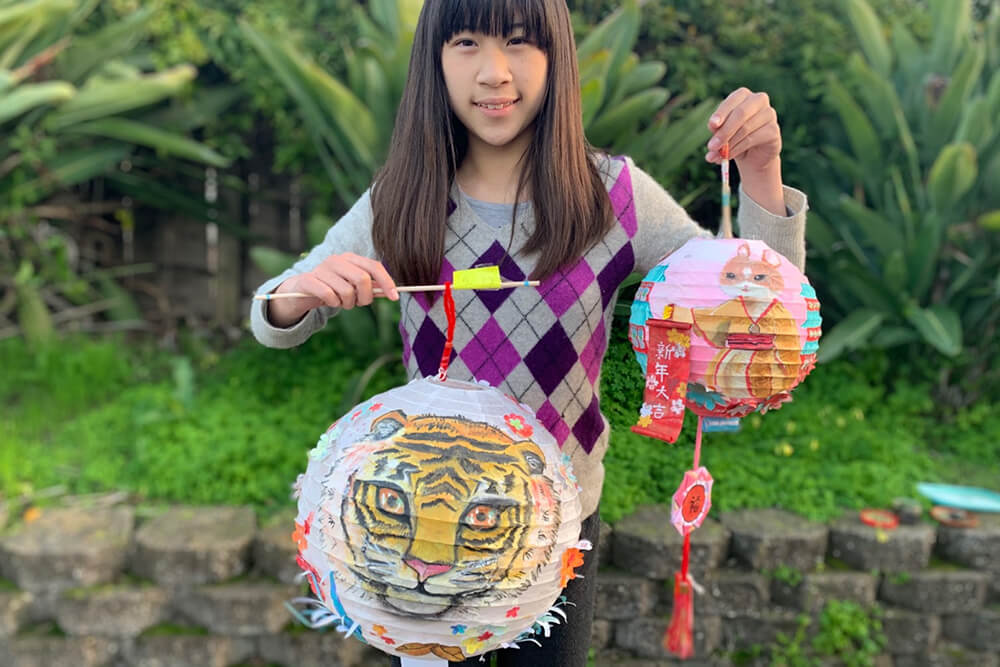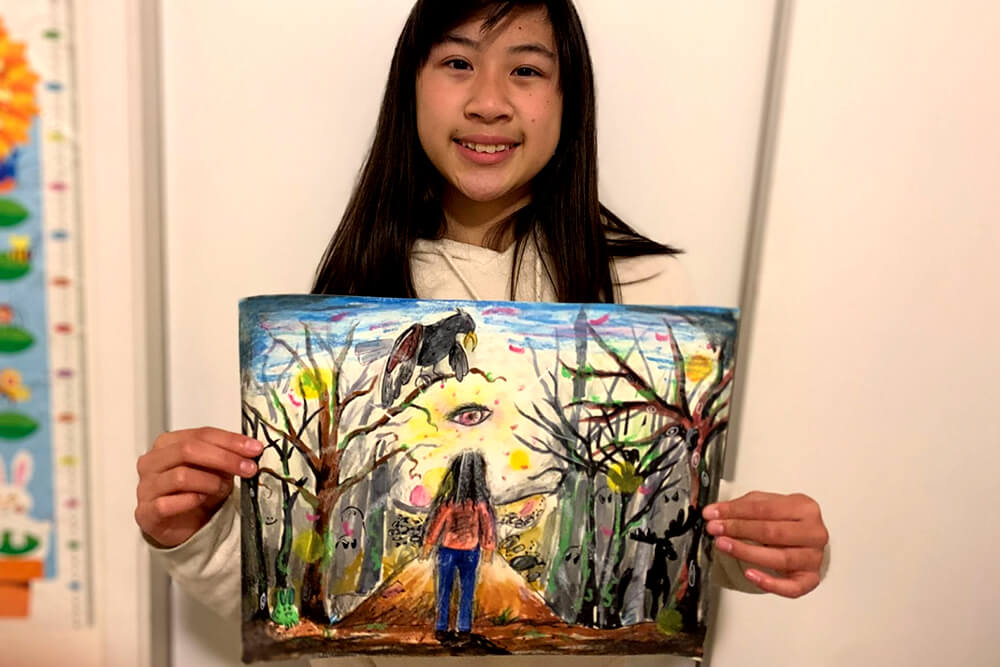 Wow Chloe, we really can't take our eyes off these marvelous creations ! You are an extraordinarily amazing artist !
What did you learn from Nimmy's Art Master Study Class sessions, and who is your favorite artist?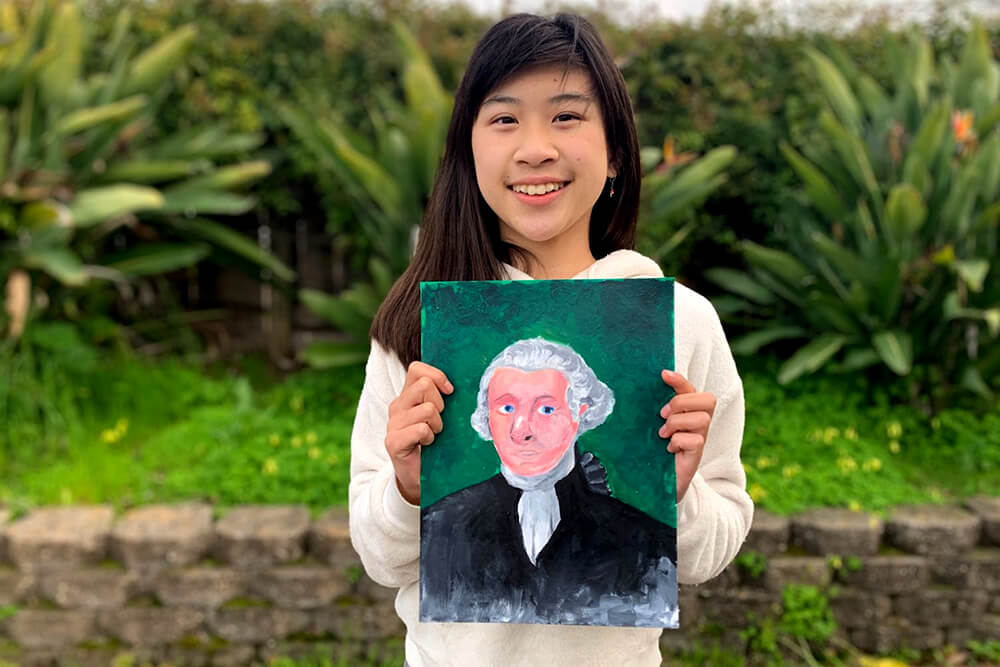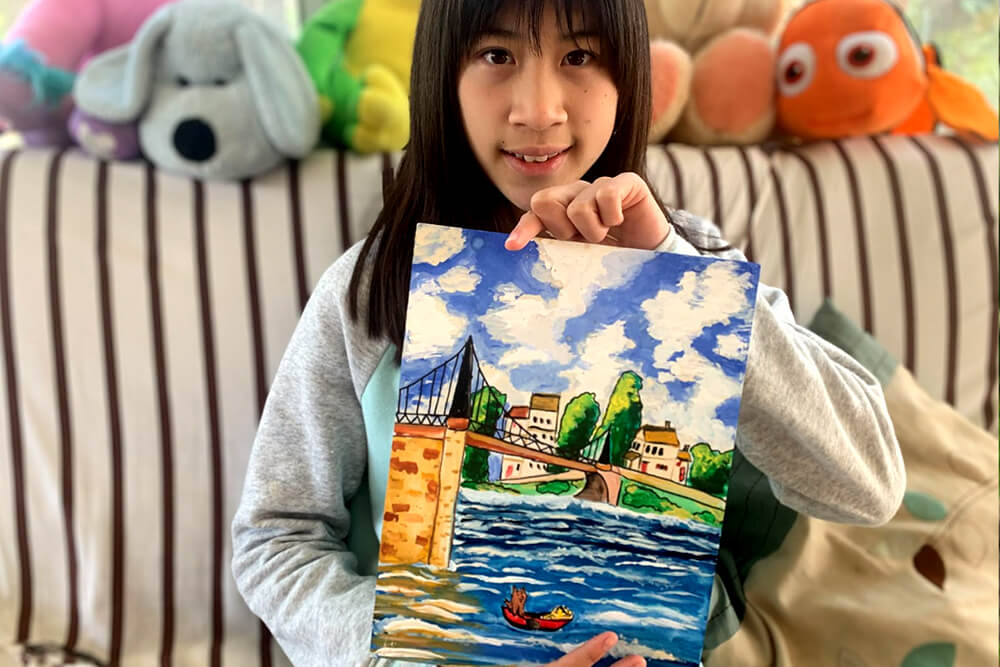 "The master study classes are amazing ! It has helped me to learn about different artists and their styles. Also it is a great way to gain inspiration and develop and refine techniques."
Chloe shares some of her master study art works – an Acrylic Painting of Lighthouse Hills by Edward Hopper and The Bridge at Villeneuve la Garenne Master Study by Alfred Sisley.
In the future, what do you aspire to be?
"I have many talents and interests, and I'm still figuring out what I want to do. I love art, and being a Disney imagineer is my dream. I'm also interested in animals and science, so maybe I'll become a biologist. Benjamin Franklin is my role model – he was an inventor, author, scientist, and political philosopher. I hope to be as accomplished as him someday!" says our creative kid artist, Chloe.
What else do you like to do for fun besides art?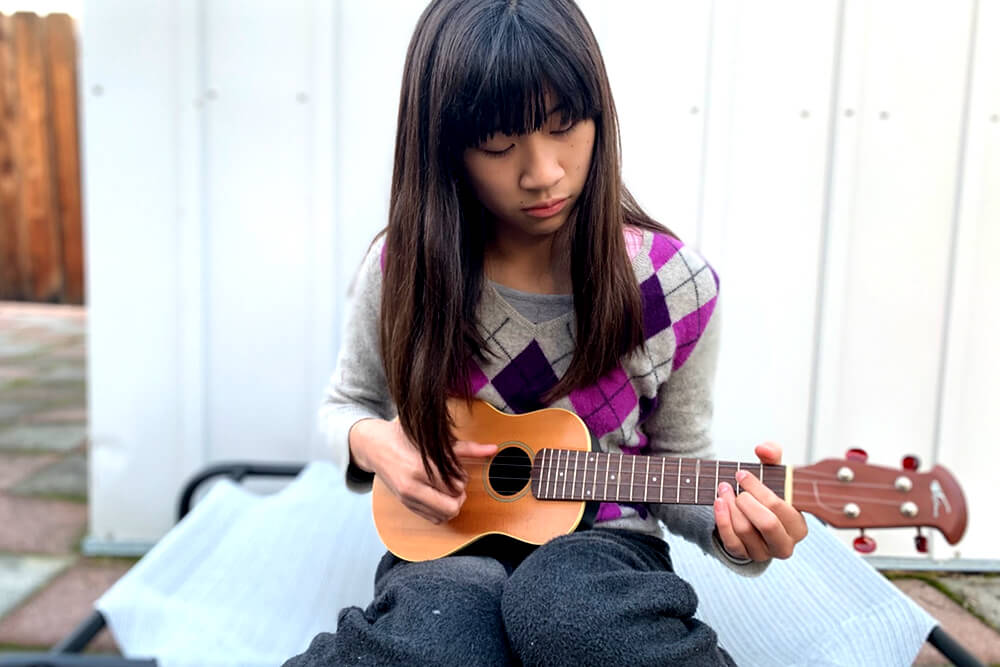 "I love sports and music. Playing baseball and basketball with friends is always fun. I'm also into playing the ukulele and singing in the church choir. Visiting the Exploratorium was awesome, seeing how art and science can create amazing things! Recently, I made a light-up Valentine's Day card for my teachers, and they loved it. It was a creative and thoughtful gift!"
How has your art inspired your sister and what advice do you have for her to improve her skills?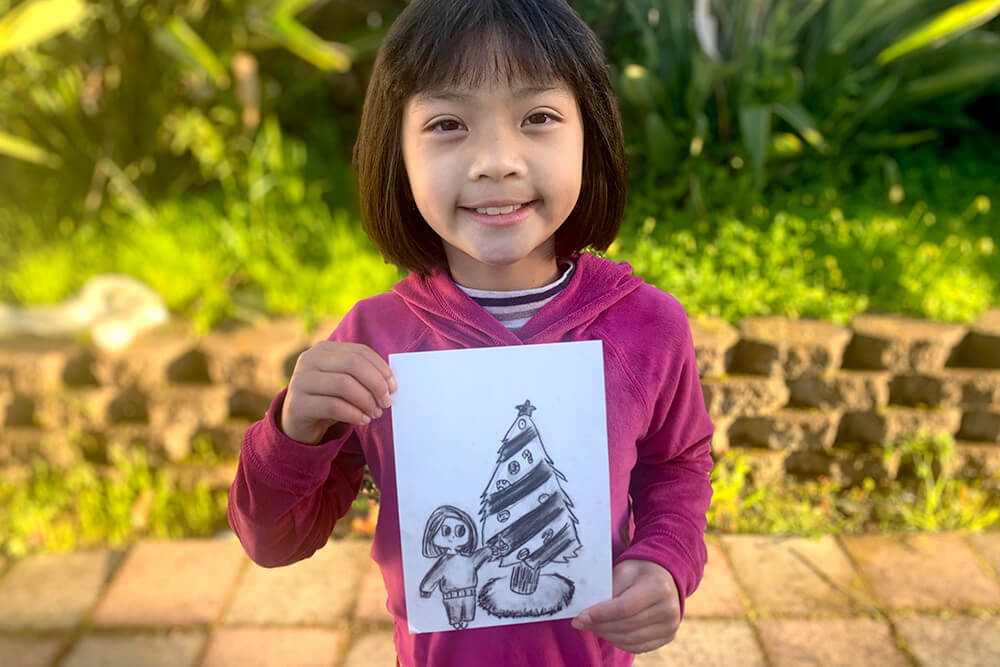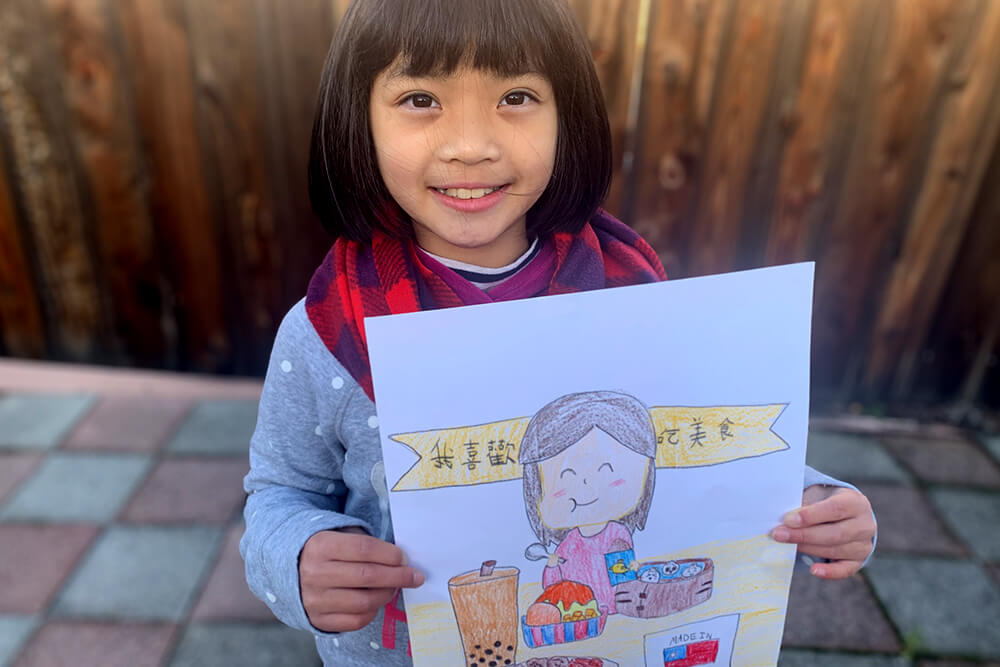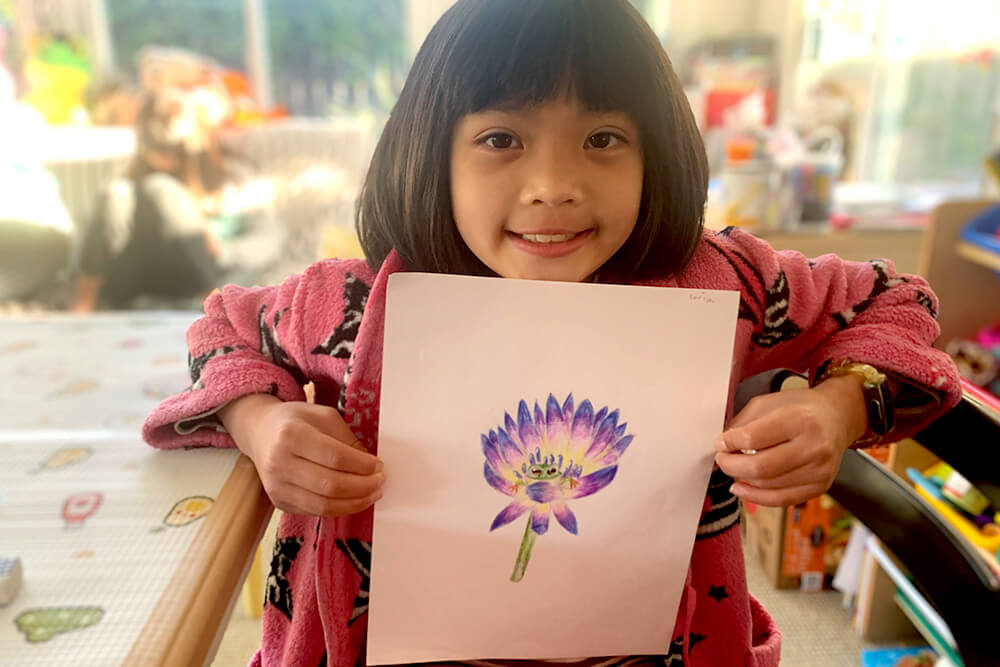 "My sister has a creative flair, and I like teaching her in my spare time. I give her advice, and she's a good listener- most of the time, at least!😉. She enjoys drawing cute creatures and making fun doodles, which is awesome to watch. She is an upcoming creative kid artist 😍😍"
Look at those lovely-dovely precious pictures !! That is so amazingly cute 😍Some of Louisa's pictures that are inspired from Chloe's art lessons with Nimmy !
What advice would you give to kids who want to become artists?
In Chloe's own words "even if you make a mistake, you could be happy about it, it could inspire something else, you could create something else out of it. When you draw, you should have an idea of what to do."
Chloe's right. Mistakes can inspire and motivate you, and with creativity and imagination, you can turn them into your own unique masterpiece.
Mom, what do you think about Nimmy's Art and Chloe's and Louisa's experience in Nimmy's online art class?
"I am beyond happy and proud to say that I absolutely love Nimmy's Art program for my kids! One of the things that makes it so special is that they get to explore and experiment with different mediums, including gouache, acrylic, watercolor, and charcoal. This allows them to not only try new things, but also to learn and grow from each experience.
In the past, my child had attended in-person classes, but was not very fond of it because there was a set timeframe to complete everything. But with Nimmy's Art online classes, she can take her time and work at her own pace. This means that she doesn't have to worry about any time constraints and can add as many details as she wants until she is truly satisfied with her work.
Another huge benefit is that we have access to the video content at all times, which is incredibly convenient. This allows us to go back and review lessons whenever we want, giving us the ability to do even more outside of the actual class time. I truly believe that this program is an amazing package deal and I am so grateful for all that it has to offer!"
Did you enjoy reading this Artist Spotlight feature? Stay tuned for the next one!
Nimmy Melvin, the award-winning visual artist, envisions nature, the surroundings, and every object around her from a different perspective. An expert in the usage of other mediums of painting, including acrylic, oil painting, watercolor, and oil pastels, she has a knack for inculcating knowledge in kids.