Artist Spotlight blog series brings to you the amazing students at the art classes by Nimmy's Art and showcases their work, their love for drawing & art, and their journey till now. So get ready to be amazed!
Zoe Chan – Little Artist
In today's series, we will be uncovering the young and talented Zoe Chan. The cute and forever smiling 5 year old girl from San Francisco Bay Area in California never stopped melting our hearts with her giggles and optimism.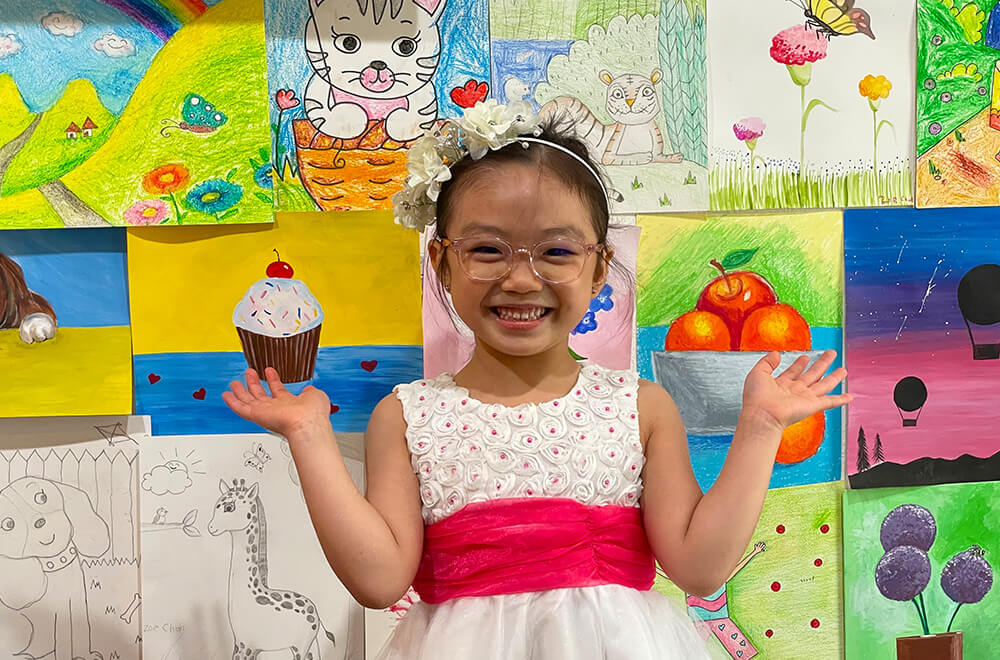 Can you tell us your favorite medium in art till now?
"I love oil pastels" she replied quickly.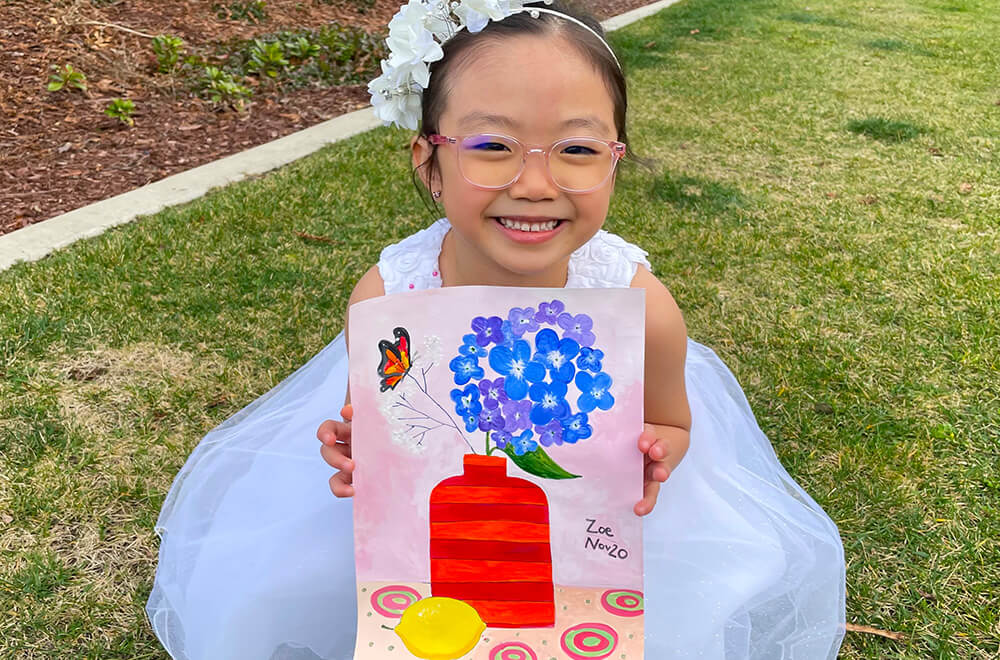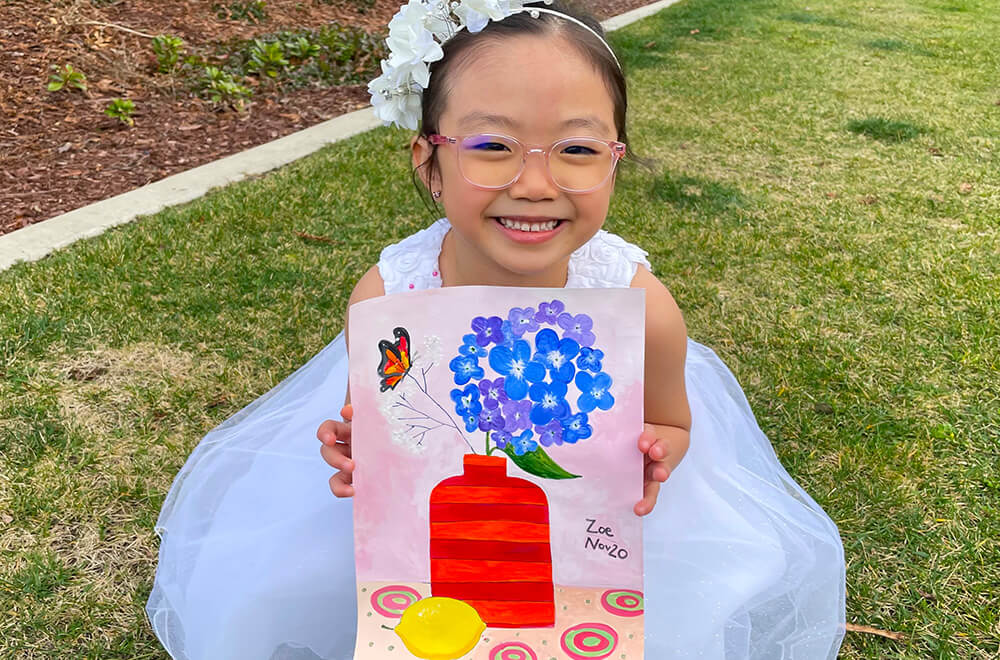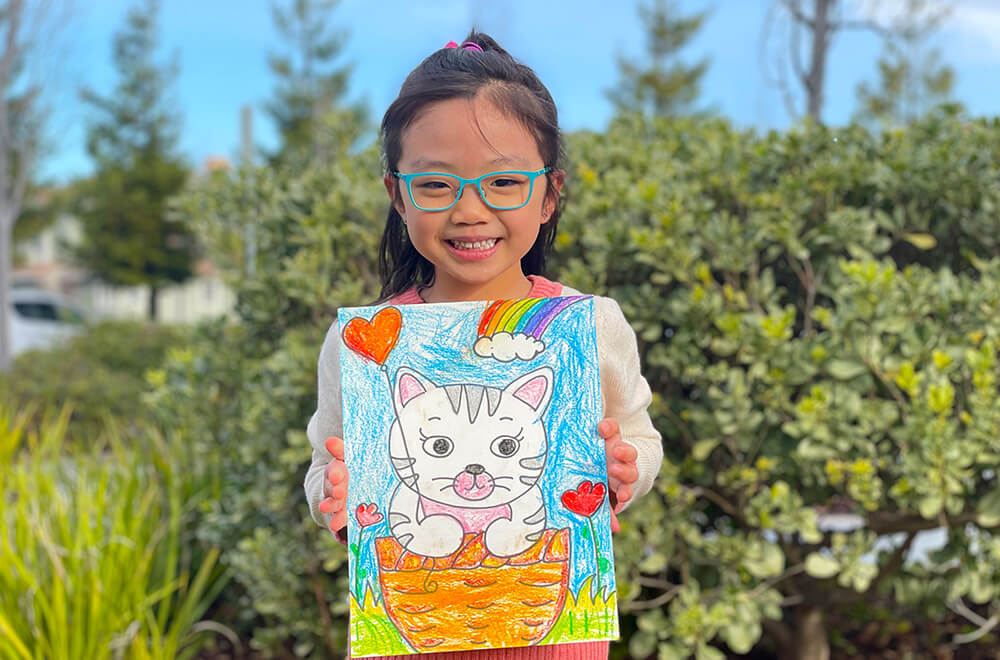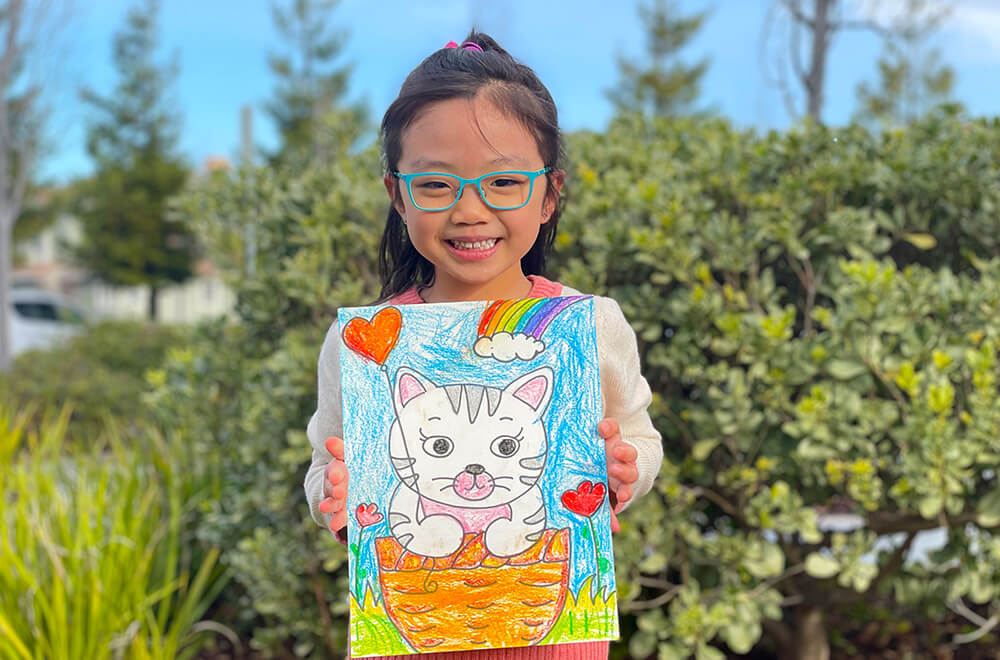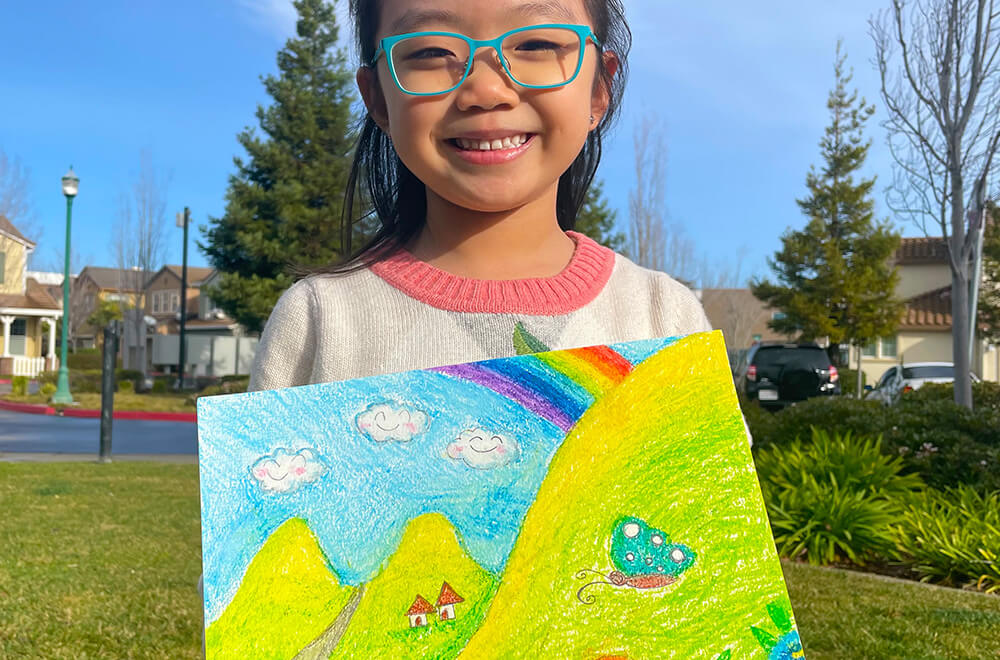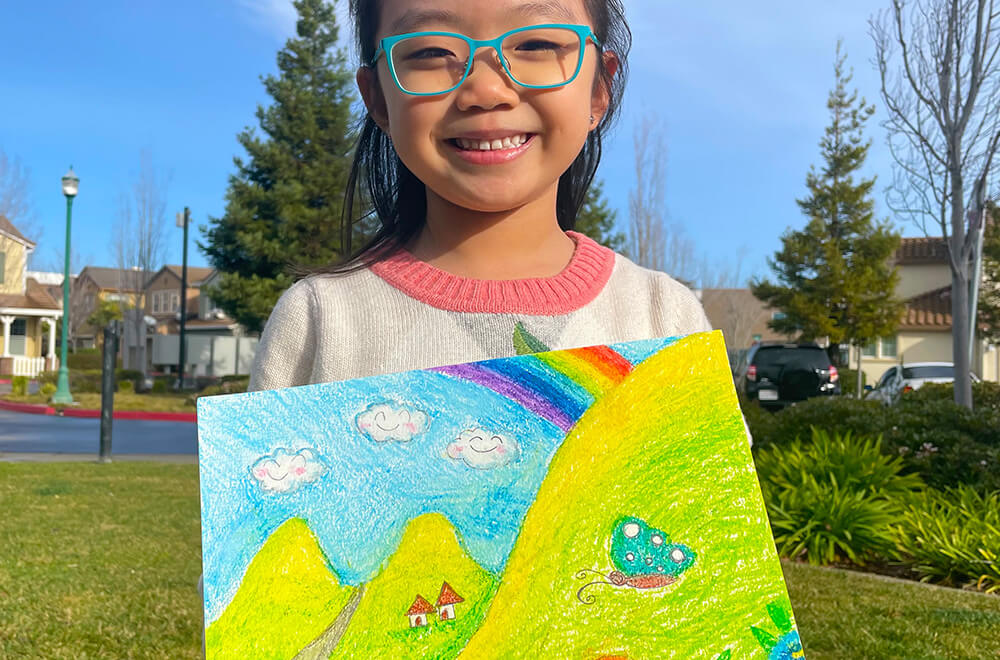 Zoe, who is in kindergarten enrolled in Nimmy's Art last summer camp and has consistently thrilled us with her progress in arts.
Some of her inspiration comes from her sister Abigail Chan who is also a talented young artist.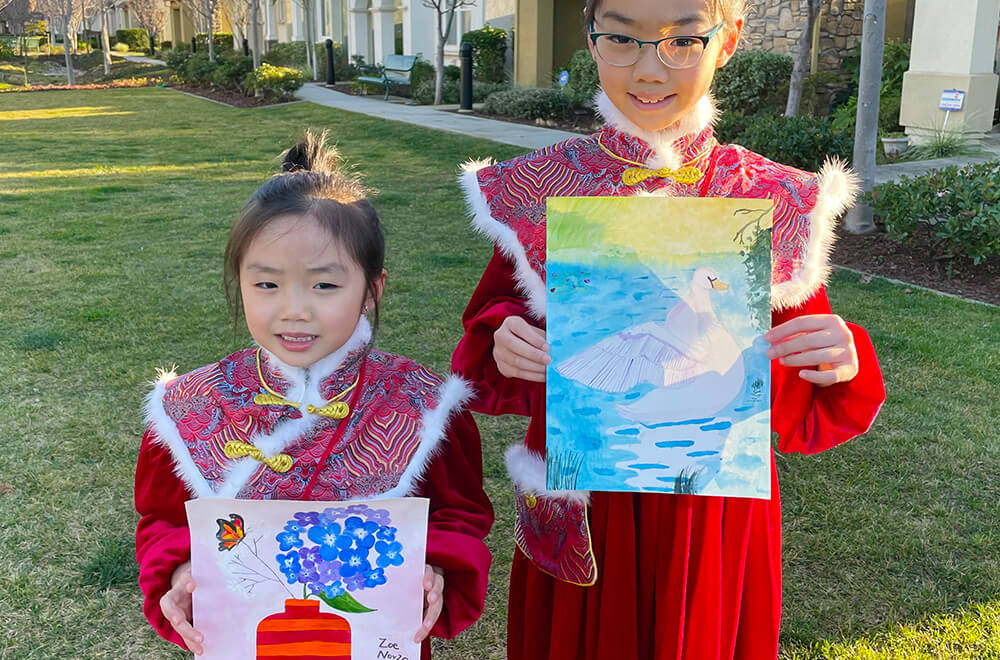 What is your favorite color and what do you like drawing?
"I like silver" she replied shyly while giving us a warm smile.
"I love to draw bunnies too" she added as she excitedly displayed a beautiful artwork of a girl with a bunny and some nice spiral patterns around.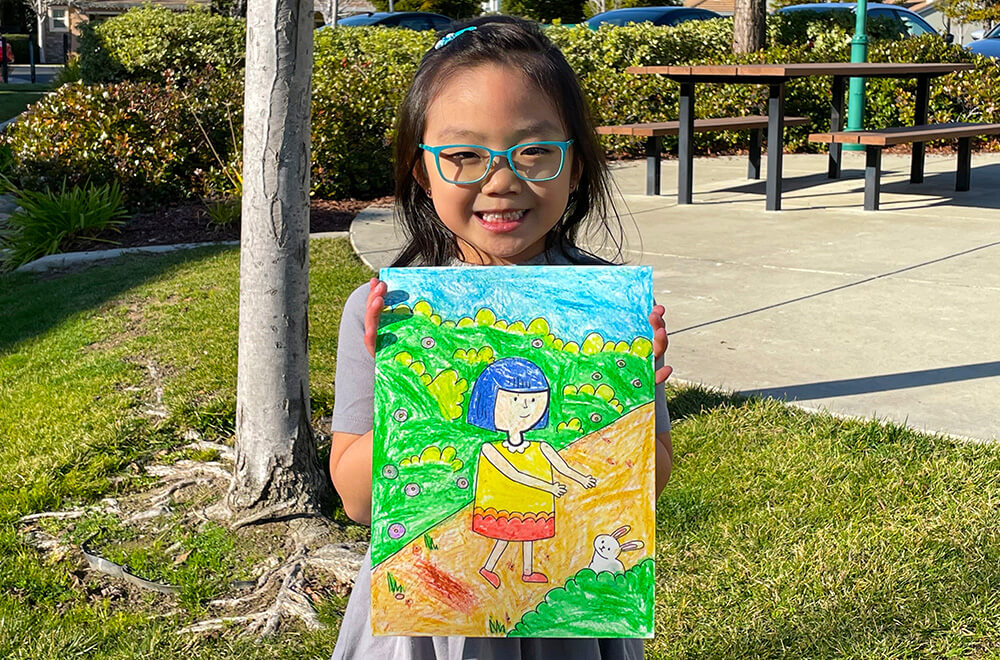 For a cute little girl like Zoe, bunnies is absolutely a great choice and she admits that she loves drawing more than coloring.
Which painting would be your favorite from Nimmy's Art classes?
"There are so many artworks", Zoe says and proudly displays her ice cream artwork.
We also saw her still life of oranges in oil pastels which had a beautiful finish with clean lines and wonderful blending of colors.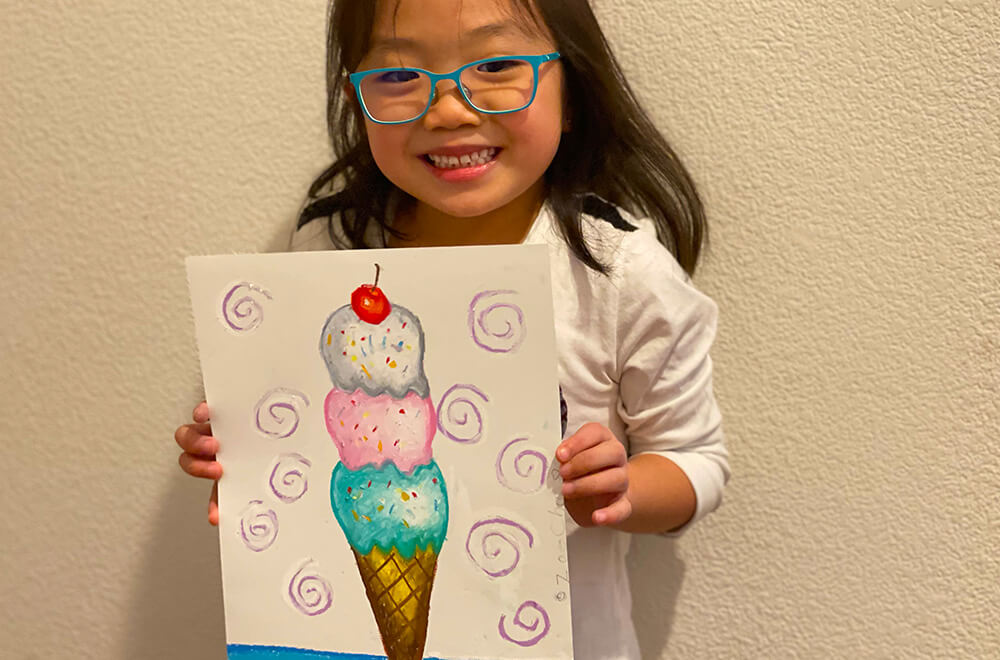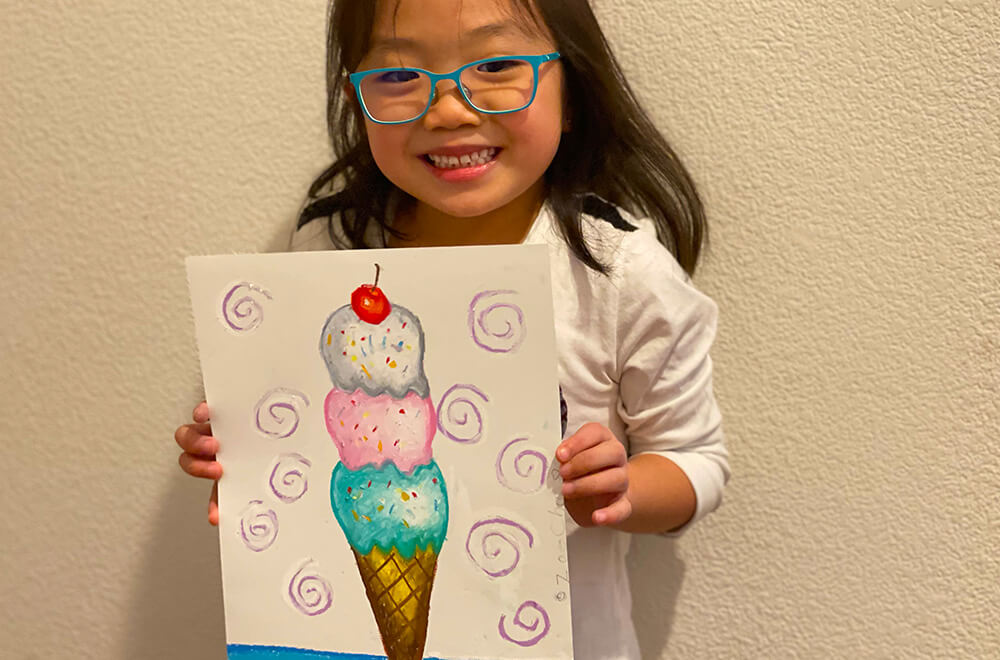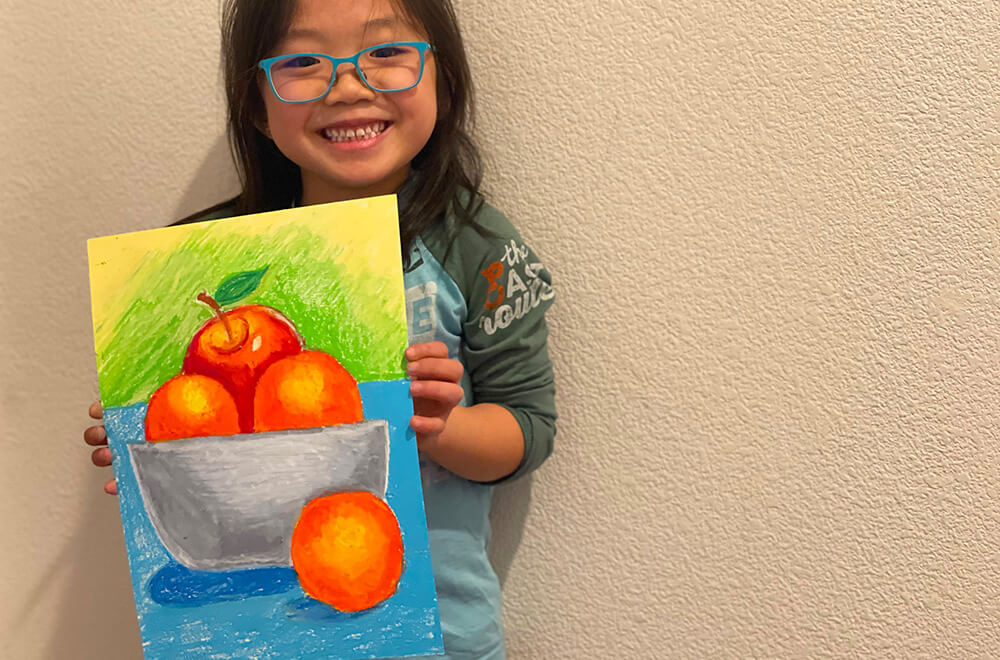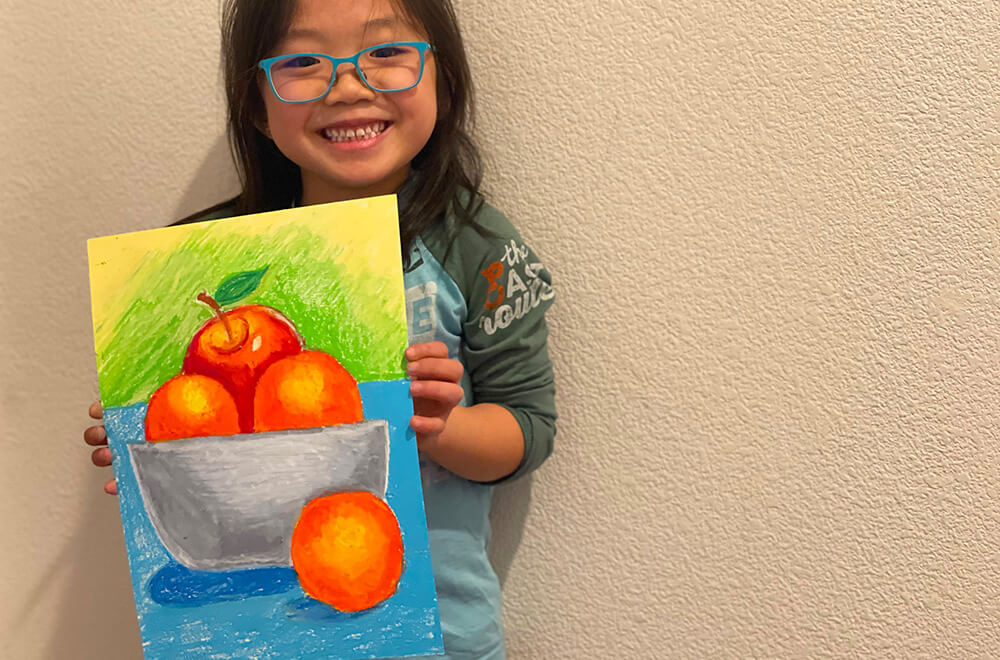 What games do you like to play with your friends?
"I love riding bicycles, swimming and badminton."
Zoe learnt badminton from her grandmother and is an astounding player. She has been practicing ever since.
What would you like to be when you grow up?
A dancer, she affirmed.
Zoe was learning ballet and tap dance in preschool before Covid-19 hit the world and has been involved in online art since then.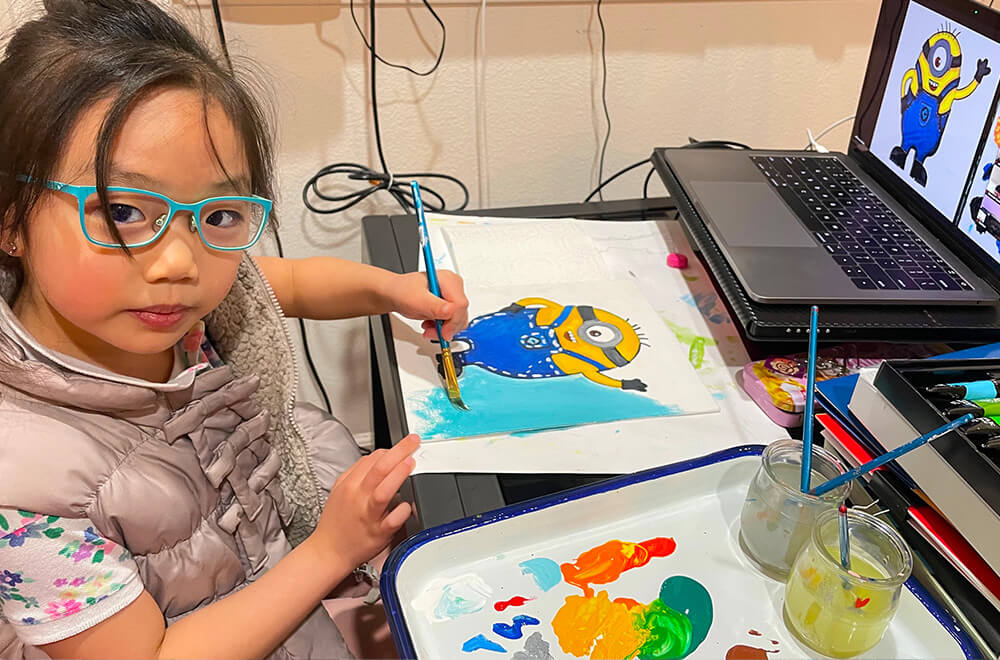 She also started gymnastics when she was 3-years old and her tutor who saw that she had potential said she could join the future team.
Apart from dance, painting and gymnastics, she loves swimming and playing violin as well.
Interestingly, she can't decide which one of these is her favorite but her ambition seems pretty clear.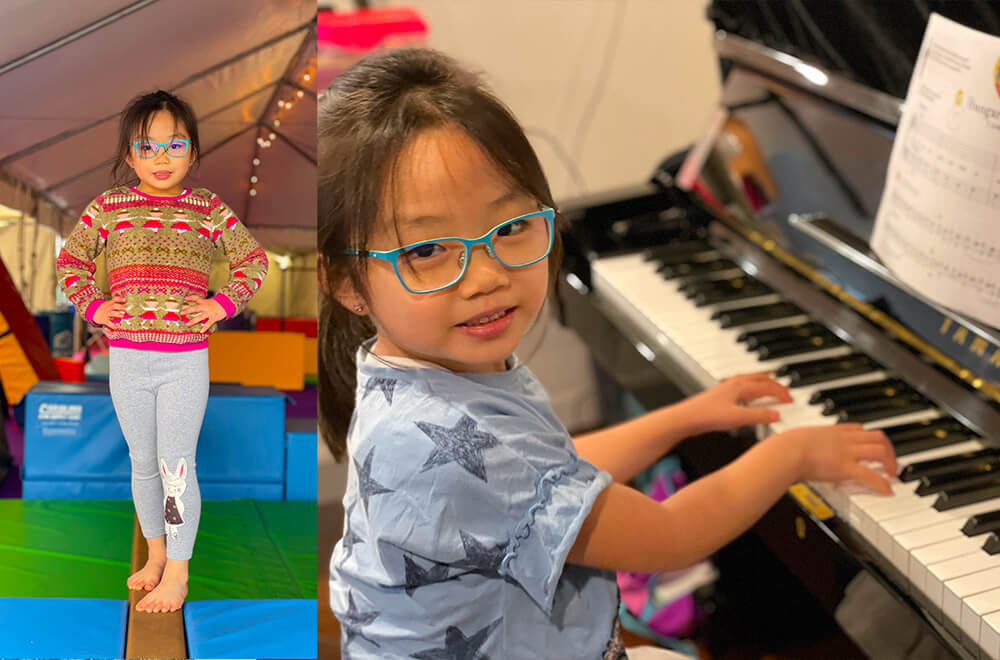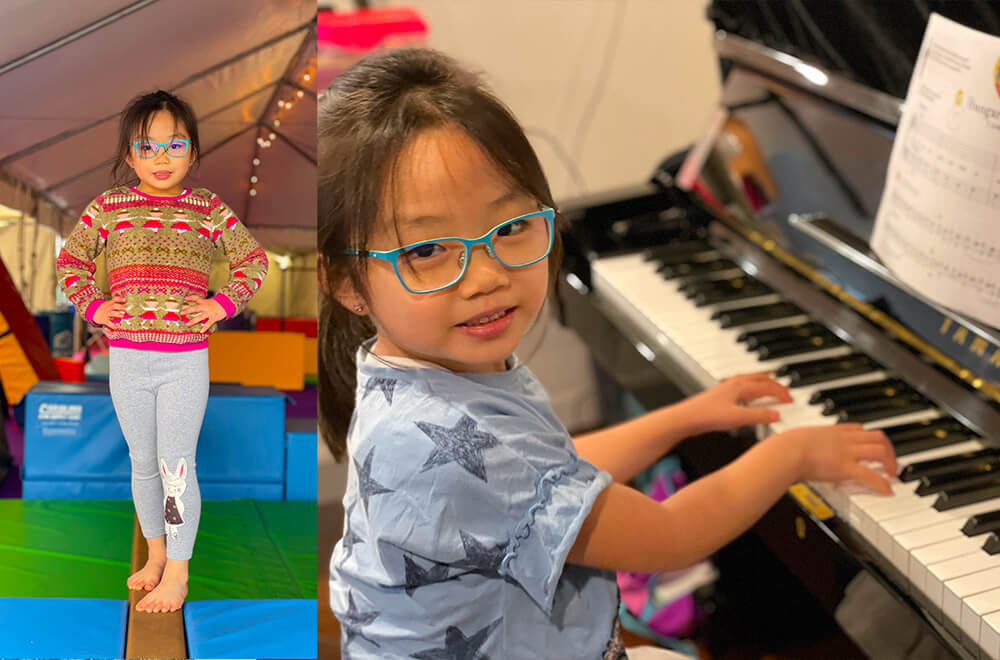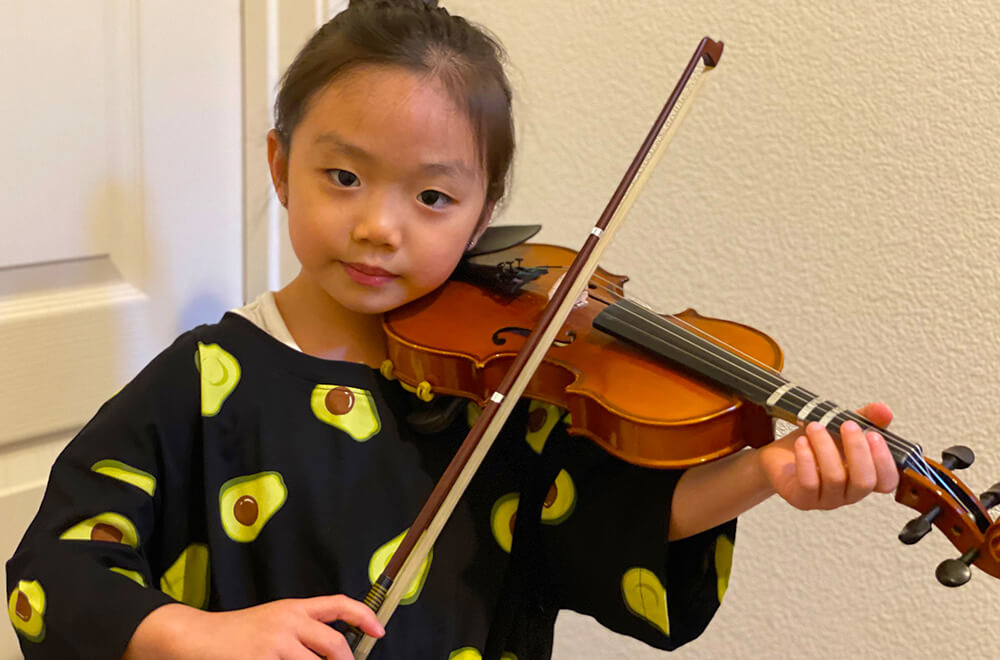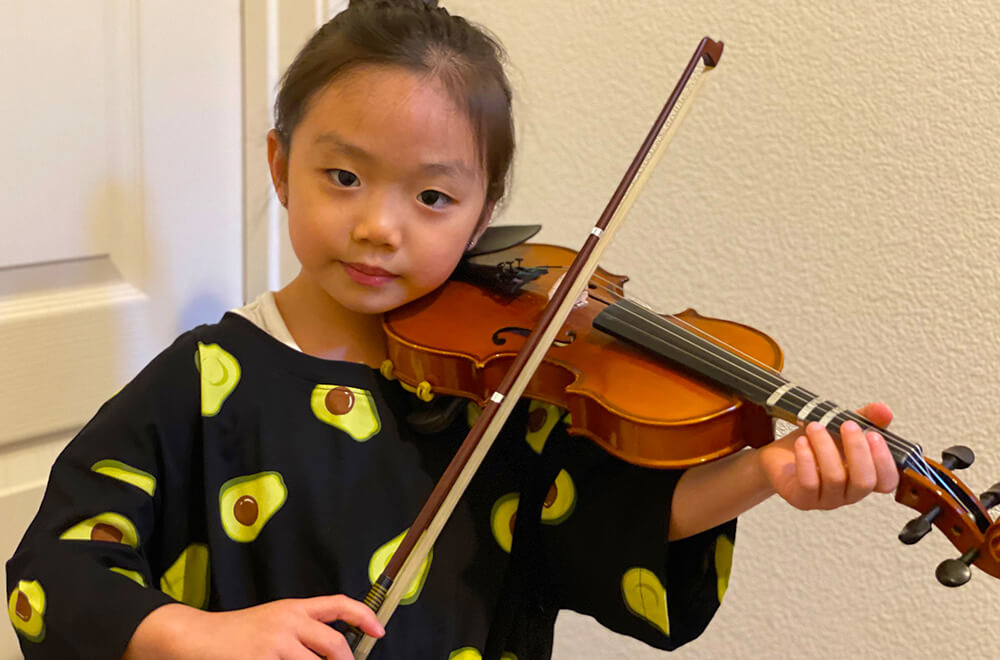 Do you love online school?
"Yes, it is fun"
Zoe's favorite part of school is 'Storytime' and she loves the story of the 'Little Snowflake'.
But she hasn't been able to play with her friends like she used to due to the pandemic.
Zoe and her family usually attend the free online art class by Nimmy's Art. Zoe's mother, who loves art and instruments, added that she has seen Zoe's passion for drawing increase after attending our online art classes.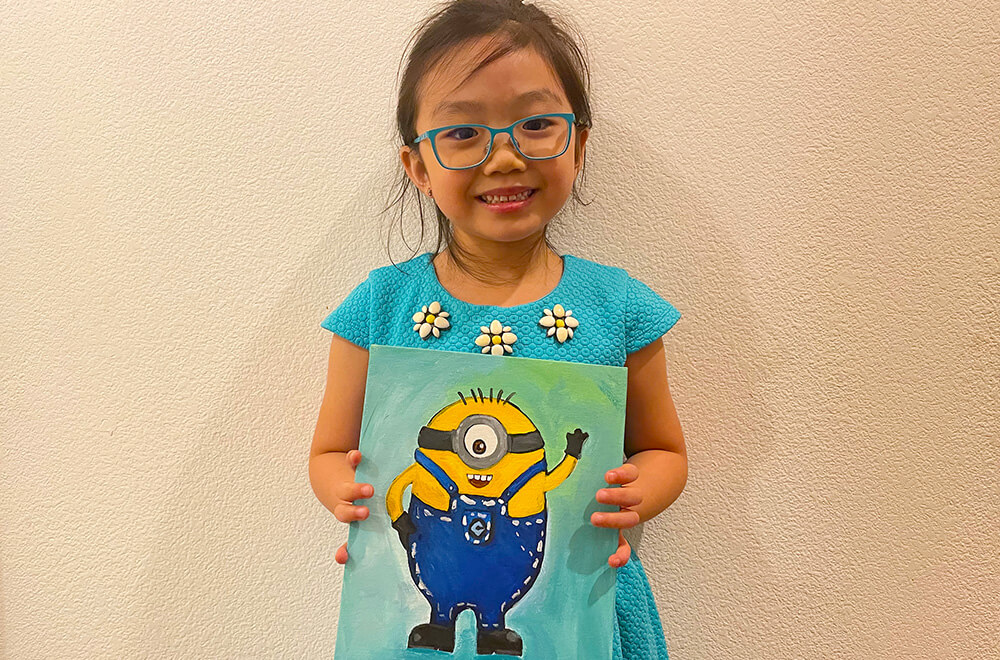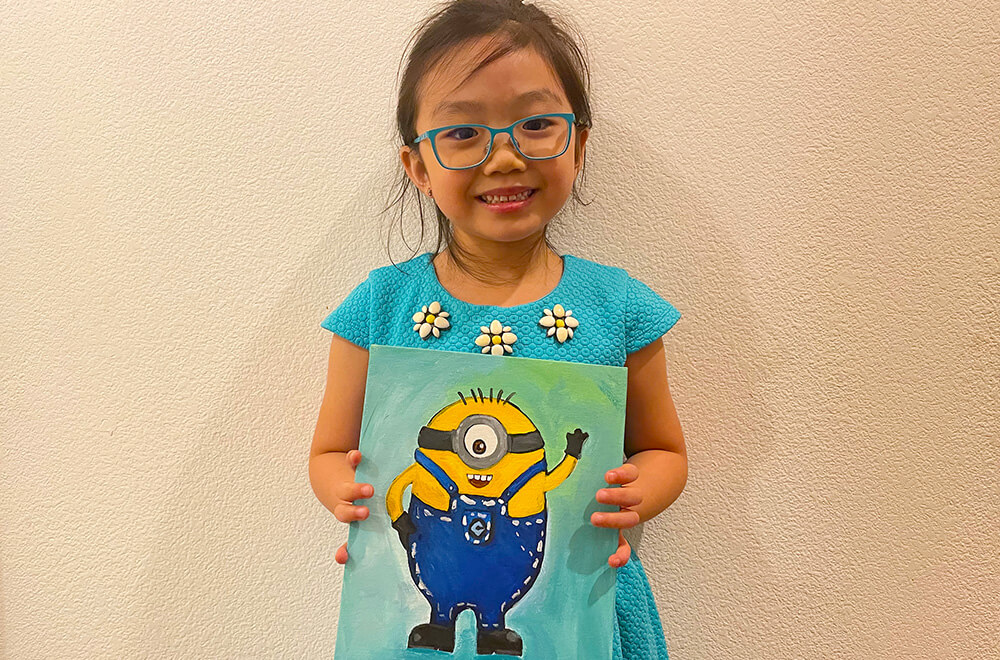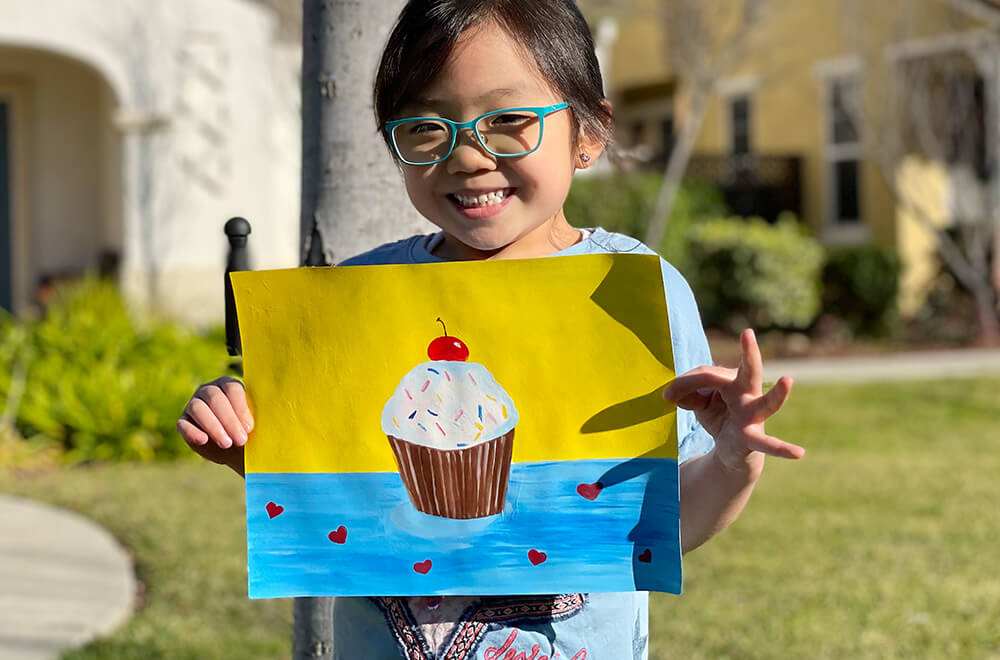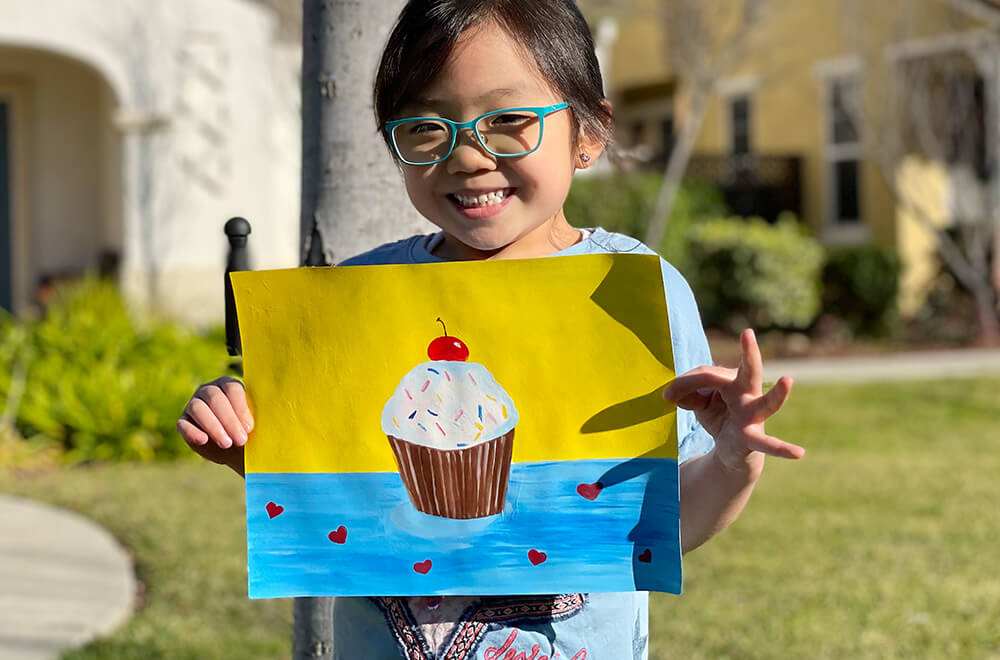 Zoe's Art Tip
Zoe decided that her first class as a teacher would be on oil pastels. So here she is with a tip that's important while learning oil pastels.
"When working with oil pastels, it is important you roll up your sleeves and keep a paper under your hands to avoid smudging the colors and prevent messy pastel drawings."
Zoe is indeed a full package of talent, beauty and intelligence. We can't wait for more mesmerizing paintings from her.
Stay tuned for our next artist spotlight.
Nimmy Melvin, the award-winning visual artist, envisions nature, the surroundings, and every object around through a different perspective. An expert in the usage of different mediums of painting, including acrylic, oil painting, watercolor, and oil pastels, she has the knack to inculcate knowledge in kids.