Artist Spotlight blog series brings to you the amazing students at the art classes by Nimmy's Art and showcases their work, their love for art, and their journey till now. So get ready to be amazed!
Aditya Chanda – Young Artist
Let's meet Aditya Chanda, a sweet boy from our Young Artists class who is 8 years old but has great life lessons for us. He is a third grader and lives in Sugarland, Texas.
Aditya has been interested in art since he was 3.5 years old. He hasn't had much of a formal art training before he joined Nimmy's art classes in July. After trying a class with Nimmy where he drew the pineapple painting, he absolutely loved it and decided to continue the art classes.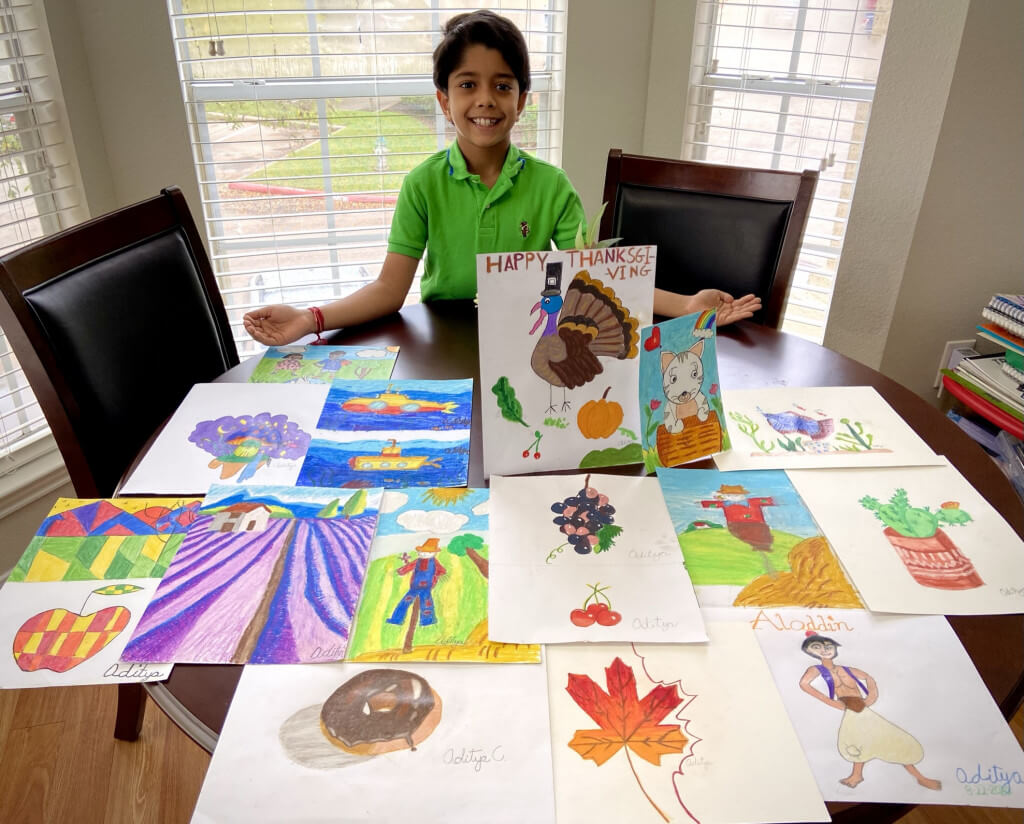 What medium do you like in the art classes?
"I like acrylic, watercolor and Prisma colors."
After attending the Prisma color classes at Nimmy's Art, he has started using it in his school as well. In fact, it was at Nimmy's art classes that Aditya tried Prisma colors for the first time.
He loves acrylic for its great finish and watercolor for it's way in which he can make lighter shades and blend colors.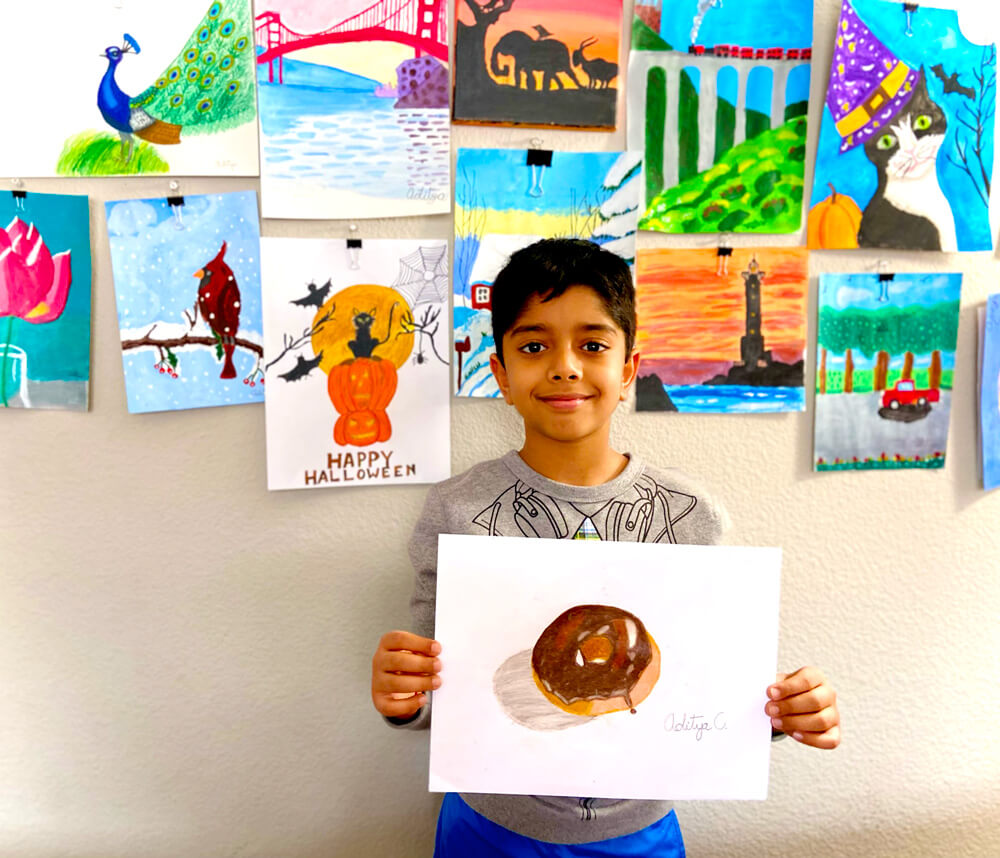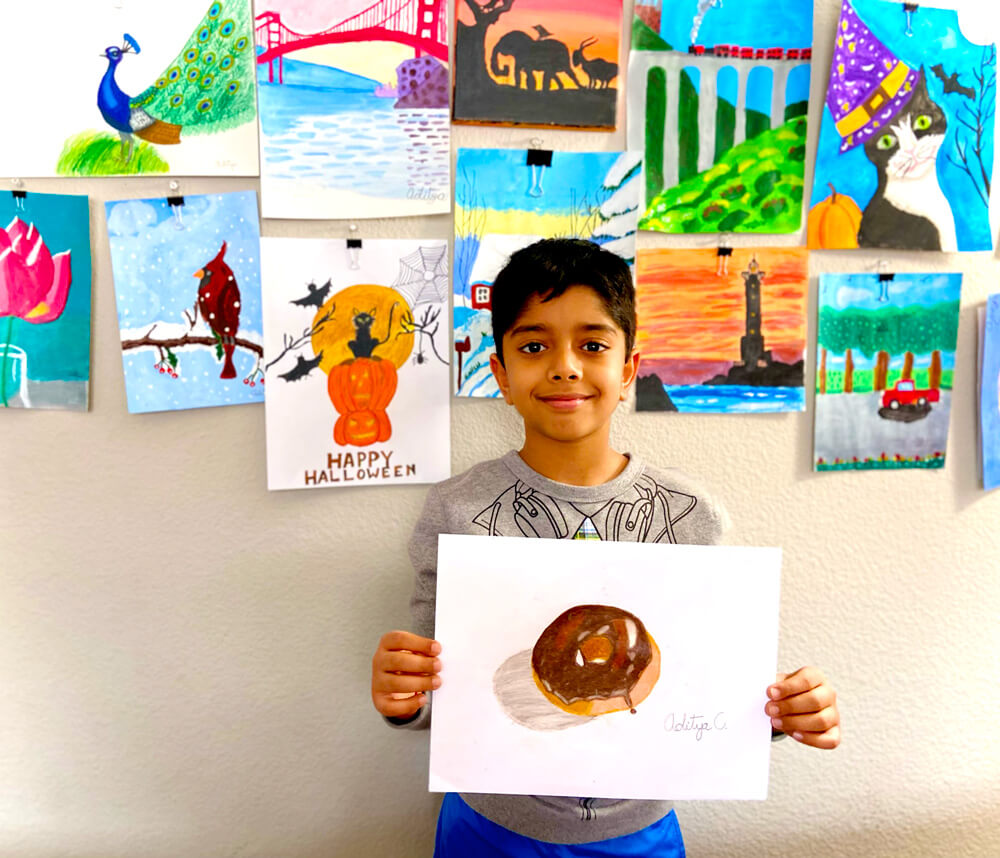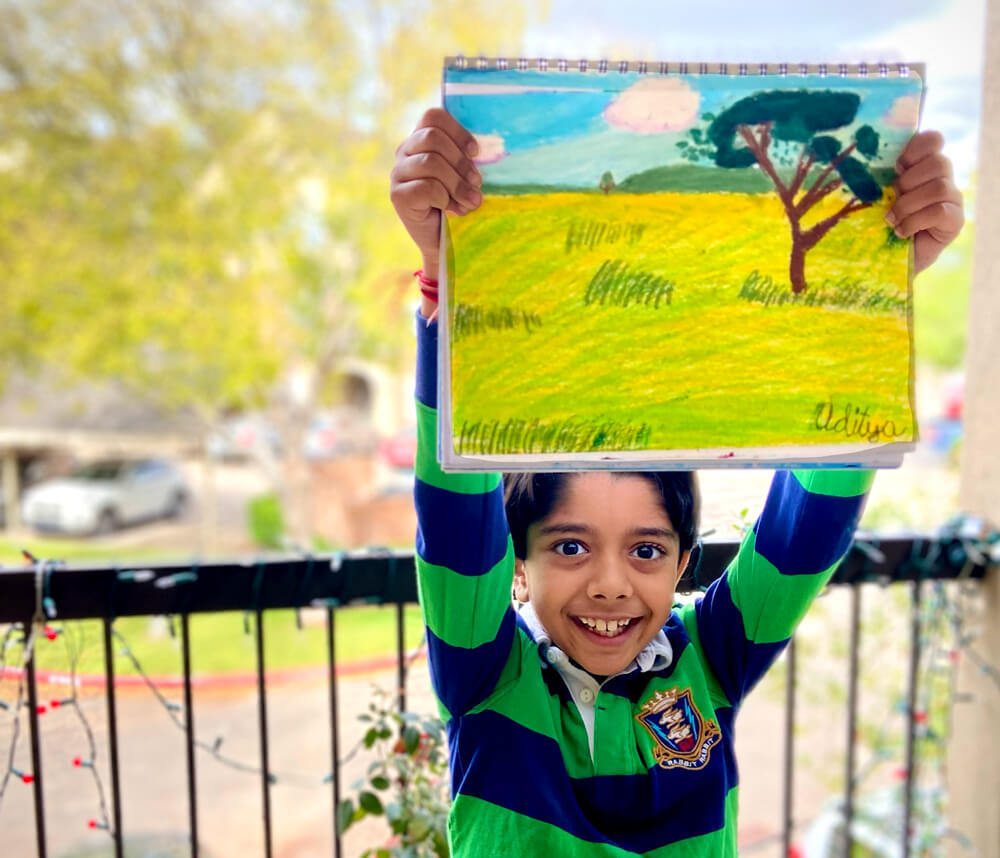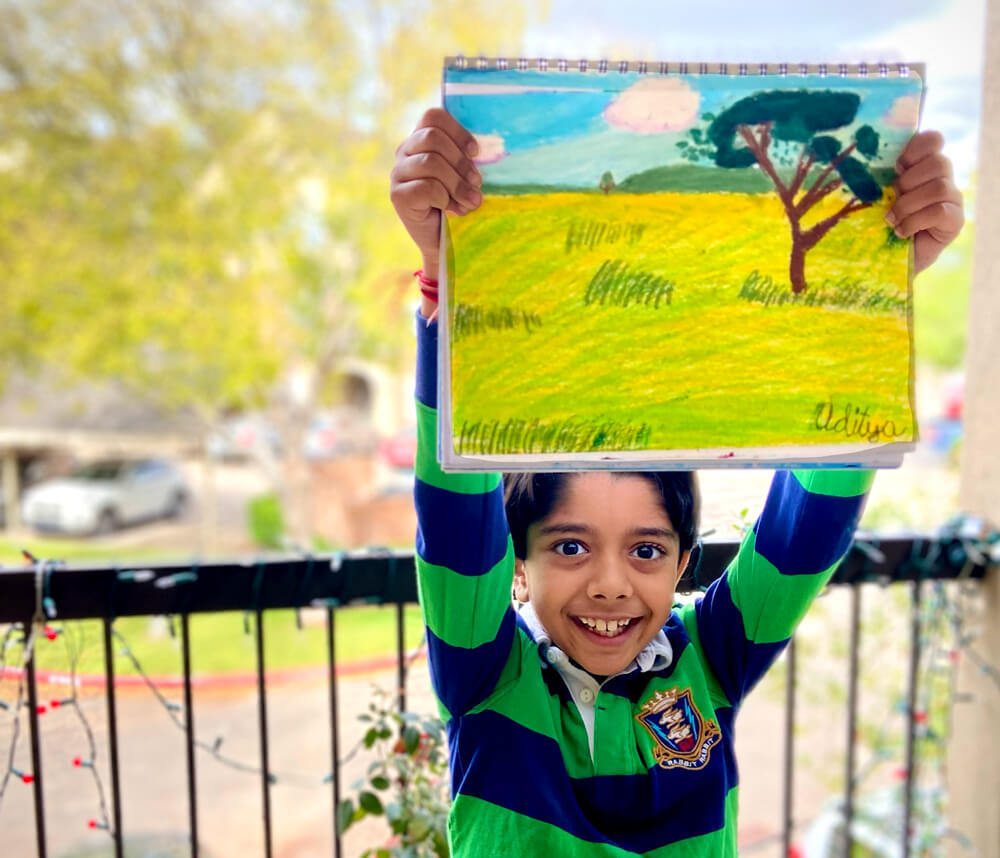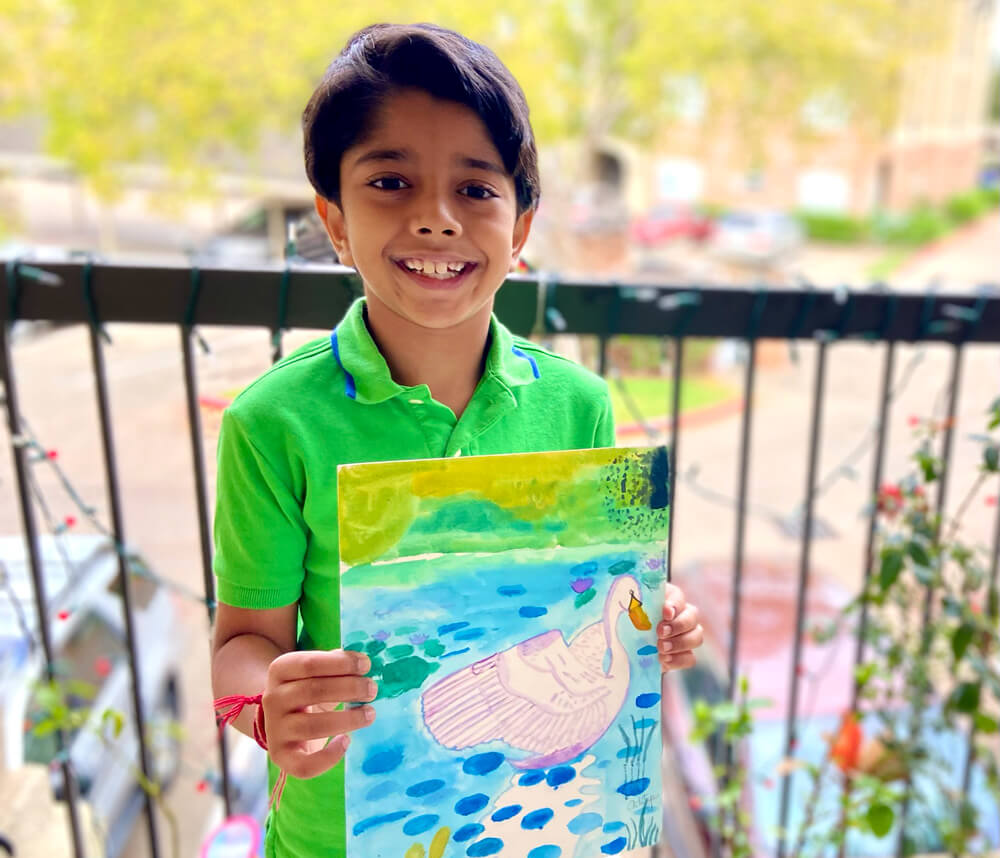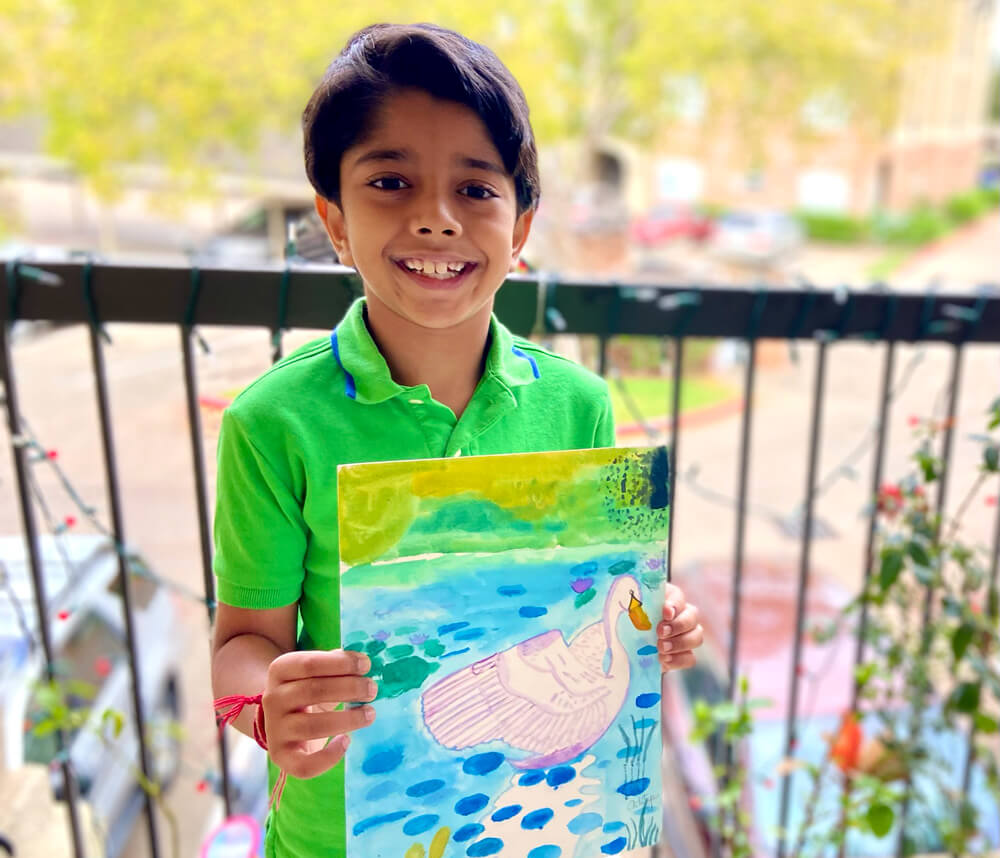 Aditya loves attending the online art classes.
"I like to learn the different mediums, and to learn art with other students. That's why I like the online art classes."
Do you like online classes in school too?
"I like doing computer stuff so I like online school too." He said with a big smile on his face.
His love for computers is more deep rooted and we came to know that Aditya loves to code too. He first began coding using Scratch and is now learning Python. He enjoys creating programs.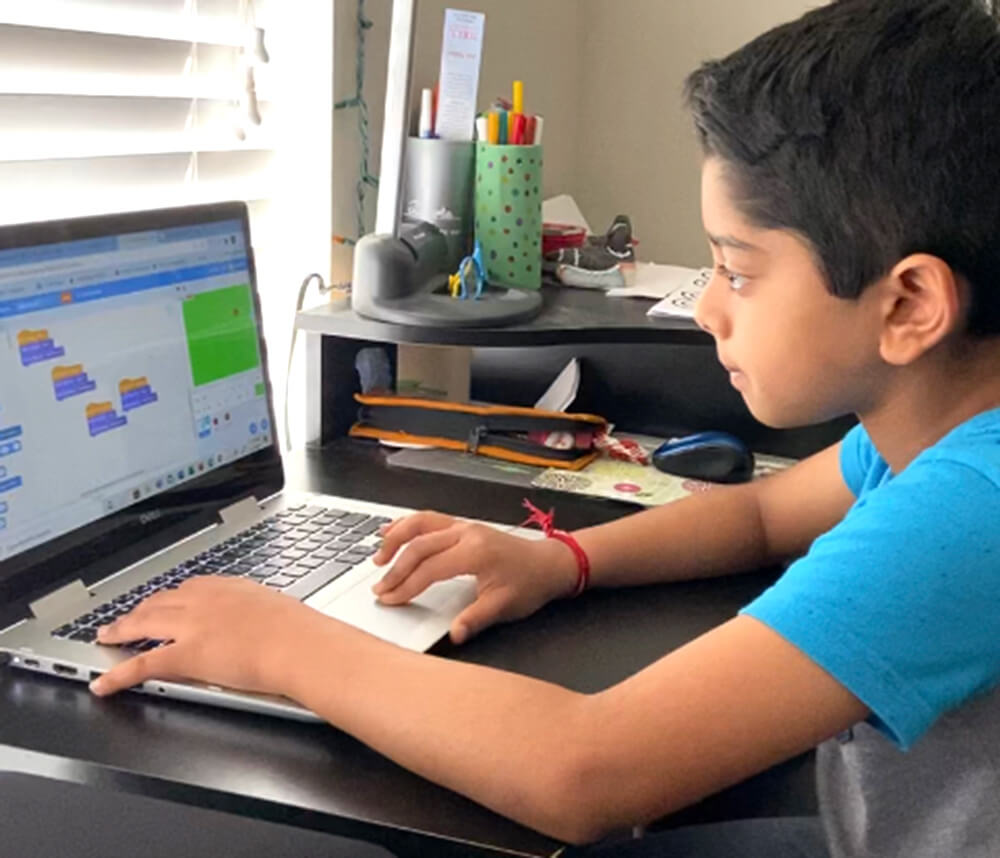 What else do you like other than art?
"I am learning piano for the last 1.5 years."
Recently, Aditya learned to play the Christmas songs – Deck the Hall & Jingle Bells.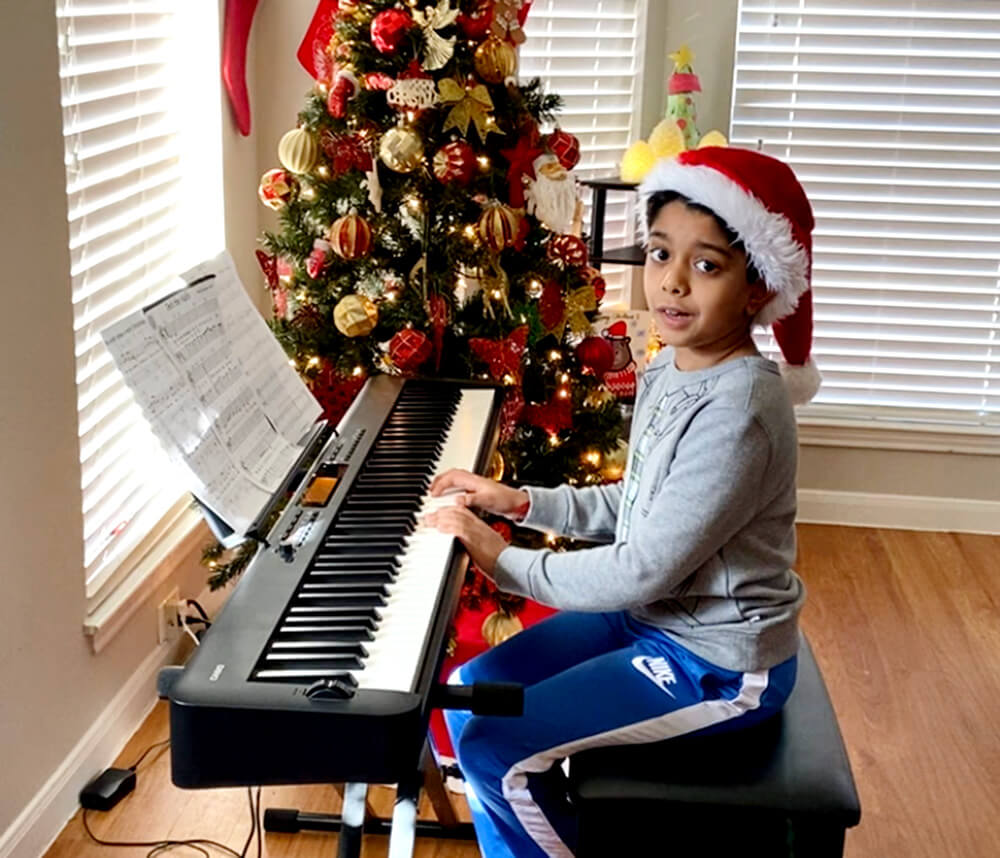 Aditya is also interested in literary activities, especially in Bengali, his mother tongue. He participates in elocution and recitation events and has won many accolades. He also has a published essay to his credit in a community magazine along with some of his artworks.
Aditya also loves sports. His loves to play soccer but his current favorite is basketball.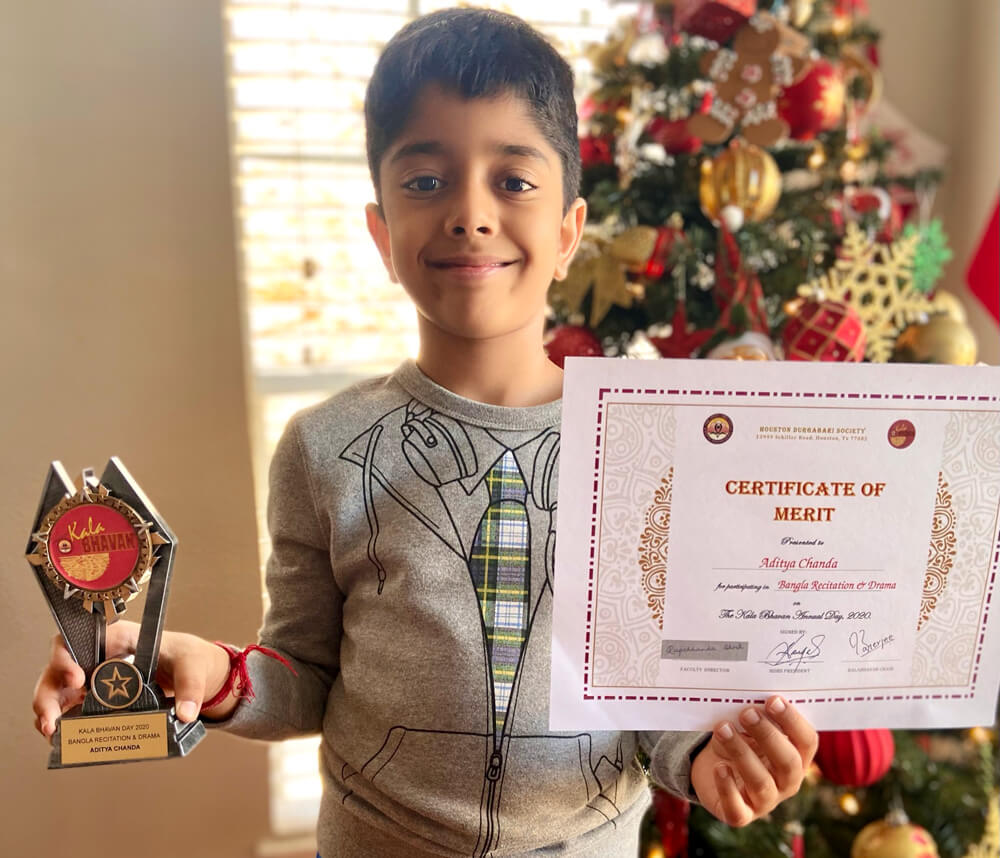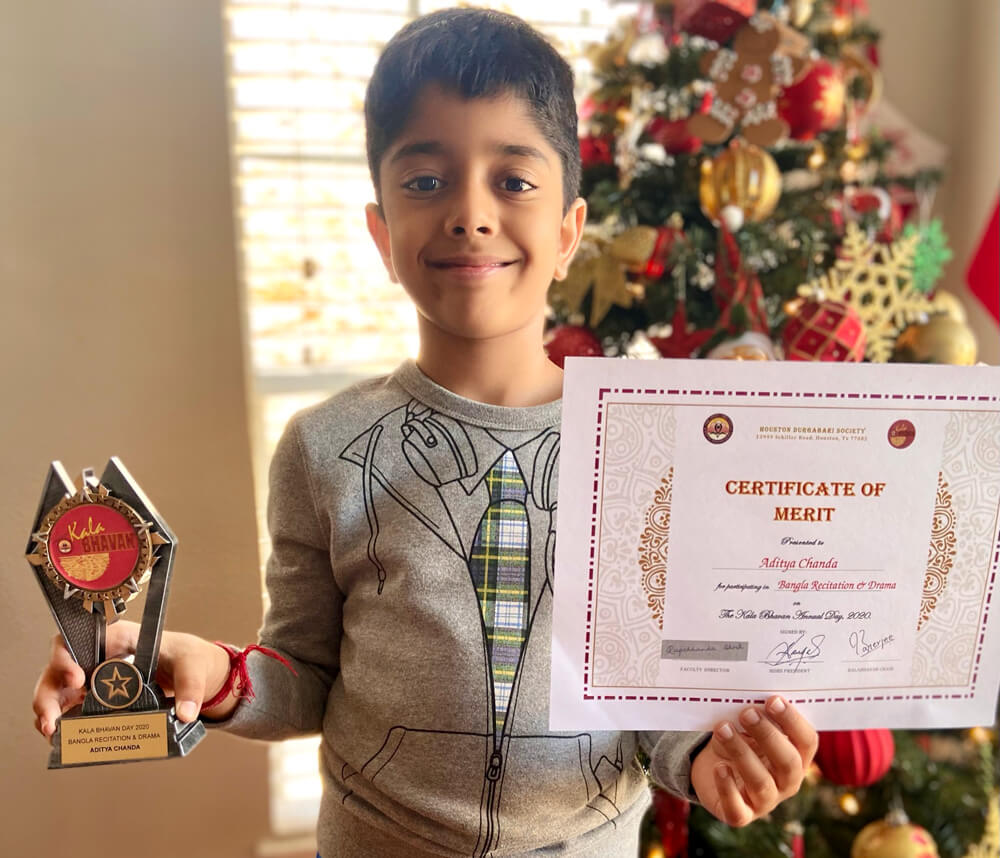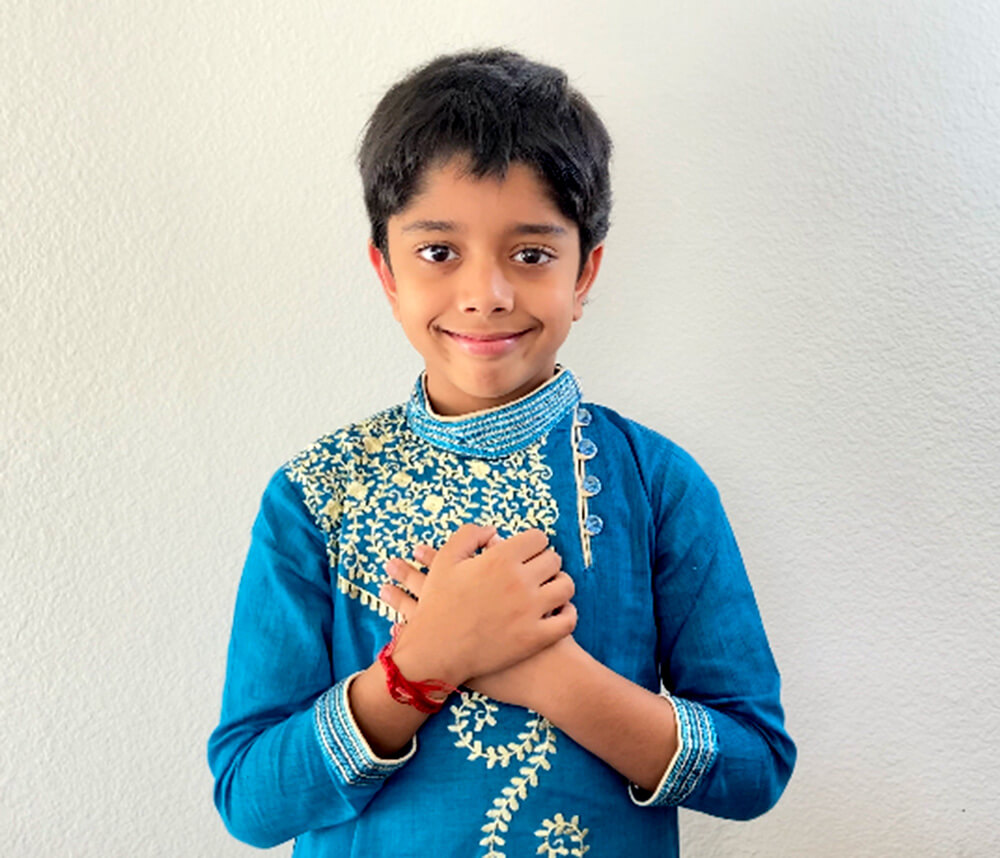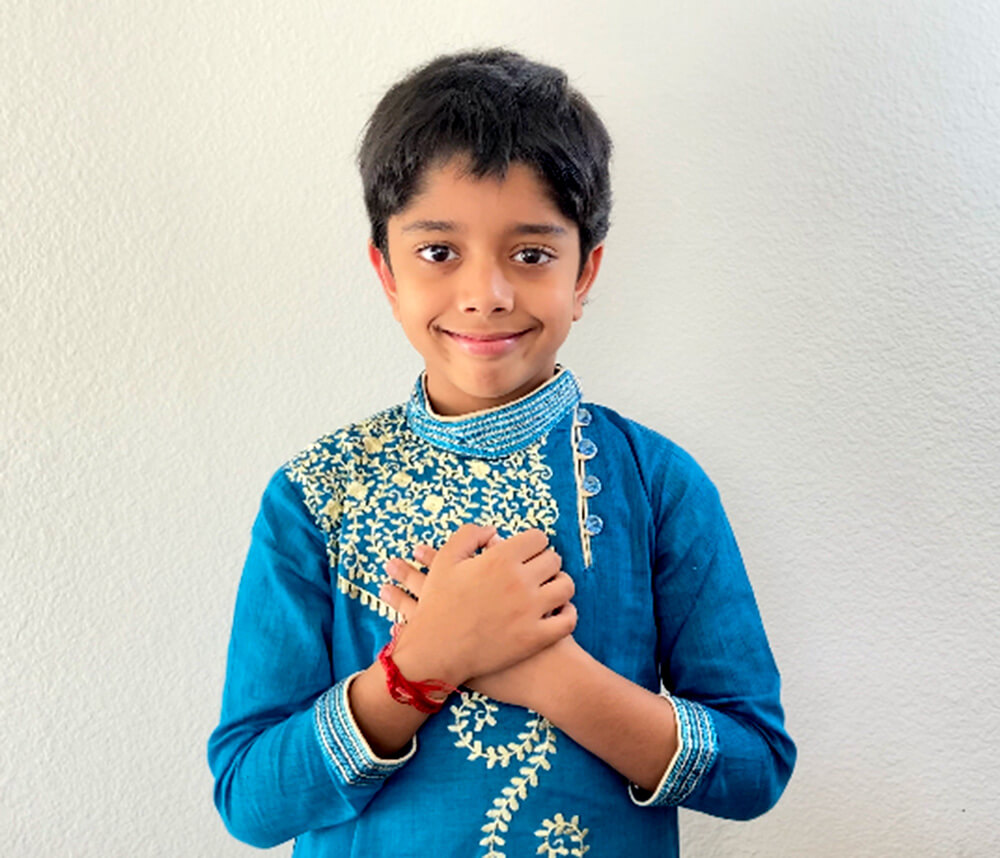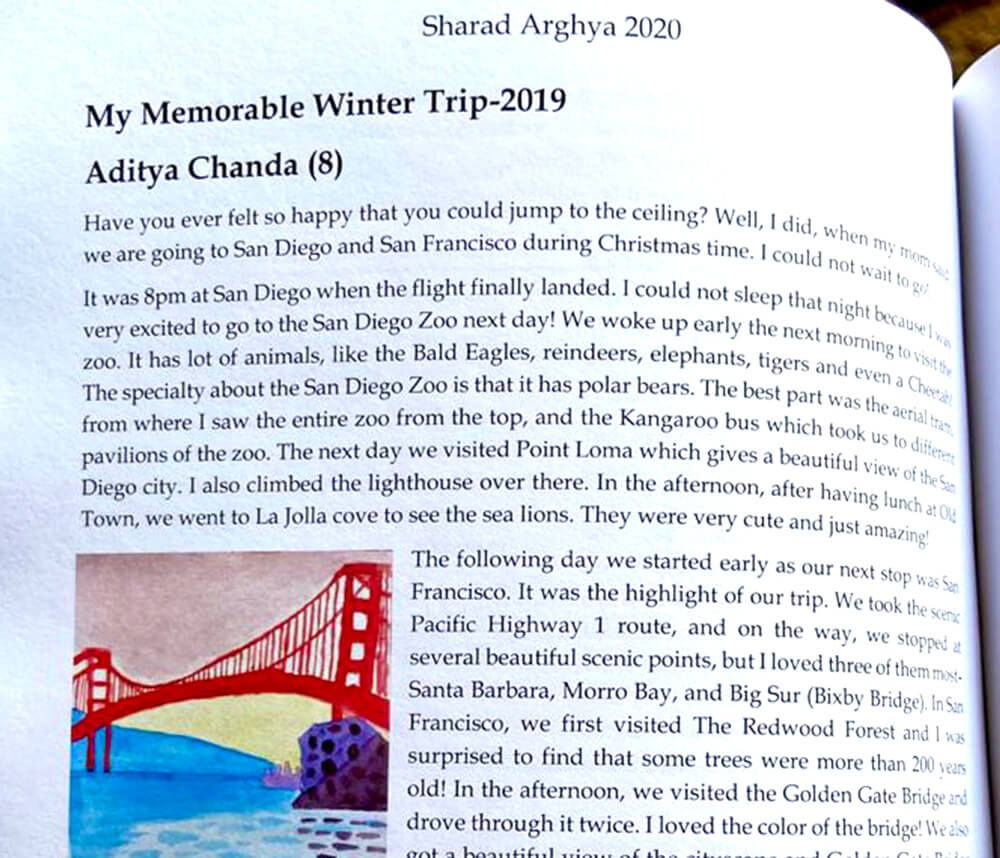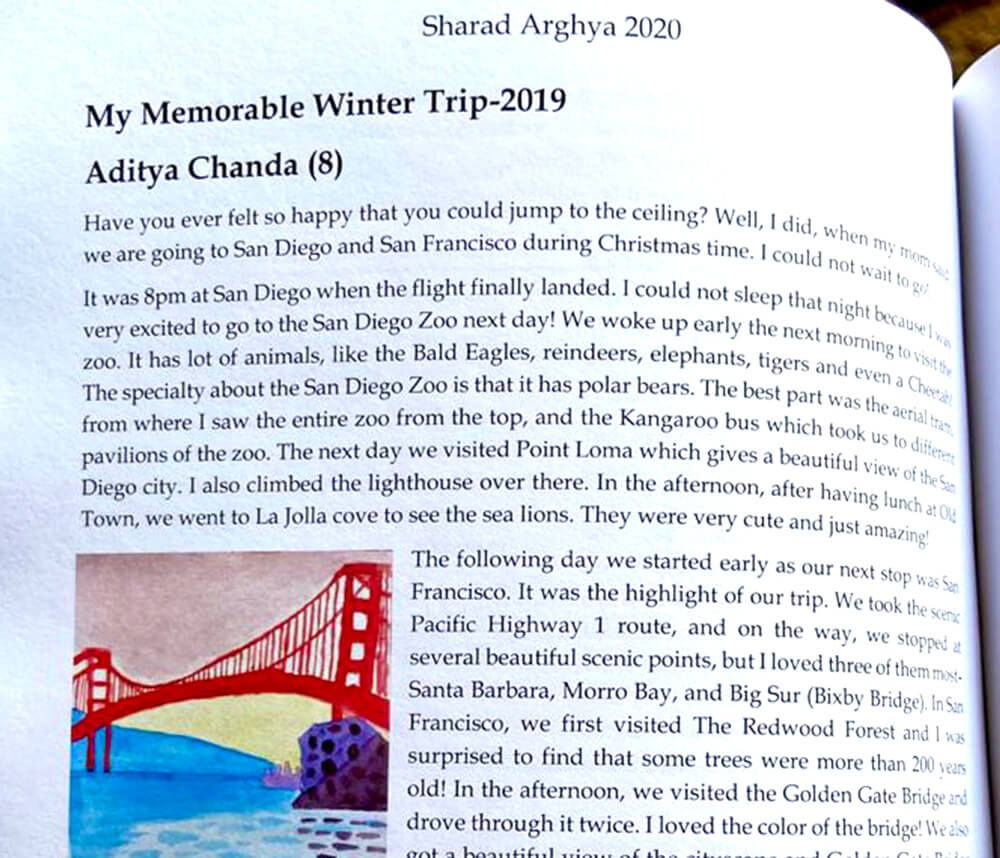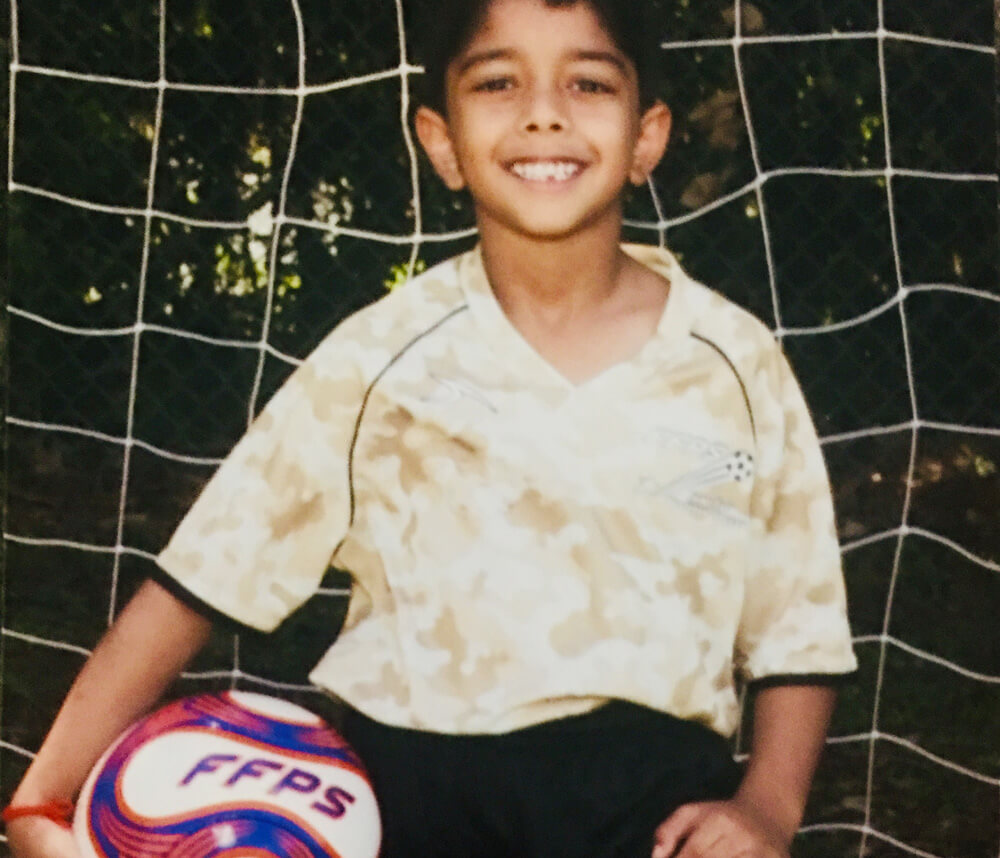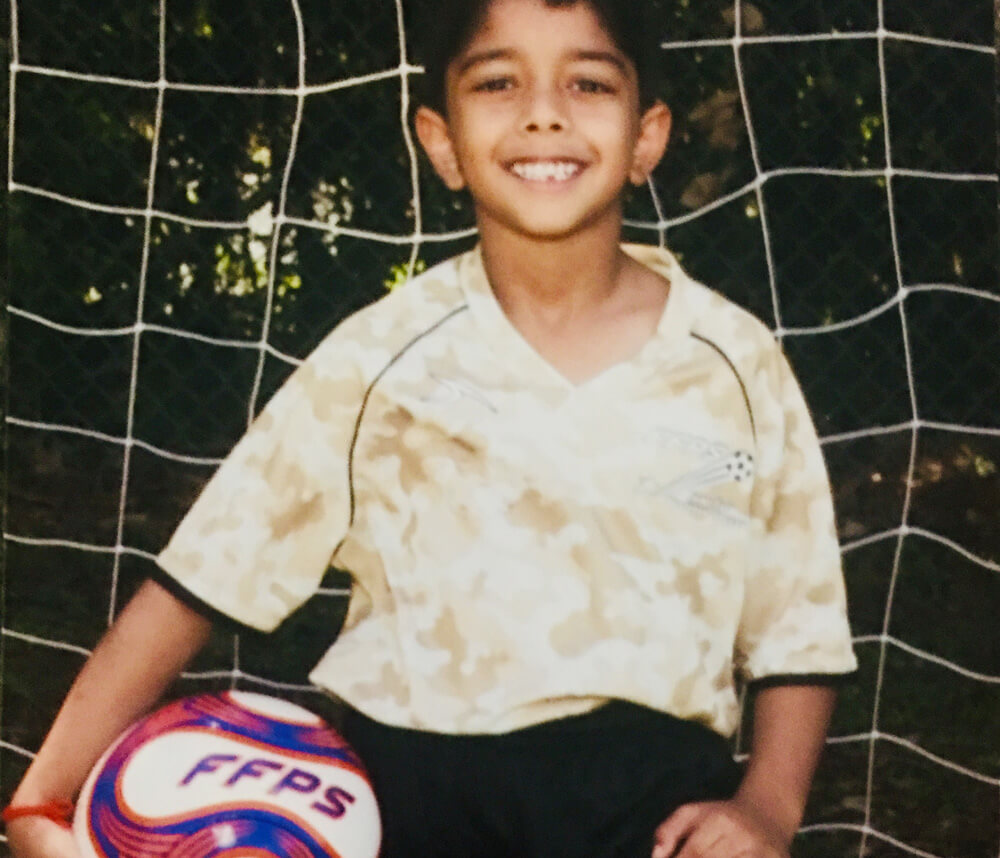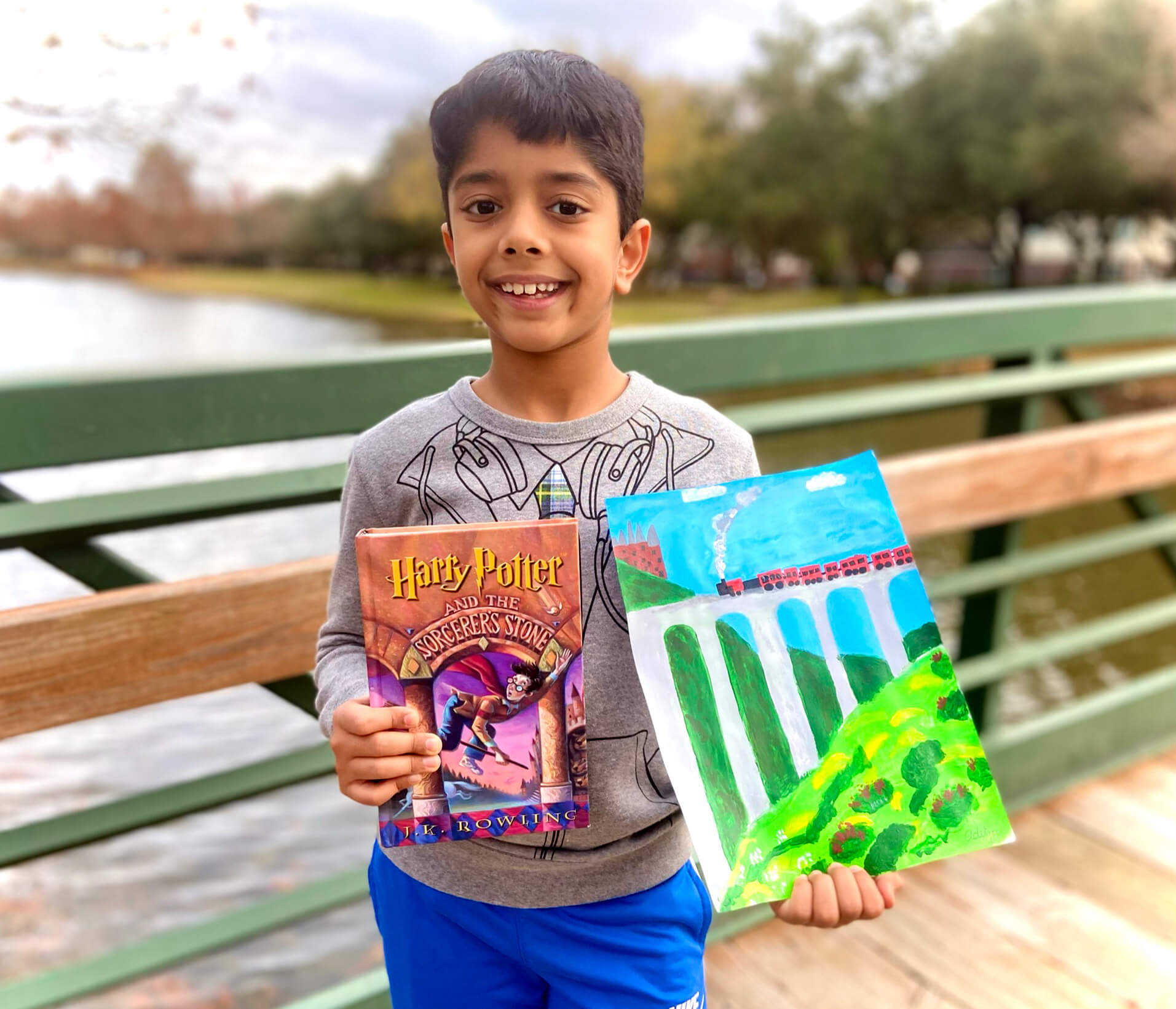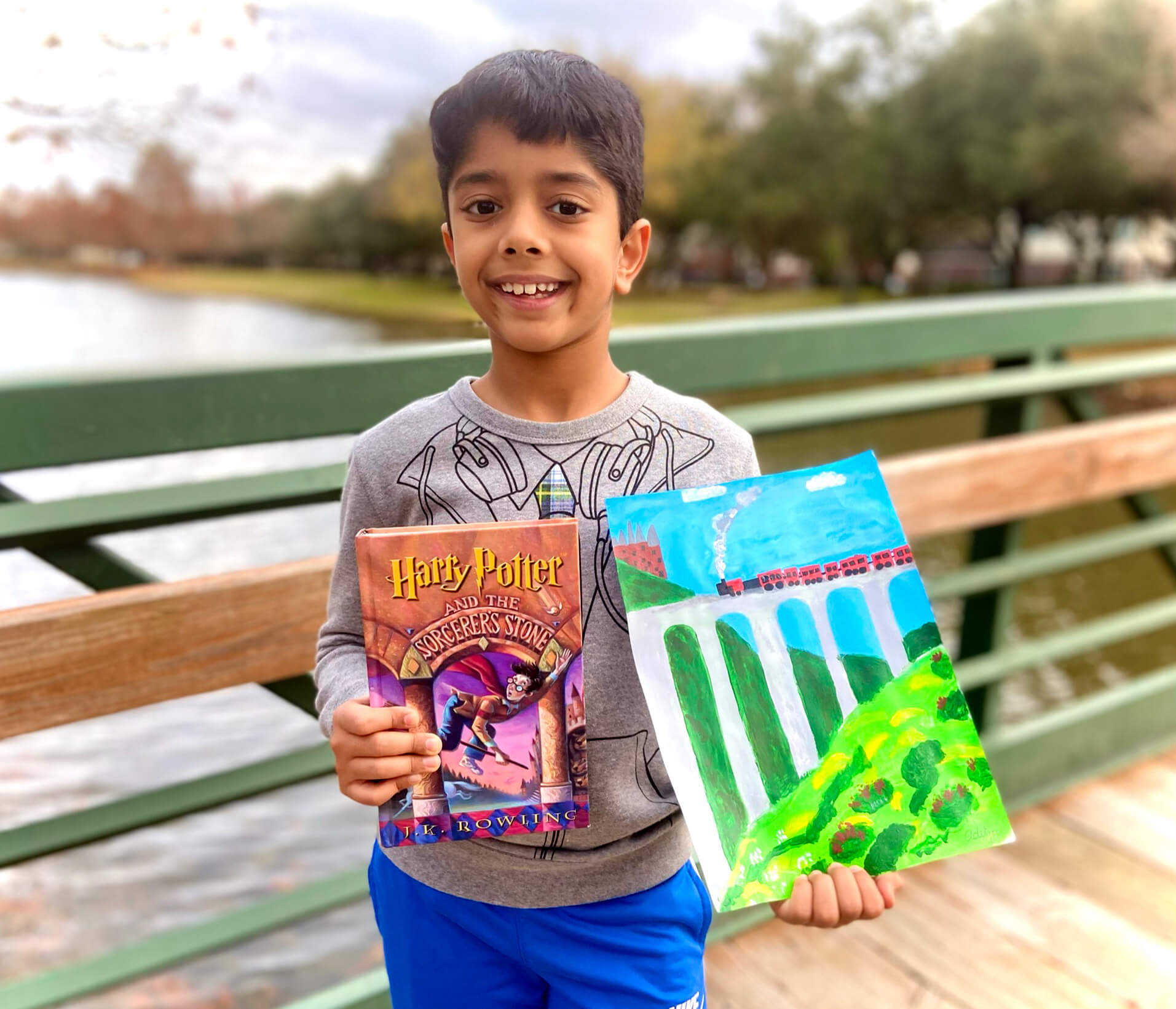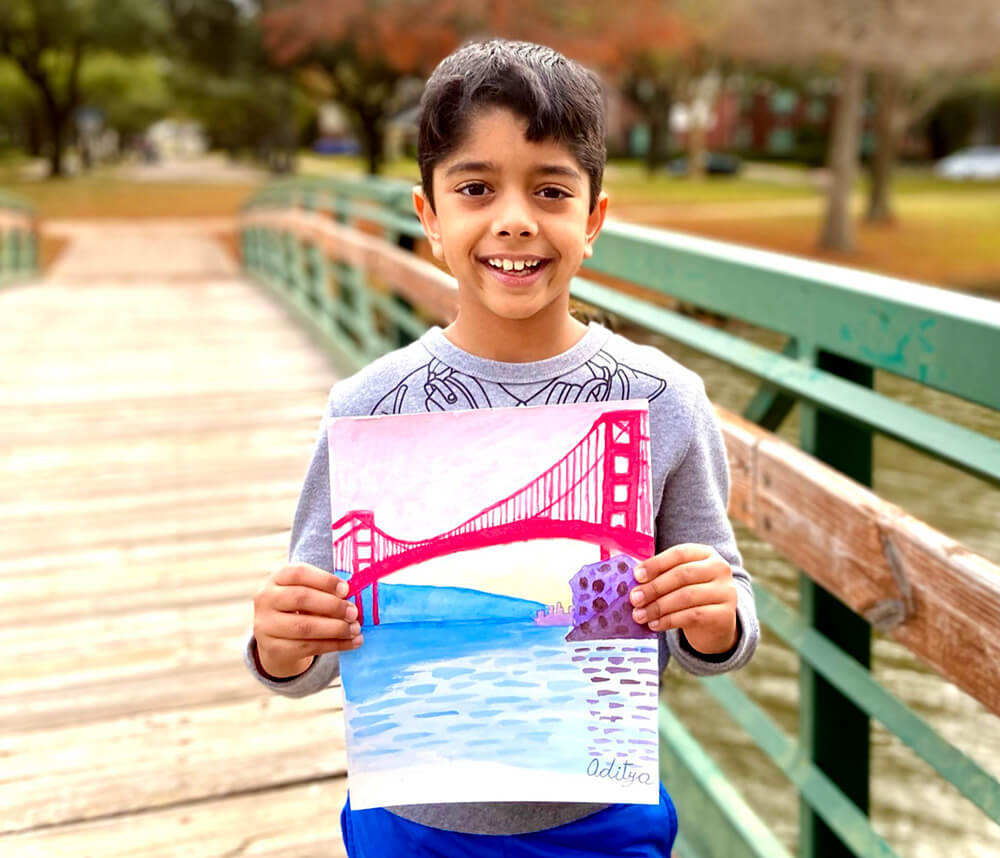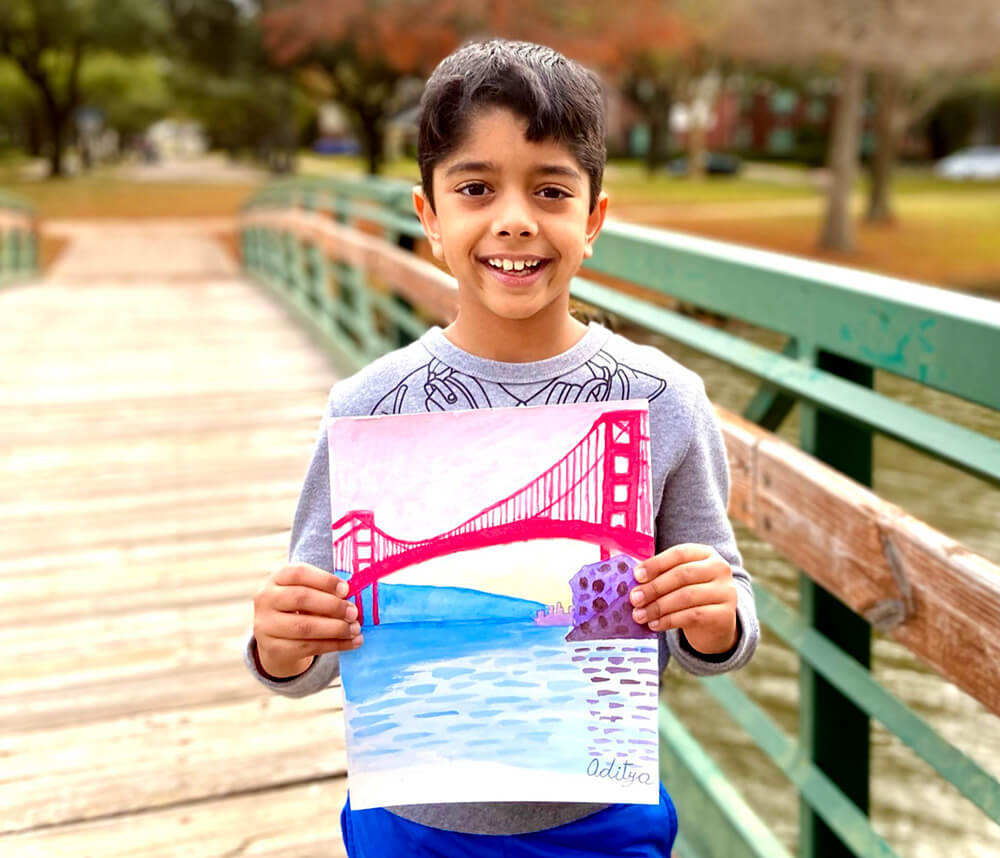 He had just started taking basketball lessons when pandemic began and he had to stop the classes.
What do you think of the current situation?
"I have friends in my apartment. So we meet in the evenings and play."
Being a follower of rules, he quickly added, "We make sure that we follow the rules of social distancing and wear masks when we play."
Aditya predicts that covid will get over by December 2021. We all hope it gets over as soon as possible.
Aditya loves to paint with his mom and always attends our family art classes. He also attended the art camps during the Christmas holidays creating some beautiful artworks.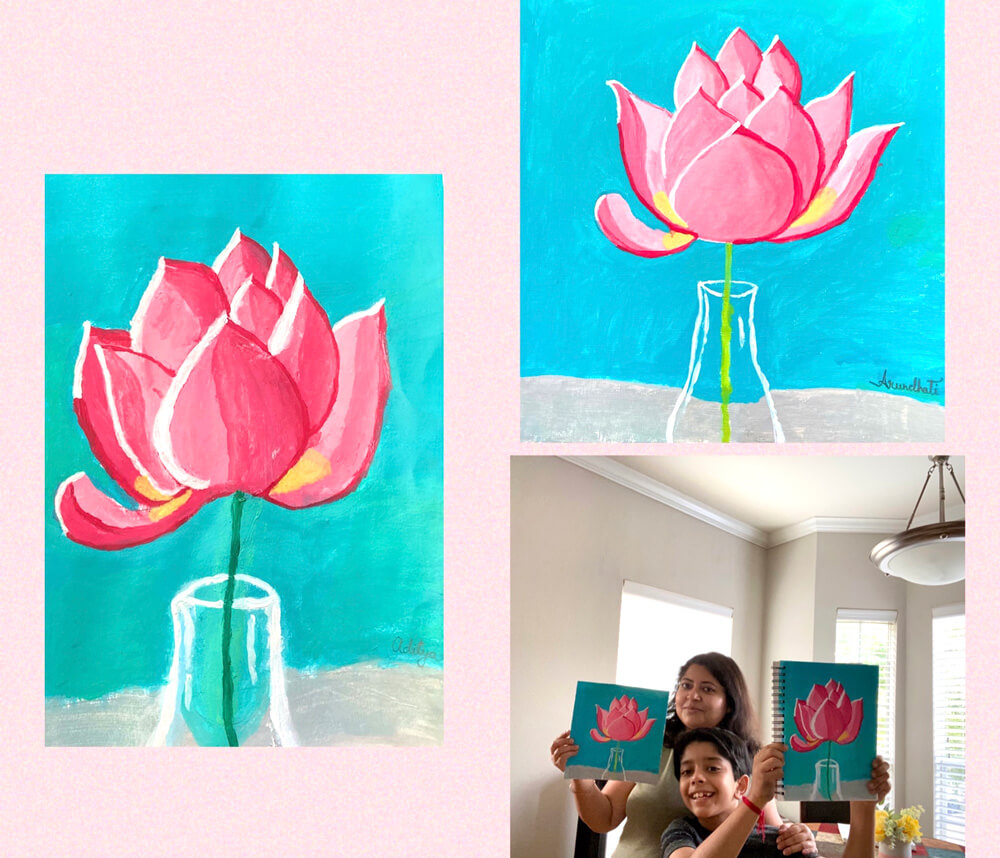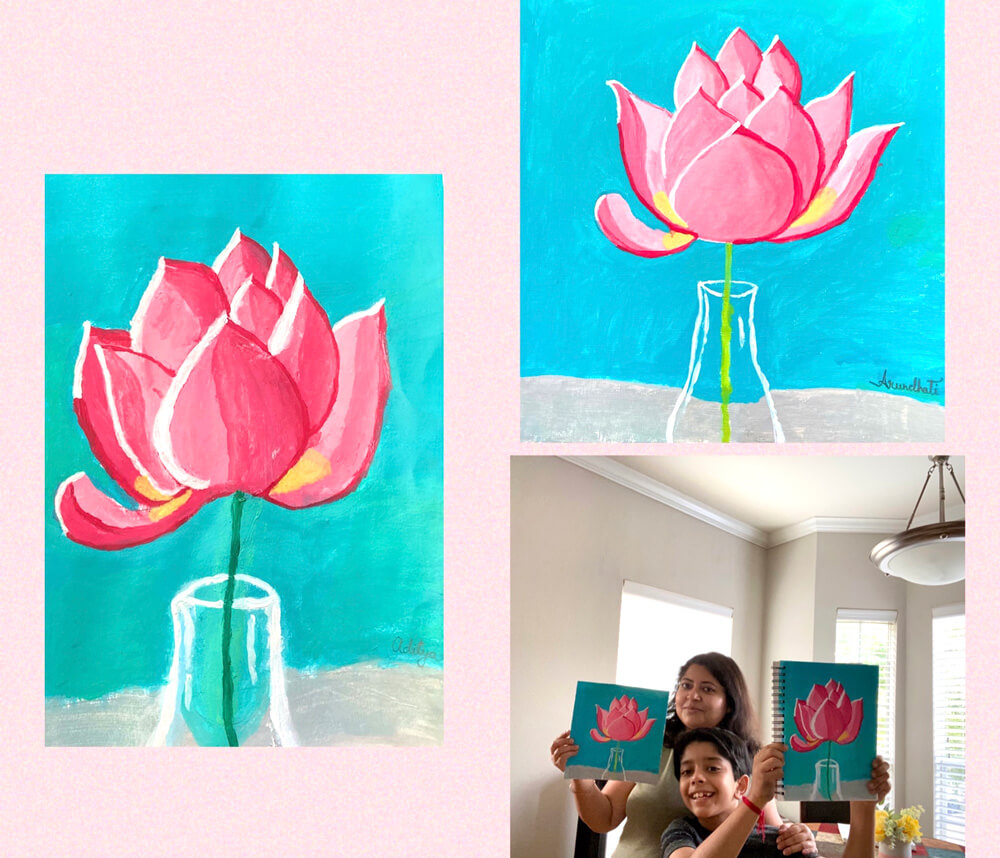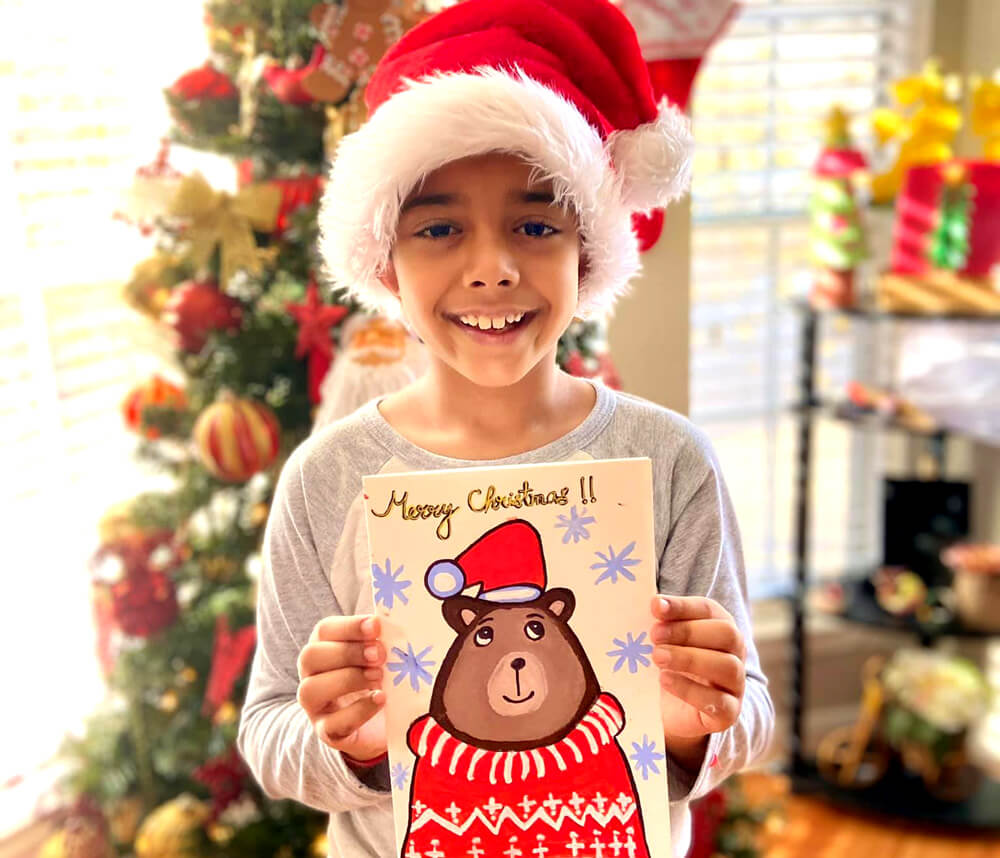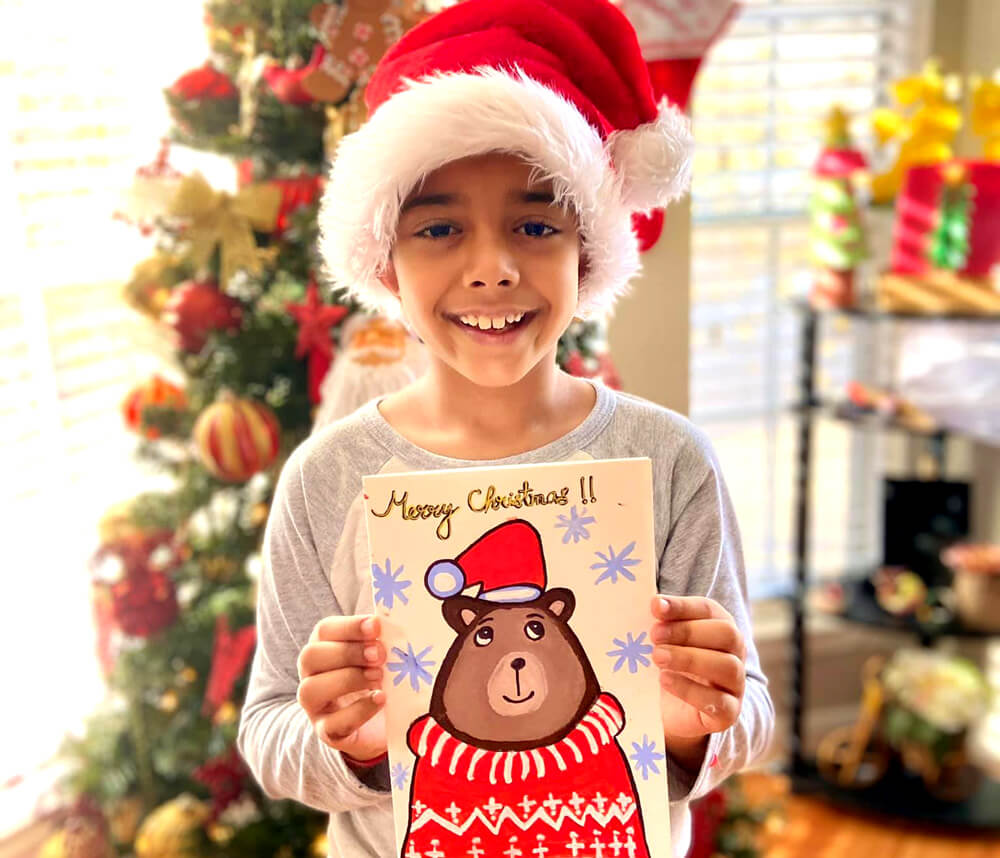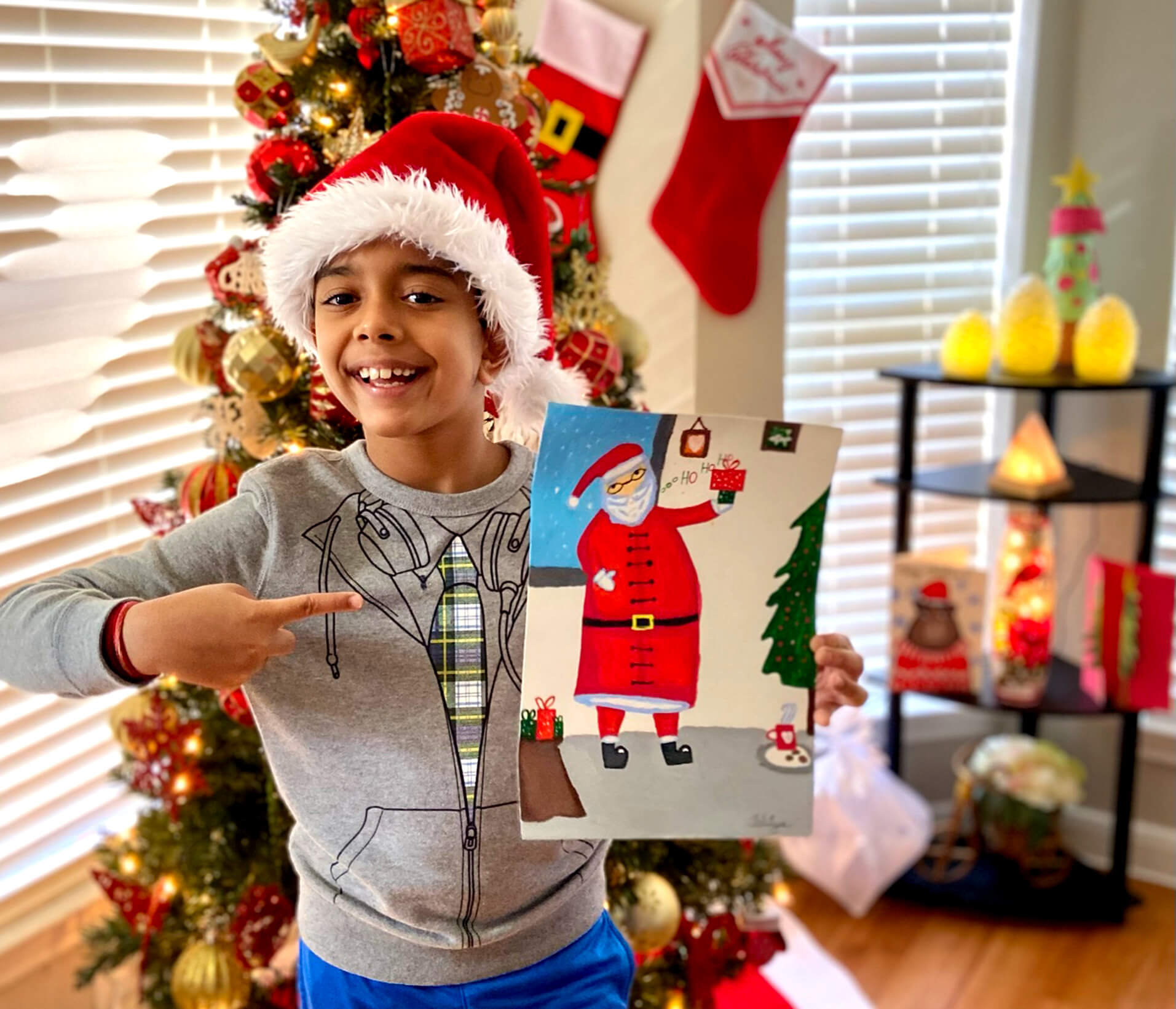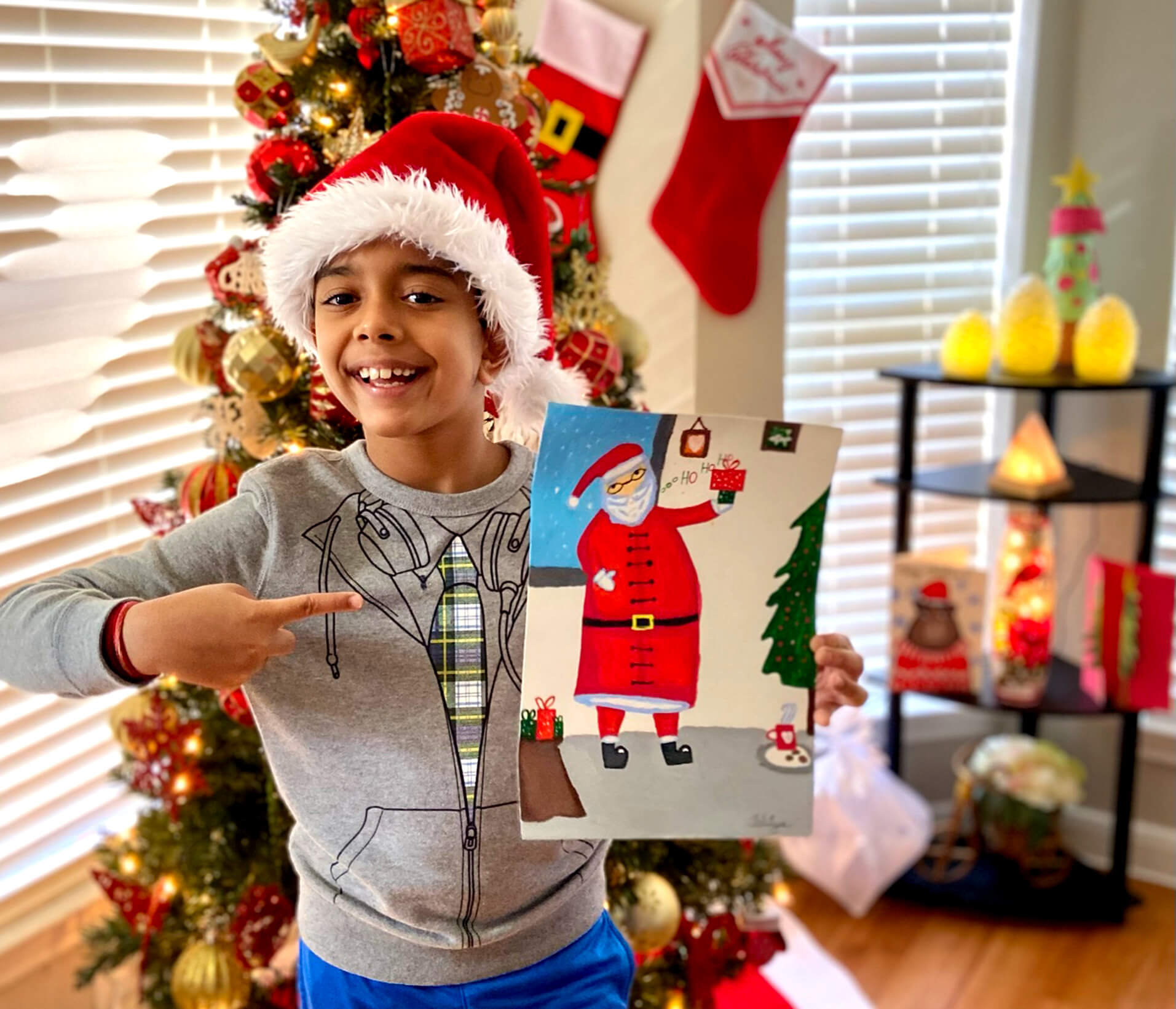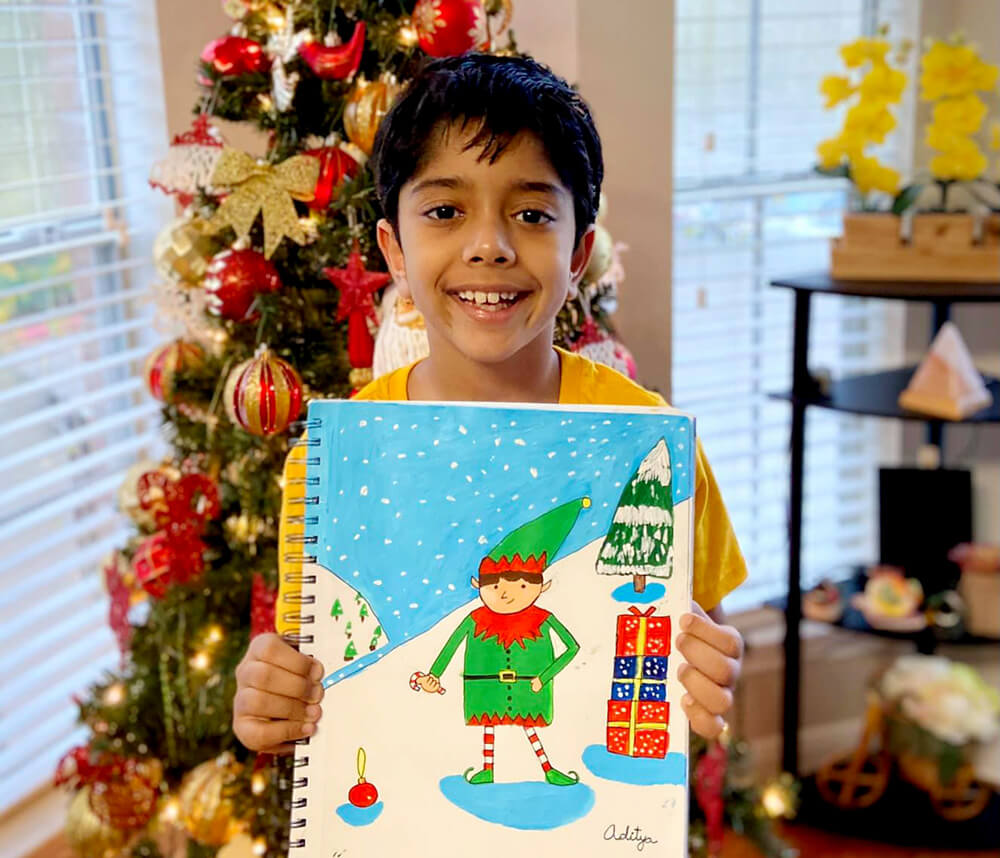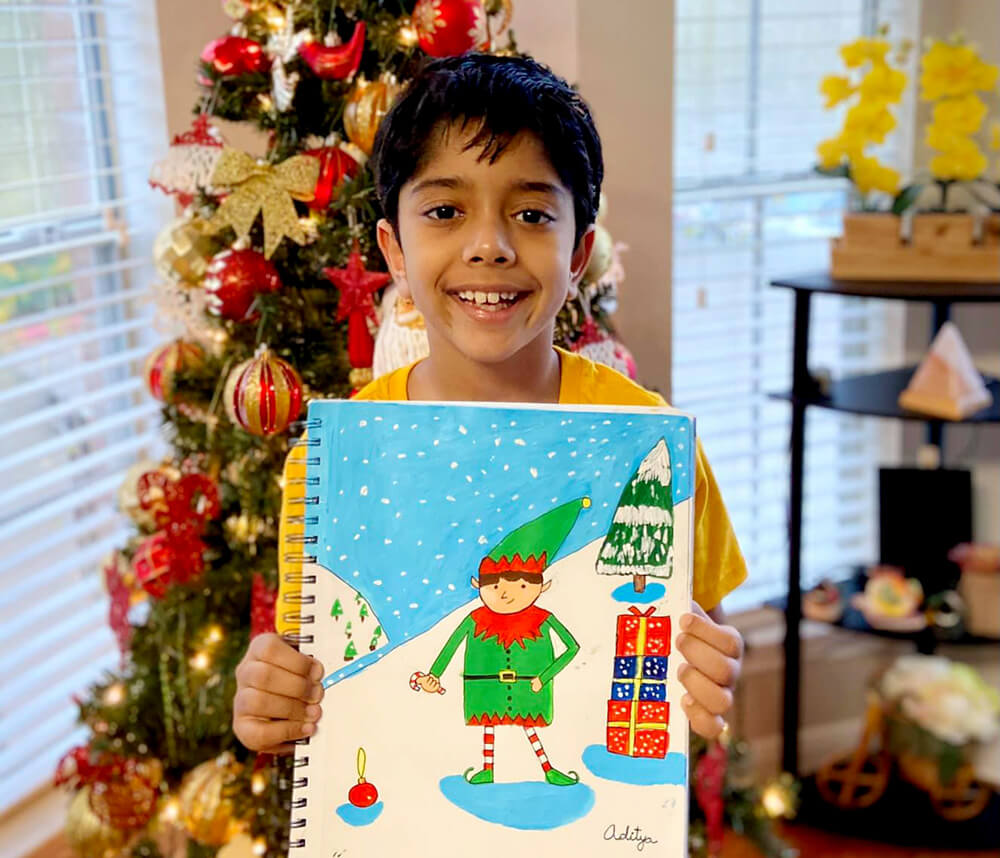 What would you like to be when you grow up?
"A scientist, like my parents."
Aditya's parents are scientists in the medical field and he has similar interests. His favorite subjects in school being math and science and is very interested in animals. He has completed an animal adaptation project in school.
Aditya is also a very inquisitive boy. He asks a lot of questions in school, and his classmates funnily call him 'questionnaire'. If his ability to ask the right questions is any indication, he is already on the path to achieving his goals.
Aditya's Art Tips
"It is important to know that your art is unique and it is okay to be different from the teacher. Like my Santa that we drew in the camp is not exactly the same as Ms. Nimmy's Santa. And that's good."
Aditya is spot on there and it is the best mindset to have for an artist. See everything around you in your special way, and that is a great step towards nurturing creativity and growing up as a great individual and an artist.
Stay tuned for our next artist spotlight.
Nimmy Melvin, the award-winning visual artist, envisions nature, the surroundings, and every object around through a different perspective. An expert in the usage of different mediums of painting, including acrylic, oil painting, watercolor, and oil pastels, she has the knack to inculcate knowledge in kids.