Artist Spotlight blog series brings to you the amazing students at the art classes for kids by Nimmy's Art and showcases their work, their love for art, and their journey till now. So get ready to be amazed!
Anika Savur – Little Artist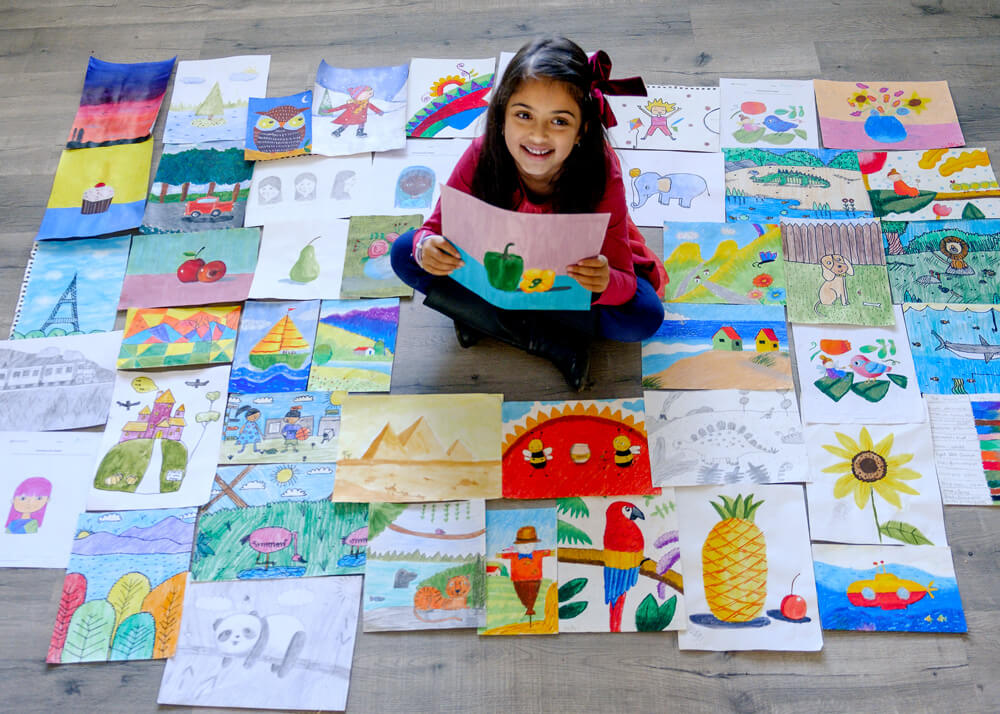 This week in artist spotlight, we have Anika Savur, a little artist who just turned 8, from Berwyn, Pennsylvania. She is loved and has been one of our favorites ever since her very first oil pastel artwork with us.
Anika has been interested in art from a very young age. She started drawing at the age of 2 and the subject of her art were the beautiful butterflies in her backyard. Seeing her interest in painting, her parents got her a canvas that captured all the art that flowed through this cute little 2-year old's mind. It's a piece of artwork that her parents have proudly framed on her bedroom wall.
Realizing Anika's interest and potential in art, her parents chose an art-centered Montessori for her to start her education. The school introduced the work of famous artists like Monet, Van Gogh, Georgia O'Keeffe and Jackson Pollock. Impressed by her exposure to the works of great artists, we were curious to know her favorite.
Who is your favorite artist?
"Monet! I like how he blends."
We asked about her favorite artwork.
"I like the Houses of Parliament by Monet," she said as she remembered painting the Water Lily Pond by Monet at school.
She also likes Starry Nights by Van Gogh, which she tried painting when she was 3, and called it 'Scary Night' back then.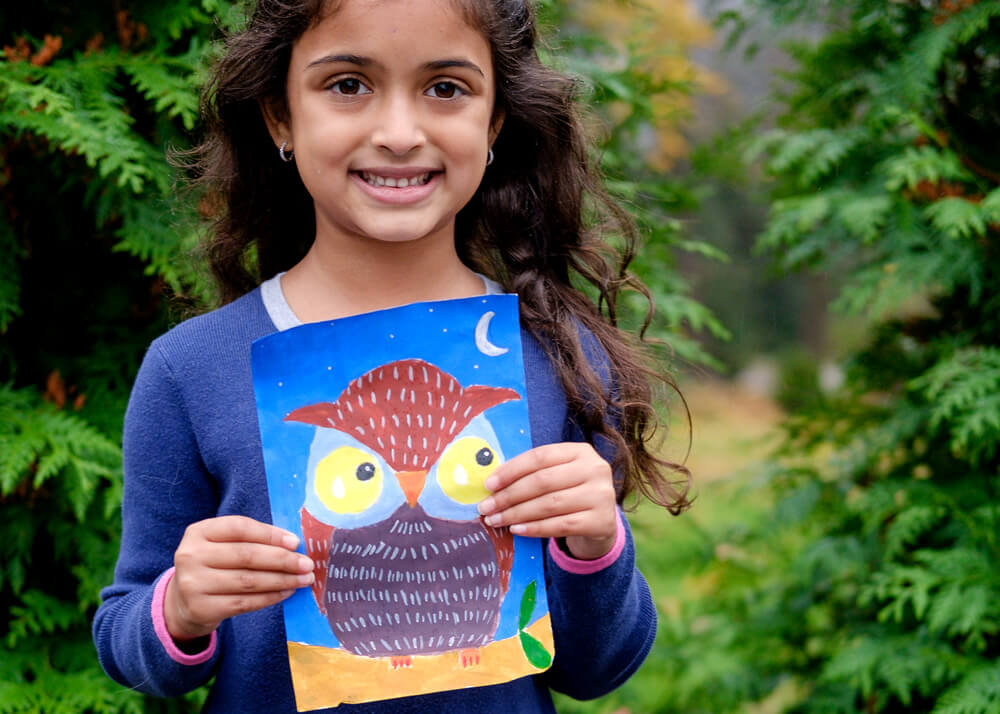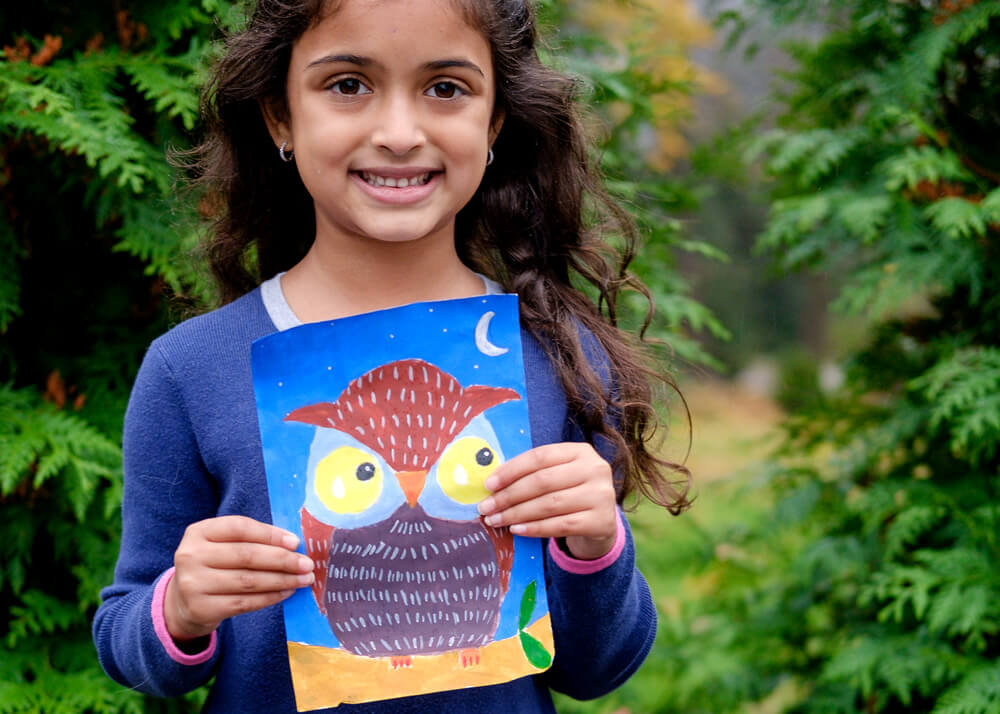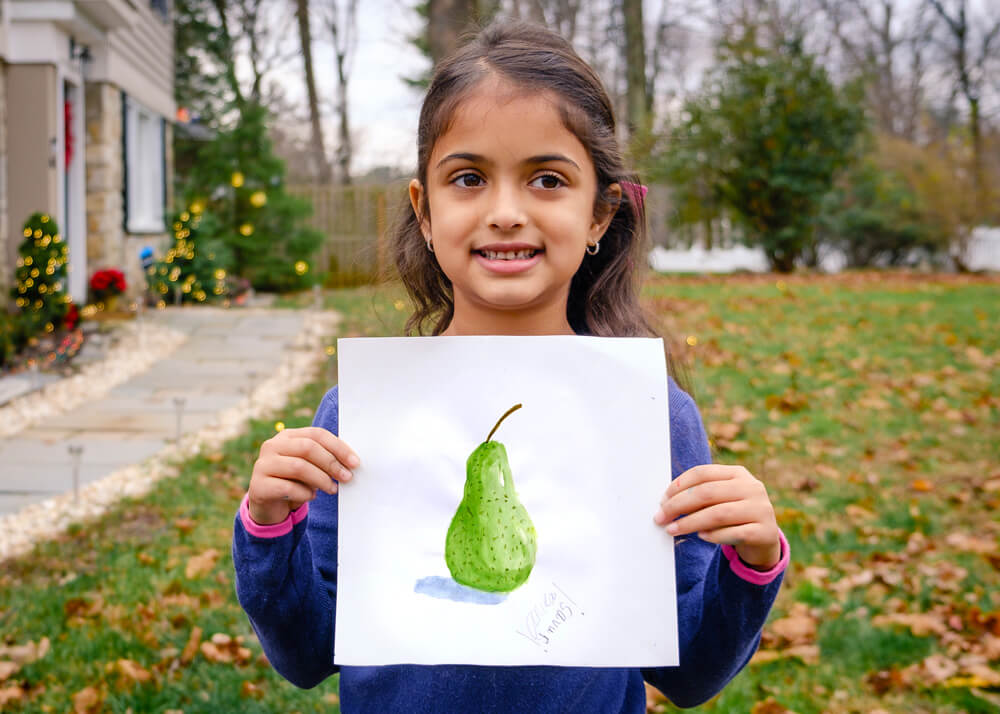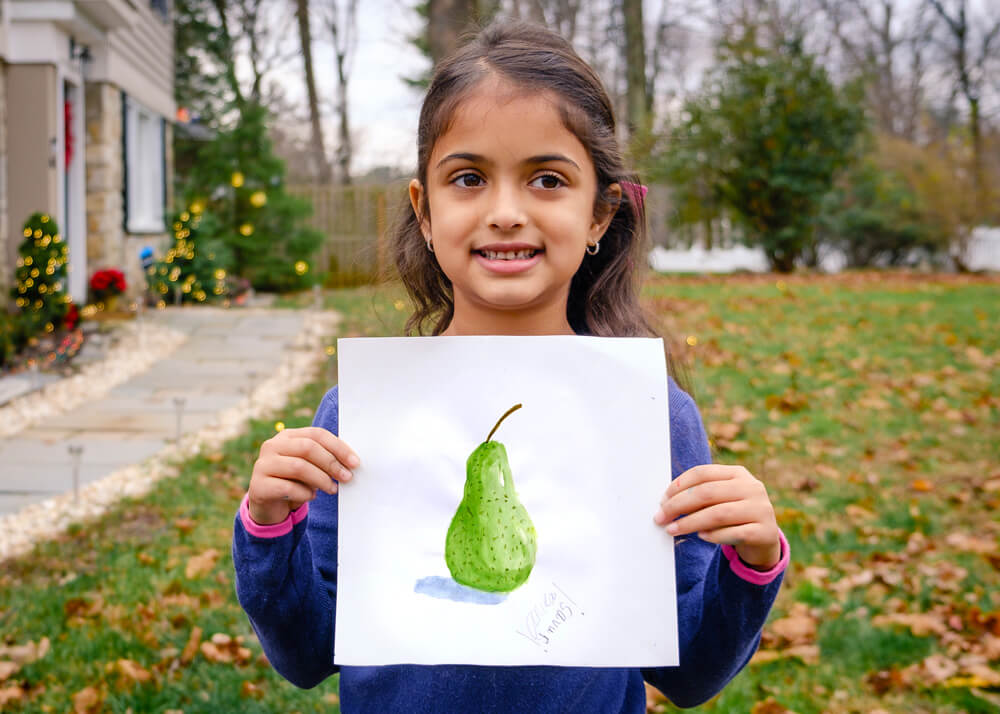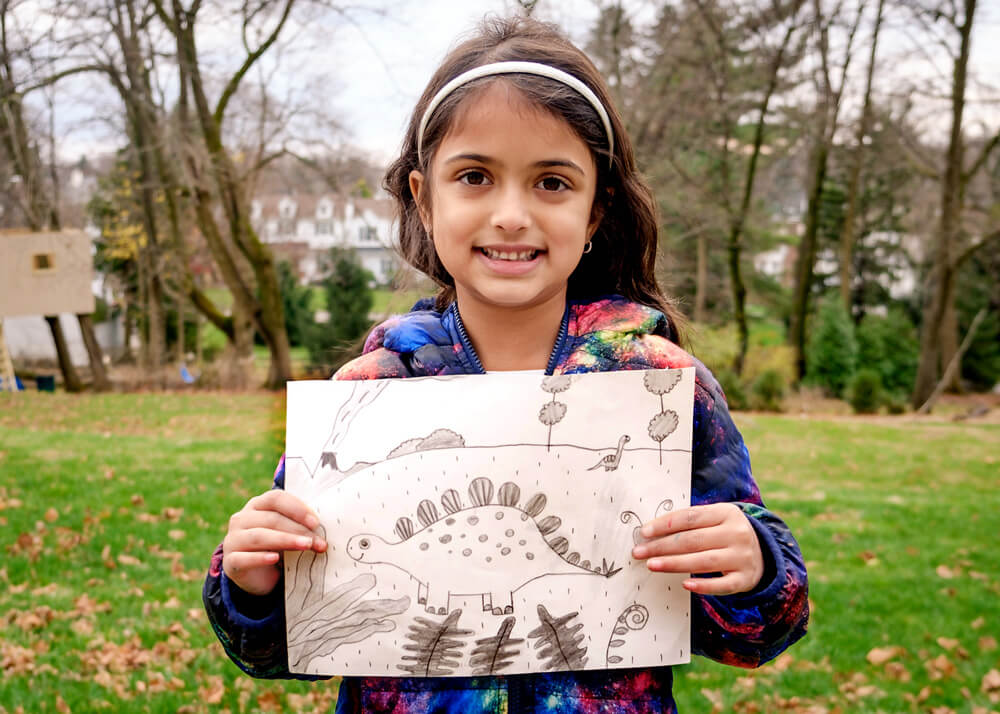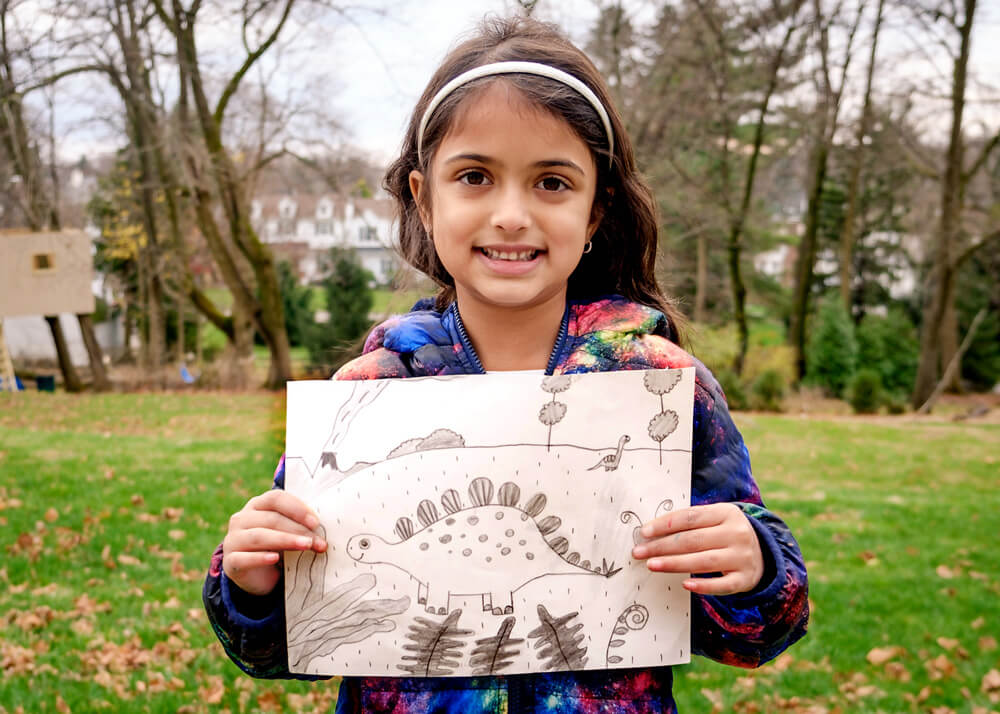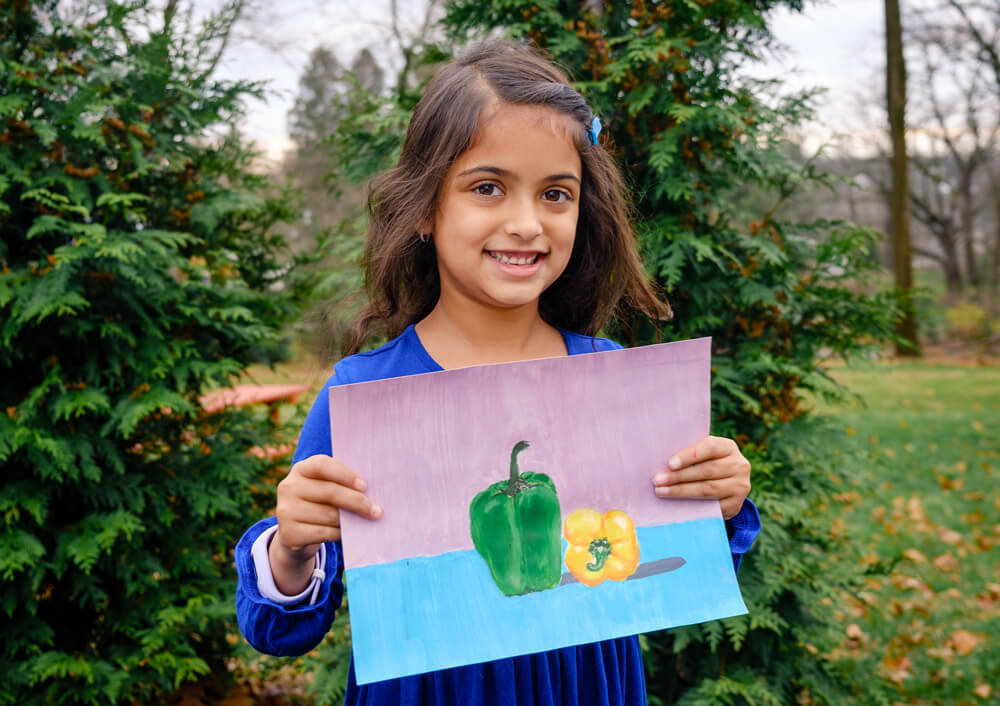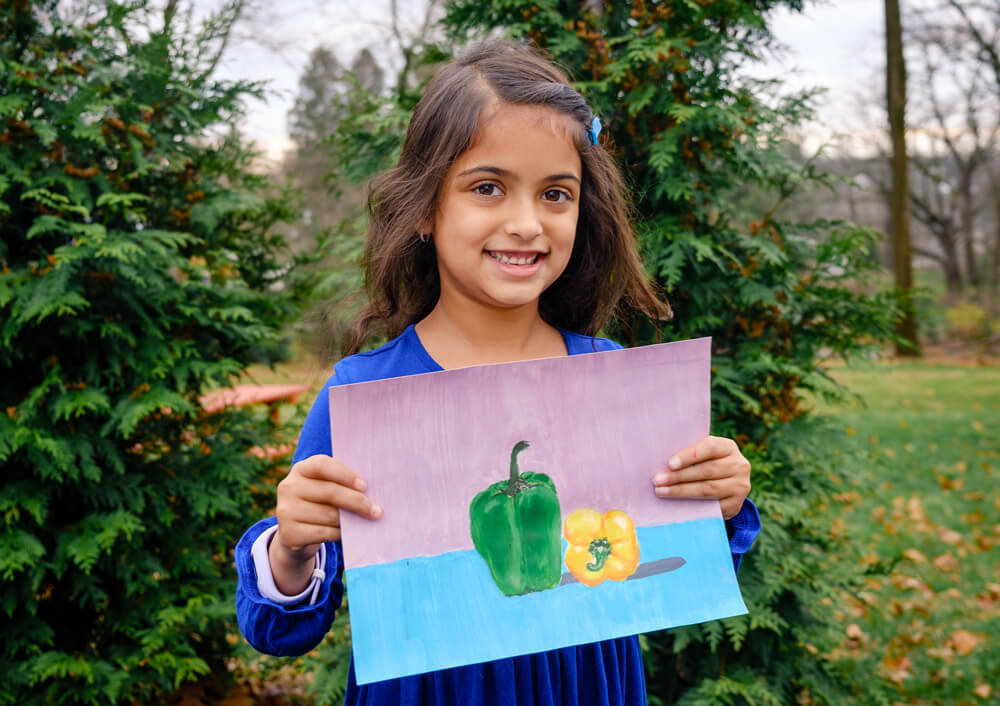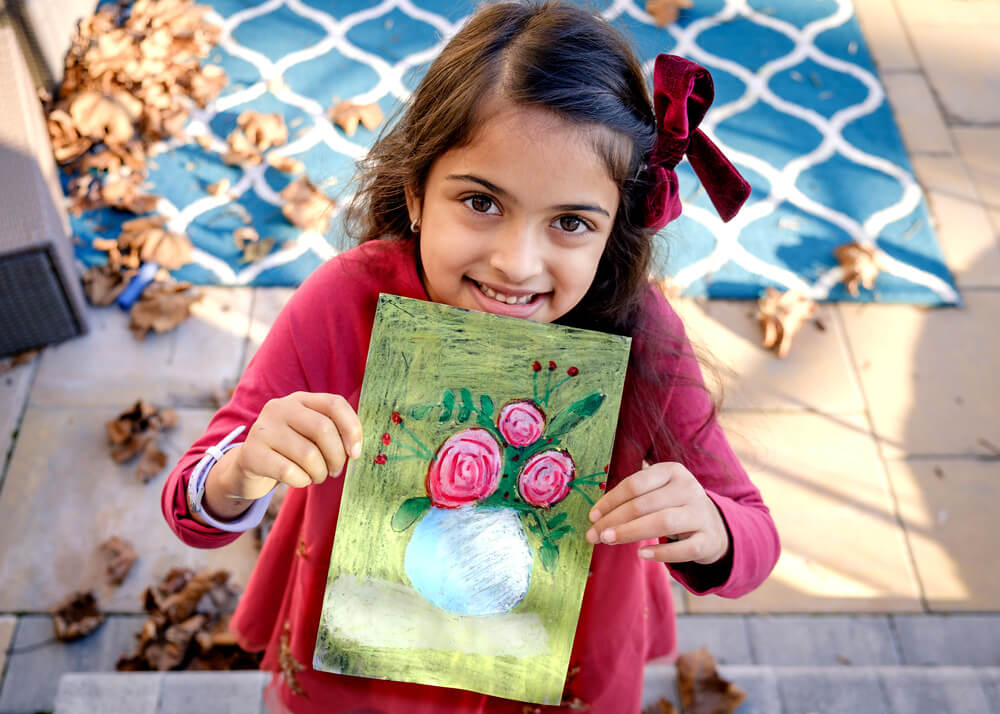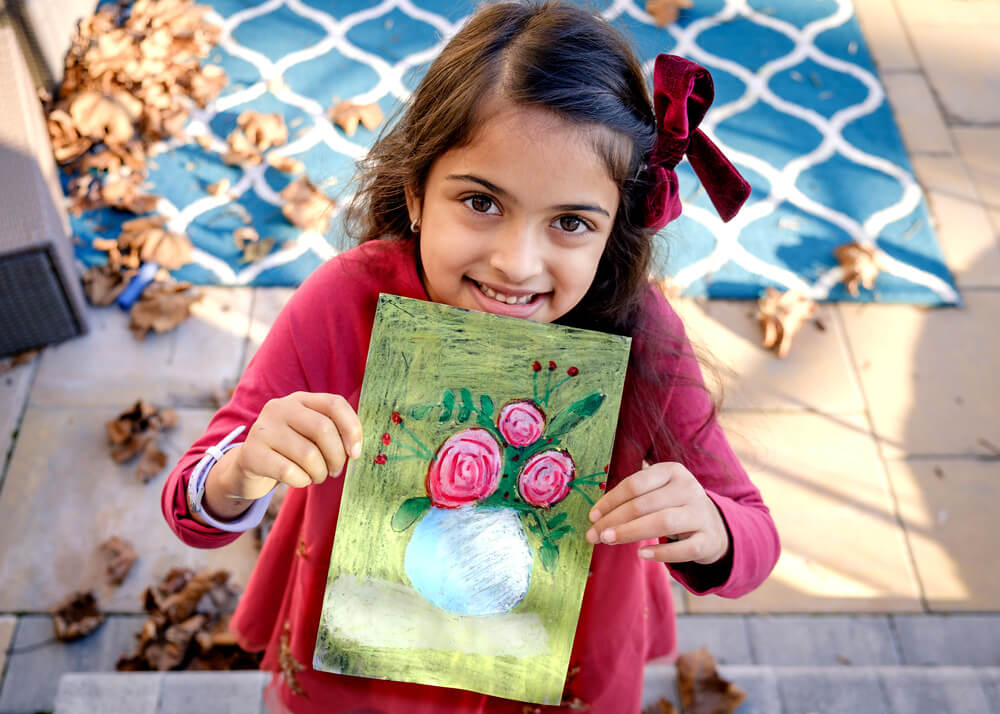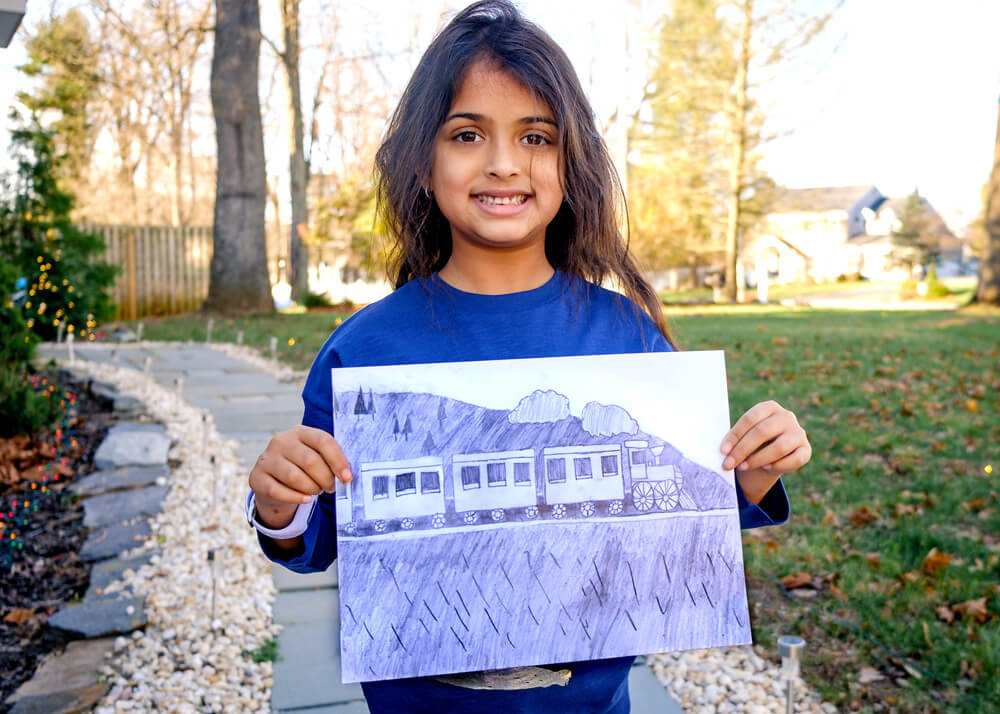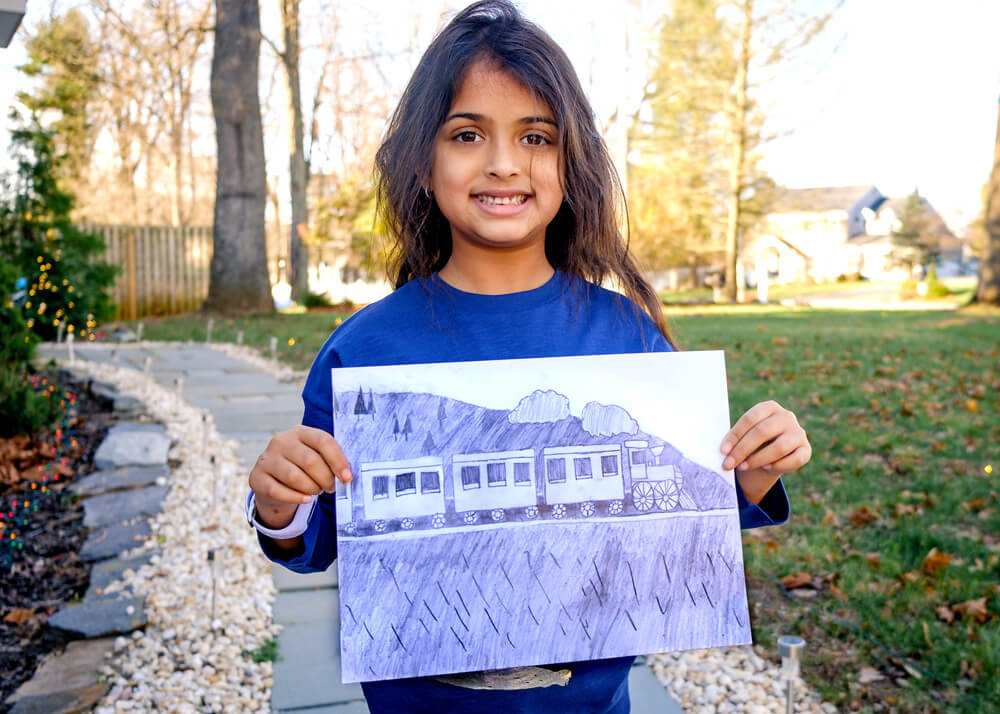 At home, Anika grew up watching her mother paint. Naturally, this caught her interest and inspired her to try painting. She was still new to some of the mediums when she started the online art classes for kids at Nimmy's Art.
Which medium of art do you like the most?
"Oil pastels." Her first experience with oil pastels was at our art classes for kids, and we love her oil pastel paintings as much as she does.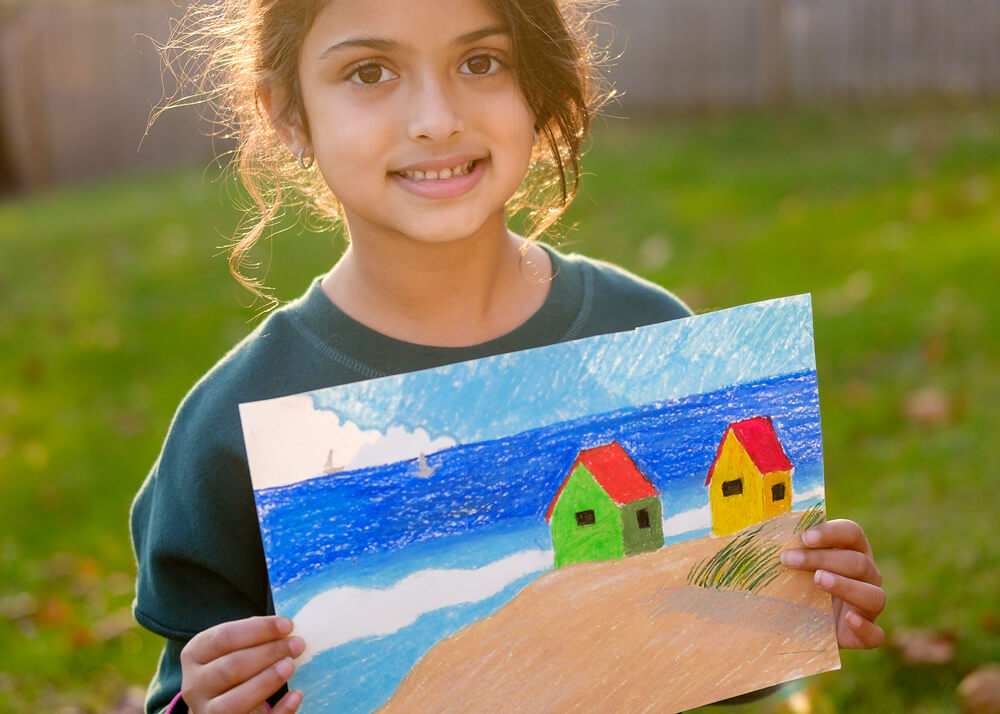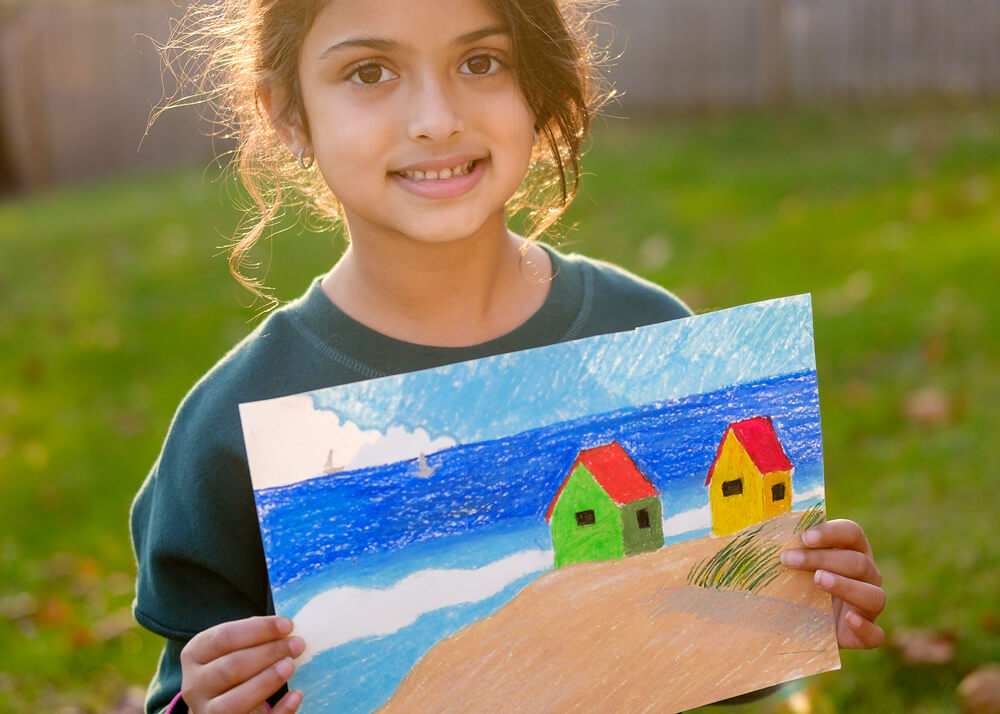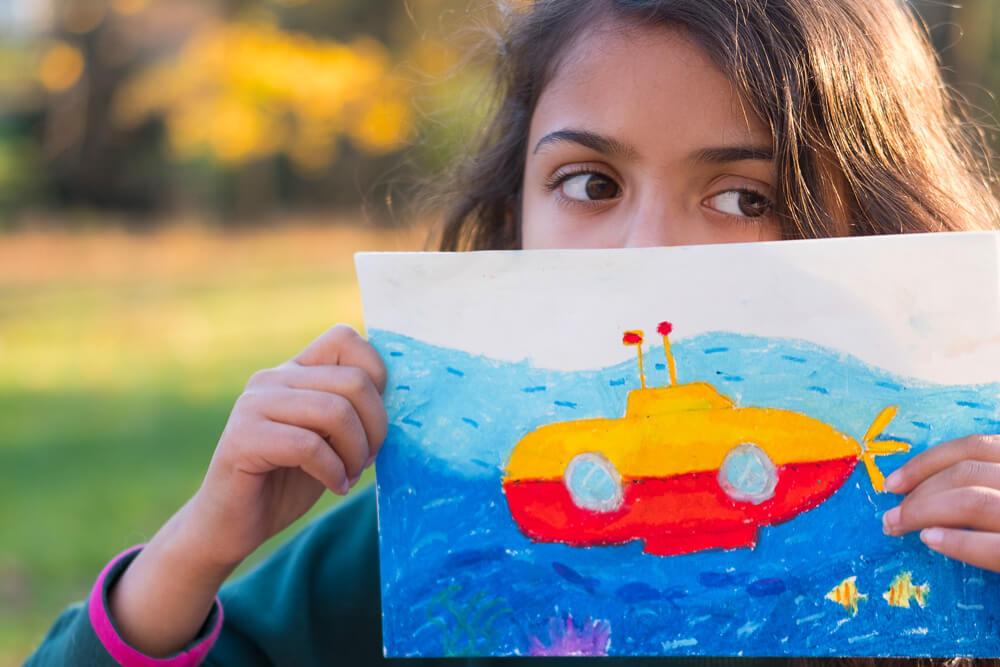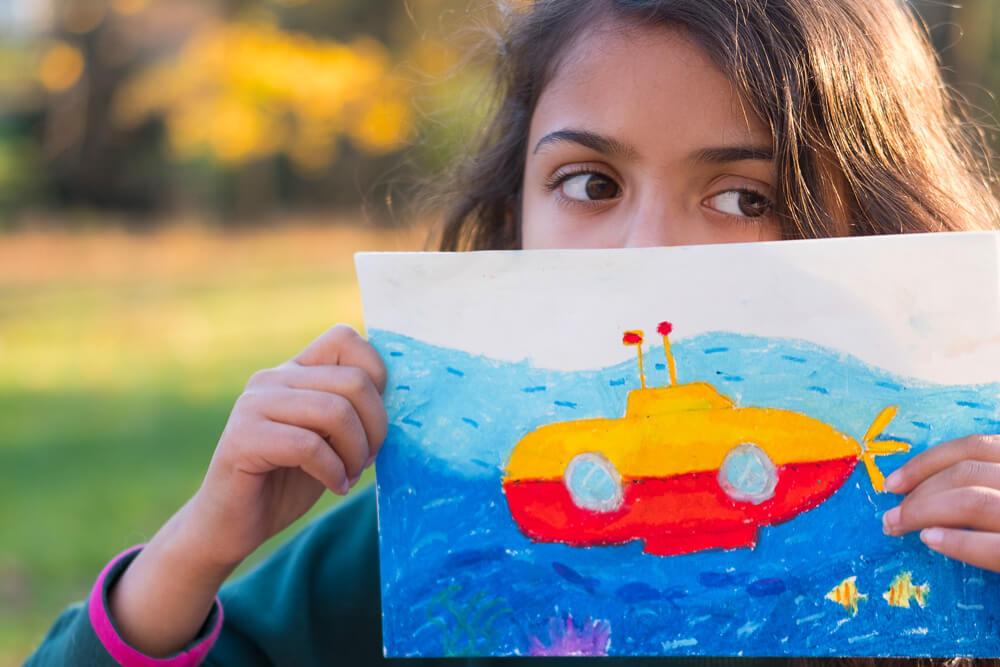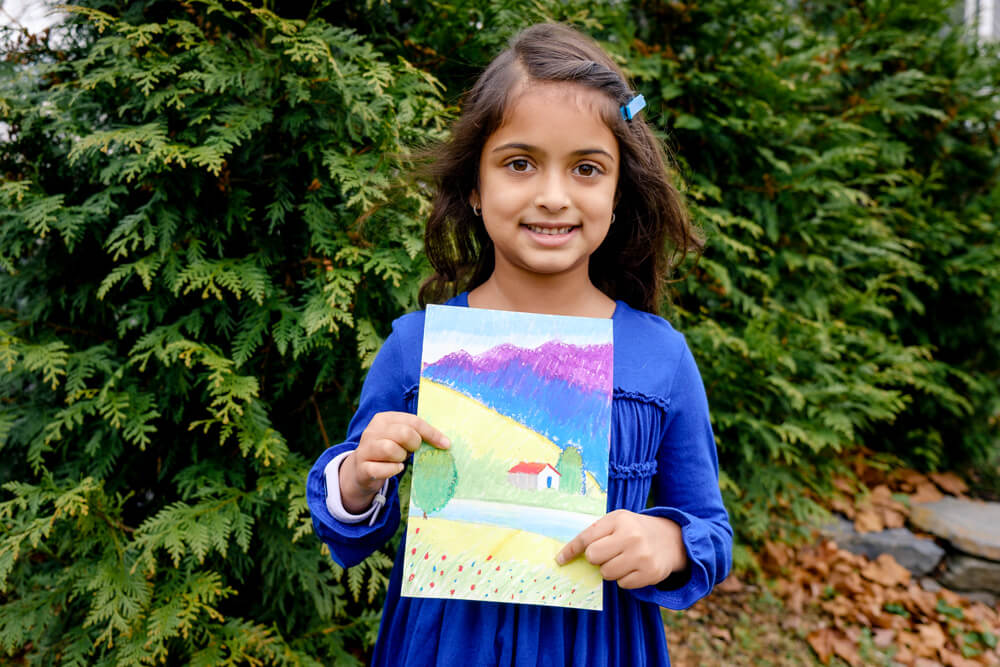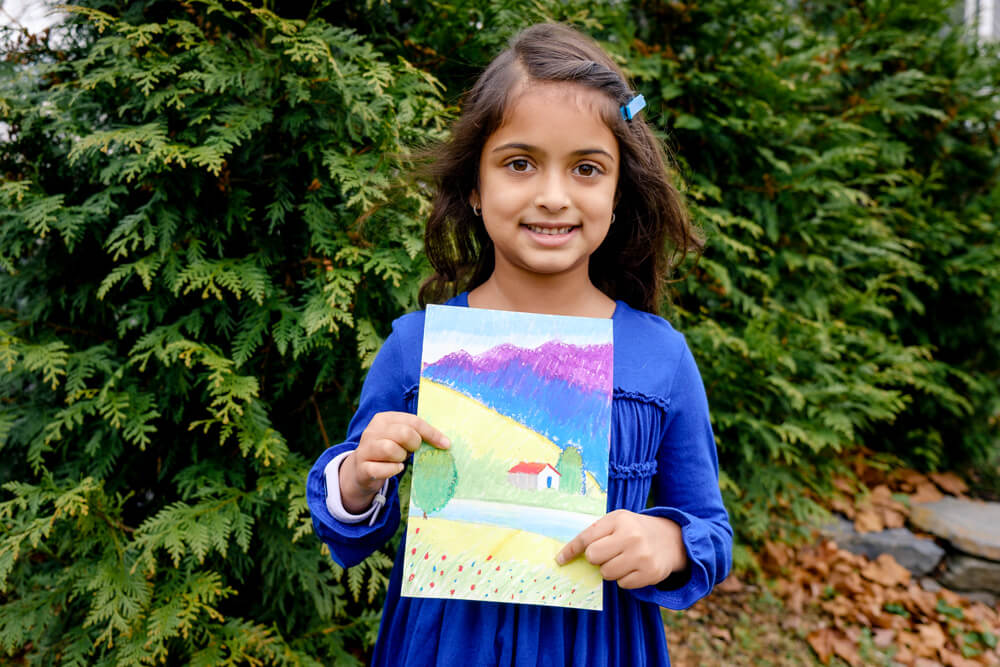 Which artwork did you enjoy the most at Nimmy's Art classes for kids?
"There are so many! I think I enjoyed the scarecrow the most." She particularly liked drawing and coloring the shirt for the scarecrow.
She added that she likes Nimmy's classes because, "she waits for you when you are stuck."
What are your hobbies?
"Art is my favorite, but I also like ice skating, gym, ballet and violin," she said, and quickly added, "In that order."
Anika has been taking classes in ballet and violin.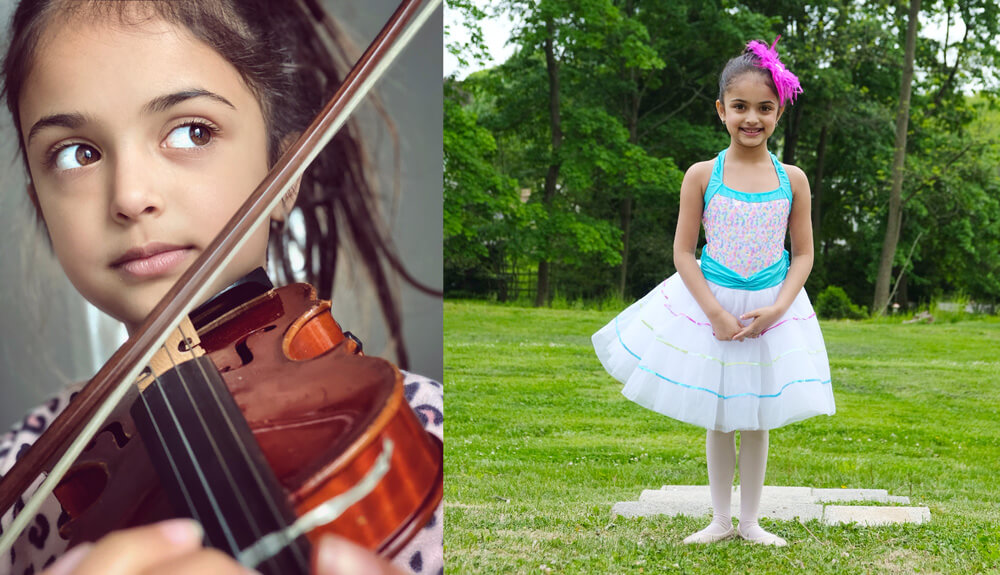 In her free time, Anika loves to doodle and create comics or storyline.
"I like to splatter the paint using a brush", she said with a big smile on her face.
This Christmas, she created ornaments with her mom and she thoroughly enjoyed that. She is looking forward to more fun activities during the holidays.
Anika also told us about her favorite authors. "I love reading books, and Mo Williams is my favorite. And Shel Silverstein too."
Very adventurous at heart, she also loves riding the scooter outdoors, enjoys ziplining, going on those whirly waterpark rides and prides herself as the best swimmer at home.
Apart from art, as a family they love their Friday movie nights. Some of Anika's favorite movies are Zombies, Parent Trap and Home Alone.
Do you like going to school?
"I love my school but I like online classes too, if I can have playdates on weekends."
At school, Anika excels at spelling and writing. She loves chemistry too because it makes her feel like a mad scientist.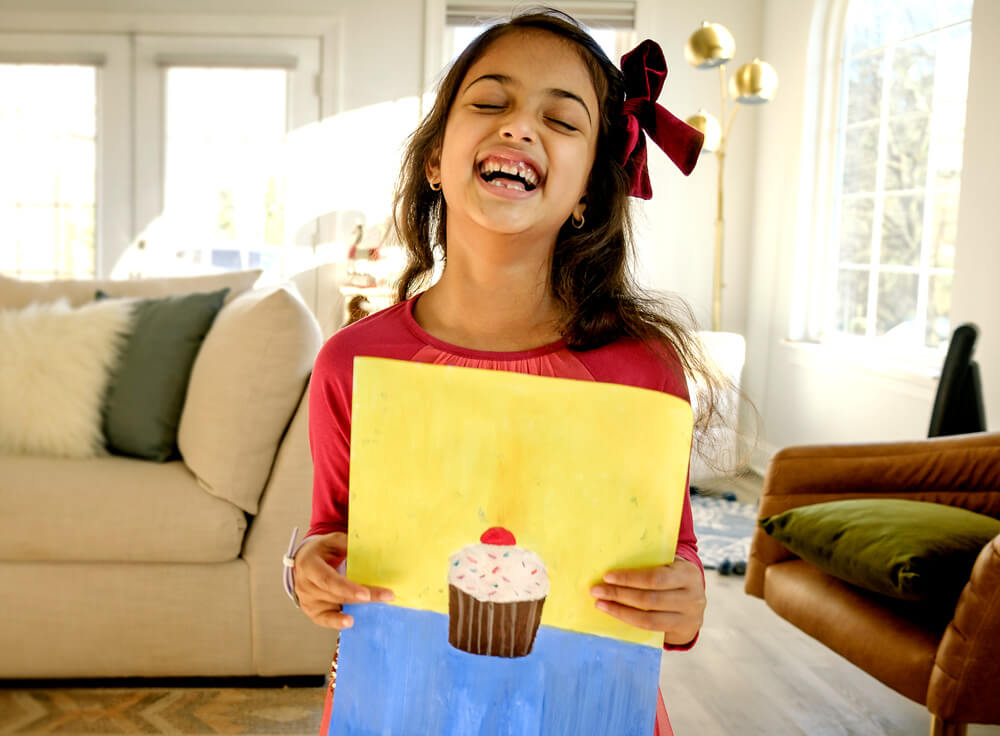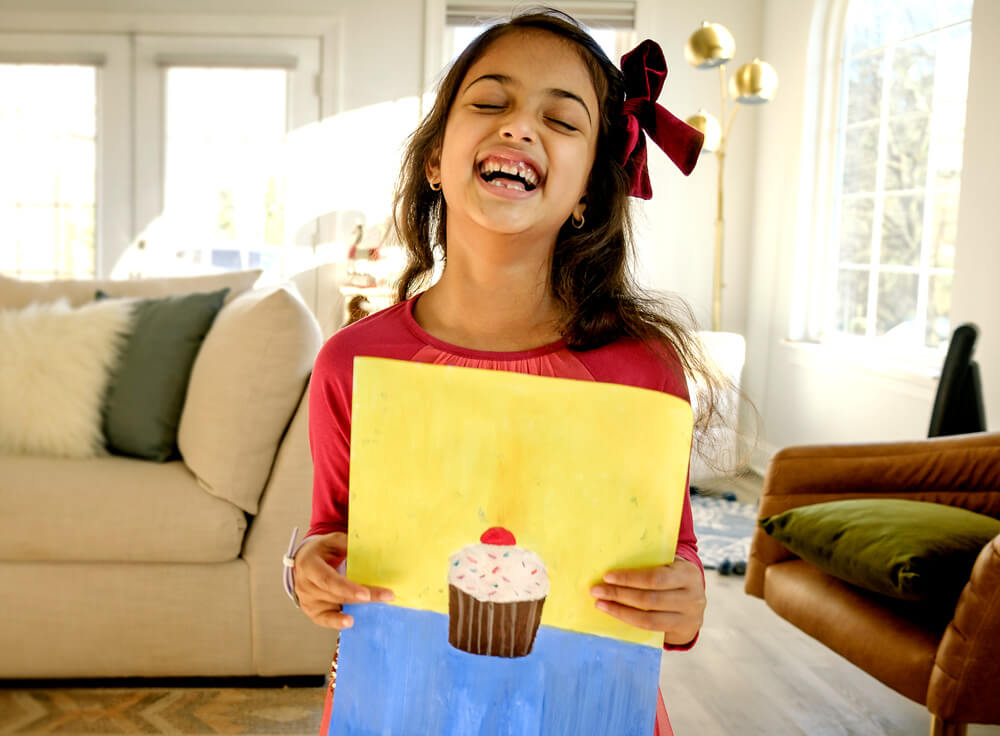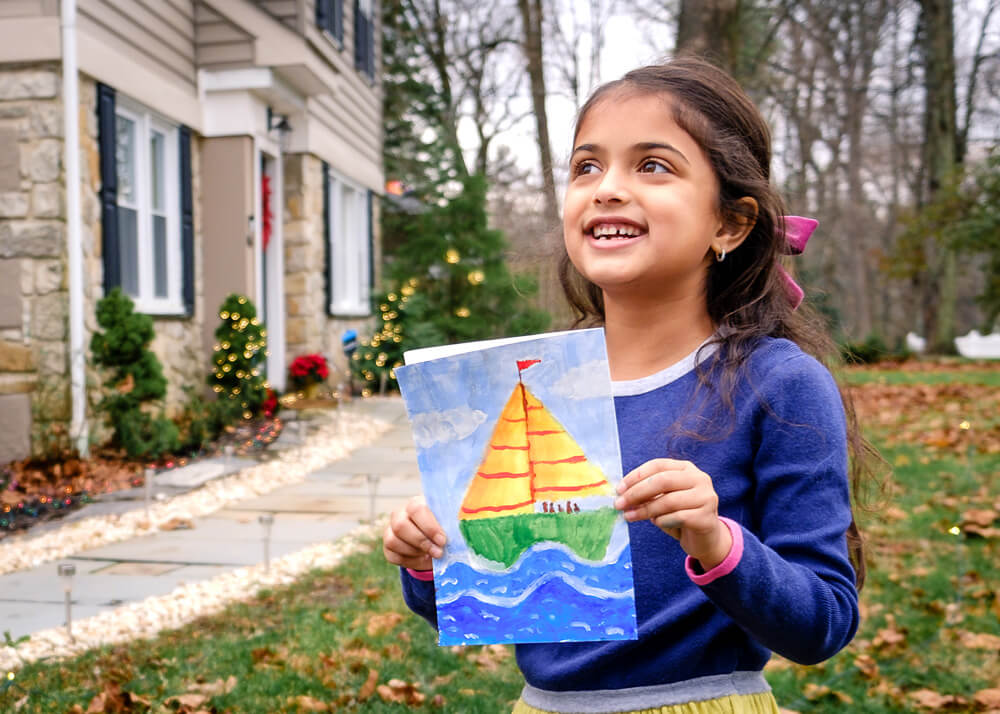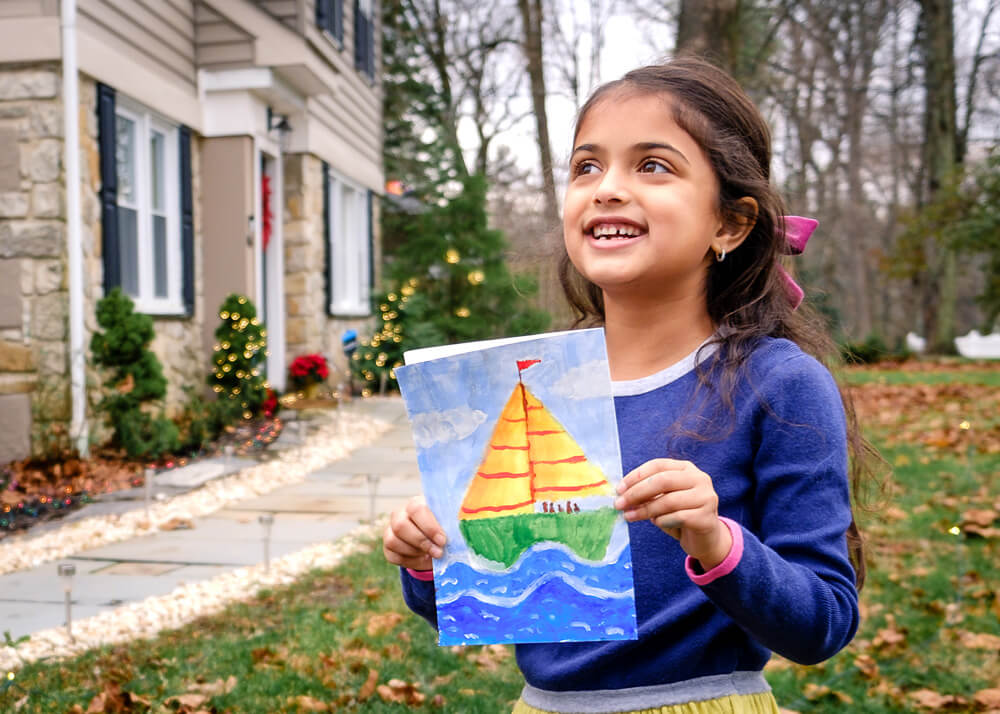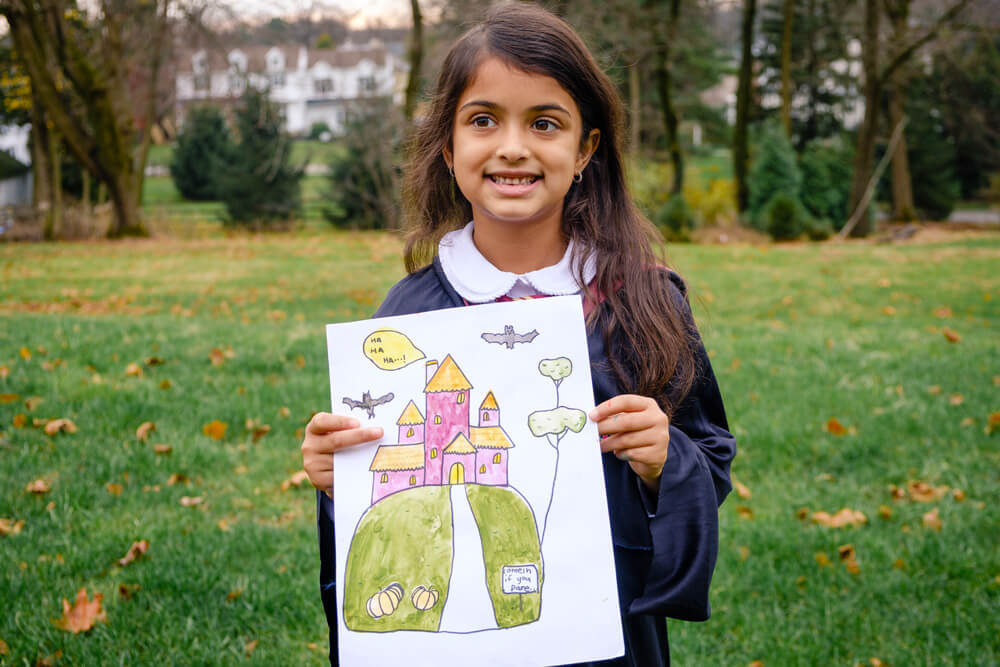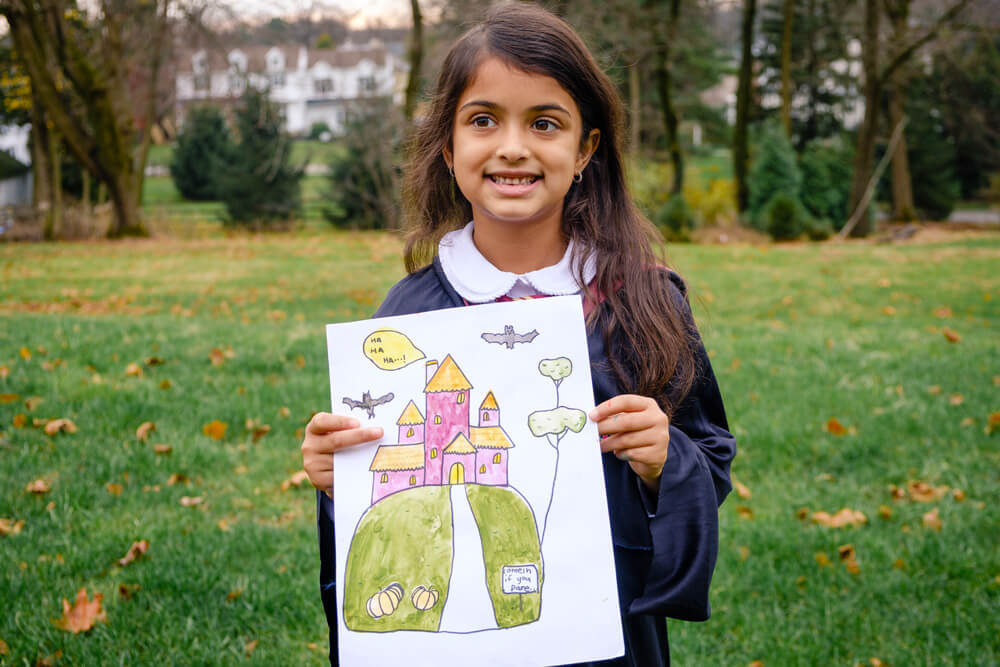 Anika had a special request for Nimmy's upcoming online art classes for kids in January. She suggested that we draw and paint an ice cream. The homework could then be painting different choices of toppings.
Noted, m'lady!
Anika's ambition is to grow up and become an art teacher. She would also like to be a babysitter because she likes to play and draw with kids. Looks like she would make a great art teacher for kids!
Anika's Art Tip
"When we blend colors in oil pastel, we can first put some dots to understand till which point each color should be painted."
That's a very thoughtful art tip to work with oil pastels.
Anika is really looking forward to the next year and has already planned to learn ice skating and gymnastics in 2021 along with being great at art.
That was our conversation with the ever so bubbly and cheerful Anika! Well rounded and wonderfully adventurous, time just flies by when you chat with her. Looking forward to more art and fun conversations.
Stay tuned for our next artist spotlight.
Nimmy Melvin, the award-winning visual artist, envisions nature, the surroundings, and every object around through a different perspective. An expert in the usage of different mediums of painting, including acrylic, oil painting, watercolor, and oil pastels, she has the knack to inculcate knowledge in kids.