Artist Spotlight blog series brings to you the amazing students at the art classes by Nimmy's Art and showcases their work, their love for art, and their journey till now. So get ready to be amazed!
Aanya Mittal – Little Artist
Today we are meeting Aanya, a beautiful 8 year old girl. She is a second-grader and joined online art classes in August. She has always awed us with her clean lines and perfect paintings.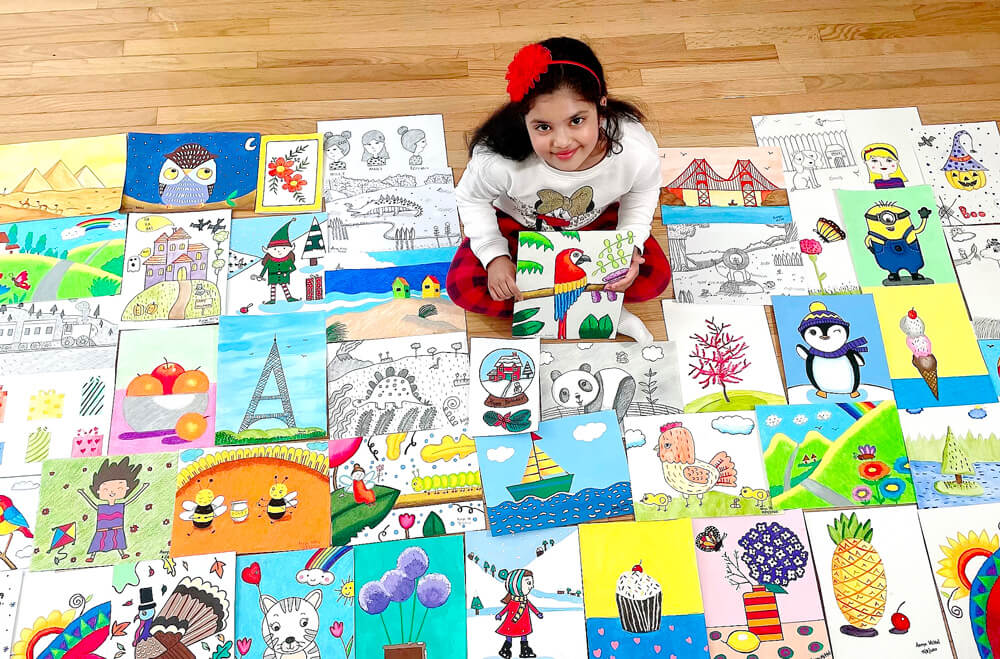 Aanya started showing her interest in painting when she was around 3 years old. She has always demonstrated great patience and perfectionism from a very young age in everything she attempts.
She has worked on artworks using watercolor and tempera since her kindergarten years.
What is your favorite medium?
"I like all the mediums, but my favorite is oil pastel, acrylic, and Prisma colors."
Her favorite classes so far are the ice cream in oil pastels and the ice skating girl in acrylic.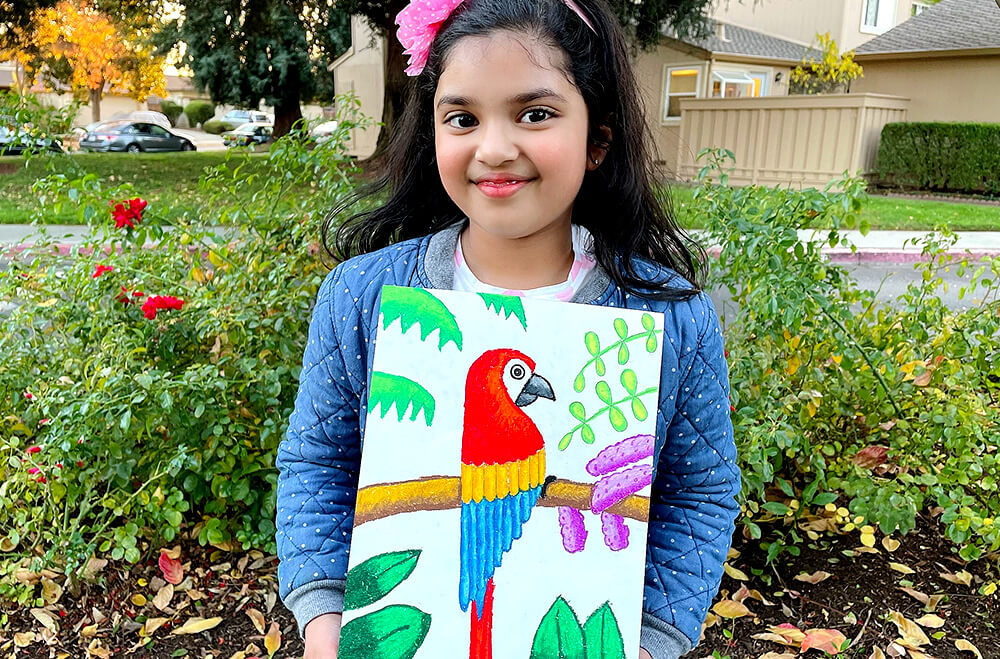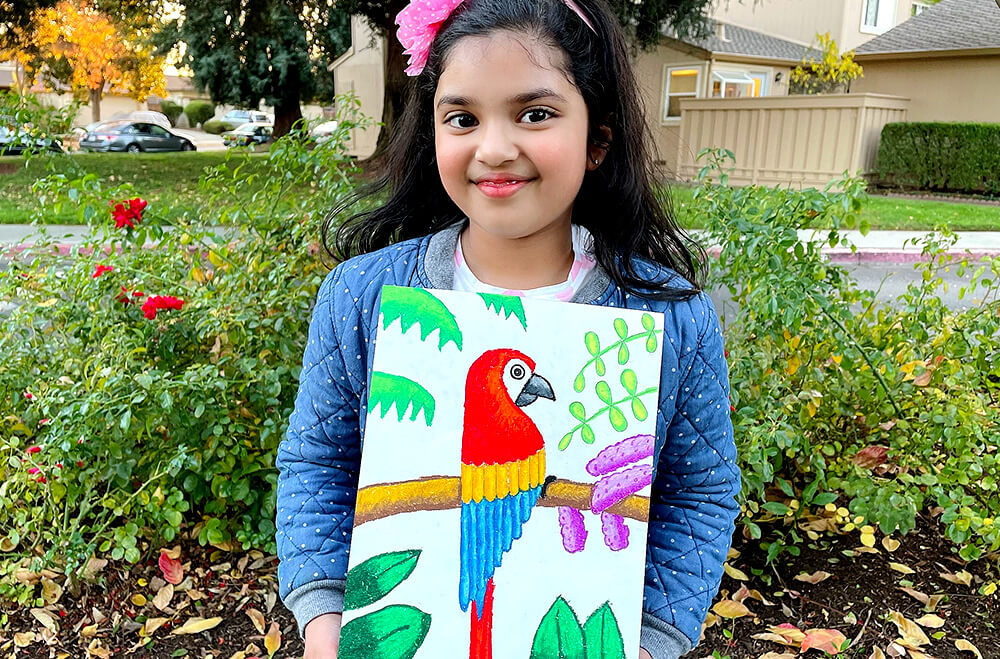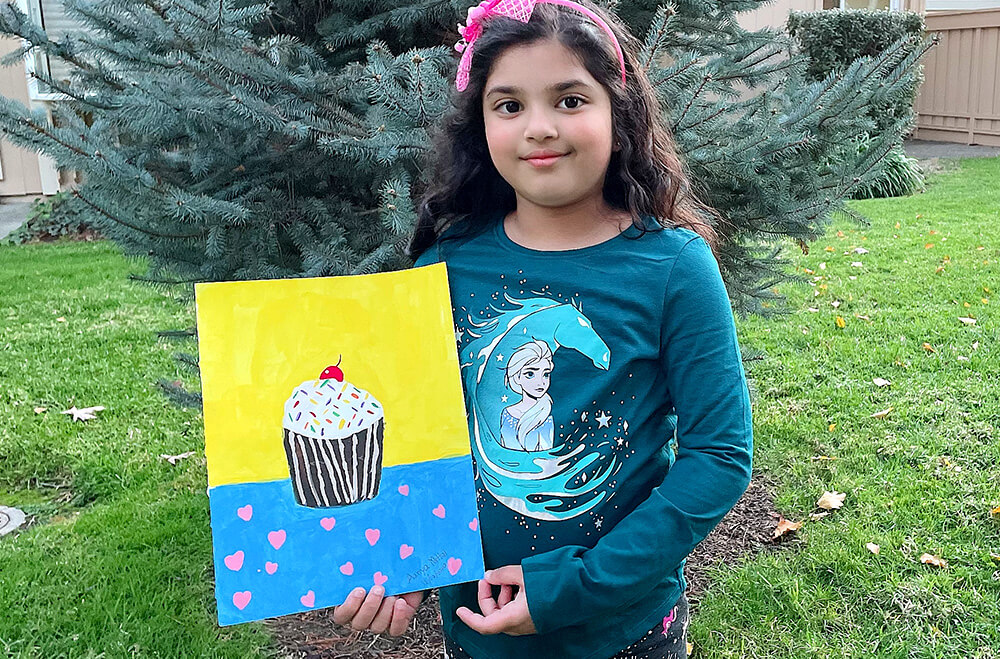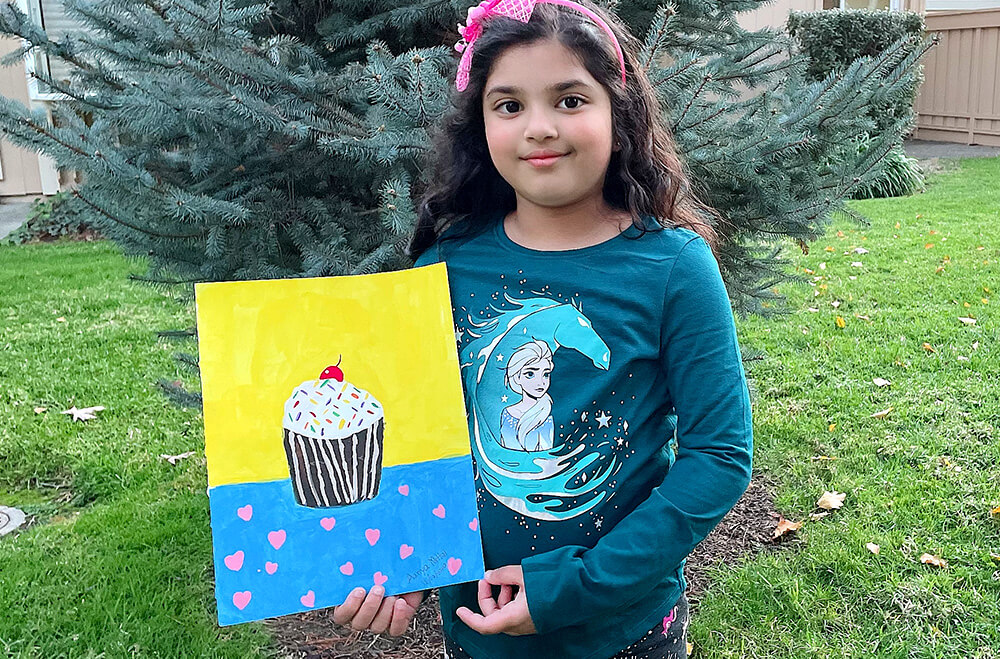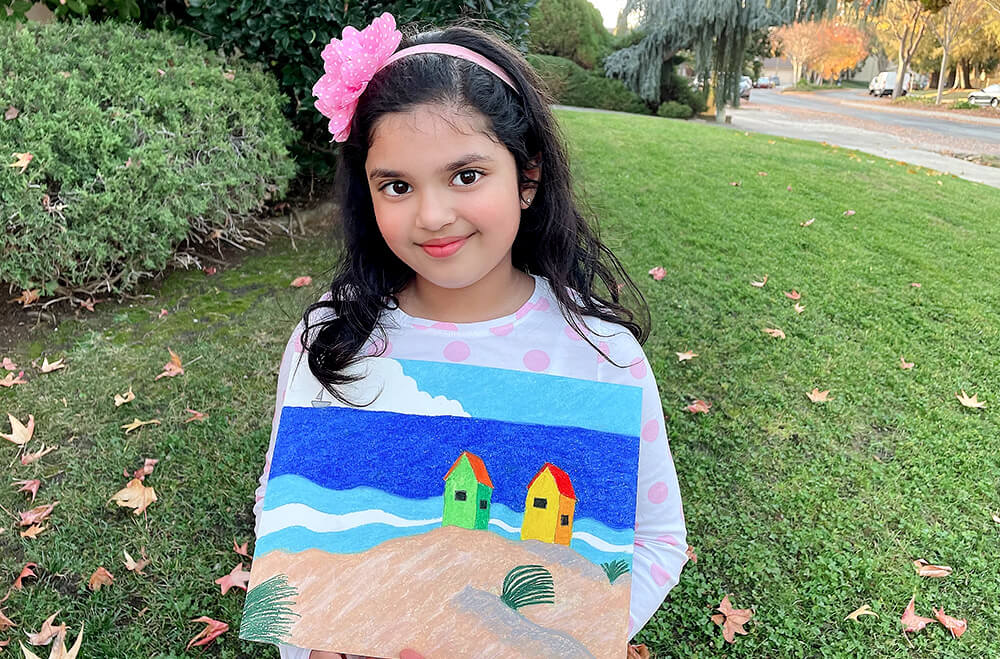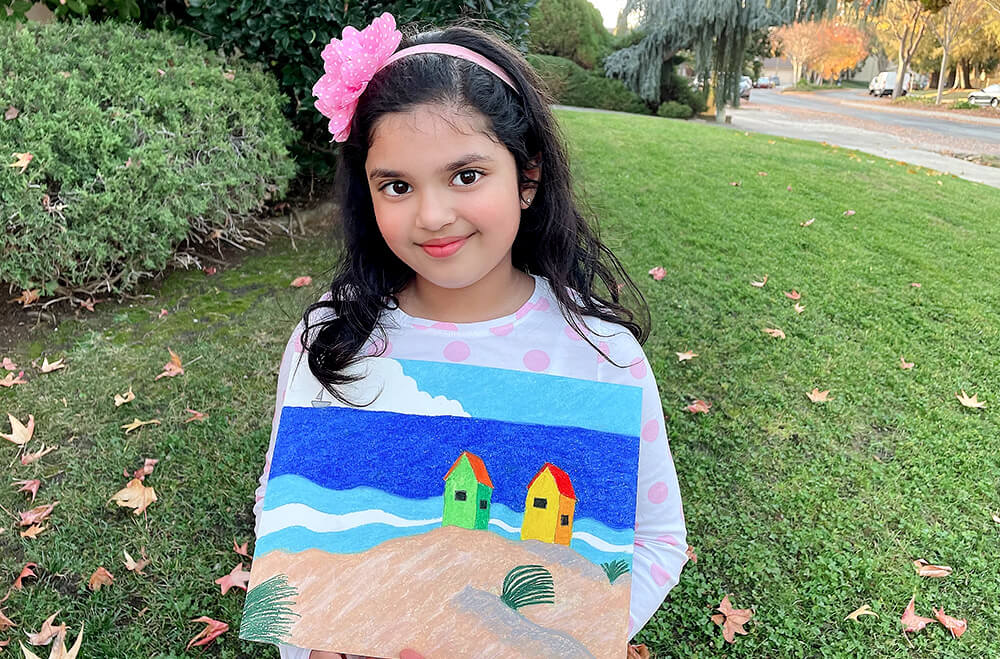 Art class is your favorite. What else do you like?
"I like the piano, and before, I used to go to soccer and swimming classes."
Aanya was chosen for the private soccer club team to join the match. But, due to the coronavirus, they could not participate anymore.
Do you miss your friends?
"Yes, but we sometimes do Zoom calls and I know some kids in the neighborhood."
Aanya doesn't have any siblings and is enjoying being the only child. She is happy that she can have everything just for herself.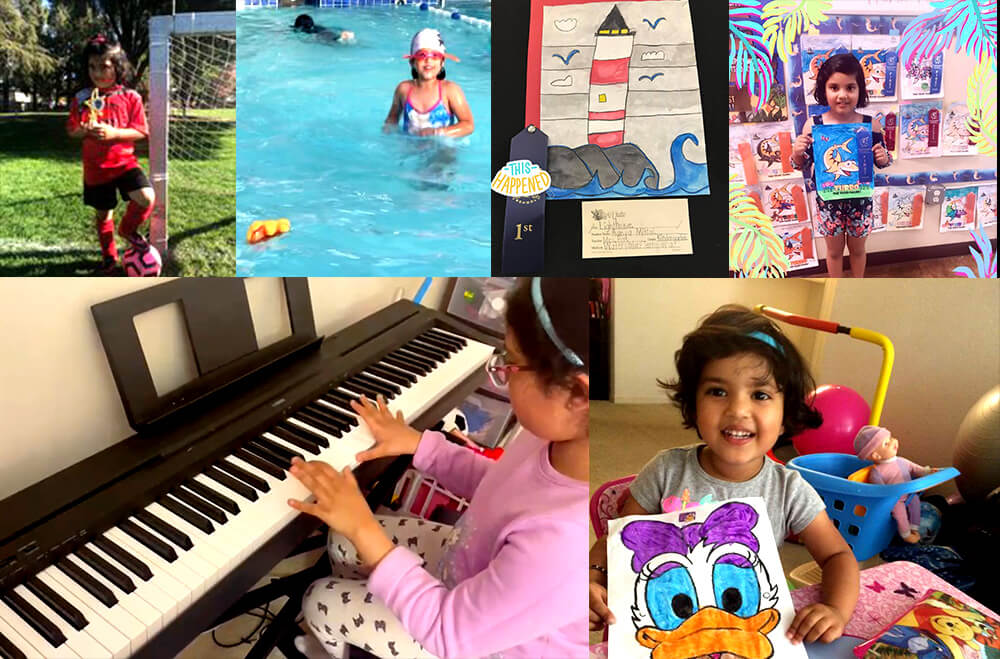 Besides sports, Aanya also plays the piano for which she attends online classes once a week. She has been learning for a year now and can already play many songs. It was challenging for her at the start, but she mastered it after two-three months by regular practice, she said.
What is your favorite subject at school?
"Earlier, my favorite subjects were math, art, and music, but now since there are fewer options due to online classes, I like science and spelling."
How are the online classes going? Do you want to go back to school?
"They are going well. I like both of them. At school, I had friends to play with, but now there is more time to do things because school is done early for me."
Aanya has been doing her school online since March 2020 when she was in first grade. At Aanya's school, students receive recorded videos, and then connect with the teacher discussing what they learned.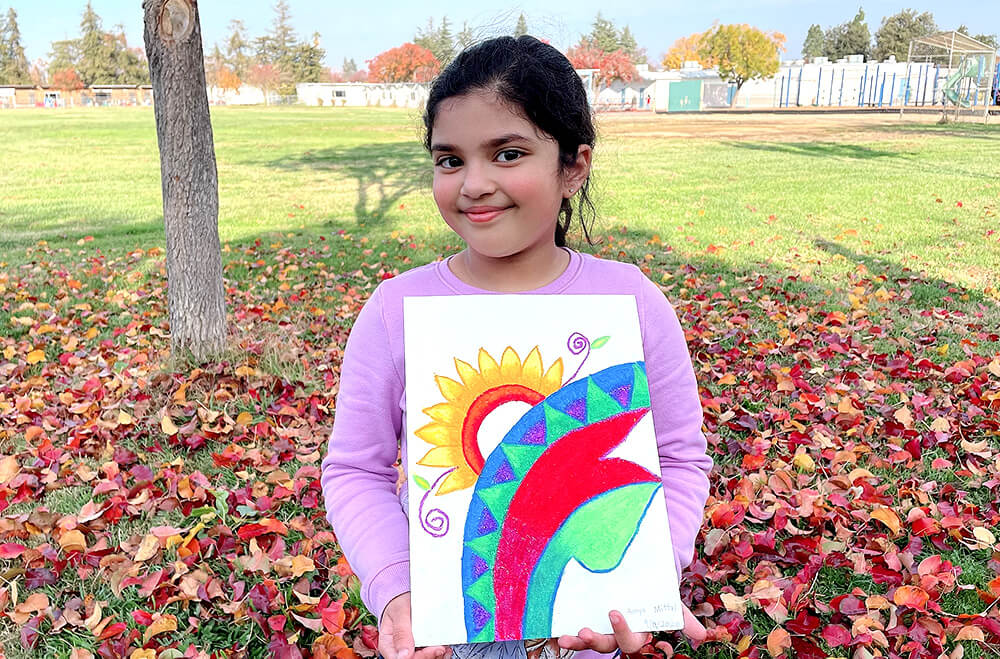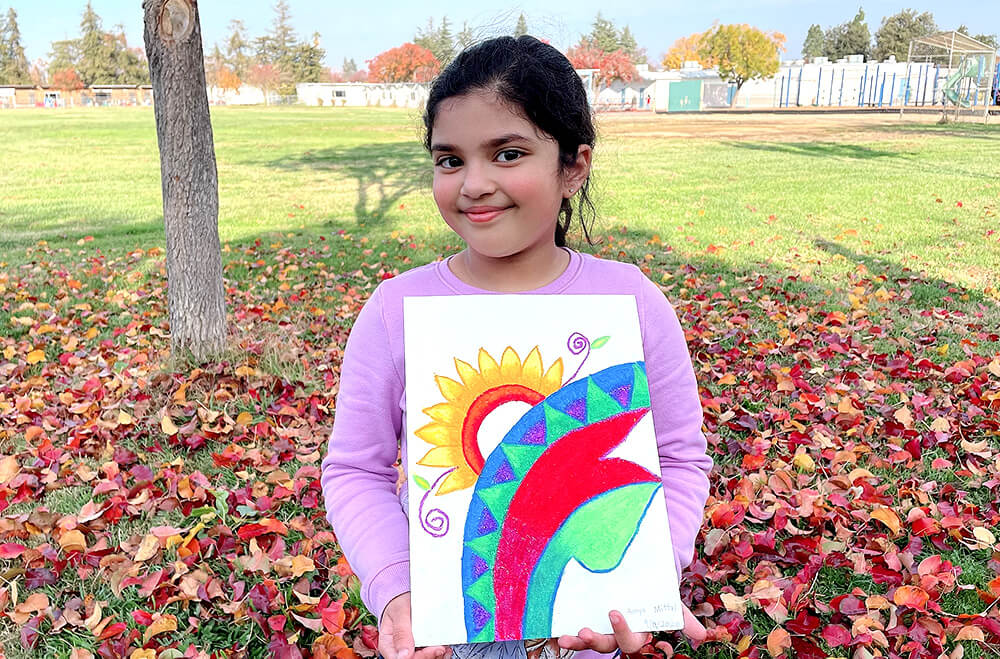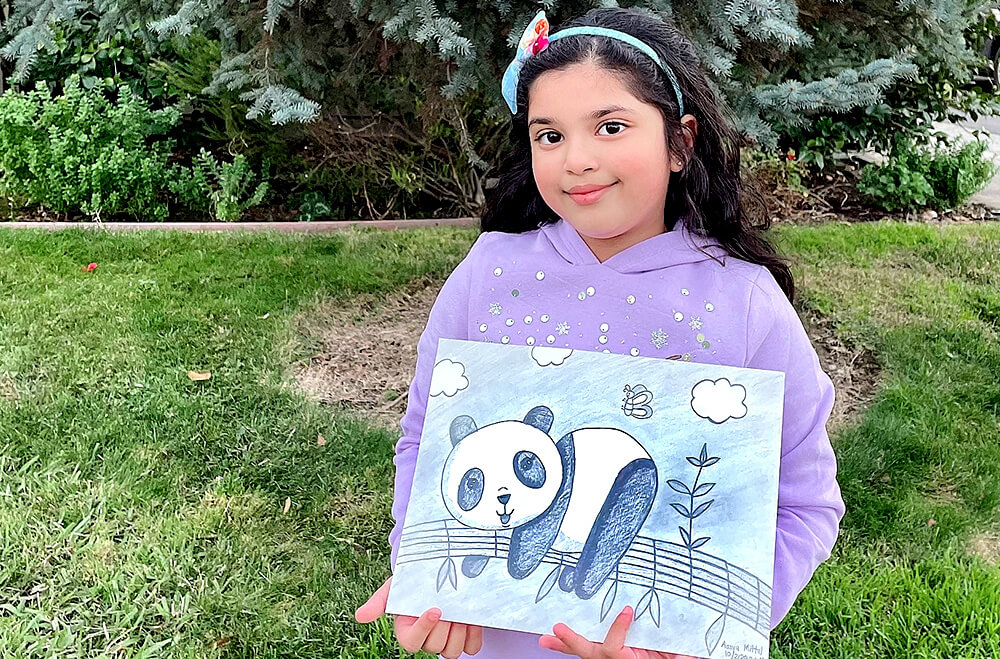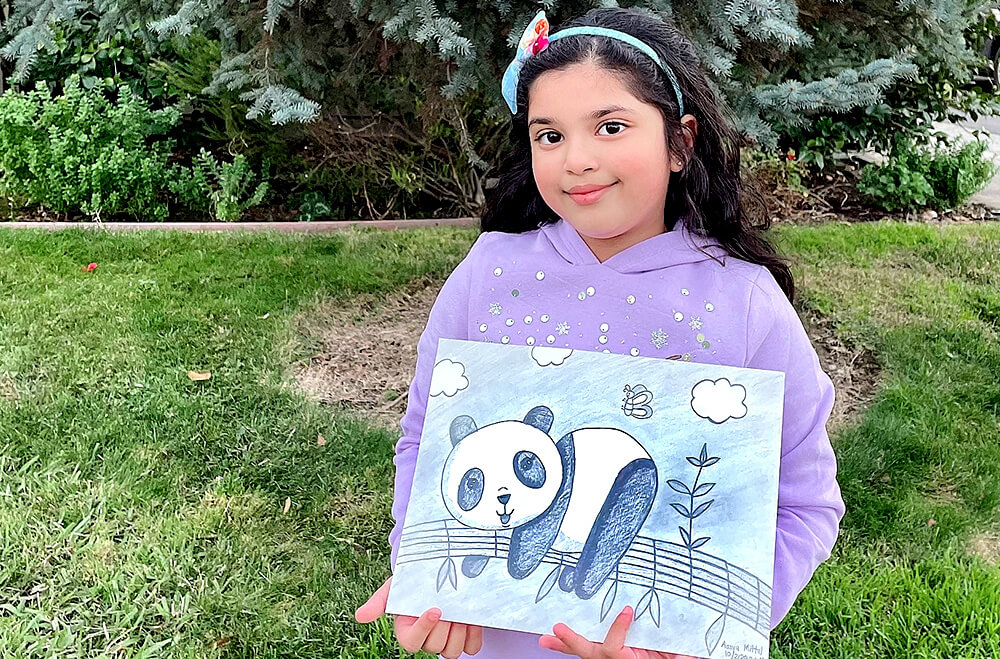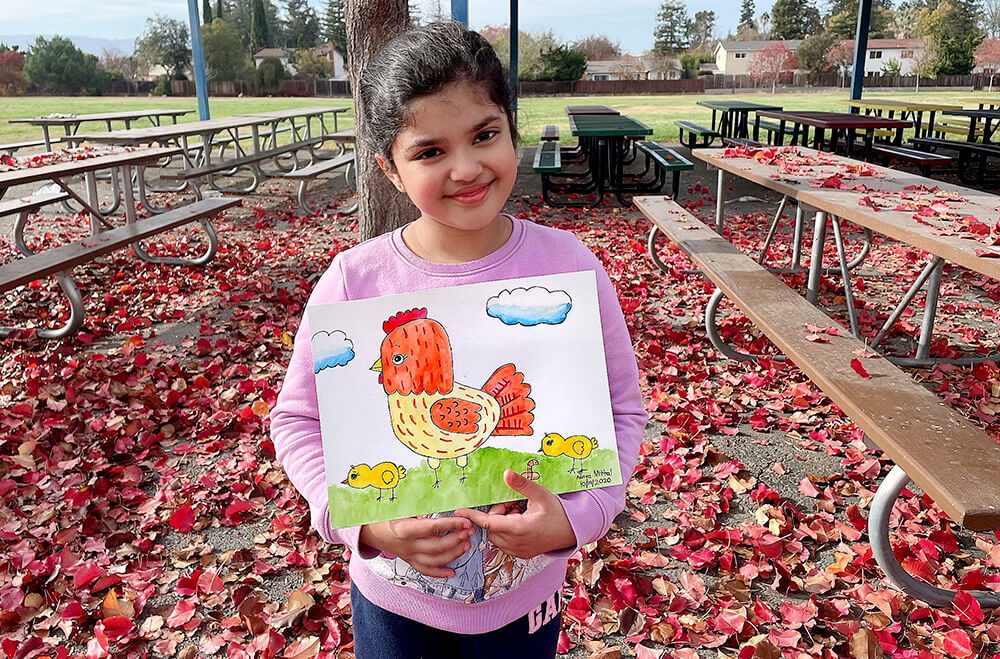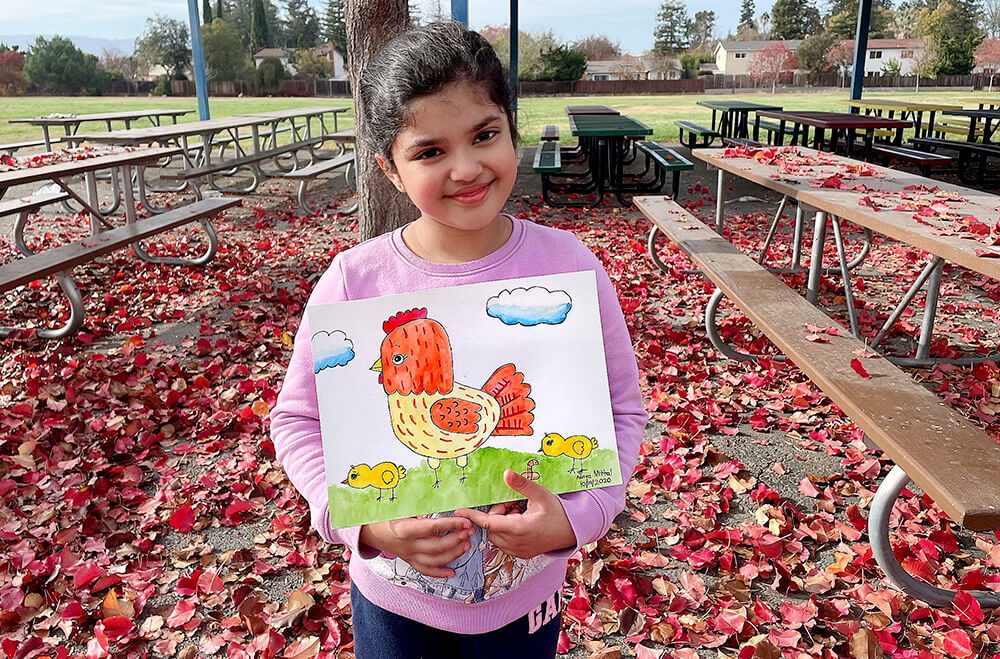 Aanya finishes her classwork quickly and is usually free by noon. This gives her plenty of time to pursue other interests.
Since Aanya loves reading, her day often ends with long hours of reading before going to bed.
What do you want to be when you grow up?
"Well, I haven't decided that, but I think I can be a doctor or a teacher."
Would you like to be an art tutor?
"Maybe!"
Do you have any suggestions for the online art classes?
"I think they are very nice and everything is explained. I think it is great!
And I also like all the paintings that Nimmy teaches us and the tips that she gives us.".
One of her favorite characters that she would like to draw is Elsa. She is a big fan of Elsa, and a room full of Elsa's pictures is a testament to that. If she were to be an art tutor, she would love to teach how to draw Elsa using acrylic paint, Prisma colors, or oil pastels.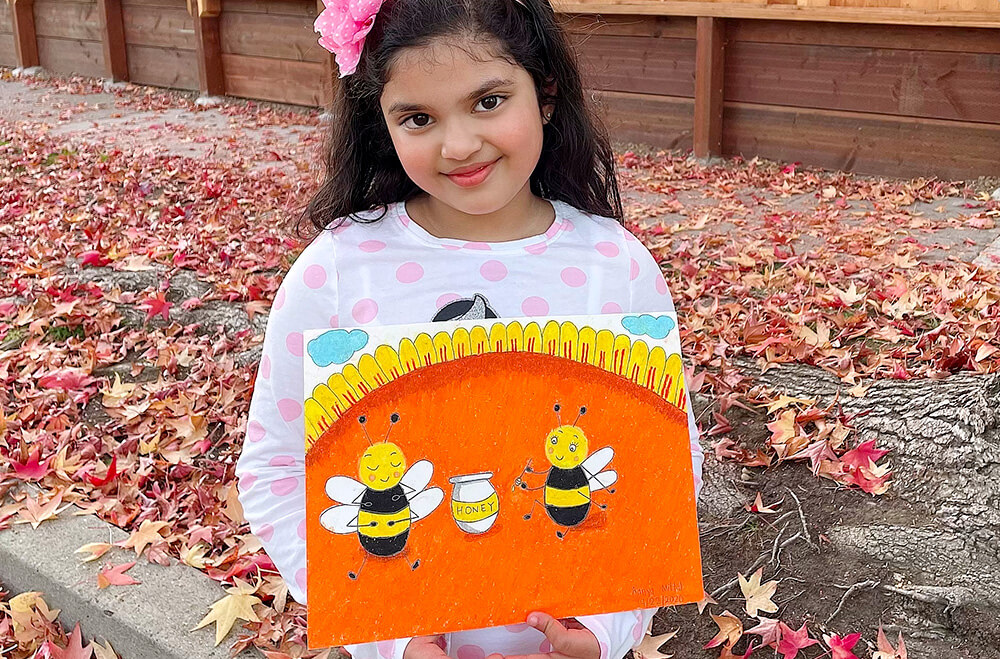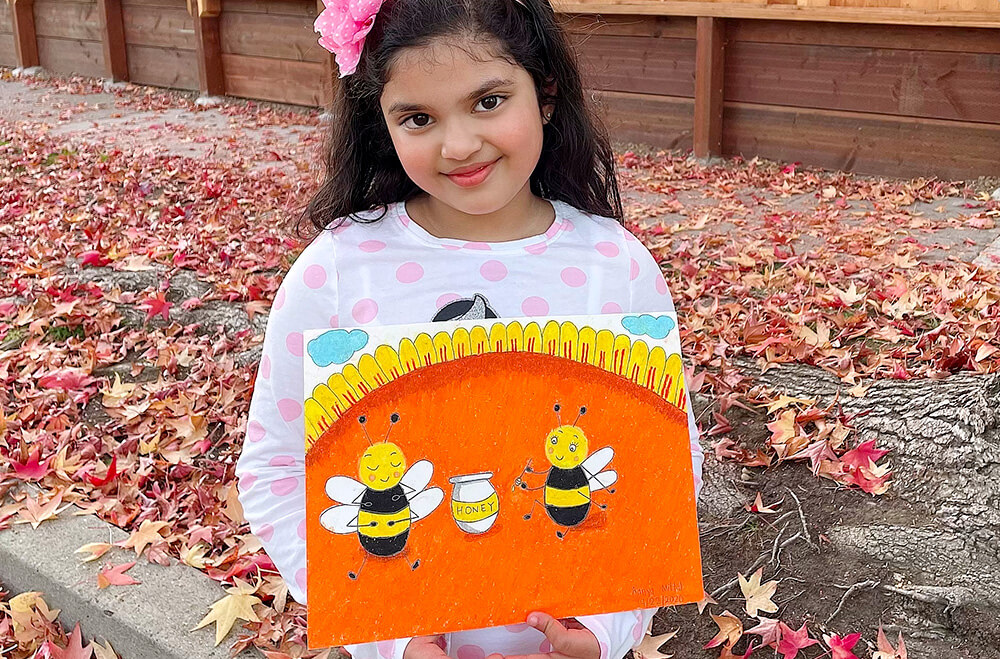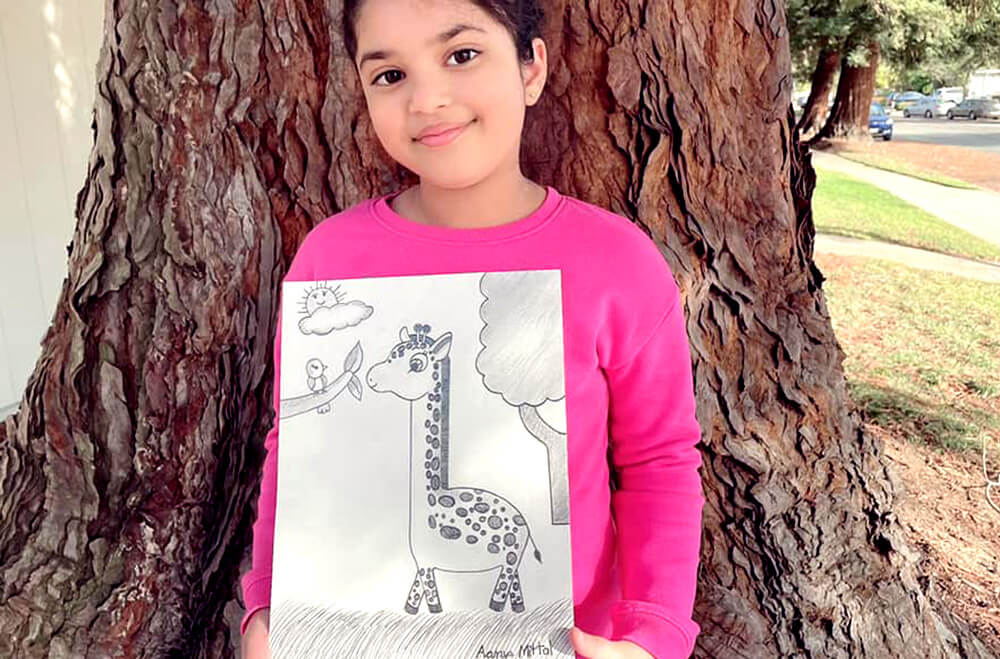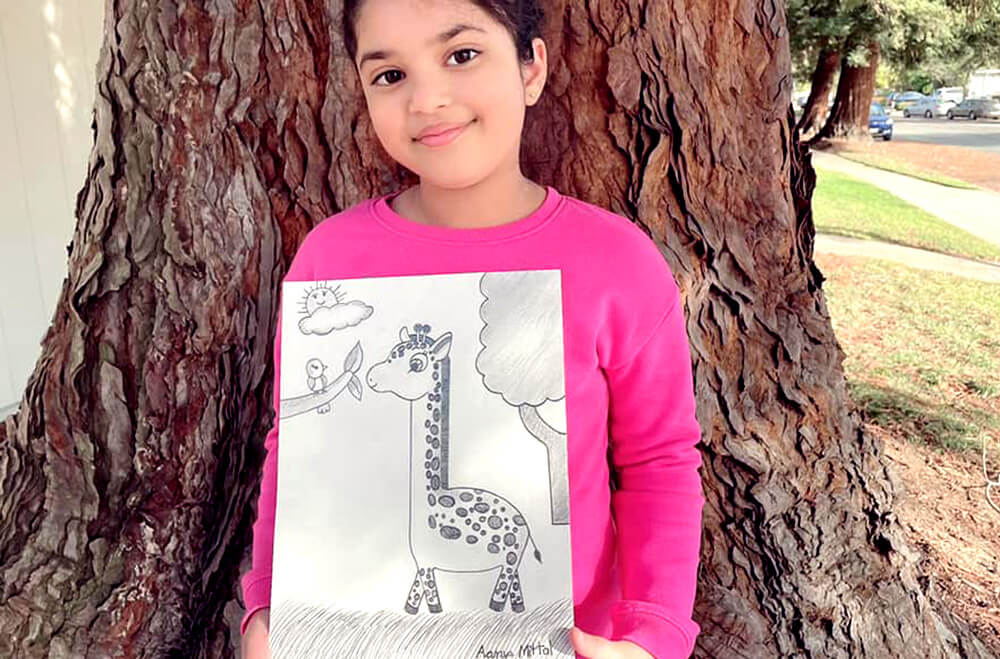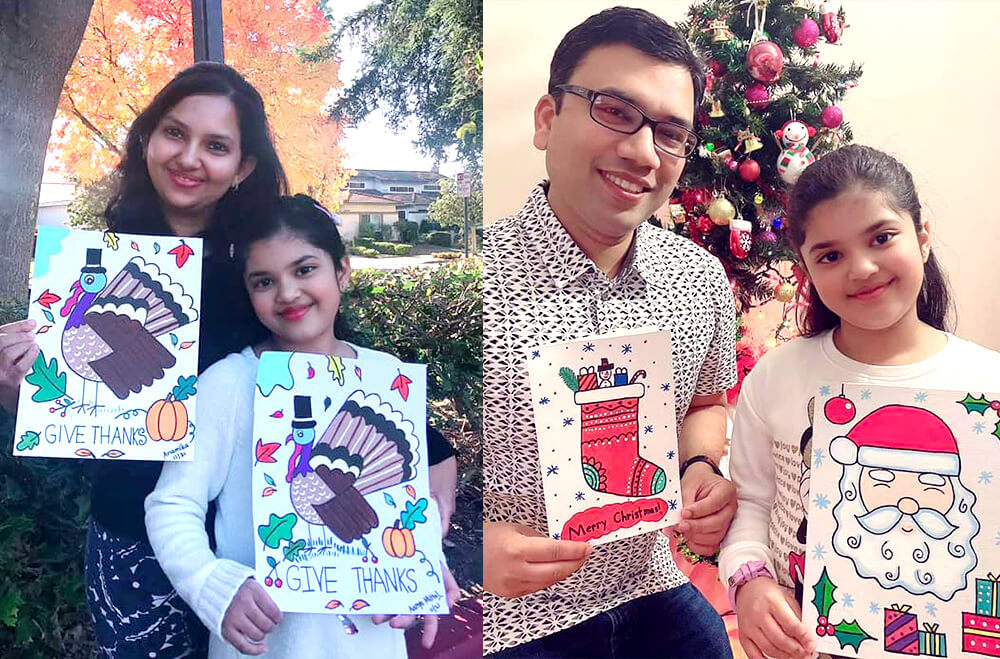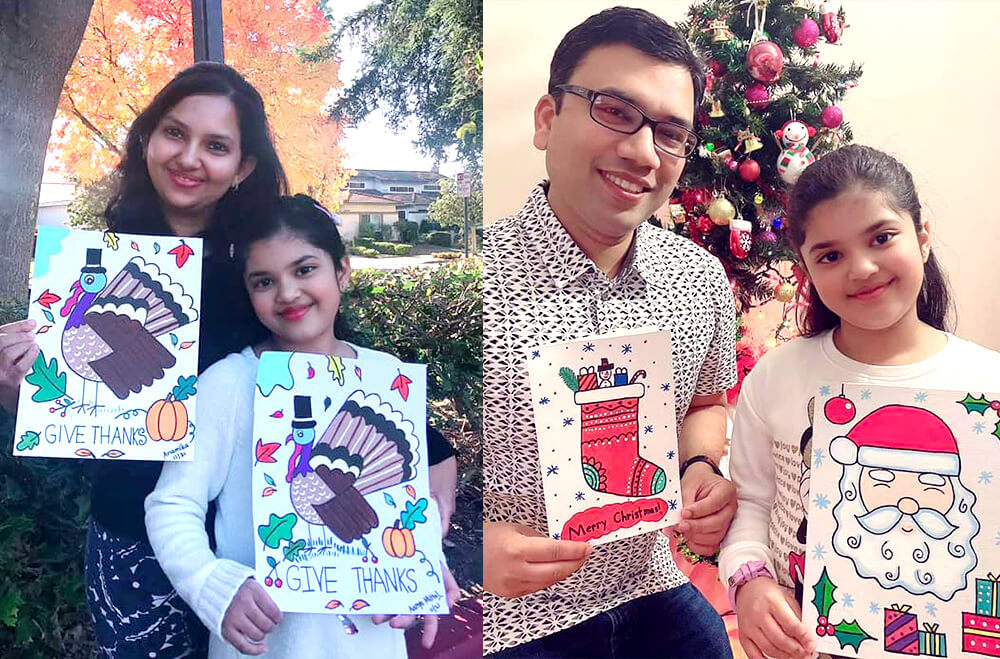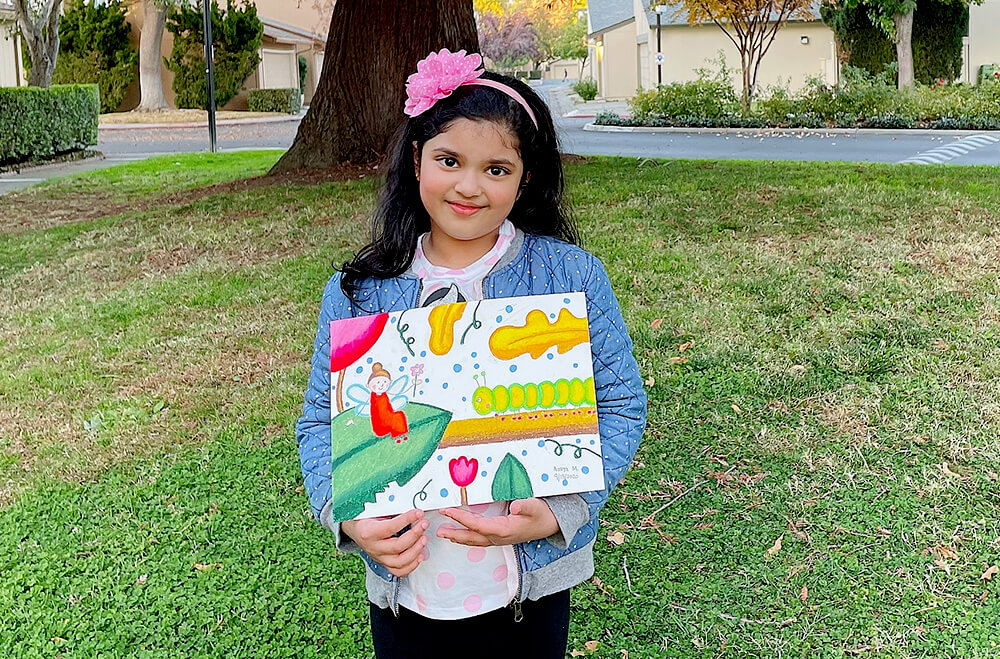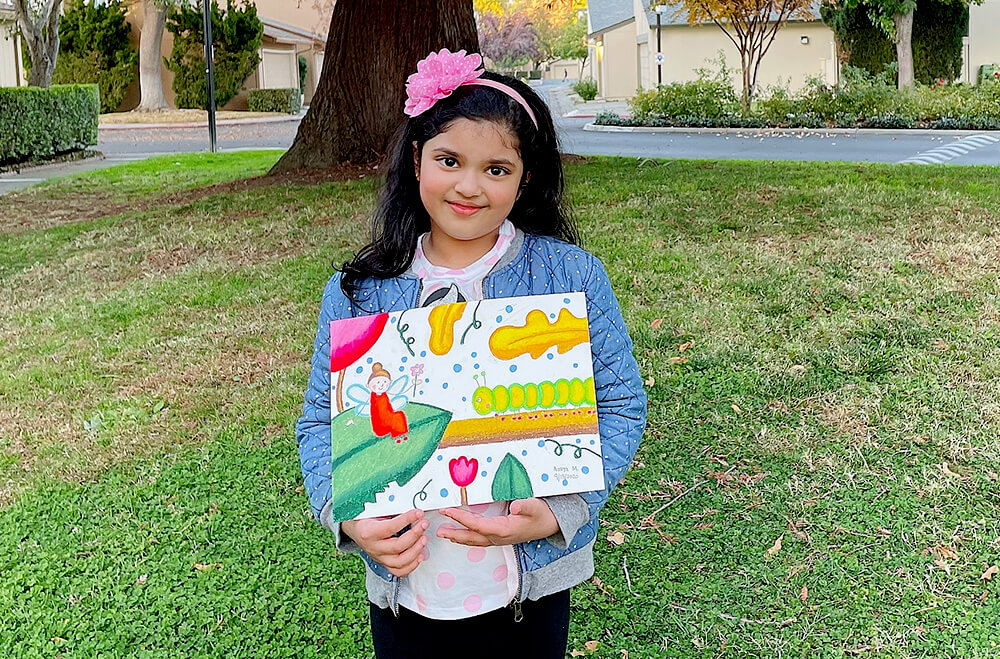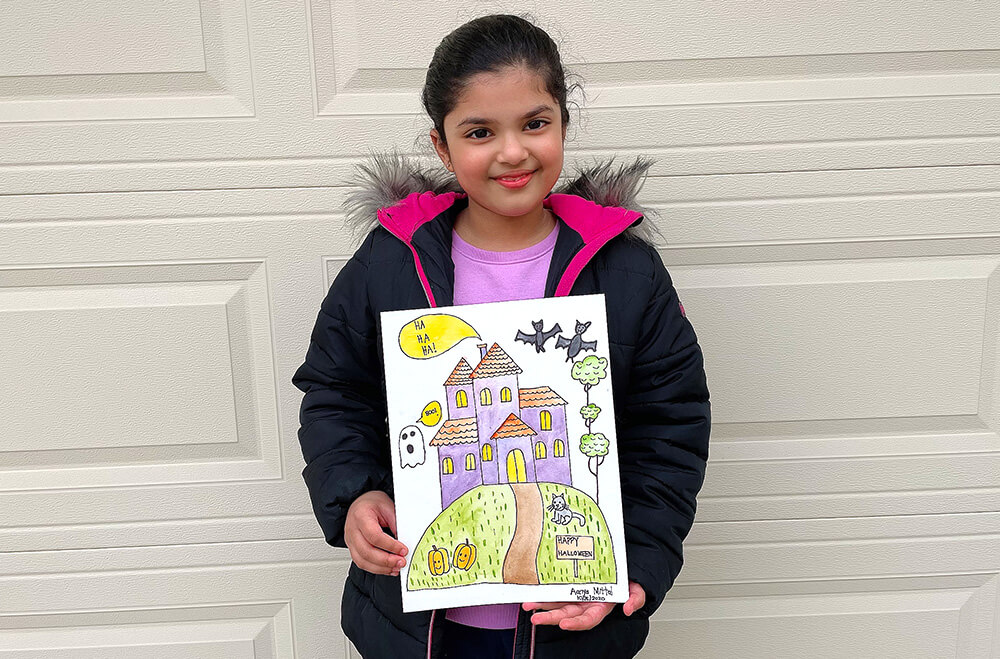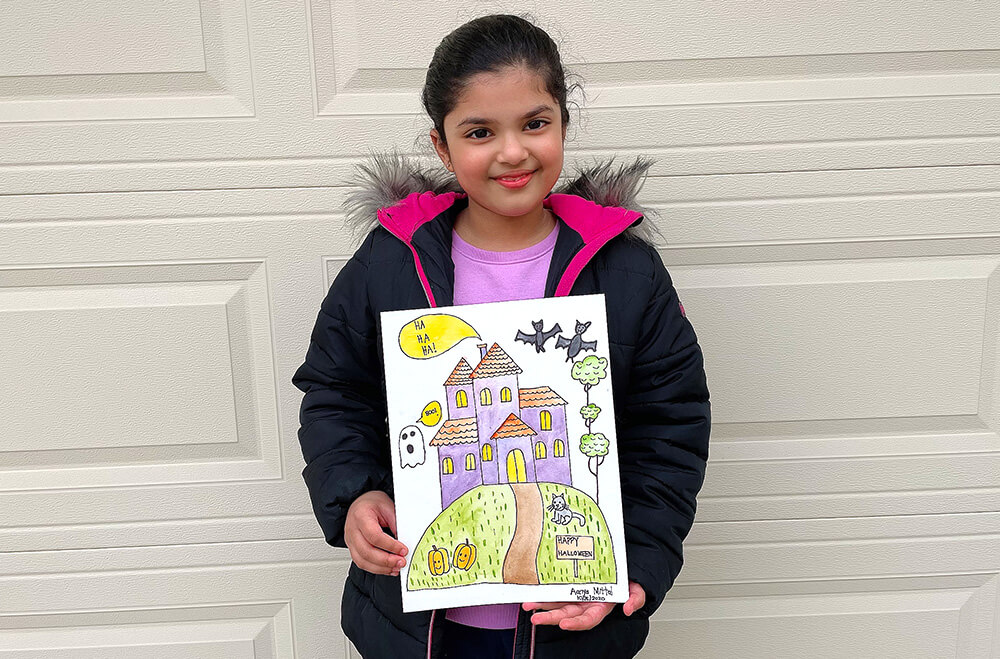 What would be the essential art tip that you would tell your students?
"I would tell the important art tip is to be patient and to learn, follow along and to practice."
Aanya is very patient herself. As her mom says, "Aanya takes her time to complete her artwork and she enjoys doing it at her own pace."
In February, Aanya is moving to the Young Artists group at our art school and she is really looking forward to it.
Just as we did, you can also enjoy Aanya's piano play. The song "October morning."
Stay tuned for our next artist spotlight.
Nimmy Melvin, the award-winning visual artist, envisions nature, the surroundings, and every object around through a different perspective. An expert in the usage of different mediums of painting, including acrylic, oil painting, watercolor, and oil pastels, she has the knack to inculcate knowledge in kids.