Our top art kid courses online: 'Learn from Masters' blog series shows how kids learn to paint famous artworks at our online art classes and learn about master painters. This week we talk about how kids can learn to draw with top art kid courses online and create the famous artwork by Henri Matisse – Goldfish. Learn about his life and history and the fauvist style in his paintings.
Henri Matisse's 'Goldfish' – Fun and Interactive Oil Pastel Artwork For Kids
Henri Matisse is an artist known as a leading figure in modern art. As a draughtsman, painter, printmaker, and sculptor, he was responsible for major developments in painting and sculpture during the early twentieth century.
Learn more about Henri Matisse's life through our top art kid courses online, his journey to success, and how kids learn to create 'The Goldfish' using the oil pastels medium at Nimmy's Art.
Who was Henri Matisse
Henri Matisse was born in Le Cateau-Cambrésis, France. While working as a court administrator, he stumbled upon art during a convalescence period. He discovered art as a paradise and decided to become an artist.
Matisse was influenced by many master painters, but he admired Jean-Baptiste-Siméon Chardin's work the most. While learning art, he initially painted still life and landscapes. Later, John Russell introduced him to Impressionism and the works of Van Gogh. This led Matisse to learn color theory, and he started to use intense colors in his paintings.
As Matisse's art matured, he concentrated more on simplifying form. He was bedridden in his last few years, making it difficult to attempt drawing or painting. But his creative mind led him to inspire a new form of cut-out art called 'drawing with scissors. While it began as small art pieces, it eventually progressed to room-sized works.
"Creativity takes courage."
-Henri Matisse
Matisse's painting style – Fauvism
Henri Matisse, along with André Derain, is a leader of Fauvism. Fauvism a collection of works characterized by bright and expressive colors and fierce brushwork.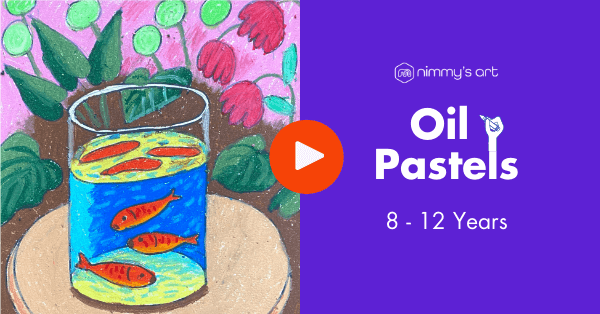 Fauvism did not last long, though. Most of the artists in the group moved away from it. They were inspired by the work of Paul Cézanne and his approach to art that demonstrated more order and structure. Henri Matisse, however, continued to show fauvistic traits in his work throughout his life.
Matisse was always applauded for his fluid and original drawings. In the early twentieth century, Matisse met Picasso. They went on to become friends as well as rivals. While Matisse's artwork was more inspired by nature and real life, Picasso often experimented with different techniques and ideas.
How kids can learn to create art like Henri Matisse
Henri Matisse's Goldfish painting is an oil on canvas painting that immediately catches our eye due to the bright colors, as is in most Fauves' artworks. For our students in the online classes, we recreated the Goldfish painting using oil pastels medium which is more child-friendly than oil painting.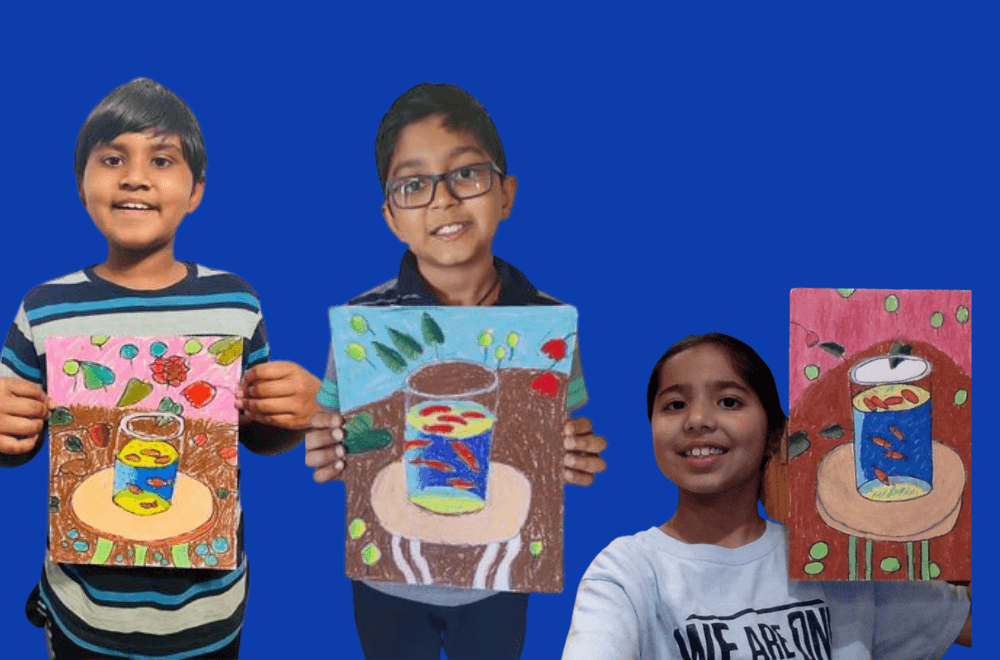 In Matisse's depiction of the goldfish in a glass jar, we can see the fishes in two different views. The first is the front view with a 3-dimensional perspective. This makes the details of the fish like their fins and eyes easily recognizable. Another perspective is from the top of the jar where the fish are merely identifiable by the flat brushstrokes. Matisse's goldfish brigns together these two different viewpoints. For students in our 8- 12 years art classes, this clearly distinguishes between the representation of real objects in a pictorial space when seen from different perspectives.
Another important aspect is the impactful usage of colors in Matisse's artwork. The bright orange color of the goldfish is surrounded by blue-green or yellow colors in the background. The use of complementary colors like orange and blue next to each other makes each of them appear brighter. To understand the usage of colors, we introduce the color wheel to the students in our online art lessons. Similar to Matisse's Goldfish, we encourage kids to create artworks that make use of the placement of colors to create impact.
Benefits of Learning about Matisse and Fauvism in Visual Arts
Top Art Kid Courses Online Learning is FUN with Nimmys Art!
An important aspect to understand is the usage of colors to create an attractive painting. Young children love to play with their choice of colors while creating their own artwork. Understanding the concept of color harmony creates a strong foundation that guides the students to make a better placement of colors in their art while using their favorite colors.
Among the wide-ranging -isms in art history, children can easily identify with Fauvism due to the attractive and bold colors that are very common in most kids' artworks. Due to this natural inclination, exposing kids' to Fauvistic art like Matisse's Goldfish inspires them to continue the strong color usage in their artworks just like the masters, while also educating them on how to use these colors the best by providing an understanding of the color theory.
Matisse's Goldfish was an instant hit with students in our top art kid courses online.
What do you like the most about Matisse's art?
Pick up your brush and create Fauvist art today. What colors would you choose for your painting? Join our online art courses to learn fine arts with fun.