Thanksgiving is a family occasion, and it's about being grateful for what we have. This year, with the pandemic situation, online classes have become a norm for art schools rather than an exception. And, we have definitely learned to count the little blessings in our lives.
For us at Nimmy's Art, we bring the feeling of togetherness through our online courses, art lessons, free trials, and free online workshops. Our art courses have not just promoted art learning through our wide-ranging artworks but also fun during the learning process.
We are truly grateful for the happiness and smiles on the little faces who joined us for this month's Thanksgiving Art Workshop.
Here is a step by step tutorial to bring your very own Thanksgiving turkey to life
Thanksgiving special art – How to draw a turkey in simple steps.
Parents, did we mention about the holiday fun art contest?
Let your kids enjoy this holiday season with our fun contest.
Share your work on social media and join the Thanksgiving Art Contest. We will choose 4 lucky winners on November 30.
Post your photo with your work along with the age group of your child.
Tag us @nimmysart and use hashtags #nimmysart #thanksgivingatnimmysart
The last date to submit Nov 29. Complete these 3 steps and you are all set to win $50 worth of prizes!!
Drawing the turkey
Materials needed
Liquitex Acrylic Paint Starter set
Paint Brushes – 1 large, 1 medium, 1 small, and 1 micro size for detailing
Canvas 11″ X 14″
Palette
Paper towel
A bowl of water
Pencil
Eraser
Colors used
Primary Blue
Violet
Burnt Sienna
Burnt Umber
Crimson Red
Orange
Primary Yellow
Sap Green
White
In our art classes, we believe that drawing and sketching are important for laying a strong foundation in visual arts.
Identifying and breaking down a complex picture into basic shapes is a concept we instill through our online art classes.
So let's begin the drawing.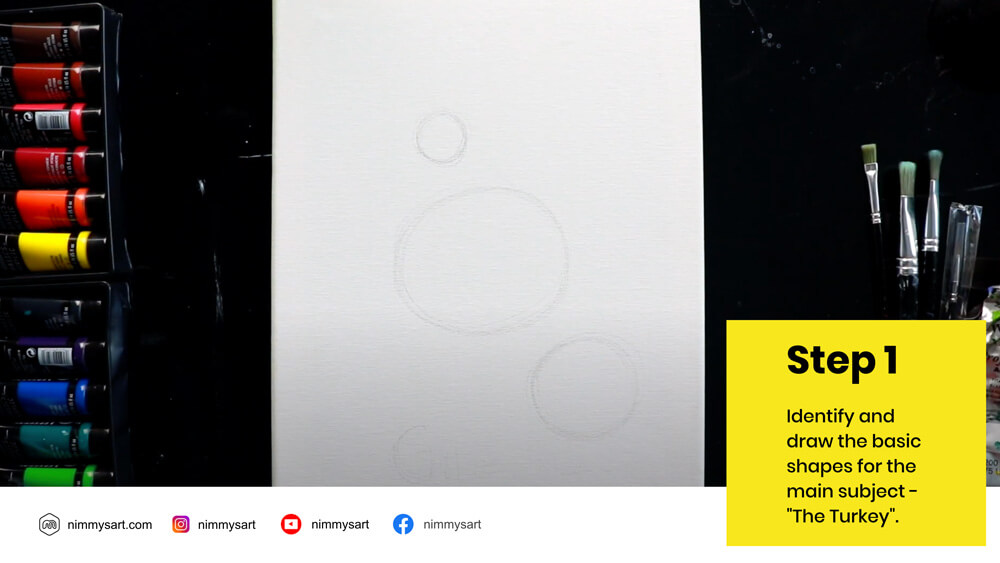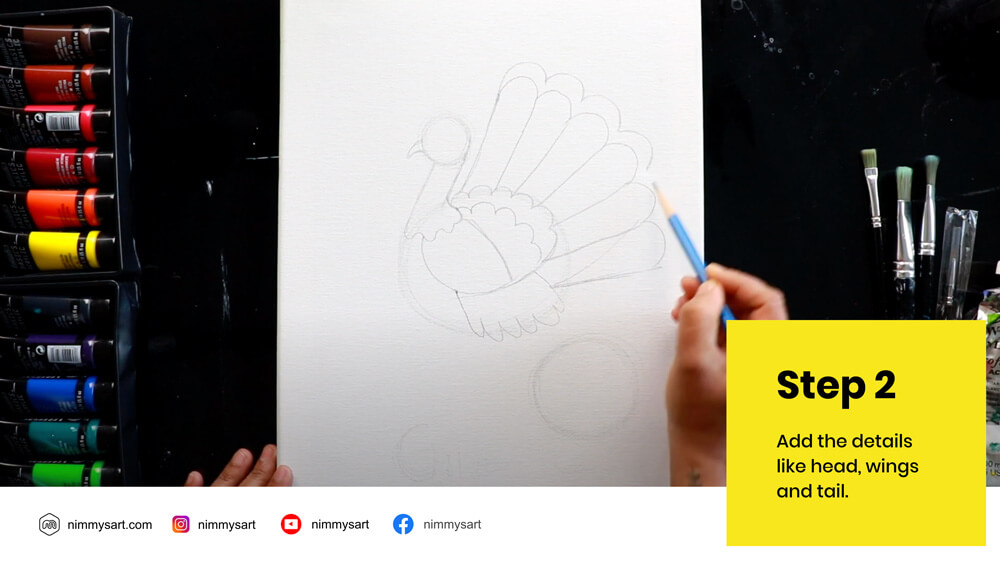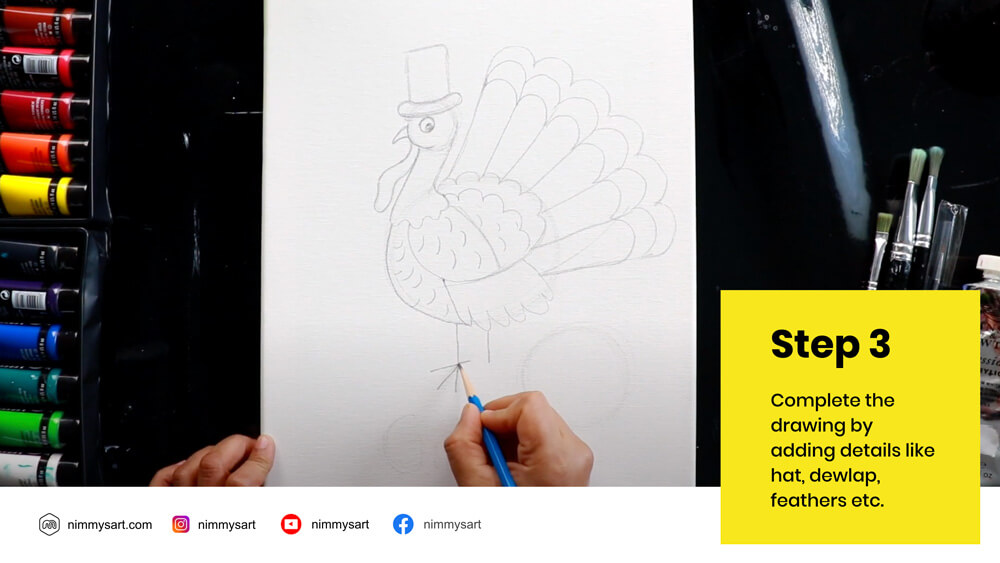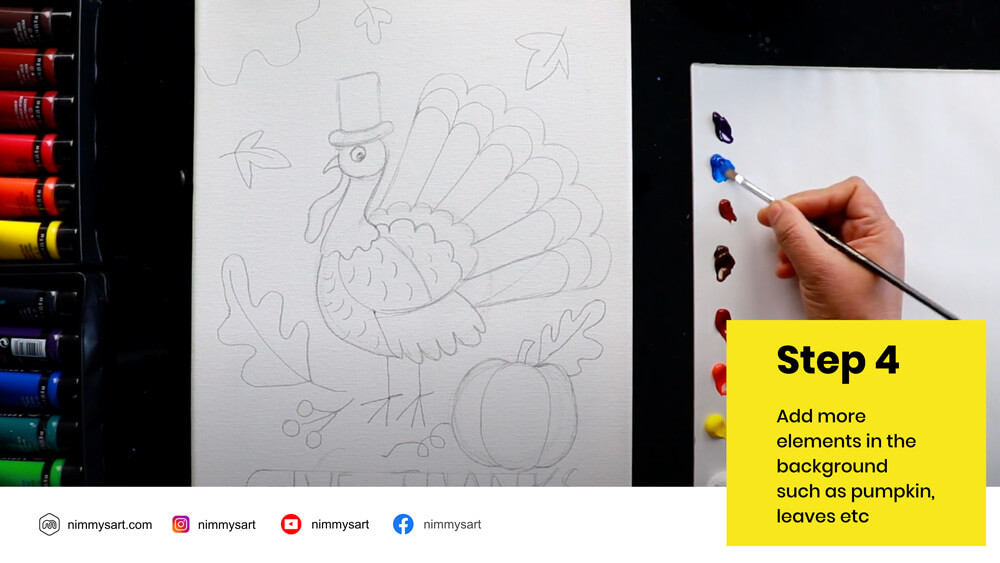 Use a small round or flat brush to paint the head, snood, and beak.
Use a medium round or flat brush and paint the body of the turkey.
Use the same color for the inner part of the tail feathers.
Use a small round or flat brush to make dark borders around the wings.
Add in the outer layer of borders around the wings and tail feathers.
Use a micro brush for detailing to add in the body details like scales.
Paint in the Pumpkin and the leaves with Sap Green or bright red for fall leaves.
Time to celebrate! You have completed a beautiful turkey painting for your thanksgiving!
Tips:
Cover all the pencil lines with paint.
Add more layers of paint for a better look and to cover any unwanted lines or marks.
Choose the brush size depending on the area you need to paint.
Clean up the brush with a paper towel before using different paint.
If any two adjacent colors blend accidentally. add another layer of paint after it dries.
We hope you enjoy creating this painting with your family. Share your artworks!
Let your kid's holidays more fun! Please participate in our Christmas Camp & Holiday Camp and share your child's artwork. Unlock their creativity!!
Looking forward to a great week of celebration with you all.